Tasting just like donuts but without the mess of frying, these gems originated in the rustic hearth of the Nangzhik Monastery in Tibet. The monks offered these "righteously delicious" little cakes to pilgrims so they could keep up their strength and spirits on their strenuous hikes. The monastery subsequently became a Tibetan "Trek Stop," welcoming travelers from around the world.
One such adventurer, the famed J. Peterman, cracked the monk's secret recipe in 1983 and named the small cakes "Tibetan Bon Bons" after Tibet's ancient religion, Bon. He identified the secret ingredient, the key to the tender crumb and depth of flavor: finely chopped tart apples stirred into the batter.
Actually, none of that happened. It's a phony backstory to go with the silly name Dan and the kids gave one of their favorite breakfast goodies. "Baked 'Donuts,'" the real name on the recipe, just didn't cut it. Too humdrum. Like great branding, "Tibetan Bon Bons" confers cachet.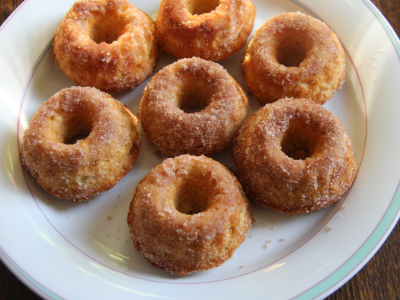 But yes, the tiny bits of apple are the secret ingredient, making them moist and slightly tangy. Dipped in melted butter and rolled in cinnamon sugar, these baked donuts outclass the fried variety.
We always made these in muffin tins, so they were donuts in taste only. Thanks to a suggestion by our friend Emily, we recently picked up a bundt-style donut pan at T.J.Maxx. The wells produce a Shangri-La shape, with little peaks suggesting the mountains where you might find a monastery. So now we have a true Tibetan Bon Bon pan. But no matter what their shape, these are righteously delicious little "donuts."
Tibetan Bon Bons (Baked "Donuts")
Batter:
1 ½ cups flour
1 ¾ teaspoons baking powder
½ cup sugar
½ teaspoon nutmeg
⅓ cup shortening
1 egg
½ cup milk
½ cup finely chopped apple
2 teaspoons vanilla
Topping:
½ cup butter
½ cup sugar
1 teaspoon cinnamon
In large bowl, combine flour, baking powder, ½ cup sugar and nutmeg. Cut in shortening with fingers until crumbly.


In another bowl, lightly beat egg. Mix in milk, chopped apple and vanilla. Add to first mixture and stir until just blended. Spoon into 12 greased wells of muffin tins or standard-sized donut pans.


Bake in preheated 350° oven for 25-30 minutes for muffins, 18-20 minutes for donuts.


Meanwhile, melt butter and set aside. Mix sugar and cinnamon in a bowl. As soon as the "donuts" are done, remove from pans and roll each one in melted butter, then in sugar mixture, coating evenly. Let cool. Makes 12.