For decades I've sought this holy grail of bread recipes. Star bread, the American cousin of what I consider the finest bread in Italy, is the stuff of legends. Italian bakers introduced it to Springfield, Massachusetts, and a few other places in the state about a hundred years ago. Specialty Italian bakeries hooked customers on the twisty-shaped loaves, also called "horn bread" or "bolognese bread." Those bakeries have dwindled to a handful, and star bread always sells out—often before it reaches the shelves.
What makes it so special? The hard, golden brown, impossibly smooth crust has the crunch of a dry breadstick. In contrast, the soft crumb inside is fine, compact, and as bright as a Hollywood smile. Once you bite in, you can't stop. The flavor and textures are pure delight. And who can resist the shape that offers not two, but four crunchy ends?
My husband Dan grew up in Springfield, and his family celebrated holidays and special occasions with star bread. They would cut small rounds from the horns and make little sandwiches of thinly sliced Italian cheeses and cold meats for appetizers. But why shouldn't we have it year-round for sopping olive oil, mopping up pasta sauce, and for everything a good Italian bread is designed to do?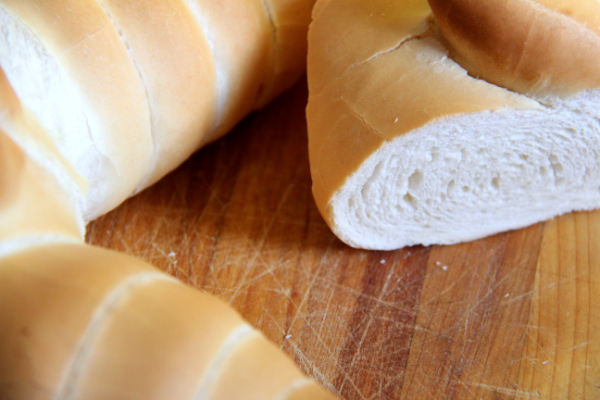 Star bread is getting harder to find. Around here, nobody has ever heard of it. So what choice do I have but to bake it myself?
There's one serious catch. No recipe. Not in any cookbooks. Nowhere. Even Google comes up short. In 2008, The Boston Globe ran a feature on "horn bread" and included a recipe that apparently nobody tested. An owner of one of the bakeries in the story wrote back, "The recipe given in your paper is missing an ingredient and an important processing step—but my lips are sealed!"
So yes, there's a secret. And nobody's talking. Omerta.
Over the years, I've cornered commercial bakers for advice. One told me it's just Vienna bread dough (false), but I simply couldn't make it at home because I needed "special equipment" (misleading).
The owner of a family-run bakery in Agawam recently responded with a look so steely cold I was afraid the loaves around her would flash freeze. "Sure you can have our recipe," she said as if I held her at gunpoint, "but only if you pay big money for it."
I thank her, though, because had she spilled her family secret I would not be sharing it with you now. I would be in on the code of silence. No Recipephany. But in the face of this stonewalling, Dan and I set out to find the secret recipe on our own.
Dan tracked down star bread's illustrious ancestor, Coppia Ferrarese. It comes from the Emilia-Romagna region in Northern Italy and dates back to the 13th Century. The name means "Ferrara couple" because bakers form the bread by joining two rolls of dough at their centers—"coupling" them. This regional treasure, like Parmigiano-Reggiano, has earned PGI (Protected Geographical Indication) status and must meet strict regulations set by the EU to carry the name Coppia Ferrarese.
This is the bread brought to Springfield by the Italian bakers. What started out as an elegantly slim, sculpted bread, evolved into a plump "H"-shaped loaf in Springfield. (Oddly, it has never had a star shape.)
Then Dan found the Coppia Ferrarese PGI official document. This is the master recipe that reveals all. After a bit of deciphering, I can now tell you what I see as the two key secrets to star bread.
First, the dough is hard and somewhat dry, the opposite of what I had expected to make such a soft crumb. Imagine stiff playdough with a silky finish. Once you've mixed the dough, put away the flour. There will be none on your hands, counters, floor…you get the picture. The small amount of oil and shortening (Italians use lard) makes the dough downright fun to handle and the process incredibly tidy. The thirsty flour does crave sprinkles of water as you work the dough, though. So while it must not get sticky, it shouldn't get too dry either.
Second—and here's the revelation—you need to roll this non-sticky, pliable dough many times through a "special metal cylinder" to compress it and make the surface smooth. How does a home baker manage that? We dragged out our trusty pasta machine. It did the trick—a fine substitute for the massive rolling machines at bakeries. This was the Big Breakthrough.
I cobbled together this Coppia Ferrarese-star bread hybrid using primarily the PGI guidelines. I tried to simplify the recipe for home bakers like me (although it's no Raegan's No-Knead Focaccia). For instance, Coppia Ferrarese is a sourdough bread, but since I don't have a 45 percent hydrated sourdough starter lying around (do you?), I fudged it. While this bread is shaped like Coppia Ferrarese, it produces a loftier loaf more like Springfield's star bread. Thanks to the pasta machine, it captures the signature textures of both.
I hope you try it and come away a Star Baker. If you don't have a pasta machine, well, sorry. Hand rolling may work, but I haven't tried. I'm still experimenting, so please let me know how it goes and if you've got any suggestions. Let's see if together we can preserve this distinctive special-occasion bread. It's so fun and rewarding to make, you might find that baking it creates its own joyful occasion.
Star Bread
(Modified Coppia Ferrarese)
1. Starter
Mix the night before baking:
3/4 teaspoon instant yeast (SAF-instant red label, or Fleishmann's RapidRise)
1 1/2 ounces warm water (45 ml, or 45 g)
3/4 cup bread flour (100 g)
Stir ingredients in a medium bowl, then knead briefly to combine. If it is so dry it won't come together into a ball, add a few drops of water. It should look and feel like pliable bread dough. Cover bowl loosely with plastic wrap and let sit overnight. It will rise, but will stay fairly compact.
NOTE: This makes about 50 percent more than you need for this recipe. If you want to make enough starter for next time you make the bread, double this and freeze what's leftover and use within a few weeks.
2. Star Bread Recipe and Process
Special equipment: Pasta machine.
Suggested: Heavy-duty stand mixer; kitchen scale.
I derived this recipe from a formula that specified weight, not volume. For accurate dough hydration, I recommend using a scale.
Makes 2 loaves, each about 15 ounces before baking, and about 13 1/2 ounces after baking. Recipe easily halves.
½ cup starter (100 g, or about about 3.5 ounces) Use recipe above.
4 cups bread flour (500 g) (Weighing works best.)
1 teaspoon instant yeast (SAF-instant red label, or Fleishmann's RapidRise)
6 ounces cold water* (180 ml, or 180 g), plus up to 3 tablespoons more
3 tablespoons shortening (38 g)
5 teaspoons (yes teaspoons—it's more exact) olive oil (20 ml, or 20 g)
1 ½ teaspoons salt
1 teaspoon diastatic malt powder (available from King Arthur Flour)
*Use cold water in the stand mixer so the dough won't heat up. If kneading by hand, use tepid water.
Tear starter into a few pieces and combine with all other ingredients in a large bowl. Knead by hand for about 25 minutes until dough is smooth and elastic. Or, knead in a heavy-duty stand mixer using the dough hook for about 20 minutes. This is a hard dough, so it will be dry at first and will take a long time to cohere. Add drops of water near the end as you knead to keep it pliable, up to 3 tablespoons. You may even want to wet your hands a bit to keep the surface from breaking. Be careful it doesn't get too dry or it won't rise as well and the rolled dough may de-laminate. Different brands of flour and changes in room humidity could affect how much water you need. Sprinkle in just enough water so that the dough has a smooth surface and gets slightly elastic, although it won't be as stretchy as other bread doughs. And if you do it right, it will never get sticky. It will feel more like soft pasta dough than bread dough.
Cover bowl loosely with plastic wrap and proof dough in a warm place for 45 minutes. It will relax and get easier to handle.
Cut dough into quarters, and form each quarter roughly into a strip. Run through the pasta machine at the thickest setting. Fold and repeat for a total of 15-20 passes. (We shoot for 15, but average about 17 passes because sometimes the dough tears and needs extra smoothing.) The dough strips should get very smooth and each will measure around 2 1/2 inches wide by 24 inches long when done.
For each loaf, roll up two strips by hand and join them in the center. Follow this video explaining the steps.
Repeat for the second loaf.
Place each on an ungreased cookie or baking sheet. Cover loaves with plastic wrap and proof for 70-90 minutes (or a half hour longer if your room is cool). They will grow, but not quite double.
Meanwhile, preheat oven to 435 degrees convection bake, or 450 degrees regular bake.
Bake one at a time in the center rack of the oven 18-20 minutes. Rotate sheet midway. Lower heat to 425 convection after 10 minutes if it is getting too dark too fast. The loaf is done when it turns golden brown and sounds hollow when tapped on the bottom. Also, a cake tester should come out clean. Cool on a wire rack. Both dough and baked bread freeze well.