Posted on 11 May 2021 | No responses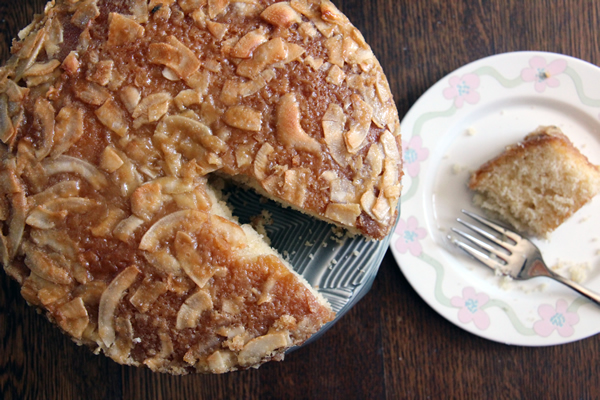 The Danes call it "Dream Cake" (drømmekage). Leave it to Americans to define it not by its deliciousness but by how easy it is to make. Yet Busy Day Cake looks and tastes elegant, and would never let on that you threw it together between Zoom meetings. This velvety vanilla cake is so fluffy it would float away if it weren't for the caramel coconut icing to keep it earthbound.
America's Busy Day Cake (also called things like "Lazy Daisy Cake") has been passed down for generations, and this version comes from our college friend and baking inspiration Judith Schwartz Stalk.
She remembers her mother Florence baking it in the early 1960's when Judith was around 11. Judith took over baking it herself when her mother cleared her to use the broiler to melt and caramelize the luscious topping.
"I believe it was popular because it called for basic ingredients folks usually kept in their homes, except maybe for the coconut. And the crumb was very tender. It made a great piece-of-cake-with-glass-of-milk treat," she says. For all these reasons, it should still be popular.
For Judith, this cake may have been the gateway drug to her lifelong passion for baking. She did what many of us compulsive bakers only dream of—she ran her own one-woman commercial baking business. She bought the fabulous "Big Bertha" KitchenAid mixer, restaurant-quality baking pans, sacks and tubs of bulk ingredients, and the professional cake decorating tips and toys we drool over. She supplied her clients with gorgeous triple chocolate bundt cakes, streusel coffee cakes, carrot cakes, cupcakes (decorated for holidays and sports events), and Marc's Munchie Madness granola bars (named after her son).
The demands of high-volume baking on top of a challenging day job led her to hang up her professional apron after several years. (When she wasn't baking, she worked as an insurance risk manager at a huge company that managed trillions of dollars in investments.)
Now fully retired, "Grandma Cookie" does her favorite baking with and for her grandchildren. No doubt they'll be making Busy Day Cake when they get to use the broiler.
As for the name, we're with the Danes. It may be Busy Day Cake when we're making it. But when we serve it, it's Dream Cake.
Judith's Busy Day Cake
Cake:
1 2/3 cups flour
1 cup sugar
¼ teaspoon salt
2 ½ teaspoons baking powder
1/3 cup butter, softened
2/3 cup milk
1 egg
2 teaspoons vanilla (As always, we doubled the vanilla.)
Preheat oven to 350°. Grease and flour an 8" x 2" or 9" x 1½" broiler-safe cake pan, or grease and line it with parchment paper.
Combine dry ingredients in a large bowl. Add butter, milk, egg and vanilla. Beat 2 minutes.
Pour into pan and bake until it tests done, about 25-35 minutes depending upon your pan and oven.
Top with icing while warm.
Icing:
3 tablespoons melted butter
5 tablespoons light brown sugar (or 5 tablespoons white sugar with a splash of molasses)
2 tablespoons cream or milk
½ cup unsweetened coconut (Trader Joe's Organic Unsweetened Coconut Chips)*
Combine ingredients and spread onto the warm cake. Broil until delightfully golden brown. This should take only a couple of minutes, so watch closely and turn the cake as necessary to keep the topping from burning.
*Variation: Judith suggests substituting chopped pecans for the coconut, which "turns the cake into a fabulous praline experience."
Posted on 18 March 2021 | 2 responses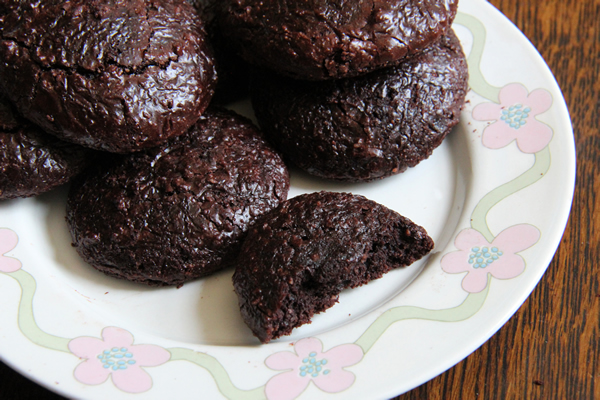 There's no denying it—every fudgy bite of this flourless almond cookie says it's the Macaroon's Macaroon.
I grew up thinking macaroons were those sugary coconut mounds sold in cans during Passover. They were such a holiday ritual that there should have been a spot for them on our Seder Plate. They were okay, but who'd ever want to eat them the rest of the year?
Then along came "macarons," the French almond-meringue, attitude-filled confections that look like pastel rainbows in pastry cases. They no doubt dropped the "o" to distance themselves from their macaroon relatives and signal that they are très cher. They make a lovely occasional treat, but nothing I'd ever crave.
Now, here's a macaroon that is craveable, no matter how many o's in the name. Leah Greenwald, Chocolate Confectionery Consultant at the Recipephany Test Kitchens, has developed this simple recipe for a deep, dark fudgy macaroon that is a special occasion cookie all year round. In true Recipephany style, Leah's chewy chocolate bites showed me what a macaroon is supposed to be.
Leah developed this recipe as a gift to those of us who feel compelled to make flourless chocolate cakes for Passover. (My go-to is Zell Schulman's Chocolate Mousse Torte from Israel). Leah's macaroons are an easy, yet satisfying, alternative to a large, rich cake and the fuss it entails. These smallish macaroons will fulfill the holiday demand for chocolate in all its fudgy goodness and yet still give those around the table a chance to exercise portion control. Recipephany, however, cannot guarantee that you will stop at one. (Our legal department requires this disclaimer.)
And if you really want to amplify the wow factor, bring out some of Leah's Blood Orange Sorbet (Without an Ice Cream Machine). A scoop of this gorgeous sorbet alongside the macaroon might just reset your concept of what dessert should cap off a Passover seder—or any special dinner for that matter. And it may throw out the concept of portion control.
Leah's Fudgy, Flourless Chocolate-Almond Macaroons
Leah says, "These are distantly related to ones from François Payard in Paris. I use super-fine almond flour which you can buy in a supermarket, but you could buy
simple ground almonds or grind whole ones yourself (be careful not to grind too long or they'll start to become almond butter). Also, this recipe probably works with hazelnuts, walnuts, etc."
Suggested equipment:
Stand mixer with paddle attachment
Tablespoon cookie scoop (such as the Zeroll 2040, 1 9/16 inch, for producing 2-inch cookies)
Makes about 50 1½-inch cookies, or about 32 2-inch cookies
3/4 cup Dutch process cocoa powder (68 grams) (I use Hershey's Special Dark)
3 cups confectioners' sugar (350 grams)
Pinch salt
2 ¾ cups almond flour (272 grams)  (I use Trader Joe's)
4 large egg whites, room temperature
1 tablespoon vanilla extract (15 grams)
1.  Place a rack each in the upper and bottom thirds of the oven and preheat the oven to 350 degrees on regular bake (not convection) setting. Line two baking sheets with parchment paper or silicone baking mats. (If using parchment paper on a rimless baking sheet, put a dot of vegetable oil on the sheet to stick the paper to it.)
2.  Combine cocoa powder, confectioners' sugar, salt and almond flour in the bowl of an electric mixer fitted with the paddle attachment. Mix on low speed for 1 minute. With the mixer running, slowly add the egg whites and vanilla.  Mix on medium speed for 1 to 2 minutes until the mixture has slightly thickened. Do not overmix it or the egg whites will thicken it too much. This makes a dense, sticky batter; think of it as chocolate epoxy.
3.  Scoop the batter onto the prepared baking sheets by about tablespoonfuls, with at least 1.5" between them. (A cookie scoop makes it easy to release the sticky dough and produces nice mounds.) With wet fingers, neaten the shapes of the cookie-blobs to something close to a hemisphere. If you are using small cookie sheets and have extra batter, wait until the first batch of cookies is baked before scooping the next batch.
4.  Put the cookies in the oven and immediately lower the temperature to 320 degrees.  Bake for 14 to 17 minutes, or until small thin cracks appear on the surface of the cookies. Switch the pans halfway through baking.  Pull the parchment paper with the cookies onto a wire cooling rack, and let cool completely before removing the cookies from the paper. They will stick to the paper slightly because the water from your fingers when you shaped them liquefied a tiny bit of batter, which gets sticky when it bakes. Just push them off or use an offset spatula if needed.
5.  Store in an airtight container for up to 3 days. These freeze well.
Posted on 12 March 2021 | No responses
Baking in a tiny RV is a bit like being marooned on a desert island. We have limited space for tools and supplies. And not every recipe works under survival conditions. It has to have few ingredients, require minimal equipment, and bake without complaint in our small convection/microwave oven.
On our trek West, I came to realize which recipes are my true loves—the cakes, breads and cookies I can't live without. The revelation is like the finale of a cheesy rom-com, except there's no race to the airport before the plane takes off.
My heart and head picked a dear old favorite, fudge squares. A snack-style cake that looks and cuts like brownies, it has the velvety soft crumb of fudge cake. It's got what you crave from fine chocolate—a delicious melt-away mouthful that boosts both spirits and energy levels. Split and filled, a fudge square transforms into a knock-out ice cream sandwich. Add a plop of whipped cream and it makes a perfectly respectable company dessert.
The recipe comes from the venerable Manna to Mousse cookbook, the source of One Bowl Apple Cake. It's attributed to one Mrs. Solon Silverstein in 1969, but there the provenance ends. It uses basic ingredients and methods, typical of a beloved classic. And happily, you don't need an electric mixer, only a fork to beat the egg and a silicone spatula to beat the batter—so it's RV friendly.
It's so easy and quick, I've been making it over and over. You want chocolate? It does the trick. No matter how tiny or mobile your kitchen.
Fudge Squares
½ cup butter
1 cup sugar
1 egg, beaten
6 tablespoons unsweetened cocoa
2 tablespoons oil
1 cup flour
Pinch salt
¼ teaspoon baking powder
½ cup milk
2 teaspoons vanilla
½ cup chopped nuts (optional)
Preheat oven to 350 degrees.
Cream butter and sugar. Stir in beaten egg.

Add cocoa and oil and beat until smooth.

Combine flour, salt and baking powder in a bowl or on wax paper. Add to beaten mixture, alternating with milk and vanilla, mixing well. Add nuts if desired.

Pour into greased 8" square pan.

Bake 30-35 minutes until just done.
Eat within three days or freeze to keep fresh.
Posted on 20 February 2021 | No responses
The basics for this dish came from my baking buddy Joanne Hofmann Sexeny, whom I met during a tour of Christopher Kimball's Milk Street when it was a shiny new enterprise. Joanne has the distinction of being an America's Test Kitchen (ATK) recipe tester, and she authorized me to critique a shrimp and green bean stir-fry recipe under development for Cook's Country Magazine. I gave it a positive review, while noting a few recipe errors. The mistakes were hard to spot and I wondered if ATK had planted them to test their readers.
Now four years have past, and while I haven't seen the final version, I assume they fixed the errors. Meanwhile, we've charged ahead and adapted it into a saucy Asian noodle dish as delectable and fun to eat as Pad Thai.
This recipe is so easy and fast we made it while boondocking in our RV. By "boondocking," we mean camping free of any electrical, water or gas connections. By "RV," we mean the 19½-foot Ford Transit van that my husband Dan recently converted into a recreational vehicle so we could travel to California to see our kids and grandkid.
In case you think converting an RV might be fun, imagine building a ship in the bottle—while inside. Include insulation, plumbing, electrical, lighting, heating, TV, sound systems, appliances and electronics—in short, everything needed for a house. And install everything in exactly in the right order, like solving a Rubik's cube. More an extreme sport than construction project, it took Dan three months to design it, four months to build it, and most of our trip to recover from the backbreaking work, demonic frustrations and unrelenting stress.
But in the end we have a cozy little home with a well-equipped galley kitchen. For this recipe, the largest of our nesting pots works like a giant wok cooking veggies fast on our portable induction cooktop. A clever collapsible tea kettle boils water to pour over the rice noodles to soften them before tossing with the sauce. Our fridge/freezer, designed for yachts, holds all the sauces and ingredients I need, just like at home.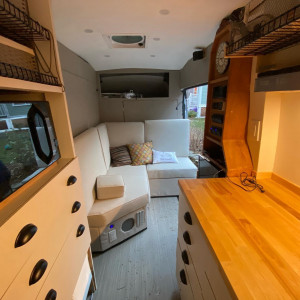 So if we can make this in a tin can smaller than an Amazon delivery truck, you can make it in your spacious kitchen. And if you don't care for shrimp, substitute tofu cubes for a vegan, gluten-free crowd-pleaser.
Boondock Shrimp and Green Beans With Rice Noodles
Serves 4
1 pound wide Thai rice noodles (as for Pad Thai) and water for soaking
1 cup water
½ cup dry sherry
3 tablespoons soy sauce
1 teaspoon sugar
2 tablespoons hoisin sauce
1 teaspoon (or more to taste) Sambal Oelek or other Indonesian chili paste
1 tablespoon cornstarch
1 tablespoon oil
1 pound green beans, diagonally sliced into ¾-inch lengths
1 pound extra-large shrimp or prawns (21-25 per pound), peeled and deveined
3 cloves garlic, thinly sliced
4 scallions, thinly sliced, with some sliced greens reserved for garnish
2 teaspoons minced ginger
Chopped fresh cilantro (optional)
Place rice noodles in a large bowl and cover with boiling water. Stir and let sit to soften and expand for about 30 minutes.
Whisk together ¾ cup water, sherry, soy sauce, sugar, hoisin sauce, Sambal Oelek and cornstarch in a small bowl and set aside.
In a large non-stick wok or pot, add green beans, ¼ cup water and a teaspoon of oil. Bring to a boil and stir-fry for about 3 minutes, until beans are barely tender.
Turn down heat to medium-high and move beans to the side of the wok or pot. Add shrimp, sliced garlic, and the rest of the oil (2 teaspoons) to the empty side. Cook until the shrimp turn slightly pink, about 2 minutes. Stir the beans and shrimp together, stirring until the shrimp loses its translucence, about 2 minutes.
Add scallions and ginger and stir-fry about 1 minute.
Add softened rice noodles to the pot. Pour the sauce mixture over the noodles, tossing and cooking about a minute to slightly thicken the sauce. Turn off heat and garnish with thinly sliced scallion greens and/or fresh cilantro before serving. Offer Sambal Oelek and soy sauce at the table.
Posted on 8 February 2021 | 5 responses
If you like popovers, you'll love these babies. These eggy, pie-shaped puffs need only a squirt of lemon juice, a shake of confectioner's sugar, and some fresh fruit or jam to make a dramatic breakfast entrance.
But "Dutch" Babies?
Some say the name came from a corruption of "Deutsch," since they resemble German pancakes. The Dutch also make Pannenkoeken with a similar batter, although they look more like crepes.
Frankly, these are likely neither German nor Dutch. We contend that Dutch Babies are really Yorkshire Pudding in disguise. They're sizzled in butter instead of meat drippings,
and served for breakfast instead of with meat and gravy for dinner. If you wonder how a puffy pancake could be related to something called Yorkshire Pudding, keep in mind that this savory British side-dish used to be more aptly named "Yorkshire Puffs."
Leave it to good old American ingenuity to turn it into a breakfast sweet. In the early 1900s, Manca's Café in Seattle, Washington, claimed it took the German Pfannkuchen and created the "Dutch Baby."
But we believe the Dutch Baby's roots are in the UK. I had a plate-sized Yorkshire Pudding filled with steak and kidney stew along our hike through the North York Moors National Park. Even in that dimly lit pub, underneath all that brown gravy, it looked just like a Dutch Baby.
Jennifer Pieszak introduced us to Dutch Babies when our kids were little, and we all went nuts over the eggy pancake with a puffy crust. Jennifer had her first Dutch Baby encounter during college when her MIT classmate Kate Stohlman (née Malcolm) took her to visit a family friend, Florette, in Western Massachusetts. Jennifer wrote down Florette's recipe (see below) in the same spiral notebook containing her spectacular "signature dessert" featured in The Best Cheesecake in Chicago.
As for variations, Jennifer suggests tossing some blueberries or cherries into the batter. She also makes a version with sauteed apples and cinnamon as the base before adding the batter. "Totally delicious," she said, adding in the spirit of full disclosure, "but it will not puff."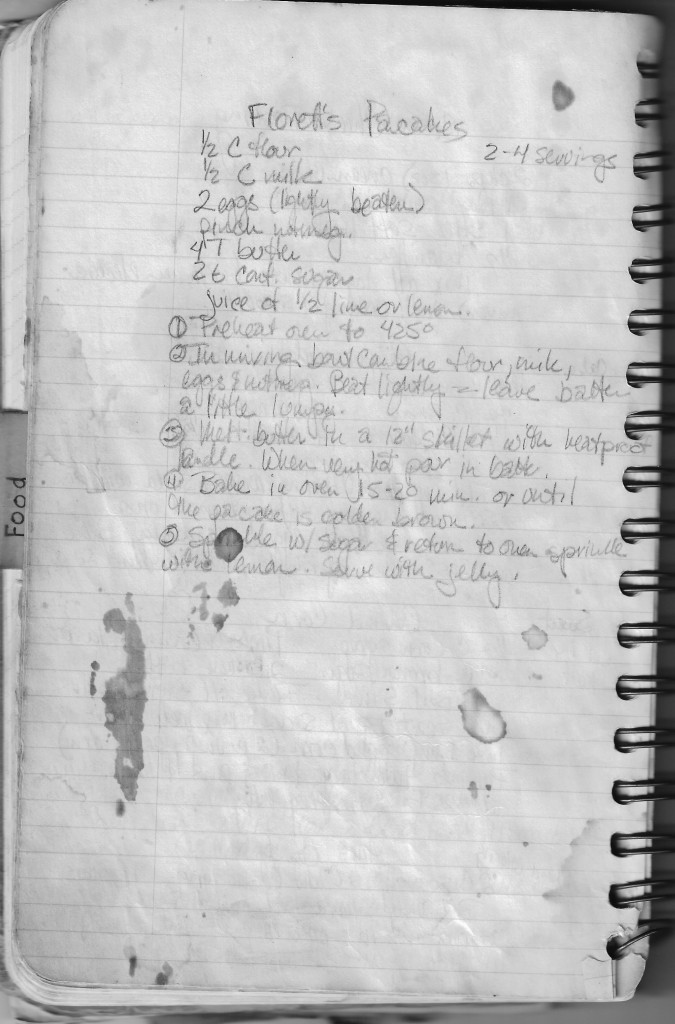 My daughter Claire noticed there is no salt in the batter. We have traditionally used salted butter for the pan, which seems to do the trick. But should we add more?
"The batter does not include salt, which can add fluffiness by helping relax the protein strands in eggs," said Jennifer. "Since I use unsalted butter, and since I like things a little saltier, I usually sprinkle a little flaky Kosher salt into the melted butter before adding the batter."
Jennifer, whose life sport is sculling, will whisk up a batch of Dutch Babies for herself on days that she trains.  "A two-egg version in a nine-inch Pyrex pie plate baked in the toaster oven makes a great second breakfast after rowing!" she said.
Many cooks find popovers tricky, but Dutch Babies are easy and pretty much foolproof. They use basic pantry staples, whip up quickly, and come out delicious whether or not they puff up high. With such a success, we're surprised there aren't more countries trying to claim them.
Jennifer's Dutch Babies
For pan:
¼ cup butter or less, to taste
Kosher salt to taste
For batter:
½ cup flour
½ cup  milk
2 eggs
For topping:
Confectioner's sugar
Lemon juice
Optional: fresh fruit and/or jam
Preheat oven to 425° F. Place butter in a cast iron fry pan or Pyrex pie plate and put in oven to melt. Watch to make sure the butter doesn't burn, and remove the pan when the butter has just melted. Sprinkle in a little Kosher salt to taste.
Mix batter quickly while the butter melts. Whirr eggs in blender at high speed for 1 minute. Then add milk and flour and blend 1 more minute.
Pour into the hot pan or pie plate and bake until all puffy and crisped at the edges, about 15-20 minutes.
Sprinkle with lemon juice and dust with confectioner's sugar. Top with fresh fruit and/or jam if you want. Slice into wedges and serve.
Use this guide for larger batches using larger or multiple pans. It follows the ratio of 1 egg : ¼ cup flour : ¼ cup milk per serving,
Butter            Eggs                Milk and Flour
¼ cup               2                      ½ cup each
¼ cup               3                      ¾ cup each
1/3 cup             4                      1 cup each
½ cup               5                      1¼ cups each
½ cup               6                      1½ cups each
Adjust baking times accordingly.
Posted on 20 December 2020 | No responses
I owe Aunt Sammy an apology.
She's not just my Aunt Sammy, but yours, too—the wife of our Uncle Sam. She starred in a popular radio show way back when, as radio had just begun making waves. The US Department of Agriculture, big into radio programming for farmers, dreamt her up in 1926 to give farmers' wives a view of the world beyond their fences. As radio stations sprung up everywhere, more than just farmers tuned in to hear the charming Aunt Sammy chat about recipes and household tips. So what if she wasn't real? It was before networks, so an actress at each local station played Aunt Sammy according to a script. With her familiar accent, she was everyone's next-door celebrity chef.
"Housekeeper's Chat" aired in short daily episodes until 1944, helping homemakers put healthful, affordable and delicious meals on the table even through tough times. But it was also a media pioneer, and one of the first radio shows to have the kind of recurring characters that became standard on radio and TV. Two of the three women who wrote it were food experts. The third supplied the witty banter that turned it into real entertainment.
The show was such a hit that the USDA's Bureau of Home Economics published a free companion cookbook, Aunt Sammy's Radio Recipes, which they revised
and expanded several times. I snagged a 1931 edition stamped, "Compliments of John Taber, Congressman 36th District New York," at a library sale.
Even before I heard of Aunt Sammy, I thought of the USDA's home economics branch as a good friend sharing favorite recipes. I collected many of its cook booklets right after college and preferred them to the popular (and I believe overhyped) Joy of Cooking. Here were well-tested, well-crafted, wholesome recipes, free for anyone to take and share without a hidden agenda, sponsors, or strings attached. Even now I get a little verklempt when I think about how this benevolent Government agency—like the kindly aunt who bakes the best cookies—just wants us to enjoy cooking, eat well and stay healthy.
In a recent comparison of baked cheese sticks, Recipephany pitted Aunt Sammy's Cheese Straws against our longtime favorite Puffy Cheese Sticks. We reported that Aunt Sammy's came out tasty, but "lacked the delectable bite of the puffy cheese sticks."
What we failed to note was that Recipephany Test Kitchen's Chief Taste Tester (my husband Dan) actually preferred Aunt Sammy's thin and crispy sticks. Yes, we are still cheerleaders for "Team Puffy." But these skinny cheesy breadsticks make a tantalizing alternative. And they are easier and faster to make. No need to chill before rolling. Plus, thanks to Aunt Sammy's ingenuity and waste-not ethic, they help use up your old bread. Surprisingly, they taste great right out of the freezer (where we keep a stash for an instant treat).
So what were we thinking when we implied Aunt Sammy's cheese straws were second-rate? Sorry, Aunt Sammy, for calling you a runner-up. Your cheese straws, almost a hundred years later, prove you're still Mrs. America. While your neighborly voice no longer graces the airwaves, your cookbook and great recipes live on—free for all to enjoy.
P.S. Aunt Sammy's Radio Recipes Revised is available free on the Internet Archive.
Aunt Sammy's Cheese Straws
From Aunt Sammy's Radio Recipes Revised, US Government Printing Office (1931, page 105)
by Ruth Van Deman and Fanny Walker Yeatman
Bureau of Home Economics, US Department of Agriculture
½ cup flour
1 teaspoon baking powder
½ teaspoon salt
1/8 teaspoon paprika
1 tablespoon butter or shortening
1 cup soft bread crumbs (We recommend a Mini-Prep, food processor or blender to make crumbs from old bread.)
2 tablespoons milk (We use maybe twice as much to make a pliable but not wet dough. It may depend upon the type of bread crumb or softness of the cheese, we don't know.)
1 cup grated cheese (We prefer Trader Joe's Unexpected Cheddar.)
Preheat oven to 350°.
Combine flour, baking powder, salt and paprika in a large bowl. Rub in the butter or shortening with your finger tips. Add bread crumbs, milk and cheese, and mix thoroughly. Roll to one-fourth inch thick on a floured board. Cut into narrow strips and bake for 20 minutes, or until golden brown.
Posted on 8 December 2020 | No responses
Somewhere along the line, we came to treat pie crust like a prima donna. Handle it gingerly, they say, or it will toughen and refuse to cooperate. Use your best butter, make sure to chill the dough, yada yada yada.
Happily, for decades our Orange Juice Pastry has worked yeoman's duty without complaint. What makes it so agreeable? First, the shortening (yes, Crisco, thankfully now transfat-free) enjoys being handled at room temperature. And the orange juice—cold and a tad acidic—plays well with the shortening.
One sticking point, though. How much OJ is just right? Too little and the dough gets dry and hard to roll. Too much liquid might develop the gluten in the flour and cause the crust to toughen.
The solution: add in another liquid that, unlike the water in the juice, won't activate the gluten. Vodka, for instance.
Vodka is a secret ingredient in many pie crust recipes that call for ice water. So why not use it with orange juice? After all, vodka and OJ have long been a power couple in the Screwdriver cocktail.
Mixing a Screwdriver and then drizzling it into the dough does the trick. It moistens the dough enough to make it soft and easy to roll without over-activating the gluten. And no matter how much we roll and re-roll the dough, it stays tender and flaky. For fun, we like to roll out any leftover dough, sprinkle it with cinnamon sugar, and cut it into tiny pastry-style cookies.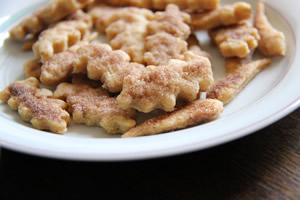 And, of course, you can guess what we like to do with any leftover Screwdriver.
Screwdriver Pie Crust
Shown above as crust for Ma's Lemon Sponge Pie
Two-Crust Pie
¼ cup cold orange juice
2 tablespoons vodka
2 cups flour
3/4 teaspoon salt
¾ cup shortening (Crisco, which is transfat-free)
Mix orange juice and vodka in a cup or glass to make the Screwdriver. The ratio of orange juice to vodka is 2:1 in case you need extra.
In a large bowl, mix flour and salt. Cut in shortening until it looks like coarse meal (you can use your fingers).
Gradually drizzle the Screwdriver over the flour mixture as you stir it with a fork until it coheres into a soft ball of dough. You may have some Screwdriver leftover, or you may need just a little more to make the dough easy to handle. Break dough in half, and roll out accordingly.
One-Crust Pie
3 tablespoons cold orange juice
1½ tablespoons vodka
1½ cups flour
½ teaspoon salt
½ cup shortening (Crisco, which is transfat-free)
Mix according to instructions above.
For a baked pie shell, prick the pastry all over with a fork, including sides, to prevent bubbling. Bake at 425º for 12-15 minutes.
Posted on 25 November 2020 | No responses
The Turducken—a deboned chicken stuffed inside a deboned duck stuffed inside a deboned turkey—makes a showstopping Thanksgiving centerpiece. Carving it is a parlor trick at the dinner table, but the dish owes its popularity to its quirky mashed-up name. Remember Brody's Second Law of Marketing: If you can't name it, you can't sell it. (Honestly, though, didn't anyone consider its first four letters?)
Ten years ago at Thanksgiving, our daughter Claire posed an intriguing question. With all the choices on the dessert table, why isn't there a pie version of Turducken?
And thus, she created the Chocopecankin Pie.
Claire designed it like a target so that every slice—like the Turducken—would include each pie. To make the target, she lined a pie plate with pastry and then added concentric rings of dough. She built them up and crimped them to form the crusts for the interior pies.
Claire filled the outside ring with pumpkin, the inner ring with pecan, and the center mini-pie with chocolate filling (doesn't everyone love a chocolate center?).
The pecan gave a chewy counterpoint to the spicy pumpkin and smooth chocolate. The fillings all baked well at 350 degrees, and voilà: flaky crust and three distinct and delicious pies in each slice.
Wouldn't you know, in the years since Claire invented Chocopecankin Pie other desserts billed as Turducken equivalents have popped up, notably the "piecaken." That odd combination stuffs any number of pies inside a cake, for a massive Frankendessert that challenges the shelf space in any fridge.
When I recently whined to Claire about how I wanted to make Chocopecankin Pie this year but was afraid of all the work, she replied with one simple argument: "It's easier than croissants." That logic wouldn't sway most people, but since I will gladly devote two days to that famously formidable laminated French pastry, it convinced me to try.
She was right. All three fillings blend up quickly and easily. And it's fun building the inside crusts. Hello, new Thanksgiving tradition.
We halved chocolate and pecan pie recipephanies to make the fillings. To complete the triumvirate, here's our Spicy Smooth Pumpkin Pie recipephany. It combines my mom's classic recipe with the spices Nancy Johnson, a dear longtime next-door neighbor, put into her signature sweet potato pie. More spices, more oomph—yet still smooth and light.
We needed just a little pumpkin pie filling for the Chocopecankin Pie, but we made the full recipe anyway. We couldn't waste all that pumpkin and evaporated milk, right? Miraculously, like the fishes and loaves, we were able to make an entire pumpkin pie with the leftover filling and dough. Funny how I got my favorite Thanksgiving pie as a bonus.
So forget Turducken. Even with a scaled-down Thanksgiving, you can get all the desserts you dream of stuffed into one showstopping Chocopecankin Pie—and (if you want) a spare pumpkin pie thrown in for good measure.
Chocopecankin Pie
• Crust
Orange Juice Pastry at Red Sox Dinner Lineup, Featuring Jacoby Ellsberry Pie
Double the two-crust recipe. You will probably have enough leftover for another pie— perhaps a pumpkin?
• Chocolate Pie Filling
The Oscars 2012: The Help (Yourself to Another Slice of) Chocolate Pie
Halve the recipe. Use the 4 tablespoons of evaporated milk leftover from Spicy Pumpkin Pie (below) recipe plus 2 tablespoons of milk or cream to make the 3/8 cup of evaporated milk that would be in half a recipe. You'll have leftovers, which you can pour into ramekins and bake at 350° until done. They freeze well.
• Pecan Pie Filling
Robin's Perfect Pecan Pie, found on Edith's Flaky Pie Crust, and how it may become Chelsea Clinton's favorite.
Halve the recipe, but use 2 eggs. You'll have leftovers, which you can pour into ramekins and bake at 350° until done. They freeze well.
• Pumpkin Pie Filling
Spicy Smooth Pumpkin Pie, below.
Assembly
1. Roll out pastry for a 9-inch pie plate. Spread the bottom with a thin layer of soft butter to keep it crisp. Crimp the edge.
2. Roll out and cut strips of dough to form concentric circles at 6 inches and 3 inches in from the rim. Crimp edges.
3. Pour pumpkin filling into the first section, leaving a half inch or so to allow for rising. Pour pecan filling into the middle ring, and chocolate filling into the center mini-pie, also allowing for room for a slight rise.
4. Bake in a preheated 350° oven for about 40 minutes, checking for doneness.
Spicy Smooth Pumpkin Pie
Adapted from recipes by Muriel Brody and Nancy Johnson
Heat oven to 375°. (For use in Chocopecankin pie, 350° works fine.)
1. Prepare pie crust.
2. Beat 2 eggs slightly. Add:
1 can pumpkin
¾ cup sugar
1 teaspoon molasses
and blend.
3. Add:
½ teaspoon salt
1 ¼ teaspoons cinnamon
1 teaspoon ginger
¾ teaspoon nutmeg
¼ teaspoon cloves
2 teaspoons vanilla
10 ounces evaporated milk, or one 12-ounce can minus 4 tablespoons. If using a large pie plate, you can use the full can.
4. Mix well and pour into unbaked shell.
5. Bake 40-45 minutes. Turn down temperature if its gets too brown, or cover crust with foil. Pie is done when a knife inserted in the center comes out clean.
Posted on 13 November 2020 | No responses
As cozy as a welcome hug, mac 'n cheese defines comfort food. This creamy version brings comfort to both the eaters and the cooks. And you can make it in a snap with just a couple of ingredients. Forget measuring spoons or cups—the only unit is the "dollop." And get this: you tell doneness not by time, color or temperature, but by the way it sounds.
This recipephany comes courtesy of our sister-in-law Sheila, whose mother Ruth knew how to please her grandkids. Sheila's children, Ariel and Eli (now with kids of their own), named it Grandma Mac to distinguish a unique dish that, as Eli puts it, offers "zero challenge to the palate and a perfect mouthfeel." I never met Ruth, but Ariel says she liked to craft and was never without a project. In this case, Ruth crafted a dish as easy as Kraft from the box—but with much more goodness.
Here Sheila shares her mom's recipe, seasoned only with salt and nostalgia.
—————————————————————————————————-
"More than any of my recipes, this is The One when it comes to comfort. Most mac 'n cheese recipes call for various cheeses, maybe a roux, maybe a crunchy topping and then some baking. Not so, my mom's! She got it down to the basics. It traditionally stars at our Yom Kippur break-fast,* and is right up there as a most-requested recipe.
First, boil up your favorite elbow macaroni for the recommended cooking time. How much macaroni? Enough for your own snack (perhaps a secret, momentary need), or enough for the whole family. So maybe a box or two.
After draining and while it's still hot, drop in a huge dollop each, or more, of Philadelphia Cream Cheese and butter according to taste.
Salt liberally.
Stir with a soup spoon until you hear that creamy, slathering sound.
Serve immediately!
Leftovers (leftovers?) are never as good as the original, which has been known to be eaten right out of the pot (oops, back to that comfort food thing), but do serve with a fresh salad (or not) to cut some of the guilt—I mean richness.
Enjoy!"
*Note that "Break-fast" isn't breakfast, but the evening meal that breaks the Yom Kippur fast.
—————————————————————————————————-
Thanks, Sheila! You've written the best instruction in any recipe: "Stir with a soup spoon until you hear that creamy, slathering sound." And even with a healthy slathering, the nutty taste of good macaroni shines through.
As great as this recipe is, it is strangely absent from the blogosphere. Gourmet Magazine has a version (via Epicurious) that we made for big family meals, but that was before we met Grandma Mac. It calls for mascarpone, which is just cream cheese with more butterfat and an Italian name everyone mispronounces. Yes, there's a bit of Parmesan, crumbs and sage, but if you take those away and just lean on the salt, you've got "Grandma-scarpone Mac."
Lesson learned: you don't need mascarpone in the house. Just invite Grandma Mac to your table and enjoy an easy, delicious and downright soothing dinner.
Posted on 29 October 2020 | No responses
To: Bill Tine, Vice President of Marketing, King Arthur Baking Company
From: Diane Brody, Recipephany.com
Subject: Permission to Publish Recipe for Whole Wheat Brownies
Date: October 29, 2020, 1:20 PM
Dear Bill,
I have been a loyal subject of King Arthur for nearly 50 years, starting when I was your company's account manager at the Boston PR firm, Robert Weiss Associates. My highlight was placing your affable bread-baking evangelist Bert Porter on talk shows. Already popular with New England audiences, this buttoned-down, down-home "Mr. King Arthur" required no selling on my part. Who else could demonstrate how to make a loaf of bread so well—even over the radio?
As a bonus, I snagged Bert as my own personal baking mentor. He gave me the courage to dismiss my previous yeasted failures and dive into bread baking, which I did in a big way.
Around that time, my friend Julie* served what she called "King Arthur Flour Whole Wheat Brownies." These dense, deeply fudgy, nearly gooey bars made me admire King Arthur all the more. How could a brownie that rich and decadent harbor whole-grain wholesomeness? (Turns out that cocoa and whole wheat have a secret love affair, and nobody ever suspects.) It's a swoon of chocolate with a perfect chew, uniquely grand yet easy to throw together.
Recently I sought out the origins of this recipe. I started with The King Arthur Flour 200th Anniversary Cookbook** (1990)—one of my baking bibles—authored by Brinna Sands, wife of King Arthur's president Frank Sands.
I recognized the recipe as "Chewy Whole Wheat Brownies" under "Whole Wheat for Dessert." It also showed up as "Grandmother's Brownies," under "Cookies & Bars." It's from Brinna's own grandmother, Annie Davis, and apparently so dear to Brinna that she included it twice.
I expected to see the recipe and its pedigree on your baking-mecca-website, but all I have been able to find is "Whole Grain Brownies." A distant cousin, it calls for white whole wheat flour rather than whole wheat, plus baking powder and chocolate chips.
Why mess with perfection? You should give this heirloom recipe a place of honor on your site so everyone can marvel at it.
I'd love to feature a slight adaptation of this gem (see below) on my blog, Recipephany. Would you give me your blessing? Of course I'd credit King Arthur. It would be a little like old times, when I helped spread the word about a local company dedicated to helping us become better, happier bakers.
Faithfully yours,
Diane Brody
*The same Julie who brought us Kathleen's Tiny Tarts: short and sweet
**The King Arthur Flour 200th Anniversary Cookbook appears to be out of print. Since King Arthur does not publish this classic recipe in any other cookbook or on their website, Recipephany may now be the only authorized source.
——————————————-
From: Bill Tine, Vice President of Marketing, King Arthur Baking Company
To: Diane Brody, Recipephany.com
Subject: Permission to Publish Recipe for Whole Wheat Brownies
Date: October 29, 2020, 1:35 PM
Diane,
Thanks for reaching out and love hearing about the stories of past King Arthur branding efforts.
For the recipe, you are welcome to share the adaptation.  Could you link to our website where you have "courtesy of …"
I've bookmarked your blog as well as it's another great source for inspiration.
Thanks!
Bill
——————————————-
King Arthur Flour Chewy Whole Wheat Brownies
Adapted from Julie K.'s recipe, courtesy of King Arthur Baking Company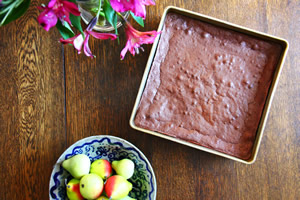 Preheat oven to 350°.  (Do not use convection setting; it may inhibit the shine.)
1 cup King Arthur whole wheat flour
2 cups sugar
¾ cup cocoa powder
¼ teaspoon salt
½ cup butter or margarine, melted
¼ cup oil
2 eggs (3 if you want it less chewy)
2 teaspoons vanilla
Mix flour, sugar, cocoa and salt in a large bowl.
Stir in melted butter or margarine and oil, then beat in eggs and vanilla.
Bake in a lightly greased 9" square pan for about 30 minutes. It should just begin to pull away from the sides of the pan, and the center should be barely set.
Posted on 16 October 2020 | 2 responses
"How wacky," you say. "You don't make graham crackers, you make things with graham crackers—like s'mores and pie crusts. Why bother?"
It's no bother, and it's totally worth it. A homemade graham cracker is like homemade pasta. Once you bite in, you can't believe it could taste—and make you feel—that good. This recipe bakes up a graham cracker that's crisp and sweet, with a toasted wheatiness and tang of molasses. Sure it's familiar—you've had something like it before, from a box. But this is the real thing.
This Boston Globe recipe lay dormant for 42 years in my recipe box. When I dug it out and gave it a whirl recently, it was like discovering a comet or finding a lost Beatles track.
The term "cracker" doesn't do it justice. Like the Snickerdoodle or Tiny Tart, it deserves a more distinctive name. So we're branding it "Grahammy," particularly suitable now that I'm a grandmother.
You can make a meal with Grahammies. My husband and I both grew up in households where a bowl of broken graham crackers submerged in milk constituted a valid lunch. The crackers turned into—thanks to the miracle of capillary action—a sweet ethereal mush in just seconds. I'm proud we passed this dish down to our kids. Rest assured, Grahammies will also disintegrate nicely in milk, although they might retain their crunch a few seconds longer. And I've got to believe they're more wholesome.
Another reason to make your own is that Grahammies fall into the "easy" category—a breeze compared to sugar cookies. And you can probably make delicious vegan Grahammies by substituting your favorite plant-based beverage for the milk.
And while we're on the topic of healthy ingredients, don't be concerned that these do not call for graham flour, a coarse whole wheat flour named after The Reverend Sylvester Graham, the granddaddy of American vegetarianism. Regular whole wheat works great.
If it weren't for Graham, though, all flour might still be white. In the early 1800s, he convinced millers to stop discarding the nutritious germ and bran. He preached temperance and eating wisely at a time doctors prescribed cutting out vegetables, eating lots of meat and drinking port wine to fight disease. Sadly, he died after following this very prescription, breaking his own rules in a desperate attempt to beat the Grim Reaper*.
While Grahammies can replace graham crackers as snacks and in recipes, go ahead and serve them as you would cookies and cakes. They're that delicious. So let's lift our milk glasses and toast Graham for making this recipe possible. And to the prospect of my making Grammy's Grahammies for my grandson.
*Or, "Graham Reaper," as my sister-in-law Grammy Sheila corrected.
Grahammies: Great Homemade Graham Crackers
Adapted from The Boston Globe, "Recipe Rack," June 21, 1978
Allow time for the dough to chill, from one hour to overnight.
2 cups whole wheat flour
1 cup flour
1 teaspoon baking powder
½ teaspoon soda
½ teaspoon salt
½ cup shortening
¾ cup sugar
1 tablespoon molasses
2 teaspoons vanilla
Scant ¾ cup milk
Mix flours, baking powder, soda and salt on a large sheet of wax paper or in a medium bowl.
Cream shortening, sugar and molasses in a large bowl until fluffy. Add vanilla.
Add the flour mixture to the creamed shortening mixture, alternating with milk and mixing well after each addition. It should all come together into a pliable dough, so adjust milk as needed so that it is neither too dry nor too wet to handle.
Wrap dough in plastic wrap and chill until firm, for an hour to overnight.
Preheat oven to 350°.
Divide dough into thirds. Roll out each portion on a lightly floured surface (or between two sheets of lightly floured wax paper) and trim to make a rectangle about 6"x12" and 1/8″ thick. Save trimmed dough to roll into extra Grahammies.
Transfer each rectangle to a greased baking sheet. Cut each rectangle into six 2" x 6" rectangles. Score a line across the center of each rectangle, so that when you break them in half you'll have 12 2" x 3" Grahammies from each third of dough. Prick rectangles with a fork and separate slightly so they can brown around the edges. You can make the batches separately, baking one while rolling out the next. Or, roll all out and bake all at the same time.
Bake at 350° about 18-20 minutes, or until crisp and edges are brown.
Remove immediately to cool on wire racks. Makes about 18 double Grahammies, or 36 Grahammies after you break them apart.
Posted on 17 September 2020 | No responses
This voluptuously moist French pastry-shop chocolate gateau has just enough structure to qualify as cake, but otherwise could pass for a chocolate truffle for 12.  A shiny glaze doubles down on the chocolate, making sure that no part of your palate escapes the wave of deep dark flavor. Prepare for a totally immersive chocolate experience.
Julia Child wrote that Reine de Saba (Queen of Sheba) was the first French cake she ever ate, and she devoted her
100th show of The French Chef to this recipe way back in December 1965. First aired on WGBH-TV in Boston, this seminal cooking series went nationwide, catapulting Julia to culinary icon, and then on to her current status as single-name legend.
My mom, who preferred baking pies, nevertheless loved making this cake. She scribbled down notes while watching this episode and soon made this dessert her own. In fact, "Queen of Sheba" is what I visualize up on the marquee when I reminisce about my mom. Maybe it's also because she recalled with a smile that one of her grade-school teachers truly believed my mom was the reincarnation of a Persian princess.
Black Magic Cake still tops my chocolate cake list for special occasions. Yet sometimes we yearn for a denser, richer, more intense French gateau. We slice it thinly, but then always come back for seconds. A glaze replaces frosting, and a halo of crushed honey-roasted almond slices from Trader Joe's makes an easy decoration.
Julia slightly altered the recipe in The Way to Cook (1989), cutting back a bit on sugar, replacing some of the sweetened chocolate with unsweetened, and decorating with chocolate leaves. I prefer the original, of course. After all, it comes by way of a Persian princess.
Reine de Saba (Queen of Sheba) Cake
Cake Batter
2/3 cup semisweet or bittersweet chocolate chips, or 4 ounces bittersweet baking chocolate, broken into bits
2 tablespoons strong coffee made of espresso powder dissolved in hot water (or 2 tablespoons dark rum)
1 stick (4 ounces) butter, softened
2/3 cup sugar, plus 2 tablespoons
3 eggs, separated
Scant ¼ teaspoon cream of tartar
Pinch salt (I omit if using salted butter)
1/3 cup almond flour (or finely ground blanched almonds)
1/4 teaspoon almond extract (I substitute 2 teaspoons vanilla)
¾ cup bleached cake flour
Preheat oven to 350°. Grease and flour an 8" x  1½" round cake pan, or grease and line with wax or parchment paper.
Microwave the chocolate and dissolved coffee (or rum) in a small bowl until the chocolate starts to melt. Stir until smooth, and set aside to cool.
Cream butter and 2/3 cup sugar in a large bowl until fluffy. Beat in egg yolks.
In a small bowl, whip egg whites until foamy. Add cream of tartar and then beat on high. When whites start to hold their shape, beat in 2 tablespoons of sugar until the whites get shiny and form soft peaks, which should happen quickly. Do not overbeat.
Stir chocolate mixture to make sure it is smooth. (If it has set up and gotten granular, add a few drops of warm water and stir until smooth.)  Mix chocolate into the butter, sugar and egg yolk mixture. Stir in almond flour, vanilla and flour.
Using a silicone spatula, sir in a quarter of the beaten egg whites to soften the batter, then quickly fold in the rest of the egg whites.
Turn batter into the pan, then sway the pan back and forth until the batter reaches the rim and the top gets level.
Bake for about 25 minutes in the center rack of the oven. Cake is done when it has puffed up to the top of the pan, and a toothpick tester comes out clean only from about 2½" to 3" in from the edge of the pan. The center should still be moist, and will continue to bake a bit when it comes out of the oven.
Cool in pan for 10 minutes, then loosen edge with a knife and turn out the cake.
Let cool 2 hours before glazing. You can freeze the cooled cake and glaze when defrosted.
Chocolate Glaze
½ cup semisweet or bittersweet chocolate chips, or 3 ounces semisweet or bittersweet baking chocolate
1½ tablespoons strong coffee (or rum)
6 tablespoons softened butter
Crushed toasted almond slivers or slices (or Trader Joe's Honey Roasted Sliced Almonds)
Microwave chocolate in the coffee or rum until soft, then stir until smooth. Add the butter and stir until it has melted and the glaze is smooth. If necessary, place in the freezer or over cold water until thickened enough to spread. Use an offset spatula to spread and create texture if desired. Decorate with crushed almonds.
If you wish to freeze the glazed cake, refrigerate first until glaze is set.
Posted on 5 September 2020 | 2 responses
You've heard me gush about "Ma's Lemon Sponge Pie" for years. The tart and creamy lemon filling merges with an ethereal fluff that rises to the top as the pie bakes. So you've got the lemon curd on the bottom blending into an airy sponge cake that browns Maillard-style to add a hint of caramel.
Lemon sponge pie is far better than lemon meringue pie in my book, since meringue can be wet, weepy, and have the foamy texture of something expelled by an undersea creature.
A couple months ago, our friends Pam and Adam had us over for a splendid dinner of grilled delights on their rooftop patio. I brought Ma's pie. They enjoyed it, saying that the best desserts are either lemon or chocolate (see Adam's killer "Double Chocolate Sorbet"). Pam recently made the pie without the crust, saying she wanted to cut out that extra fat and calories, and reported delicious results. This makes sense because the lemon comes with the cakey topping, so it holds its own well without pastry.
Here's a crustless variation which makes a lovely dessert of individual lemon sponge pudding cakes. It mixes up quickly and easily, so we get from zero to lemon sponge much faster than with a pie.
Use ramekins or clever nonstick baking cups from King Arthur, which are thin, stackable and easy to store. We serve the pudding cakes in the ramekins, or turn them out onto plates so that the lemon becomes the topping.
Since you can't pick up and eat a slice out of your hand—the traditional way of eating Ma's pie—lemon sponge pie lovers will have to revert to using a spoon. But it's worth it to get that intense lemony hit—and enforced portion control.
3/4 cup granulated sugar
1/3 cup flour
3 eggs, separated
2 tablespoons melted butter, cooled to room temperature
1 cup milk (skim or any fat content)
6 tablespoons lemon juice
1 teaspoon grated rind of lemon
1/4 teaspoon salt
Confectioners sugar (optional) for dusting
Preheat oven to 350°. Coat six 6-ounce ramekins (or nonstick baking cups, see above) with vegetable oil spray. In a medium bowl, whisk together sugar and flour. In another bowl, slightly beat egg yolks, then add melted butter and blend. Whisk in milk, lemon juice and grated lemon rind. Pour the lemon mixture into the dry ingredients and whisk until smooth.
In a small bowl, beat egg whites and salt until stiff but not dry. Fold into the lemon mixture.
Set ramekins or baking cups into a 9" x13" (or larger) baking or roasting pan. Spoon batter into cups, making sure to distribute the liquid and fluffy portions evenly. Place the pan in the oven and pour in enough hot water to reach about halfway up the sides of the cups.
Bake about 35 minutes or until sponge is puffy, golden and slightly browned. Using tongs, transfer the ramekins to a rack and cool 10 minutes. Serve in the ramekins or run a knife around the edges and unmold onto plates. Serve warm or at room temperature, dusted with confectioners sugar if desired. Refrigerate cakes for serving within a few days.
Posted on 21 August 2020 | 6 responses
Rhode Islanders love their johnny cakes the way Southerners love hushpuppies. You won't confuse johnny cakes with hushpuppies, though. Unlike those cornbread fritters, johnny cakes are thin, 100-percent corn meal pancakes passed down from the Narragansett tribe.
A spoonful of corn meal mush gets griddled until it's crispy outside yet still soft and creamy inside. There's nothing but corn flavor through and through—except of course for the tang of the maple syrup it happily soaks up.
Etymologists say johnny cakes evolved from journey cakes because early settlers packed them for trips. Seriously? These fragile cakes can break on the way from the stove to the table.
I did learn that jonakin is an early American name for this pancake, and perhaps it was just a short jump from there to johnny cake.
My mom discovered johnny cakes on a tour of Kenyon's Grist Mill, Rhode Island's oldest manufacturing business, famous for grinding meals and flours since about 1700. Using the recipe on the back of the box of Kenyon's Stone Ground Johnny Cake White Corn Meal, she griddled up what I thought were some of her best pancakes—and certainly her most memorable.
Kenyon's claims its heirloom white Indian corn, also called flint corn, is "the original and only corn meal that you will find that will make a real Rhode Island johnny cake." I took this seriously, and fortunately found Kenyon's at my local Stop and Shop.
I've noticed that Kenyon's corn meal is now hard to find. They sell it online, but it's pricey: $24.50 for 32 ounces including shipping. At that price, it should come with a Certificate of Authenticity.
What are we to do now? Can we successfully substitute easy-to-find yellow corn meal for the official white?
Recipephany Test Kitchens set off to answer this question. We pitted Indian Head Old Fashioned Stone Ground Yellow Corn Meal against Kenyon's Johnny Cake Corn Meal. Note that Indian Head, our go-to all-purpose corn meal, costs less than $2 for 32 ounces.
Surprisingly, in a blind taste test we found that yellow corn meal made not just adequate, but superior johnny cakes. A slightly coarser grind than its white counterpart, it fried up just a little crispier, produced thinner pancakes, and cooked a bit faster. Best of all, the yellow johnny cakes had deeper, sweeter corn flavor.
This means that for less than a tenth of the price of Kenyon's corn meal shipped from Rhode Island, you can make delicious, perfectly authentic johnny cakes for your next Sunday brunch. Despite what Kenyon's says, johnny cakes do come in yellow as well as white.
So give these a try and get an idea of how the Native Americans hooked colonists on corn. Native Americans also cooked up maple syrup, so make sure you've got the real thing on hand to get the full Rhode Island johnny cake experience.
P.S. I couldn't find Kenyon's corn meal in stores, so I called the company and spoke with the owner. He said he'd send me some for my story, and I got excited that Recipephany might finally get a freebie. When the box arrived, though, I found an invoice for $24.50 tucked beside the corn meal. I gladly paid it, relieved that I wouldn't feel obliged to give them special consideration. Rest assured, Recipephany remains outside the pockets of Big Corn Meal.
Rhode Island Johnny Cakes
Adapted from Kenyon's Stone Ground Johnny Cake White Corn Meal back-of-box recipe.
1 cup stone ground corn meal, yellow or white
Oil or butter
1 tsp sugar
½ tsp salt
1½ cups boiling water
½ cup milk
1.    Mix corn meal, sugar and salt in a bowl.
2.    Gradually add boiling water, mixing well to combine, and let sit for about 5 minutes.
3.    Add ½ cup milk and stir well. (Add more if desired. A thinner batter makes for a thinner and lacier johnny cake.)
4.    Drop batter by spoonfuls onto a well greased, medium hot griddle or skillet.
5.    If using white corn meal, let sit for 6 minutes, or until they have turned brown around the edges. With yellow corn meal, they need to sit for only about 4 minutes.
6.    Place a little oil or butter on each cake, then flip them over and press down slightly with a spatula to flatten. Cook for about 5 minutes more (a little less with yellow corn meal), pressing down as needed to keep them thin.
7.    Serve with maple syrup on top or for dipping.
Posted on 28 July 2020 | 2 responses
In the baking aisle at Stop and Shop many years ago I passed by a young mother with two small children. She was intently surveying the shelves when her little girl reached for a tub of ready-made fudge frosting and begged, "Mommy, can we get this?"
"Honey," she snapped in a reprimanding tone, "if I'm going to go through all the trouble of baking a cake, I'm not going to put that shit all over it."
While her choice of words led me to question her parenting style, the wisdom of them has stuck with me.
Yes, it's all too easy to skimp on finishing touches. Consider the venerable hamburger.  Carefully crafted and perfectly grilled
burgers often end up in squishy, boring supermarket buns that don't meet anyone's standards for sandwich bread. Restaurants wisely showcase their high-end burgers in golden brioche from a bakery.
Now here's an easy and satisfying upgrade that lets you bypass both the supermarket bread aisle and the bakery. These simple, no-knead buns have the strength, fluffiness and flavor your tasty burgers deserve. Like brioche buns, they are soft, eggy and slightly sweet, but without all the butter.
They pretty much make themselves. Mix up the dough in a couple of minutes, let it sit, and then refrigerate. Whenever you're ready, remove from the fridge, form buns, wait until they get a little poofy, and bake.
Now I must confess that this is a variation of our No-Knead Challah Sandwich Loaf, my favorite foolproof bread. Similar in taste
and texture to brioche, this dough makes more than just great sandwich bread and toast. I often add chopped raisins and a hefty filling of cinnamon sugar to make cinnamon swirl bread. Why it took me this long to turn it into Better-Than-Brioche Burger Buns beats me.
So if you're going to go through all the trouble of making your signature burgers, bake up some signature buns to go with them. You'll never settle for those $#@& packaged buns again.
Better-Than-Brioche Burger Buns
Makes 12 buns, each about 3½-4 inches in diameter, from about 2 pounds of dough
7/8 cup water, lukewarm*
1½ teaspoons instant yeast (SAF Gold works best with sweet doughs like this. Available from King Arthur Baking and others.)
1½ teaspoons kosher salt
2 eggs, lightly beaten
¼ cup oil
¼ cup honey
3½ cups bread flour or all-purpose
*We recommend bread flour, which may need about 1/8-¼ cup more water than all-purpose flour to keep it stretchy.
Glaze:
1 egg beaten with one tablespoon of water
Sesame seeds (optional)
Stir together water, yeast, salt, lightly beaten eggs, oil and honey in a 4-quart bowl using a wooden spoon or a dough whisk (my preference).
Mix in flour. The dough should be moist and tacky, and look like a gloppy mass. Mixing will only take a minute or two. If you're using bread flour, you may need to use a little extra water to keep it stretchy.
Cover bowl completely with plastic wrap. Let sit at room temperature until the dough rises and slightly collapses or flattens, about 2 hours. Use the dough now, or refrigerate it for up to five days. Besides its convenience, cold dough right out of the fridge can also be easier to handle.
When ready to bake, line baking sheets with parchment paper. Dust dough with a little flour, remove from bowl, and cut into 12 equal pieces on a lightly floured counter. Roll and stretch each piece into a rope about 9 or 10 inches long, dusting lightly with flour if too sticky to handle. Tie each rope into a knot and tuck under the ends. The knots may disappear as the buns rise, but that's okay. Tying the dough is just a simple way of forming the buns. Place buns on the prepared baking sheets, flattening just a little so that each is about 3 inches in diameter. Allow room for a little spread.
Let rise for 90 minutes or until light and airy. They may not quite double in size. Refrigerated dough will probably need more rising time. In the meantime, preheat oven to 350°.
Before putting them into the oven, brush the tops with the egg wash. If you want, sprinkle with sesame seeds.
Bake about 15 minutes, until tops are light golden brown and interior reaches 200°. Let cool on rack a few minutes before slicing. Leftover buns freeze well.
Posted on 23 July 2020 | No responses
There is no greater glory for flour and yeast than to metamorphose into pizza dough. Yet, hard as we try, it's difficult to capture the flavor and chew of pizzeria crust at home. What's the secret?
If you ask Christopher Kimball, he'd say the secret ingredient in great pizza dough isn't an ingredient at all: it's temperature. Just before baking, bring the dough to 75°F, and it will puff up and give you a lovely crust.
In Naples, though, they would offer another, more powerful secret ingredient that's also not an ingredient: a wood fire.
A wood-fired oven radiates the heat of Hades for a quick, dramatic rise. The crust gets crisp on the bottom yet puffs up elsewhere, with characteristic dots of char. During all this, the flaming wood and glowing embers season the pizza with a subtle smoky flavor. You can approximate this flavor by cooking pizza on an outdoor grill, but can't get close in a kitchen oven.
Dan's brother John built a wood-fired oven a few years ago, and just the idea of a home pizzeria convinced Dan to follow suit. His backbreaking work and Italian sensibilities created a pizza altar that united our two, deep-seated primal urges: his to cook with fire, mine to bake bread.
As Dan became master of the flames and red sauce, I obsessed over dough balls. My goal was a strong, thin crust that would puff up with lovely bubbles around the edge and have a nice chew. I tried and tweaked many recipes, settling on an adaptation of the Olive Oil Dough from The New Artisan Bread in 5 Minutes a Day. Turns out it's a close cousin of my previous go-to pizza dough, Mollie Katzen's Basic Yeasted Flatbread.
Now, this is not a Neapolitan dough, which is made of Italian 00 flour and contains no oil. I use bread flour because, like 00 flour, it's rich in gluten and renders a puffy, somewhat chewy crust. Adding oil makes the dough easier to handle. Many say olive oil improves the taste and tenderness, but for me, that claim would be a stretch (pardon the pun). You may be tempted to use all olive oil, but I found that the dough seems to bake higher with half canola/half olive oil. There is absolutely no science behind it, but I'm happy with the result.
I also fell for the pizzeria bakers' claim that diastatic malt powder is the secret to a strong rise and browning. They say it's better than sugar for feeding yeast during long refrigerator fermentation. I found this to be true for Star Bread, where the smooth crust reaches a rich golden brown. While it's harder to tell with pizza, I still keep a jar of diastatic malt powder in the freezer right next to the yeast, ready for the next batch of dough.
As for baking temperature, Dan seeks a sweet spot between 700° and 800°F for the oven floor, coincidentally the same range as specified for Neapolitan pizza. We had thought the Neapolitan required the often-quoted 905°F (485°C), but it turns out that refers to the oven's ceiling, not the floor. At the lower end of the temperature range, our pizzas bake a little longer than the official 60-90 seconds and are less likely to flash into charcoal.
If you're going to make pizza, make enough for a party. This recipe yields five pies, but I also list the ingredient amounts per pizza in case you want to scale up or down. You can always freeze leftover dough, or refrigerate it to make flatbread within a few days.
Our dough's key ingredient is the wood fire. But don't despair if you don't have this ingredient; the dough will still work nicely on a pizza stone, grill, or however you make your pizza. As the meme goes, "You can't make everyone happy. You're not pizza." However, with this dough, you can give it a try.
Neo-Neapolitan Pizza Dough
Makes 5 large pizzas, about 11 ounces of dough each, about 13 inches in diameter
6½ cups bread flour (1.3 cups per pizza)
1 tablespoon SAF instant yeast (about ½ teaspoon per pizza) (.6 actual)
1 tablespoon kosher salt (about ½ teaspoon per pizza) (.6 actual)
2½ teaspoons diastatic malt powder (½ teaspoon per pizza) (Available from King Arthur Baking)
2 tablespoons olive oil (about 1¼ teaspoons per pizza)
2 tablespoons canola oil (about 1¼ teaspoons per pizza)
2¾ cups water, cold if mixing with a machine, lukewarm if mixing by hand (.55 cup per pizza)
Mix dough using one of these methods.
1a. With stand mixer:
Mix flour, yeast, salt, and malt powder in the mixer bowl with paddle. Add oil, then pour in water. Mix a little more, then switch to the dough hook to knead until the dough is stretchy, a little like the consistency of bubble gum. Add a bit of flour if needed to free the dough from the hook.
1b. With food processor (recommended for small batches):
Whir all ingredients for a couple of minutes until the dough is stretchy, a little like the consistency of bubble gum.
1c. By hand:
Use a wooden spoon or dough whisk to thoroughly combine. Stir until stretchy, but do not knead. You may need to use wet hands to mix in all the flour. Dough will be a little sticky.
Divide dough in half and transfer to two large oiled bowls, oil tops, and cover with plastic wrap. (For smaller batches, one bowl will do.) Let rise 2 hours, until dough rises and collapses. Refrigerate for a day or more, covered thoroughly with plastic wrap.
Two hours before baking, dust the surface of the dough with flour and cut into 5 pieces. Dust each piece with flour and shape into balls by stretching the surface of the dough and tucking in at the bottom, rotating as you go. Let sit for at least an hour, preferably two, covered with plastic wrap on a well-floured baking sheet. I find the balls can sit out another hour or so, as you make the pizzas, and they just get puffier and perhaps even better. (Remember that Christopher Kimball says the dough should get to 75°F.*)
Using just enough flour to keep it from sticking to the counter, roll out or stretch a ball into a 13-inch diameter round, keeping the edge a little higher to form an outer crust. You may need to let dough relax a couple of minutes if it keeps snapping back.
Sprinkle some corn meal onto a wooden pizza peel. Transfer dough to the peel, and work quickly to top the pizza so that it doesn't stick to the peel. For the classic Pizza Margherita, cover lightly with sauce up to the edge, and then add lumps of whole milk mozzarella, grated parmesan and/or romano, and basil leaves, and lastly drizzle with olive oil. Bake until bubbly and browned, and remove with a metal peel.
Of course, have fun with your favorite toppings, but be careful not to overload the pizza. The bread is the delicious prize.
Refrigerate any remaining dough, tucking in plastic wrap around the dough to keep skin from forming. Use within a week or freeze.
*Milk Street's recipe calls for warming the dough after refrigeration by putting balls into small lightly-oiled bowls, covering them with plastic wrap, and placing them in a larger bowl with 100°F water for 30 minutes, changing water as needed until the dough reaches 75°. I have not tried this. Our recipe's longer proofing before baking allows the dough to warm to ambient temperature, usually high enough in the summer. I suppose you could also warm the dough using a proofing setting on a kitchen oven, which is 100°.)
Posted on 26 June 2020 | 2 responses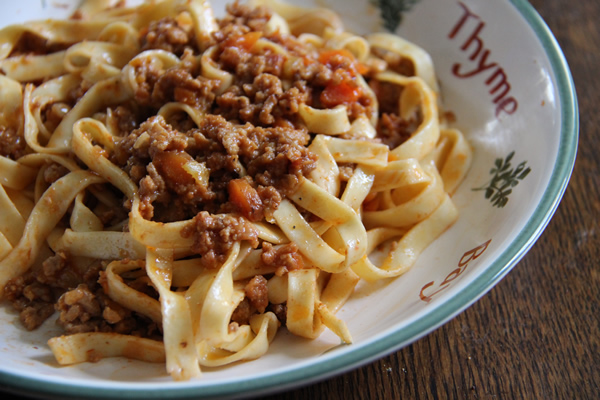 A comment from an Italian cooking teacher about our Classic Ragù alla Bolognese from Ada Boni got us thinking about what makes a bolognese a bolognese. In particular, are there chicken livers in its DNA? So we put Recipephany's Research and Testing Institute to work. Here's what we learned from our deep dive into the evolution of one of the world's favorite meat sauces.
A genetic analysis of bolongese ragù's ancestry brings you immediately to Pellegrino Artusi's 1891 seminal cookbook, Science in the Kitchen and the Art of Eating Well. The meats Artusi favored for his "Maccheroni Alla Bolognese" (which is curiously tomato-free in a book with many tomato sauces) were simply veal and pancetta. But he also pushed chicken livers. "The sauce can be made even tastier adding small pieces of dried mushroom, a few truffle slices, or a chicken liver cooked with the meat and cut into tiny chunks," he wrote.
Chicken liver is the Clark Kent of ingredients—adding super depth of flavor and richness to the meat sauce without revealing its true identity.
Artusi's bolognese influenced our favorite Italian cookbook author, Ada Boni. She's famous for Il Talismano della Felicità, (Talisman of Happiness, or simply The Talisman) (1928), which was Italy's standard cookbook for decades.
In The Talisman, Boni built on Artusi's recipe, adding beef and pork to the veal and pancetta. To crank up the meaty taste, she included not one, but two chicken livers. And there's tomato paste, for even more umami.
Now here's where evolution gets interesting.
Boni updated many of her recipes in Italian Regional Cooking (1969), our go-to Italian cooking reference and source of the Classic Ragù alla Bolognese. In this version, she added flavor-boosting sausage to the pancetta, beef and pork, and eliminated veal. Here she included two or three chicken livers to infuse even more of their magic into the ragù.
But she added a qualifier: she marked chicken livers as "optional." Was this a hint that they were no longer "de rigueur" (or should we say, "de ragù")?
Chicken livers called into question
Maribel Agullo, who heads the Taste of Italy cooking school in Bologna, contacted Recipephany to say that Italians no longer use chicken livers in their bolognese. She cited the official recipe for Ragù Alla Bolognese (registered with Bologna's Chamber of Commerce in 1982), which leaves them out.
She explained that chicken livers were popular at a time when no part of the chicken went to waste, particularly around World War II when food was scarce. Livers, giblets and even scraps of intestines went into the meat sauce. Butcher shops prominently displayed them. Her husband's grandmother, of that generation, added livers to her ragù. The tide shifted well over 20 years ago, she reported, when demand for chicken livers fell off and butcher shops stopped featuring them (although they are still available if you ask). In Bologna, she said, nobody adds chicken livers to their ragù anymore.
The chicken liver work-around
So can we get that signature meaty taste we've come to love without chicken livers? Maribel kindly offered a strategy.
"I believe that the use of the livers helps create that depth of flavor when you cook the vegetables first," she wrote us. "Try cooking the meat first with no condiments—just the meat with some fats (butter, oil) and once you've had the Maillard effect then add the veggies, cook them for a bit and proceed with the recipe."
Two ragùs, head-to-head
Would this do the trick? Recipephany tested two ragùs: Maribel's work-around without livers, and Ada Boni's Classic Ragù alla Bolognese.
Maribel's technique of first browning the meat absolutely intensified the flavor. I was hit by a bold, meaty taste—very aggressive. The fat separated out a bit during the long sautéing, though, and it tended to coat the pasta. The aromatics could have also used a little more time to soften. Yet this was a phenomenal ragù, one I'd be thrilled to get at a restaurant.
But when I tasted Ada Boni's sauce, the scientific method flew out the window. As I savored her soft, meaty ragù, my bias arrived and pulled up a chair. Like Artusi, I prefer my ragu "even tastier." If I can find chicken livers to add to the sauce, why should I give them up?
Chicken livers deliver
So now, I must admit to remaining old-school, despite the trend in Italy. And so do others. I recently met a woman at the Italian meats counter in Russo's Market in Waltham, Massachusetts. She and her Italian husband had lived in Emilia Romagna for over 12 years. When I mentioned bolognese sauce, she had just two words of advice: "Chicken Livers." She said, "My husband's family always puts chicken livers into their bolognese. It's what makes it so meaty tasting."
The legacy
Pellegrino Artusi's bolognese can be viewed as both a vestige of its times and an inspiration for future sauces. Like our culture and our genes, bolognese ragù has mutated, and will continue to do so, from area to area, generation to generation.
And as more people stumble upon Artusi's—and Ada Boni's—recipes, who knows how many new chefs might add chicken livers to their ragù.
Of course, not everyone embraces the rich, gamey flavor and soft texture of chicken livers. But as meats go, they are good for you—rich in iron, B vitamins, and even eye-healthy vitamin A. You don't have to invest in a pound of chicken livers to get what you need for the sauce. Every once in a while, save the liver from a whole chicken and freeze it. Even one liver is enough to enrich the sauce.
So click below for that classic recipe from Ada Boni. Add that age-old secret ingredient and see if it takes you back to the origin of this sauce. Find out what helped make Artusi's sauce all the rage. Maybe you'll agree with us that it makes your ragù "even tastier."
Special thanks to Taste of Italy's Maribel Agullo, Recipephany's Special Correspondent in Bologna, for her inspiration, expert advice and contributions to this article. Watch her Taste of Italy YouTube Channel and learn her secrets to authentic Italian cooking and pasta making.
Posted on 28 May 2020 | No responses
As we dip our toes back into the sea of socializing, we need PPEs—Prepared Party Edibles—snacks that are ready to serve the moment the stars align. These flaky, cheddar-laced sticks make the perfect nibble—they are simple to prep and freeze, and then quickly bake into puffy little wands of cheesy goodness.
Before snack scientists created vacuum-packed rods of mozzarella so parents could dole out string cheese to kids, "cheese sticks" referred to these savory pastry hors d'oeuvres. Also known as cheese straws, they go back to the kitchens of the 1860s, with notable recipes in UK's famed Mrs Beeton's Book of Household Management (1861) and in Godey's Magazine (October 1865) in the US. The recipe featured here is plenty old enough—I still go by the browned clipping I snipped from the Boston Globe in November 1977 and taped to an index card.
As far as I know, cheese sticks have never been a fad. But they are so hard to resist, they've lived through such trendy waves as brie en croute,
bruschetta, and tapas. Maybe you've seen boxes of artisan cheese sticks alongside imported delicacies at your grocery store. I say, save your money and make these puffy, cheesy bites yourself.
Have I mentioned "puffy"?  Rolled-and-sliced dough can produce cheese sticks that are flat and crispy, but this recipe delivers puffy layers for a delicate flakiness. The puff in this recipe comes from adding cheese in stages, and then rolling out and folding the dough after each addition. It creates a fine layering of dough, or "lamination," similar to what you get with puff pastry. Only when I first made puff pastry did I catch on that the secret to the cheese stick was this little bit of rolling and folding.  Of course, the egg yolk and baking powder probably don't hurt in the rising.
To help confirm that "puffy makes perfect," I tried a recipe for cheese straws from my 1931 edition of  Aunt Sammy's Radio Recipes Revised. This cookbook came out of the wildly popular radio show where Uncle Sam's wife Aunt Sammy, a clever creation of the US Department of Agriculture, gave out recipes for simple, inexpensive, nutritious and delicious meals that families could enjoy during hard times. In Aunt Sammy's recipe, the dough gets 
rolled out only once, so, as suspected, the strips baked up crunchy like thin cheesy bread sticks. They're tasty, but lack the delectable bite of the puffy cheese sticks.
But how much puff is enough? Puffy cheese sticks are so desirable that there is a movement—led by icons such as Ina Garten, Martha Stewart and Emeril—to skip making dough altogether and just use frozen, packaged puff pastry. While cheese sticks or twists made this way do puff up quite a bit (they are puff pastry, after all), I found they don't save work, don't improve the flavor, and they don't lend themselves to freezing for on-demand baking later on. This recipephany makes cheese sticks that are quite puffy enough, thank you. And you don't have to buy expensive packaged dough.
So, as the summer welcomes us outside, let's look forward to being with friends, raising our glasses to good health, and munching together on these delightfully puffy cheese sticks.

Puffy Cheese Sticks
Adapted from The Boston Globe

Recommended: Pizza wheel, ruler
2 cups flour
1 teaspoon salt
1 teaspoon baking powder
¾ cup cold butter
1 egg yolk
¾ cup milk
2 cups grated cheddar cheese (I use my favorite cheese, Trader Joe's Unexpected Cheddar)
1. Mix flour, salt and baking powder in a bowl; cut in the butter (I use my fingers) until it is down to tiny lumps. In a small bowl, beat egg yolk with milk; mix with a fork into the flour mixture until it comes together into a ball of dough. Chill one hour.
2. On a lightly floured surface, roll out the dough into a square 1/8 inch thick. Sprinkle half the dough with half the cheese and fold over, sealing the edges. Fold in half and roll out ¼ inch thick. Sprinkle with the remaining cheese, seal, and repeat folding and rolling. Finally, fold dough in half twice and roll out to ¼ inch thick. (I get about a 12″ square.) Cut into strips (I use a pizza wheel) about ½ inch wide by 3 inches long. (NOTE: If the kitchen is warm and the dough gets too sticky to roll, don't add much more flour. Put dough in the refrigerator to firm it up before finishing the rolling.)
3. Arrange the number you want to freeze in a container, with aluminum foil between the layers. Seal, label and freeze.
4. To serve immediately, place strips on a baking sheet an inch or so apart and bake in a preheated 425° oven 10 minutes or until delicately browned. Serve hot or cold. Refrigerate or freeze leftovers.
5. To bake frozen sticks, carefully remove the strips from the containers. Arrange on a baking sheet an inch or so apart and bake in preheated 425° oven 12 minutes, or until delicately browned. Serve hot or cold. Refrigerate or freeze leftovers.
6. Makes about 60-80 sticks.
Posted on 14 May 2020 | 3 responses
You're low on flour, rice is scarce, and your pasta stash is down to one lonely box of elbows. Thank Heaven for potatoes. Especially when it's easy to dress them up Greek-style—bright, pungent and with an aroma so intoxicating it could serve as stress-relief therapy.
"Greek-style" is simply shorthand for "lemon, oregano and olive oil" (the way "Florentine" means spinach). But this is not your standard dish of crispy potato wedges done up Greek-style. Here, layers of thinly sliced potatoes roast and steam, soaking up caramelized lemon sauce and blissing out on oregano. Cut into the casserole and you'll find strata of textures and flavors, from soft and creamy on the bottom to crispy on top. Imagine Mediterranean, dairy-free scalloped potatoes.
This is yet another treasured recipe from Elinor Lipman. It dates back to our two years' rooming together after college, before she took up writing best-selling fiction and before I set up Brody Marketing's world headquarters in my bedroom.
"The recipe was from some international cookbook, a paperback I no longer have," she says, so the provenance remains a mystery. It is still a favorite for both of us. Confident of its ease and lusciousness, I entered it into a cooking contest—with Elinor's permission, of course. I christened it "Patates Elinora" in homage. It didn't win, but the name stuck.
Use whatever potatoes you have on hand—russets, Yukon Golds, and I suppose even purples. Just watch out—this might upstage the rest of your meal.
Patates Elinora (Greek-Style Potatoes)
A mandoline or 2mm slicing disc on a food processor speeds prep. (Elinor cautions, "Watch yer fingers with that mandoline!")

Choose a casserole dish narrow and deep enough to allow for several layers and that special steaming effect. For instance, using a casserole 6 1/2″ x  8″  x  2  1/2″ high, I got about seven thin layers.

You can jump-start the recipe to save time by cooking, covered, in the microwave until potatoes slightly soften. Then uncover and roast in the oven to brown.
1. Preheat oven to 375 degrees.
2. Wash and pat dry 4 large potatoes (or equivalent smaller ones). Slice thinly length-wise (no need to peel). Oil or butter a casserole dish. Put one layer of potato slices on bottom. Sprinkle with salt, pepper and oregano.
3. Repeat layering and seasoning until one more layer of potatoes remains.
4. Top casserole with last layer of potato slices. Pour 3 tablespoons lemon juice over top, then 3 tablespoons olive oil. Sprinkle with salt, pepper and oregano.
5. Bake, covered, in 375-degree oven until potatoes are tender, about an hour. Insert fork to check for doneness during cooking.
6. Uncover casserole to crisp the top layer, for about 15 minutes or until it reaches desired golden color.
Posted on 25 April 2020 | 2 responses
Sweet, tangy, and gorgeous in the bowl, this blood orange sorbet is stunningly delicious. Despite its ease, you won't find better, even at a high-end restaurant. That's because it was scientifically formulated by Leah Greenwald, Chief Food Technology Advisor at the Recipephany Test Kitchens.
A curiosity about the science of cooking drives Leah to analyze, hypothesize and improve her recipes. She has been a great help here at Recipephany and is our own J. Kenji López-Alt (author of The Food Lab: Better Home Cooking Through Science). Coincidentally, they both studied architecture at MIT. But Leah (introduced to you in her recipephany for lemon vinaigrette) is an architect, mother of triplets, and a five-time champion on the TV show, Jeopardy. Take that, Kenji.
I've long admired Leah's museum-quality decorated cookies, but her food art goes beyond the conventional. When she was at MIT and needed to supply snacks for a discussion group, she didn't bring the usual box of crackers or cookies. Instead, she arrived with a model of the Thomas Jefferson quadrangle at UVA—complete with Rotunda and serpentine wall—built entirely of homemade Rice Krispies treats.
Fortunately for us, Leah also makes food art of the utmost simplicity. This easy, pop-art dessert with neon color and three-dimensional flavor proves it.
If, like me, you don't have an ice cream machine but have a food processor or heavy-duty blender, use Recipephany's simple method introduced for Double Chocolate Sorbet (Without an Ice Cream Machine). You'll also need ice cube trays, which are inexpensive and valuable in many other kitchen hacks. Just pour the mixture of juices, pulp and sugar into the trays, freeze, then whir the cubes into a thick smoothie. It will refreeze into a smooth sorbet.
If you do use an ice-cream maker, follow Leah's instructions. But even if you don't have a food processor or blender, Leah has the solution with a hand-stir method. So, all bases covered.
Leah tells us, "Also called moro oranges, blood oranges are only available in winter and spring. So after you make the sorbet, hide some in the back of the freezer to have in warmer weather." Great advice. Just don't miss out—make sure to grab these oranges when you see them. And then dive into this recipe for the perfect marriage of art and science.
Leah's Blood Orange Sorbet
Leah based this recipe on a formula from Harold McGee's The Curious Cook.
Makes about a pint. Doubles and triples well.
Electric juicer recommended to extract maximum juice and pulp.
1-1/2 cups fresh blood orange juice (about 6 large oranges if you use an electric juicer; maybe more without). We recommend including pulp, but that's optional.
11 tablespoons sugar
3-4 tablespoons lemon juice (about 1 large lemon). Don't be afraid to put in extra; it will add sparkle.
1. Combine the juices, pulp and sugar in a stainless steel, enameled, or glass bowl, or large glass measuring cup. Stir for about a minute. Taste for sweetness—it should be slightly sweeter than you want because chilling will reduce sweetness. Too much tartness from too little sugar may result in larger ice crystals, producing more of a granita than a sorbet.
2. Follow one of these three methods for making sorbet.
Food processor or heavy-duty blender: Pour juice and pulp mixture carefully into two ice cube trays. Freeze for three hours, or until solid. Use a fork to stab the edge of each frozen cube and slide it into a food processor or blender. (This avoids turning over the ice cube tray,
which can create a mess.) Whir until smooth. Spoon into a lidded plastic container (not full to the brim, because it will expand as it finishes freezing) and freeze until firm. (Photos show results of this method.)
OR:
Ice-cream maker: Leah recommends the simple non-electric type, with a freezing vessel you keep for a day in the freezer before you make the sorbet.
Chill mixture at least overnight in your refrigerator. When ready to make sorbet, move the bowl to the freezer for about 15 or more minutes (it depends on how much you're making); you want the mixture to get so cold that it's beginning to freeze at the perimeter. Then complete the freezing either according to the directions that come with your ice cream maker or until it's evenly slushy. Pour this slush into a lidded plastic container (not full to the brim, because it will expand as it finishes freezing) and freeze for at least 12 hours before serving.
OR:
Without machines: Chill mixture at least overnight in your refrigerator. When ready to make sorbet, move the bowl to the freezer for about 15 or more minutes (it depends on how much you're making); you want the mixture to get so cold that it's beginning to freeze at the perimeter. Take the bowl from the freezer, stir with a rubber spatula, and freeze again for 5 to 10 minutes. Repeat about 6 times. The idea is to keep the frozen crystals distributed so that you end up with an evenly-slushy mixture. Put this slush into a lidded plastic container (not full to the brim, because it will expand as it finishes freezing) and freeze for at least 12 hours before serving.
Posted on 13 April 2020 | 6 responses
Before Passover is over, treat yourself to some popovers.
Judy Geller, a dream client and the mastermind behind many industry-leading conferences and events, introduced me to these years ago. We would meet at a cafe where I could spread out advertising concepts and layouts for her to review. Then we'd linger and talk about family, holidays, and her family's Passover Popover recipe.
These popovers are so delicious, so un-Passover-ish, we might as well just call them "bread" and be done with the pretense.
The other day when I called to ask if I could post the recipe, Judy asked, "Which one?" To my surprise, she has not one, but two family recipes for Passover Popovers, and they come with a side of sisterly competition. She went on to explain.
Judy's grandmother Edna Shuman was born in Allston/Brighton, Massachusetts, and raised her family on Verndale Street in Brookline. Her daughters, Bobby and Joni, were part of a close multigenerational family, with relatives living in the same duplex or within walking distance of each other. Edna's popovers were a Passover tradition.
Joni swears by Edna's original family recipe, and insists they are the best.
Bobby, Judy's mother, dares to disagree, and declares HER recipe by far the best.
"My mother doesn't remember where she got the recipe, but she's been making these for about sixty years," said Judy. "She also says that she was the prettiest baby," she added, laughing.
When I asked which she prefers, Judy diplomatically hedged. "For me to pick would just get me into trouble. It's like choosing a favorite child."
So am I willing to pit sisters against each other in a popover smackdown?
Will I be the Paul Hollywood who reaches out to award a highly coveted handshake?
You betcha. And now, here's my verdict.
Joni's recipe from Nana Edna makes hearty muffin-like rolls. They're tasty, for sure. They're also made with oil, so they can go with meat or dairy. But while baking them in popover pans makes them high, it doesn't turn them into popovers. So I'm calling them "rolls."
Bobby's recipe makes popover puffs with a light brown crust and an airy, even hollow, eggy interior. Baking them on a cookie sheet means they can't get stuck in those deep popover wells, a persistent problem in my kitchen. Because they are a choux pastry, they can also double as cream puff shells to make into an easy dessert—just fill with ice cream and drizzle with fudge sauce.
So the handshake goes to…Judy's mom, Bobby. Hers are more like real popovers. But here are both recipes so you can see which popovers win you over. Perhaps we now have a Fifth Question: Which Passover Popover shall it be?
Bobby Wagman's Passover Popovers
Heat oven to 400°.
Makes 8. Recipe doubles well.
1 stick margarine or butter
1 cup water
1 cup cake meal
1 teaspoon sugar
4 large eggs
Cinnamon
1. Melt the butter or margarine in the water and add dry ingredients gradually while still on the heat.
2. Remove from heat and add eggs, ONE at a TIME, beating after each.
3. Sprinkle in some cinnamon.
4. Prepare a cookie sheet by lining with either parchment paper or well-greased aluminum foil. Drop by heaping tablespoons onto the sheet, forming 8 mounded-up popovers.
5. Bake about 40-50 minutes or until golden brown. Check about every 10 minutes or so to see they don't burn.
6. Cool, then carefully peel them off the paper or foil. Store in a sealed bag for a couple of days.
Joni Shore's Farfel Rolls for Passover
Heat oven to 400°.
Makes about 15.
1 box (16 ounces ) farfel
2 cups of warm water (plus a little more) to wet farfel
1 tablespoon sugar
Salt (not too much, just to taste)
Cinnamon (not too much, just to taste)
7 large eggs, beaten
¾ cup vegetable oil
1. Mix all ingredients well.
2. Put into large muffin or popover pans, but not up all the way because they rise. (Note: I put baking trays underneath in case they overflow.)
3. Bake for about 30-35 minutes, checking to see that they are done.
Posted on 7 April 2020 | 6 responses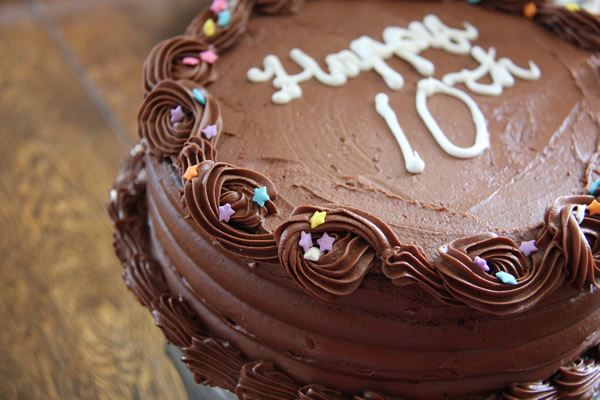 Ten years ago I started this little blog with Black Magic Cake, a recipe that touched my life as it has probably touched the lives of countless other chocolate lovers. An easy recipe with simple ingredients produced a confection that, after one bite, dethroned our family's long-revered celebration cake. I dubbed it a "halleluyum moment." This was a recipe epiphany I wanted to share with everybody.
At the time, I didn't realize how much of a life-changer Black Magic Cake would become. It turned into a wedding cake—twice. As if the joy of their marriages weren't enough, our son and daughter asked me to make the cakes that they would ceremonially smear over their spouses' faces. As I said at the time, I couldn't have been happier if they had proclaimed "I love you, Mom" on the Fenway Park Jumbotron. (Black Magic Wedding Cake and Black Magic Wedding Cake, One More Time)
But let's get back to that first post, which in my blogging naiveté I didn't even dress up with a picture. Family and dear friends who know how much I enjoy swapping recipes jumped in with encouragement. They posted enthusiastic comments and piled on Facebook likes. They may not have been able to spell "recipephany," but they readily accepted it as a term for a life-altering recipe with an engaging story. Thankfully, many heeded my pleas and contributed their own amazing recipephanies.
It is said that nostalgia is the best seasoning. And here at Recipephany, a good story is the special sauce. Consider these:
The list goes on. I am indebted to all who have provided recipephanies that fuel this blog, and to all who have posted comments—particularly contributors I haven't had the pleasure of meeting. Forgive me if my email replies gush as if I had just made a new best friend.
And thank you to everyone who drops by, takes in a recipephany or two, and tries them out. This blog is a labor of love, and I will continue to hunt down and relate recipephanies that I hope will strike a chord with you as they have with me.
I will also continue this work without subjecting you to pop-up ads or messing with your data. And as odd as it might sound coming from an MBA, Recipephany remains happily unmonetized.
What I would like, though, are more of your wonderful recipes and stories. Don't make me have to beg.
Thanks for celebrating with me. And please help yourself to some Black Magic Cake.
Posted on 14 March 2020 | 2 responses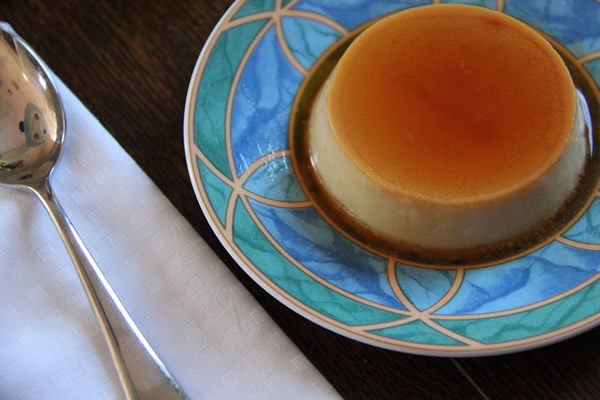 Ceci n'est pas une pie.
It's Pi Day. Ordinarily I'd bake a pie, but with the new "social distancing," the two of us would have to eat the whole thing. So instead, I made some comforting caramel custard—AKA "flan"—from a forgotten can of Magnolia Brand Sweetened Condensed Milk in the pantry.
The can had gone several months past its "best by" date, but rest assured the quality was fine and I had no sense of Russian food roulette. It really burns me how those dates trigger so much needless waste.
Using this lost and forlorn can sparked joy—Marie Kondo-style—by both freeing up shelf space and inspiring this dessert. This recipe came right off the label.
I've made caramel custard that calls for milk, but this version is richer, has more depth of flavor and is more photogenic.
Magnolia brand is the same as Eagle brand but targeted to Hispanics, which explains why the recipe was also printed in Spanish.
So use that old can of condensed milk you bought for some dessert you never made. This recipe is easy and calls for water, so you don't have to use any fresh milk. Just don't let the flans get forgotten in the fridge.
P.S. The French word for "flan" is "tarte," the same word for "pie." So close enough: Ceci n'est pas une tarte.
Caramel Custard (Flan)
Slightly adapted from Magnolia® Sweetened Condensed Milk
7/8 cup sugar
4 large eggs
1 3/4 cup water
1 (14 oz.) can Magnolia® Sweetened Condensed Milk
2 teaspoons vanilla extract
1/8 teaspoon salt
1. Heat oven to 350°F. In a heavy skillet over medium heat, cook and stir sugar until melted and caramel-colored, about 10 minutes. Pour into 8 (6 ounce) custard cups, tilting to coat bottoms completely. It will harden almost immediately. Don't worry, the caramel will melt into sauce.
2. Beat eggs in a medium bowl, preferably one with a spout. Stir in water, sweetened condensed milk, vanilla and salt. Pour into prepared custard cups. Set cups in a large glass baking dish, or two dishes if you don't have a large one. Pour boiling water into the dish(es) until it reaches half way up the side of the cups.
3. Bake 45 to 50 minutes or until knife inserted in center comes out clean. Remove cups from water. Cool completely. Chill several hours. Run edge of sharp knife around each custard cup to loosen. Invert onto individual serving plates or saucers.
Posted on 10 March 2020 | 2 responses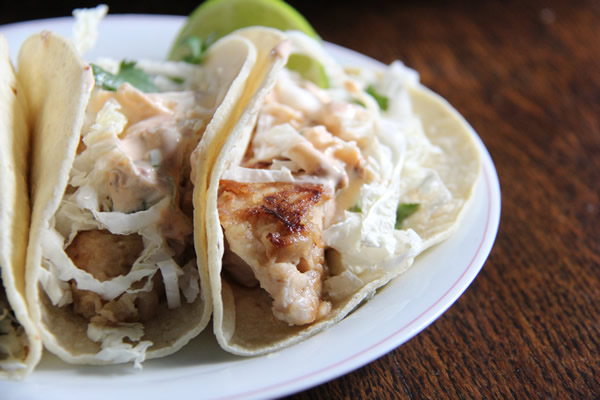 Two years ago we packed our snorkel gear and headed to Baja California, Mexico. The fish put on quite a circus. A swirl of polka dots and iridescent stripes greeted us as soon as we entered the water.
The Baja is also famous for another kind of fish marvel: the fish taco. It originated there, probably before the Spanish arrived. We sought out the best fish tacos in every town we passed through. The Los Claros restaurants won hands down as Baja's best. We made triply sure by visiting all three—in Cabo San Lucas, La Paz and San Jose del Cabo.
Los Claros believes in giving you options. They batter-fry or grill fish while you watch, then deliver it on either corn or flour tortillas. But the real fun starts at the huge all-you-can-scoop toppings and hot-sauce bar. There you can pile on pico de gallo, grilled onions and green peppers, light chipotle sauce, spicy dark chipotle sauce, fried jalapeños, shredded cabbage, guacamole salsa, corn salsa, cukes, limes—I lost track. With all those choices, no two tacos are identical.
I don't mean to make this a restaurant review. But Los Claros taught me that when it comes to fish tacos, just about anything goes.
That's what my sister-in-law Chris says, too. She masterfully messes with recipes to suit her taste and what's in her kitchen (except when she makes her perfect French pastries and amazing heirloom cakes).
She gave me her super-easy, use-what-you-like recipe for fish tacos that are every bit as delicious as the best of the Baja. It calls for griddling the fish in the barbecue (for a little smoky flavor) or on the stovetop. I prefer stovetop for convenience. In either case, the fish gets a nice light crust. Her quick marinade must do something to keep the inside moist and flaky. The secret ingredient (Worcestershire sauce!) with all that umami thrills my taste buds to the point that I don't miss the deep-frying at all. As a fried-fish-a-holic, that's saying something.
With just minimal toppings, it pushes all the right buttons. It's both tender and crunchy. The chipotle sauce makes it fiery, cool, smoky and citrusy. Simply put, it's a spectacular fish taco.
But if you want more toppings, feel free to heap on pico de gallo, avocado, pineapple salsa or whatever you want. Splash on your favorite hot sauce. Whatever floats your boat. Chris says there are no rules, and the best restaurant in the Baja would agree.
Chris's Fish Tacos Fabuloso
Serves 4
1 2/3 pounds firm white fish (cod, mahi mahi, or whatever you like)
2 cloves garlic
3 tablespoons Worcestershire sauce
1 ½  teaspoons kosher salt
½ cup all purpose flour, or more as needed, for dredging
Canola, grapeseed, or other oil for sautéing
Thinly shredded cabbage (I like savoy)
Corn tortillas (or flour if you prefer)
Chopped cilantro to garnish


Chipotle Sauce (ingredients and quantities to taste)
Plain yogurt, sour cream, mayo, or a combination to make about ½ cup (Chris says, "Empty your containers.")
Minced scallion
Minced cilantro
Chipotle pepper in adobo sauce (Note: This comes in a small can. You won't need much, so freeze what's leftover in a labeled plastic container for the next few batches of tacos.)
Freshly squeezed lime juice
Tabasco (if you like, and if the sauce isn't already too hot)
On a cutting board, with a large knife, mash garlic and kosher salt to form a paste. Put into a medium bowl and mix in Worcestershire sauce.
Cut fish into large pieces and toss with the marinade. Let sit about 20 minutes. The fish is ready to cook when it starts to give off some of its moisture (there's not a lot of marinade relative to the fish).
While you wait, make the chipotle sauce. Start with the yogurt, sour cream, mayo or whatever you have. Then spoon in a little of the canned chipotle pepper and adobo sauce, tasting as you add more to make sure you've got the desired heat. Add rest of sauce ingredients and adjust to taste.
Put flour in a plastic bag and toss in the fish, a few chunks at a time. Shake to coat. Put coated fish onto a plate.
Heat oil on a large griddle either on the stovetop or grill. Add fish and let sizzle a couple of minutes until brown. Turn and sauté on the other side until just done. Remove from griddle onto a serving platter.
Use one or two warmed tortillas per taco. Top with fish, shredded cabbage, chipotle sauce, chopped cilantro and more fresh lime juice. Optional: pico de gallo, salsa, avocado, hot sauces—whatever floats your boat. As Chris says, "There are no rules."
Posted on 12 February 2020 | No responses
How about a Valentine's Day quickie?
Make a warm, double-chocolate little "mug cake" for your sweetie any time he or she implores you.
Betty Crocker, that tart, makes it possible with her "Super-Moist Chocolate Fudge Cake Mix."
Measure some mix into a mug or small bowl. Stir in water and chocolate chips. Watch it circle around in the microwave for up to 60 seconds. Cool slightly—the chocolate chips will stay gooey—then top with whipped cream.
Most of all, it means less time in the kitchen—a lovely indulgence for both of you.
Sweetheart 1-Minute Chocolate Mug Cake
Adapted from Joy Bauer's "3-Ingredient Chocolate Mug Cake," Savory Magazine (Stop and Shop), January 2020, p.39
Recipe doubles well. Increase microwave time by about 10 seconds.
Note: Feel free to adjust proportions to suit your taste, and cooking time to suit your microwave.
¼ cup chocolate fudge cake mix (I use Betty Crocker Super-Moist Chocolate Fudge Cake Mix)
2 ½ – 3 tablespoons water (wetter batter makes a fluffier cake)
1 ½ tablespoons chocolate chips
Mix in a microwave-safe mug. Cook on high 50 seconds. Serve in the mug or run a knife around the cake and remove onto a plate. Top with whipped cream for full effect.
Posted on 6 February 2020 | No responses
It's Oscars time, and we're shifting our puns into high gear. My pick for Best Picture, Ford v Ferrari, has inspired Fudge v Ferraro Rocher, a chocolate-fueled dessert competition to help us reach the finish line without colliding into awards-night boredom.
This head-to-head contest will pit hand-crafted fudge made from All-American Hershey's cocoa against the iconic chocolate-hazelnut candy from the Ferraro company, Italy's own Big Chocolate. To challenge a best-seller from the people who invented Nutella takes some chutzpah—especially since I've never attempted fudge before.
Sure, there are quick fudge recipes that call for three ingredients: sweetened condensed milk, chocolate chips and nuts. But no, I had to choose the thrill of making a real chocolate confection. To dial up the nuttiness to better compete with the Ferraro candy, I added chopped hazelnuts in with the traditional walnuts.
Hershey's Rich Cocoa Fudge recipe sounded simple enough until I swerved into this note: "This is one of our most requested recipes, but also one of our most difficult. The directions must be followed exactly. Beat too little and the fudge is too soft. Beat too long and it becomes hard and sugary."
This recipe calls for the steady nerves and precision of a race car driver. You have to watch for the temperature gauge to hit its mark for perfect caramelization. And then, as if in a tight turn, you need to beat the fudge like crazy before slamming on the brakes at just the right moment. Fortunately, this all came together, and the final fudge feels like victory. It's smooth, rich, and just nutty enough.
In the end, the contest comes down to individual taste. We'll see if classic American fudge beats out the highly engineered, crunchy Italian designer candy. No matter what, it promises to be a fun ride.
P.S. Also on the menu: Italian Marriage Story Soup, Leonardo DiCaprese Salad with Brad Pitted Olives, and Jonathan Pryce Cakes.
Fudge v Ferraro Rocher
Hershey's Nutty Rich Cocoa Fudge, slightly adapted. 
3 cups sugar
⅔ cup Hershey's Cocoa or Hershey's Special Dark Cocoa
⅛ teaspoon salt
1 ½ cups milk
¼ cup butter (½ stick)
1 teaspoon vanilla extract (I double to 2)
Chopped walnuts and hazelnuts
Ferraro Rocher chocolate hazelnut candies
Line an 8-or 9-inch square pan with foil, extending foil over edges of pan. Butter foil.
Mix sugar, cocoa and salt in a heavy 4-quart saucepan; stir in milk. Cook over medium heat, stirring constantly, until mixture comes to full rolling boil. Boil, without stirring, until mixture reaches 234°F on a candy or instant-read thermometer, or until small amount of mixture dropped into very cold water, forms a soft ball which flattens when removed from water. (Bulb of candy thermometer should not rest on bottom of saucepan.)
Remove from heat. Add butter and vanilla. DO NOT STIR. Cool at room temperature to 110°F (lukewarm). (If you need to speed up cooling, put pot into a bowl of cold water.)  Beat with wooden spoon until fudge thickens and just begins to lose some of its gloss (about 7 minutes).
Immediately stir in the combination of chopped walnuts and hazelnuts.
Quickly spread into the prepared pan; cool completely. Cut into squares. Store in a tightly covered container at room temperature. Makes 36-64 pieces (1 3/4 pounds).
Compare with Ferraro Rocher candies.
Posted on 31 December 2019 | 4 responses
Sometimes we just need the happy kick of richly spiced, ready-to-ladle Indian food. Why wait? Red Lentil Soup with Indian Spices takes less than an hour to whip up using pantry and fridge staples—and surprisingly few spices.
The name says "spices" as if it's a lot, but it's really only two. This version of India's spiced red lentil soup, Masoor Dal, has full-on flavor with just cumin and chili powder. Lots of onions and umami-rich tomato paste also blend with the sweet, nutty red lentils to satisfy your Indian food craving and, as my mom used to say, warm your kishkas.
Red lentils have no skins, so they cook very quickly and self-pureé. It's easy to spot them in the supermarket because their gorgeous coral—not red—color lights up the dried-bean aisle. But if you can't find them, try using regular lentils. (Just add more liquid if the soup gets too thick, a splash of red wine or vermouth, and an additional 15 minutes or so of cooking time.) The softened lentils will hold their shape for a more stew-like dish.
Pair this easy dish with the ridiculously easy Raegan's No-Knead Focaccia. It sops up all those soupy morsels you don't want to leave behind.
So in less time than it takes to do takeout, simmer up a pot of Indian soup that will delight your senses. Especially your sense of accomplishment.
Red Lentil Soup with Indian Spices
6 tablespoons olive oil
3 onions, finely chopped
4 cloves garlic, minced
2 teaspoons ground cumin
1 6-ounce can tomato paste
1/4 teaspoon ground chili powder (not Mexican), or more to taste
Salt, if using low-sodium soup base or bouillon
Ground black pepper
3 quarts water
2 tablespoons vegetable or chicken soup base/bouillon, to taste
1 pound (2 cups) red lentils, inspected for stones and rinsed
6 carrots (orange or multicolored), peeled, sliced into about 3/8" thick rounds, then cut into quarters
1 14-ounce can diced tomatoes
Juice of one lemon
Salt to taste
1. Heat oil in soup pot, then add onions and cook on medium, stirring, about 8 minutes. Add garlic and cook 1 minute.
2. Stir in cumin and cook/stir 1 minute. Add tomato paste, chili powder, salt (if needed), and black pepper, cooking/stirring for 1 minute more.
3. Add water, soup base or bouillon, lentils, carrots and tomatoes. Bring to a boil, partially cover the pot, and reduce heat to medium-low. Simmer for about 30 minutes or until lentils are soft.
4. Add lemon juice. Add salt if needed and adjust seasonings to taste.
Posted on 2 December 2019 | 49 responses
For decades I've sought this holy grail of bread recipes. Star bread, the American cousin of what I consider the finest bread in Italy, is the stuff of legends. Italian bakers introduced it to Springfield, Massachusetts, and a few other places in the state about a hundred years ago. Specialty Italian bakeries hooked customers on the twisty-shaped loaves, also called "horn bread" or "bolognese bread." Those bakeries have dwindled to a handful, and star bread always sells out—often before it reaches the shelves.
What makes it so special? The hard, golden brown, impossibly smooth crust has the crunch of a dry breadstick. In contrast, the soft crumb inside is fine, compact, and as bright as a Hollywood smile. Once you bite in, you can't stop. The flavor and textures are pure delight. And who can resist the shape that offers not two, but four crunchy ends?
My husband Dan grew up in Springfield, and his family celebrated holidays and special occasions with star bread. They would cut small rounds from the horns and make little sandwiches of thinly sliced Italian cheeses and cold meats for appetizers. But why shouldn't we have it year-round for sopping olive oil, mopping up pasta sauce, and for everything a good Italian bread is designed to do?
Star bread is getting harder to find. Around here, nobody has ever heard of it. So what choice do I have but to bake it myself?
There's one serious catch. No recipe. Not in any cookbooks. Nowhere. Even Google comes up short. In 2008, The Boston Globe ran a feature on "horn bread" and included a recipe that apparently nobody tested. An owner of one of the bakeries in the story wrote back, "The recipe given in your paper is missing an ingredient and an important processing step—but my lips are sealed!"
So yes, there's a secret. And nobody's talking. Omerta.
Over the years, I've cornered commercial bakers for advice. One told me it's just Vienna bread dough (false), but I simply couldn't make it at home because I needed "special equipment" (misleading).
The owner of a family-run bakery in Agawam recently responded with a look so steely cold I was afraid the loaves around her would flash freeze. "Sure you can have our recipe," she said as if I held her at gunpoint, "but only if you pay big money for it."
I thank her, though, because had she spilled her family secret I would not be sharing it with you now. I would be in on the code of silence. No Recipephany. But in the face of this stonewalling, Dan and I set out to find the secret recipe on our own.
Dan tracked down star bread's illustrious ancestor, Coppia Ferrarese. It comes from the Emilia-Romagna region in Northern Italy and dates back to the 13th Century. The name means "Ferrara couple" because bakers form the bread by joining two rolls of dough at their centers—"coupling" them. This regional treasure, like Parmigiano-Reggiano, has earned PGI (Protected Geographical Indication) status and must meet strict regulations set by the EU to carry the name Coppia Ferrarese.
This is the bread brought to Springfield by the Italian bakers. What started out as an elegantly slim, sculpted bread, evolved into a plump "H"-shaped loaf in Springfield. (Oddly, it has never had a star shape.)
Then Dan found the Coppia Ferrarese PGI official document. This is the master recipe that reveals all. After a bit of deciphering, I can now tell you what I see as the two key secrets to star bread.
First, the dough is hard and somewhat dry, the opposite of what I had expected to make such a soft crumb. Imagine stiff playdough with a silky finish. Once you've mixed the dough, put away the flour. There will be none on your hands, counters, floor…you get the picture. The small amount of oil and shortening (Italians use lard) makes the dough downright fun to handle and the process incredibly tidy. The thirsty flour does crave sprinkles of water as you work the dough, though. So while it must not get sticky, it shouldn't get too dry either.
Second—and here's the revelation—you need to roll this non-sticky, pliable dough many times through a "special metal cylinder" to compress it and make the surface smooth. How does a home baker manage that? We dragged out our trusty pasta machine. It did the trick—a fine substitute for the massive rolling machines at bakeries. This was the Big Breakthrough.
I cobbled together this Coppia Ferrarese-star bread hybrid using primarily the PGI guidelines. I tried to simplify the recipe for home bakers like me (although it's no Raegan's No-Knead Focaccia). For instance, Coppia Ferrarese is a sourdough bread, but since I don't have a 45 percent hydrated sourdough starter lying around (do you?), I fudged it. While this bread is shaped like Coppia Ferrarese, it produces a loftier loaf more like Springfield's star bread. Thanks to the pasta machine, it captures the signature textures of both.
I hope you try it and come away a Star Baker. If you don't have a pasta machine, well, sorry. Hand rolling may work, but I haven't tried. I'm still experimenting, so please let me know how it goes and if you've got any suggestions. Let's see if together we can preserve this distinctive special-occasion bread. It's so fun and rewarding to make, you might find that baking it creates its own joyful occasion.
Star Bread
(Modified Coppia Ferrarese)
1. Starter
Mix the night before baking:
3/4 teaspoon instant yeast (SAF-instant red label, or Fleishmann's RapidRise)
1 1/2 ounces warm water (45 ml, or 45 g)
3/4 cup bread flour (100 g)
Stir ingredients in a medium bowl, then knead briefly to combine. If it is so dry it won't come together into a ball, add a few drops of water. It should look and feel like pliable bread dough. Cover bowl loosely with plastic wrap and let sit overnight. It will rise, but will stay fairly compact.
NOTE: This makes about 50 percent more than you need for this recipe. If you want to make enough starter for next time you make the bread, double this and freeze what's leftover and use within a few weeks.
2. Star Bread Recipe and Process
Special equipment: Pasta machine.
Suggested: Heavy-duty stand mixer; kitchen scale.
I derived this recipe from a formula that specified weight, not volume. For accurate dough hydration, I recommend using a scale.
Makes 2 loaves, each about 15 ounces before baking, and about 13 1/2 ounces after baking. Recipe easily halves.
½ cup starter (100 g, or about about 3.5 ounces) Use recipe above.
4 cups bread flour (500 g)  (Weighing works best.)
1 teaspoon instant yeast (SAF-instant red label, or Fleishmann's RapidRise)
6 ounces cold water* (180 ml, or 180 g), plus up to 3 tablespoons more
3 tablespoons shortening (38 g)
5 teaspoons (yes teaspoons—it's more exact) olive oil (20 ml, or 20 g)
1 1/2 teaspoons salt
1 teaspoon diastatic malt powder (available from King Arthur Flour)
*Use cold water in the stand mixer so the dough won't heat up. If kneading by hand, use tepid water.
Tear starter into a few pieces and combine with all other ingredients in a large bowl. Knead by hand for about 25 minutes until dough is smooth and elastic. Or, knead in a heavy-duty stand mixer using the dough hook for about 20 minutes. This is a hard dough, so it will be dry at first and will take a long time to cohere. Add drops of water near the end as you knead to keep it pliable, up to 3 tablespoons. You may even want to wet your hands a bit to keep the surface from breaking. Be careful it doesn't get too dry or it won't rise as well and the rolled dough may de-laminate. Different brands of flour and changes in room humidity could affect how much water you need. Sprinkle in just enough water so that the dough has a smooth surface and gets slightly elastic, although it won't be as stretchy as other bread doughs. And if you do it right, it will never get sticky. It will feel more like soft pasta dough than bread dough.
Cover bowl loosely with plastic wrap and proof dough in a warm place for 45 minutes. It will relax and get easier to handle.
Cut dough into quarters, and form each quarter roughly into a strip. Run through the pasta machine at the thickest setting. Fold and repeat for a total of 15-20 passes. (We shoot for 15, but average about 17 passes because sometimes the dough tears and needs extra smoothing.) The dough strips should get very smooth and each will measure around 2 1/2 inches wide by 24 inches long when done.
For each loaf, roll up two strips by hand and join them in the center. Follow this video explaining the steps.
Repeat for the second loaf.
Place each on an ungreased cookie or baking sheet. Cover loaves with plastic wrap and proof for 70-90 minutes (or a half hour longer if your room is cool). They will grow, but not quite double.
Meanwhile, preheat oven to 435 degrees convection bake, or 450 degrees regular bake.
Bake one at a time in the center rack of the oven 18-20 minutes. Rotate sheet midway. Lower heat to 425 convection after 10 minutes if it is getting too dark too fast. The loaf is done when it turns golden brown and sounds hollow when tapped on the bottom. Also, a cake tester should come out clean. Cool on a wire rack. Both dough and baked bread freeze well.
Posted on 23 October 2019 | No responses
It's hard to cook asparagus to its elegant best. If you leave spears in too long, they go from vibrant and crisp to drab and droopy. Take them out too soon, and you'll get a raw crunch instead of a tender, tasty bite.
But it's easy to cook asparagus perfectly in this soup. There's no peeling or fussy prep. No matter how long the asparagus simmers, it doesn't lose its sweet, earthy flavor. A touch of thyme and savory add garden brightness, and golden potatoes make it creamy. Crispy, salty prosciutto bits on top give contrasting crunch and color to the green smoothness.
Best of all, you don't need pristine spears if you're just going to puree them into soup. That's where Haymarket comes in.
Haymarket is Boston's historic open-air market with bargain-basement prices that attract home cooks as well as restaurant buyers. Wholesalers unload overstocked produce to vendors, who in turn pretty much give it away. You'll find things cost about a third to a sixth of what you'd pay at a supermarket.
Vendors chant, "A dollah, a dollah, a dollah!" A roll of singles makes you feel downright rich. You don't ask for a "a dozen limes," but "a dollar limes." The vendor hands you a bag so you can pick the best. For "a dollar Brussels sprouts," a guy in a Bruins shirt scoops handfuls into a bag, sets it on the hanging scale, and then makes sure you see it's nicely over a pound before he hands it over.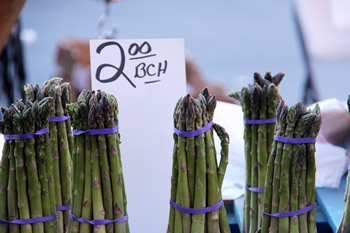 Yes, this is rescue produce. But like puppies at the animal shelter, radiant orange peppers and plump eggplants practically lick your hand as you pass by. Here it is October, hardly the season for springtime asparagus, and I got two beautiful bunches labeled $2 each for just $3.
While it's not a farmer's market, it shares the same goal: to get healthy fruits and vegetables onto people's plates. And in true New England style, Haymarket can't abide waste. As my mother-in-law used to tell her kids when she brought out a near-expiry leftover, "If you don't eat it, I'm going to have to throw it out." Of course they ate it.
If you haven't been to Boston and its legendary Haymarket in a while, it's time to do the touristy thing. Spend a fun Friday or Saturday afternoon enjoying both Quincy Market and the nearby circus that is Haymarket. Once you're home and have filled your fridge, you'll still have time to whip up this impressive soup—it takes just a half hour.
Haymarket Asparagus Soup
Adapted from Eating Well, June/July 2005

Feel free to adjust quantities to your taste.
8 cups water
Chicken or vegetable bouillon to flavor the water, to taste
3 yellow-fleshed potatoes, such as Yukon Gold, sliced then roughly chopped
3 large shallots, sliced
1 leek, sliced (optional – for volume and sweetness)
3 cloves garlic, chopped
1/2 teaspoon dried thyme
1/2 teaspoon dried savory
½ teaspoon salt, or to taste
2 bunches of asparagus, woody ends removed, chopped into about 1-inch pieces
Ground black pepper to taste
Topping: About three thin slices of prosciutto, chopped (or toasted croutons for a vegetarian option)
Put water, bouillon, potatoes, shallots, garlic, thyme, savory and salt into a soup pot. Bring to a boil over high heat. Reduce heat to medium-low, cover, and simmer until the potatoes are tender, about 8 minutes. Add asparagus, return to a simmer, and cook, covered, until the asparagus is tender, about 5 minutes more.
Puree, either with a blender, immersion blender, or food processor until smooth. Adjust seasonings and grind in black pepper to taste.
For the topping: Frizzle prosciutto in a small skillet over medium heat, stirring, until crisp, about 5 minutes. Add before serving.
Posted on 20 September 2019 | 2 responses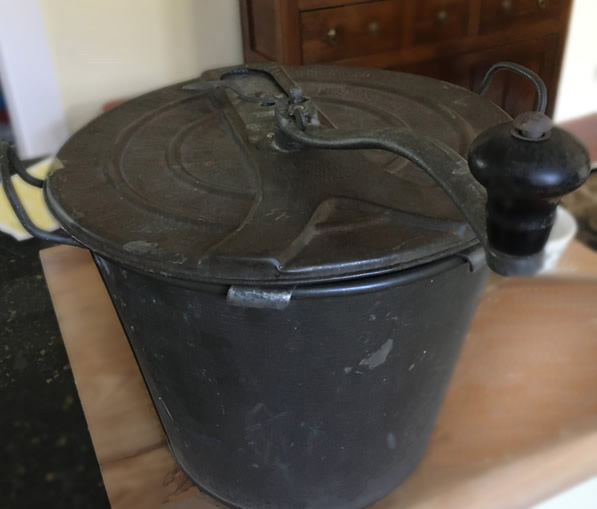 Now I know how I'll make my millions. I'll dust the cobwebs off my MBA and manufacture a shiny new version of the bread bucket, a once-popular tool for cranking out bakery-quality loaves. I betcha even King Arthur Flour will feature this brilliant energy saver in their baking porn catalog.
Of course, I'll have to cut Bruce Belden in on the deal. Bruce, the illustrious president of my high school class, has become an ardent home bread baker and he tipped me off about the bread bucket phenomenon.
Here's Bruce's story. Once you've read it, you'll want in on the bread bucket business, too.
♦♦♦♦♦♦♦♦♦♦♦♦♦♦♦♦♦♦♦♦♦♦♦♦♦♦♦♦♦♦♦♦♦♦♦♦♦♦♦♦♦♦♦♦♦♦♦♦♦♦♦♦♦♦♦♦♦♦♦♦♦♦♦♦♦♦♦♦♦♦♦♦♦♦♦♦♦♦♦
Cranking Out Loaves with the Bread Bucket
by Bruce Belden, Guest Blogger
Since reconnecting with Diane, my high school classmate of many years ago, and discovering her "Recipephany" blog, I've been trying to think of a way to contribute. Since I do not possess a wealth of original recipes, I thought another approach might be to tackle bread making from a process standpoint. I decided to see how Claire's Honey Whole Wheat recipe (Recipephany, May 2017) would come out using my mom's bread-making secret: the Bread Bucket.
Mom's Bread Bucket
When I was a young child, it was always a joyous occasion when Mom baked bread. She used the basic white bread recipe from the Betty Crocker Cookbook, and it was always wonderful. She was able to make five loaves at a time using her bread bucket (see photo above). Her Universal Bread Maker by Landers, Frary & Clark must be close to 100 years old. (See the Universal Bread Maker Brochure.)
A few years ago, I decided store-bought bread just wasn't very good. I could have bought artisan bread, but I figured I could do just as well for a fraction of the cost with Mom's bread bucket. I tried James Beard's whole wheat bread recipe from his classic Beard on Bread Cookbook. It was rather fun and worked so well that I've been making two loaves in the bread bucket every three weeks or so since then.
Hooked on the dough hook
The bread bucket has a professional-style dough hook that develops gluten to its elastic best without the hand kneading. While many people enjoy kneading, it takes time and often doesn't do the job as well as a dough hook.
The bread bucket has the advantage of mixing the bread and letting it rise without any other bowls or dishes. And the instructions are stamped right on the lid. You put in the liquid followed by the dry ingredients and then mix the dough using a hand crank. It may sound tedious, but in reality the ingredients get fully mixed in just 3 to 5 minutes. You let the dough rise in the bucket until it doubles in size. Then you take it out and shape it into loaves for a second rising in the loaf pans. Then it's ready to bake.
Where to get a bread bucket
I have seen the exact same bread bucket as my mom's many times in antique stores. Typically, a vintage bucket costs about $50. They're a bit pricier on eBay. It may be more than you want to pay, but it really is worth it. I recently saw a rerun of the Julia Child French Chef TV show from the '60s that highlights Julia using a more modern version. That model is probably extinct, too, but what could be better than Julia's seal of approval?
Claire's Honey Whole Wheat Bread experiment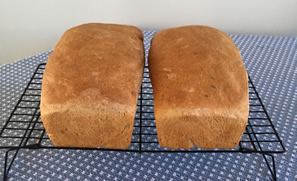 Needing more bread this morning, I decided to see whether Claire's Honey Whole Wheat Bread would translate to being made in a bread bucket. I doubled the ingredients to make two loaves. The experiment was a success—the loaves came out high and delicious.
So there you have it—an easy alternative way of making bread.
♦♦♦♦♦♦♦♦♦♦♦♦♦♦♦♦♦♦♦♦♦♦♦♦♦♦♦♦♦♦♦♦♦♦♦♦♦♦♦♦♦♦♦♦♦♦♦♦♦♦♦♦♦♦♦♦♦♦♦♦♦♦♦♦♦♦♦♦♦♦♦♦♦♦♦♦♦♦♦
Thanks so much, Bruce. You've sure convinced me. I'm checking eBay now. Then I'm on to my Bread Bucket Business Plan.
(Photos courtesy of Bruce Belden)
Posted on 4 September 2019 | No responses
Is it a crumble or a crisp? A cobbler or a grunt? Or maybe a slump? Whatever the name, it's a fruit pie without a traditional pie crust. It frees us from rolling, crimping, and the customary fretting about flakiness. And let's face it…sometimes we just prefer more fruit and less pastry.
With Meri's Berries, you toss together a crumbly dough that bakes into a crisp cookie-like topping. Sugar and flour in the dough combine with the berry juice to turn it a bit syrupy. This syrup won't get as thick as pie filling does, but then again there's no crust to make soggy.
Meri Cayem shared this recipe back when our sons, both named Andrew, were best buds in grade school. An impressive home cook, Meri zeroes in on what tastes good and how to make it efficiently. Many of my favorite recipes have her name on them.
Here Meri started out with a classic recipe from her mom, Honey, for apple crumble. Meri kept the dough, but swapped out the fruit.
"My mom was a fantastic cook, says Meri, "and so many of her recipes were very simple and delicious." Yep, that sure describes this one.
Our friend Gary Isaacson made this often, but renamed it "1-1-1 Crumble." He noticed that the recipe has an unusual property: it calls for one unit of each ingredient. There's 1 cup sugar, 1 cup flour, 1 egg, etc. Since I always double the vanilla (a knee-jerk reaction), I apologize for upsetting this elegance.
Meri's Berries works equally well whether you use fresh summer berries or a bag of fancy frozen berries slightly defrosted. So feel free to use what you have on hand. All you do is fill a pie plate with fruit. And finish it with Honey's delicious crumbly topping.
Use blueberries and raspberries, or apples and cranberries, or whatever you like, to fill a pie plate.
Blend in a bowl:
1 cup sugar
1 cup flour (or quick oats)
1 tablespoon butter, cut in
1 egg (lightly beaten)
1 teaspoon vanilla (Note: I double)
If powdery, sprinkle on a little water.
Put fruit into a greased pie pan, then sprinkle with topping. Bake at 350° for 35 – 40 minutes.
Posted on 9 August 2019 | 2 responses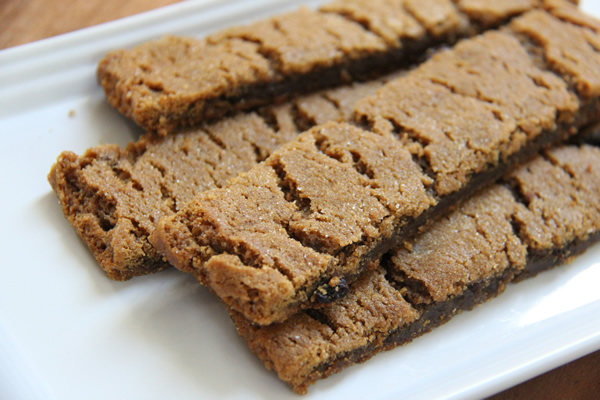 How did these classic New England molasses-spice cookies come to be called "hermits"? Some say it's because they kept well when hidden away on ocean voyages. Others think they resemble hermits' robes. Let's just chalk it up to the region's wacky names. For instance, Rhode Islanders call milkshakes "cabinets," and they don't have a good explanation for that, either.
Since my mother-in-law Dorothy (known as Dick) grew up in western Massachusetts, the heart of hermit country, these cookies may have been passed down from her mom. My husband usually beat his siblings to them, often stealing a couple right off the cooling rack. When he introduced me to these these tender bars—completely new to this Southern gal—it was as if I'd met the spice equivalent of a decadent chocolate cookie.
Even after decades of making Dick's hermits, I still marvel at their uniqueness in the bar cookie-verse. Like biscotti, they start out as logs and then get sliced into bars after baking. But unlike biscotti, there is no second baking. The outside puffs and cracks while baking, then firms up as it cools. Yet the inside stays moist and almost gooey. This gives the hermit the feel of a filled cookie—more like a fig newton than a bar cookie baked in a pan. The soft bite melts away into a flavor bomb on the tongue.
Dick's recipe yields a lot of bars, so you can eat plenty and stash some in the freezer for another time. They also make tasty gifts (if you can part with them).
Hermits appeal to frugal New Englanders. They derive their complex taste and texture from old-time pantry staples, including molasses. For a bigger hit of molasses, plus the story of the Great Molasses Flood, try out Mighty Molasses Clove Cookies, too.
Dick's Hermits
Recipe easily halves. Cookies freeze well.
Makes about 4 dozen.
1 ½ cups shortening
2 eggs
½ cup dark molasses
2 cups sugar
4 teaspoons baking soda
½ teaspoon salt
4 ½ cups flour
1 teaspoon each: ginger, cloves, nutmeg
2 teaspoons cinnamon
1 cup raisins
Sugar to sprinkle on top
Prepare two cookie sheets by lightly greasing or lining with parchment paper.
Beat together shortening, eggs, molasses and sugar. Stir in soda, salt, flour and spices until combined. Stir in the raisins. Wet hands and make four sausage-shaped logs about 1 ½ inches in diameter, placing two lengthwise on each of two prepared cookie sheets. Leave at least 3 inches between logs to allow for spreading. Press logs lightly with the bottom of a glass dipped in water. Sprinkle sugar on top.
Bake at 375° for about 9-13 minutes, or until cracked. Cool. Cut into about 2-inch strips.
Posted on 11 June 2019 | No responses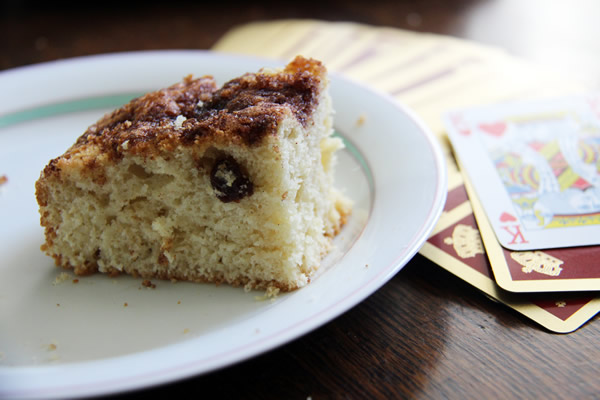 If Do-It-Yourself were an Olympic sport, my father-in-law would have won gold. To Louis (everyone knew him as "Louie"), every chance to fix the unfixable was an opportunity to achieve a personal best. As a contractor, he could do everything. He was a wiring wizard and mechanical mastermind. To solve a problem, he would cobble together ingenious gadgets out of scraps from his garage. When he was in his 80s, he even developed a computer program for doing his taxes.
So why was I surprised to hear that he baked?
I suppose it's because his wife Dorothy (everyone called her "Dick," a nickname coined by her little brother) kept the household swimming in brownies, cakes and cookies. Why would he ever need to bake?
My sister-in-law Chris says her dad made this coffee cake for her mom when "there were babies in the house, or she was under the weather, or it was Mother's Day." He was proud of baking it, but he was no stranger to the kitchen.
Friday mornings, Dick would pronounce the kitchen closed until the big Italian Sunday dinner, and Louie would take over. "His other specialties were eggnog (made with raw eggs) and pancakes, which we ate for dinner on the occasional Friday night when the food ran out. He also made a mean 'cut up hot dogs in scrambled eggs,'" says Chris.
The fluffy crumb, occasional raisins and dark sugar topping make Dad's Favorite Coffee Cake a delicious pick-me-up any time of the day. It's a classic recipe, so I can see why it appealed to him. You don't need a mixer, just a whisk, and you make it from ingredients you have on hand. Sort of like scraps from the garage.
Happy Father's Day to Louie, the King of All Trades, who is not only in Heaven, but probably renovating it.
Cake
2 cups flour
3 teaspoon baking powder
1 teaspoon salt
1/2 cup sugar
1/3 cup shortening, butter or margarine
1 egg
3/4 cup milk
2 teaspoons vanilla (my addition)
1/2 cup raisins
Topping
1 teaspoon cinnamon
1/4 cup brown sugar (or substitute white sugar and a teaspoon molasses)
1 tablespoon oil
Nuts (optional)
Mix flour, baking powder, salt and sugar in a large bowl. Cut in shortening.
Whisk in egg, milk and vanilla until smooth. Stir in raisins.
Pour into greased 9×9 baking pan. Mix topping and sprinkle on top. Bake at 375° for 25-30 minutes.
Posted on 14 May 2019 | 3 responses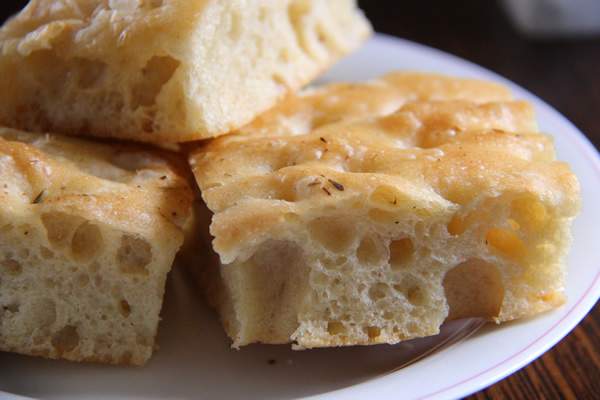 My daughter-in-law Raegan Sales, creative vegetarian home cook and baker, generously offers yet more proof that some great breads just about make themselves.
She started with something called "Ridiculously Easy Focaccia Bread" and—yes—made it even easier. And ridiculously delicious.
With Raegan's Focaccia, a bubbly wet dough bakes into a delightfully chewy golden-crusted flatbread. It owes its tender crumb and lovely flavor to hours of fermentation in the fridge and oodles of olive oil.
About all we do is stir and stare, except when we get to poke our fingers into the squishy, oily dough. The payoff: warm, aromatic, hole-studded focaccia eager to get dunked into more olive oil or devoured on the spot. It makes a scrumptious gift to yourself.
Time replaces work, so make sure you start early in the day or the day before. Allow enough time to rise in the fridge and at room temperature. Fortunately, this dough likes to cooperate, and doesn't mind getting ignored for a while. So chances are it will fit into your schedule. And your snack time.
Variations: Says Raegan, "Experiment with whatever toppings you want! The first few times I made this I put my coworker's homemade fresh cheese mixed with a little sour cream in dollops (like pizza) and then sprinkled the herbs and salt. If you use wetter toppings, you will likely need to bake it for longer. When I do the cheesy ones, I leave it at 450 degrees for about 5 minutes to give it a good start, then turn it down and keep an eye on it. Those took over 45 minutes to bake; look for the top to turn golden brown."
Adapted from "Ridiculously Easy Focaccia Bread"

Makes one flatbread. Recipe easily doubles to bake in two pans. Bread freezes well.
2 cups all purpose flour
1 teaspoon kosher salt
1 heaping teaspoon instant yeast
1 cup warm water
2 tablespoons olive oil, divided, for the pan and coating dough
Herbs de Provence, to taste
Sea salt, to taste
Mix flour, salt and yeast in a medium bowl. Add water and mix until all of the flour is incorporated.
Scrape down the sides and cover with plastic wrap. Let proof about an hour. (You can skip this proofing step if you are short on time, or lengthen it if it is convenient. It gives the dough a little kick-start.)
Refrigerate for 8-24 hours.
Remove from the refrigerator.
Prepare an 8-inch square or 9-inch round metal cake pan by pouring in about a tablespoon of olive oil to coat the bottom and all sides. Do not use a glass dish, as the bread will tend to stick.
With oiled hands, gently transfer the dough into the pan. Pull the sides up and into the center to form a very loose ball. Turn it over so the seam side is down and all sides have a light oil coating. Cover with plastic wrap and let rest for 2 hours until the dough spreads almost to the edges of your pan.
Pour another tablespoon of olive oil over the dough and a little onto your fingertips. Press straight down into the dough all the way to the pan to create holes throughout. Stretch it a little (as needed) to get it to the edges of your pan.
Sprinkle with Herbs de Provence and sea salt. Set aside.
Preheat oven to 450˚F.  Once preheated, put the focaccia in and turn the oven down to 425˚F. Bake for about 22-27 minutes (or longer, depending upon your oven) until golden brown on top and shrunken away from the edges of the pan a little.
Once out of the oven, transfer to a wire cooling rack so the bottom stays crisp.
Enjoy!
Posted on 18 April 2019 | No responses
(Photo courtesy of Lynn Osborn)
It's almost Passover and Easter, a perfect time to share results of an egg taste test by guest contributor, Stan Rowin.
First, some background. Stan is a photographer who started his career taking photos in Julia Child's Cambridge kitchen, now a culinary mecca at the Smithsonian. The same Julia who never got rattled by a fallen soufflé or a splattered pancake showed Stan her perfectionist side during a shoot.
"Julia was doing a chapter on eggs, and she wanted to show how fresh eggs look when fried," says Stan. Then the frenzy began. "Out of three dozen eggs, she got one egg that looked good, but couldn't find a second symmetrical egg white. So she sent out for three dozen more. Somewhere in that second batch she found two usable for a photo." (By the way, the one who hunted down those photogenic eggs was Sara Moulton, star of public television's "Sara's Weeknight Meals.")
Years later, Stan moved to a rural upscale Boston suburb where "almost everyone but me grows their own eggs: chicken, ducks, whatever." He remembered Julia's egg mania.
"So I decided to do a taste test," he says. "Fresh store-bought eggs versus day old hatched local eggs (they're supposed to age a day).
"I compared a neighbor's egg (as opposed to Julia Child's) and a 'premium' store-bought egg. The neighbor's fresh egg had a darker yolk and a more compact white when fried." Score one for the farm egg.
Then came the tasting of both hard-boiled and fried eggs. "We made the taste test as blind as we could with eight unprofessional tasters, including the neighbor who supplied the fresh eggs. While we had definitely seen a difference in yolk color, no one could taste any real difference with their eyes closed." Tie.
There you have it. Farm-fresh eggs look better and have what Stan calls the "tightie whities" that Julia sought. But, as Stan reports, they may not taste any different from supermarket eggs. However, if you want Julia Child perfection, find a neighbor with chickens.
Note: Big thanks to Stan Rowin for this story. J. Kenji López-Alt of Serious Eats and The Food Lab concurs with him. Kenji went so far as coloring eggs green in "The Food Lab: Do 'Better' Eggs Really Taste Better?" He concluded that the mindset of the taster has far more bearing on the flavor of the egg than the egg itself.
Posted on 3 April 2019 | No responses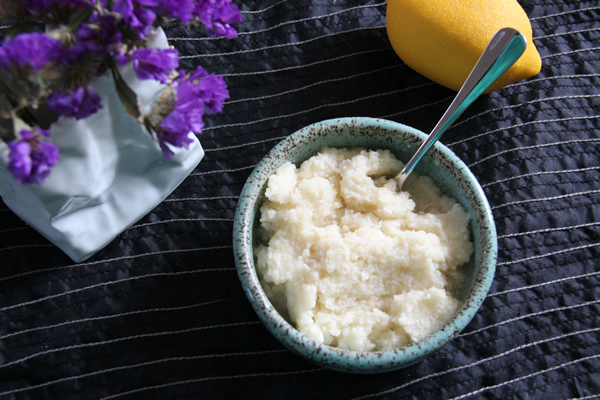 Making your own horseradish takes just four ingredients: horseradish root, vinegar, salt, and courage. The goal is to get from root to jar as quickly as possible, minimizing the time you spend holding your breath, clenching your eyes, and stumbling out of the kitchen gasping for air.
But if you like horseradish, you'll enjoy the challenge. No store-bought brand can mess with your pleasure/pain center quite like the stuff you make fresh.
My dad famously made horseradish from home-grown root, yet it was Mom who consumed it with the most gusto. She heaped it onto her gefilte fish, laughing through her tears about how well it cleared her sinuses.
As my neuroscientist daughter points out, the burn from horseradish is different from the capsaicin heat of chili peppers. A hot-pepper burn can persist for hours, while the horseradish shock vanishes in a moment. Horseradish gets its pungency from the compound allyl isothiocyanate, which is highly volatile so it vaporizes into your sinuses, leaving trace flavors to flash across your tongue. Once the fumes leave your sinuses, so does the burn.
Horseradish, a staple condiment in our household, makes a burly counterpart to ketchup and mustard. It loses potency with time, so every couple of months out comes a new batch.
The horseradish root looks a little like an elephant leg and foot. Often misshapen with a lot of dirt in the crevices, it can be tricky to peel. Happily, Stop and Shop now sells nicely cleaned, rather straight roots for easy peeling. Make sure to choose a fresh, firm piece.
You'll need a blender or food processor. I prefer my blender because it does a good grinding job and, most importantly, the lid seals in the fumes.
This recipe is simple and quick. And believe me, you'll want to make it quick.
Quick Homemade Horseradish
One horseradish root
Dash of salt
White vinegar (up to a cup or more)
Open a window.
Wash and peel the root. The root can be tough, so slice lengthwise in half along the grain and then cut into chunks.
Pulse/grind chunks in a blender or food processor, scraping sides as needed while avoiding fumes, about a minute.
Keeping lid on, wait a minute or so before adding vinegar (because the longer you wait the stronger the horseradish will get).
Pour in enough vinegar to nearly cover the horseradish and add a dash of salt. Blend again to combine.
Spoon into glass jars, keeping your face away from the fumes. Refrigerate.
Leave window open or close it, to taste.
Posted on 14 February 2019 | No responses
Do we really need another recipe for chocolate cake besides our definitive Black Magic Cake, the first Recipephany? Yes, because we also need chocolate mini-donuts drenched in chocolate ganache. Black Magic makes ultra-moist full-sized cakes, but is doesn't work so well for tiny sweets. With this recipephany, you can make these intensely chocolatey cuties in the time it takes to bake a batch of cookies.
These mini-donuts have a lot going for them. Besides looking adorable on a dessert plate, they're great for portion control. Instead of cutting a whopping slab of cake, you can pick up one of these and dispatch it in a couple of genteel bites. Then you can go back and pop two or five more and nobody will notice.
If you're thinking, "No, not another single-purpose kitchen gadget!" consider that a mini-donut pan can be quickly amortized. Especially when you get one (as I did) at T.J.Maxx for under $8. Plus, this recipe came with the pan. I sure got my money's worth.
Curiously, the recipe that came with the pan specified a "mini-muffin tin." This can mean that: 1) The mini-donut pan company stole a mini-cupcake recipe and the proofreader didn't catch the mistake, and if so,  2) You can use a mini-muffin tin if you don't want to get a mini-donut pan. But the result won't be nearly as cute.
Chocolate Mini-Donuts
1 1/2 cups flour
1/3 cup unsweetened baking cocoa
1 teaspoon baking powder
1/8 teaspoon salt
2 eggs
2/3 cup sugar
2 teaspoons vanilla
1/2 cup milk
2 tablespoons butter, melted
Preheat oven to 325°F. Combine flour, cocoa, baking powder and salt. In separate bowl mix eggs, sugar and vanilla until thick. Combine milk and butter. Alternately combine egg mixture and milk mixture with flour mixture and mix until smooth and soft. Spray pan lightly with cooking oil. Use half the batter, filling wells 2/3 full. Bake 8 minutes. Carefully remove. Repeat with rest of batter. Dip in chocolate ganache and top with jimmies if you want. Makes 24.
Chocolate Ganache
½ cup  semisweet chocolate chips
2 tablespoons butter
2 tablespoons corn syrup
1-2 teaspoons hot water
Place chocolate chips, butter and corn syrup in 2-cup microwavable measuring cup. Microwave uncovered on medium (50%) 1 to 2 minutes or until chocolate can be stirred smooth. Add hot water until desired consistency.
Posted on 14 December 2018 | No responses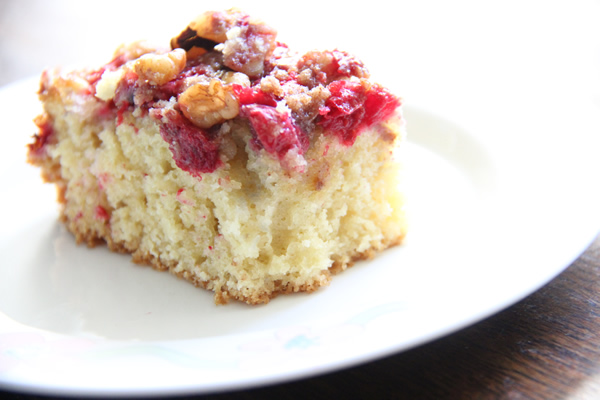 If you're like me, you bought two bags of cranberries before Thanksgiving because it said on the Ocean Spray package, "Buy two, freeze one." Now what do you do with the one in the freezer?
Cranberries keep a year or more in the freezer. So you can dip into your cranberry stash any time and make, for instance, this tasty Cranberry Streusel Coffee Cake.
This breakfast/snack/dessert has it all: cranberry and its best friend, orange; your favorite sour dairy product (sour cream or yogurt or sour milk); the baker's drug of choice, vanilla; and cinnamon and nuts. You can bake one large sheet cake or two 9" square cakes. In the Ocean Spray spirit, I bake two, freeze one.
For other things to do with cranberries, consult classic comedy duo Bob and Ray. Here, Wally Ballou (Bob Elliott) interviews Ward Smith (Ray Goulding), a cranberry bog owner and farmer.
Ballou: After you harvest them, Mr. Smith, do you have your own processing plant?
Smith: Processing plant? What do you mean by that, Mr. Ballou?
Ballou: By that, I mean, do you have your own factory for squeezing the juice out of cranberries?
Smith: Squeezing the juice out of cranberries? I never heard of –
Ballou: Yes, to make cranberry juice.
Smith: Juice? Out of cranberries?
Ballou: Yes, for your cranberry juice cocktails.
Smith: Cranberry juice cocktails?
Ballou: Or perhaps you make cranberry sauce out of them?
Smith: What would that be for? A dessert?
Ballou: No, you serve it as a side dish…with turkey or meats.
Smith: Well, I never! You know, you've triggered something here….Say, have you got a pencil? I want to write all this down….
Ballou: All these years you've been growing cranberries…What have you been doing with them?
Smith: I've been selling them in a basket, like strawberries. For cranberry shortcake. And you know…they really don't sell that way.
My dad recorded Bob and Ray shows in the 60s on his Teac reel-to-reel, which, in Eniac style, took up most of our den. There my brothers and I spent hours doubled over listening to Lawrence Fechtenberger, Interstellar Officer Candidate; the McBeeBee Twins; Webley Webster, and the many other stars of the Finley Quality Network.
About 30 years ago, I went with my husband and kids to a birthday party for the daughter of friends who lived around the corner. As I walked in, I recognized Bob Elliott sitting in the foyer, chatting quietly with his usual deadpan demeanor. Starstruck, I raced into the kitchen to corner Shannon Elliott, hostess of the party.
Me: Shannon, you never told me your father is Bob Elliott!
Shannon: You never asked.
Me: Well, I grew up with Bob Elliott!
Shannon: So did I.
I spoke with Bob just long enough to gush with admiration. And said hi to Chris Elliot as he breezed cheerily by.
For years Bob and Ray had fans laughing about this all-American wetland-loving scarlet berry. Now here's a use that Wally Ballou never thought of. And it sure beats cranberry shortcake.
Cranberry Streusel Coffee Cake
Adapted from Cold Weather Cooking by Sarah Leah Chase
Makes one 9"x 13" cake, or two thinner 9" square cakes.  Eat one, freeze one for later.
For the cake:
½ cup butter, at room temperature
1 cup sugar
2 large eggs
2 teaspoon vanilla extract
1 tablespoon grated orange zest, OR ½ teaspoon orange extract
2 cups all-purpose flour
1 teaspoon baking powder
1 teaspoon baking soda
½ teaspoon salt
1 cup sour cream (or sour milk or yogurt)
2 ½ ups whole fresh cranberries (or frozen, defrosted)
For the streusel topping:
¾ cup brown sugar (or ¾ cup white sugar with a little less than 1 tablespoon molasses)
½ cup all-purpose flour
2 teaspoons ground cinnamon
4 tablespoons butter
½ cup walnuts, coarsely chopped
Preheat oven to 350 degrees. Butter and lightly flour a 9" x 13" pan or two 9" square pans.
Prepare the coffee cake: Using an electric mixer, cream the butter and the sugar together until light and fluffy. Beat in the eggs, one at a time, then the vanilla and the orange rind (or orange extract).
Mix the flour, baking powder, soda and salt together. Add the flour mixture to the creamed mixture alternately with the sour cream to make a smooth, thick batter. Spread the batter evenly in the prepared pan(s). Sprinkle the cranberries over the top.
Prepare the topping: Toss the brown sugar (or white sugar and molasses), flour and cinnamon together in a small mixing bowl. Cut in the butter with two knives, a pastry blender, or your fingers until the mixture is crumbly. Stir in the walnuts. Sprinkle the streusel evenly over the cranberries on the coffee cake.
Bake until a cake tester inserted in the center comes out clean, about 45 minutes for the 9" x13" pan, or about 30 minutes for the 9" square pans. Serve warm or at room temperature, cut into squares.
One large cake serves 10 to 12.
Posted on 13 October 2018 | 4 responses
My mom died in August, just a month shy of turning 102. She was a success at more than just longevity. She became an art teacher rather than a journalist because her father thought it was a safer profession for women in the 1930s. And even though she'd never picked up a paintbrush until she entered Moore College of Art, her watercolors were as masterful as if she'd been born with the divine gift.
She gave up teaching to serve as a Naval officer's wife at a time when "entertaining" was serious business. Throwing dinner parties and organizing wives' club luncheons were part of the job, and she had the poise and smarts to pull it all off.
Her hobby, though, was worrying. She'd worry when my dad was stationed at a secret location during WWII. She'd worry when he flew jets in a test pilot squadron (something she'd never signed on for when she'd married a Jewish doctor). She'd worry about taking care of her three youngsters while my dad was away on sea duty for two years. She lovingly worried about her children, grandchildren and great-grandchildren until the very end.
Peel away the worry and you'd find confidence, competence and creativity. She applied her art training everywhere, especially in the kitchen. Family meals were at the heart of our home, and each plate was a still life of pleasing colors and composition.
As a modern '50s homemaker, she embraced simplicity and efficiency. If she could make a recipe easier, all the better. Her Wheat Germ Banana Bread features a clever shortcut. It is also my favorite thing she baked.
What follows is my most personal recipephany. It is a story of plagiarism, remorse, romance, forgiveness, and inspiration. I present it in loving memory of my mom.
——————————————————————
My mom's banana bread was over-the-top moist and sweet from overripe bananas, and rich with the nutty taste of toasted wheat germ. A thick slice delighted me as much as a fudgy brownie. I loved it slathered with butter, and each bite just melted away.
Here was wheat-germ wholesomeness before it was fashionable. And—get this—Mom mixed it in her Waring blender. No creaming butter and sugar. No beating eggs. Just whir and stir. Brilliant.
That's why I stole the recipe.
In the '80s I dabbled in cooking contests. I pursued ones that were oddball or badly publicized so I'd have a chance. "Enter contests you can win," is one of my rules. It makes me a real buzzkill when it comes to lotteries.
A tiny ad for a Weetabix contest caught my eye. Weetabix—those fragile biscuits of compressed whole-wheat flakes—turn mushy at even the thought of milk. I just needed to work their wheaty mushiness into a recipe.
So, without asking, I entered my mom's banana bread with Weetabix substituted for the wheat germ. It lacked the nutty taste, but it worked.
I made it to a preliminary cook-off hosted by popular Boston TV personality Dave Maynard at the Natick Mall. My husband, 2-year-old daughter, parents and brother and sister-in-law came to cheer me on.
At the cook-off, I took complete credit for my mom's recipe right in front of her. I later realized how tacky this was and apologized, but she waved it off. She was happy for me. My successes were hers, too. But to this day I still feel guilty.
The banana bread won. A judge in crisp chef's attire approached me with congratulations. Then he said, "I like to bake with wheat germ. Do you think this would work if I used wheat germ instead of the Weetabix?" I struggled to remain composed and then replied yes, I thought it would work very well.
They slated me to compete against winners from other mall competitions at the Grand Cook-off the following month. I was pregnant with my son, and a complication confined me to bed rest. I couldn't get off the couch let alone make it to the final contest.
Then my husband, with chivalry worthy of Jane Austen's Mr. Knightley, announced he'd go in my place. On the stark white apron he would wear, he printed in bold letters with a red Sharpie, "I'm doing this for her."
And he did. This was a selfless act of love. Give him a grill, a griddle, a pot or a pasta machine and he's at home. But he has always left the oven to me. So he geared up, ventured into terra incognita, and baked banana bread. He nailed it. And he charmed the judges.
In the end, we came in third. The recipe that won first prize called for a can of Campbell's bean and bacon soup. My mom shook her head every time she recalled it. I never again baked anything with Weetabix.
My love for her banana bread indirectly led her to create her prize-winning Olympic Seoul Chicken. My contest success had stirred her competitive juices. If her daughter could win with one of her recipes, why couldn't she? Thirty years later, her chicken recipe is more popular than ever, popping up on thousands of websites and blogs. Only seldom, though, is her name attached.
To her grandchildren and great-grandchildren, she was "Nanny." When my family gathered for her funeral, I served this banana bread. My son nicknamed it "BaNanny Bread." I could hear my mom's laugh.
I hope you enjoy success with this prize-winner. Just please give my mom credit when you share it. Then I won't feel so guilty.
Muriel Brody's Wheat Germ Banana Bread
Mix in a blender:
1/3 cup shortening, soft (preferably butter or margarine)
2/3 cup sugar
2 eggs
3 large or 4 medium bananas
¼ cup sour cream*
*May substitute yogurt, sour milk, or milk with 1 teaspoon white vinegar added.
Whisk together in a large bowl:
1 ½ cup flour
¼ teaspoon baking soda
½ teaspoon salt
2 teaspoons baking powder
1 cup wheat germ
Pour banana mixture into the dry ingredients and stir till well blended, but do not beat. Pour into a greased 9" x 5" loaf pan. Bake at 350° for 50-60 minutes or until it tests done and is nicely brown. Bread will be very moist.
Posted on 12 September 2018 | No responses
If you can believe headlines these days, vanilla is nearly as expensive as silver. A cyclone in Madagascar last year put vanilla bean on the "endangered spices" list. Maybe we should now include vanilla extract in our homeowners' policies.
But all is not lost. For those of us who swirl spoonfuls into our yogurt and pour it into our baking, there's no need to cut back. It's "vanillin," the active flavor ingredient in vanilla, that we really love. "Vanilla extract" has other chemicals, too, but they have negligible taste and degrade when heated. We're in it for the vanillin. And we can get it in "imitation vanilla."
But why, Mr. Science, should we settle for "imitation"?
First, imitation vanilla has oodles more vanillin that vanilla extract does. In taste tests, imitation vanilla ties or wins against the fanciest stuff. For uncooked dishes, where the booziness of vanilla extract can make a difference, just add a touch of vodka and nobody will be the wiser.
Second, it doesn't matter where vanillin comes from. Whether it's produced in a manufacturing plant or inside a vanilla bean, all vanillin is identical: C8H8O3. Food historian Sarah Lohman puts it well when she writes that "atoms don't remember their history—the synthesized vanillin has no relation to its source."
So what's all this fuss about vanillin? It's more than a flavor; it's a flavor enhancer. It makes chocolate more chocolatey and just about any sweet more luscious. I've long suspected that it's a happy drug, and recently I found proof. A study in mice shows that simply sniffing vanillin relieves depression by boosting dopamine. (As my neuroscientist daughter says, it's a great time to be a lab mouse.)
My husband grew up next door to the Baker's Extract Company bottling plant in Springfield, Massachusetts. You'd think the family would get sick of the sweet aroma. But no, like the lab mice, they got a kick from the free-floating mood enhancer. His sister Chris would even pull herself up to the factory's window ledges in order to get the strongest hit.
So save for college tuitions or retirement and choose imitation vanilla, preferably containing super-potent ethyl vanillin. Double or triple it in your recipes. I guarantee everyone will love it.
Posted on 3 July 2018 | No responses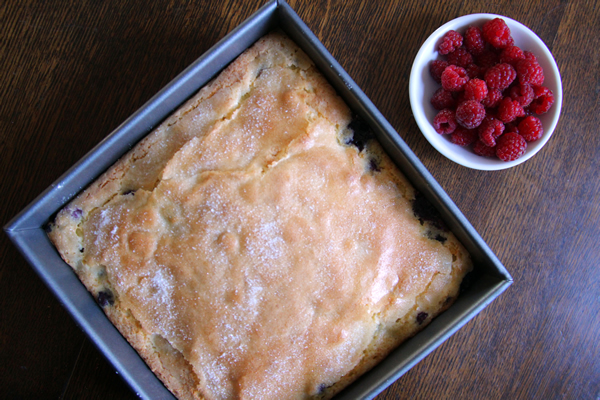 There was something about the loftiness, the berriness, and the sugary crustiness of Jordan Marsh blueberry muffins that hooked Boston in the 60s. Jordan Marsh ("Jahduns") was Boston's answer to Macy's for more than 150 years, until Macy's had the final answer and acquired it in 1996. It speaks to the power of a good snack that a sugar delivery system for tired shoppers has become a favorite memento of this late, great New England retailer.
The muffin's originator, Jordan's baker John Pupek, kept his recipe a professional secret. This triggered Muffin Mystery Mania, when home bakers and restaurants alike set out to recreate the oversized, overstuffed muffin. For decades, the media and the grapevine buzzed with recipes claiming to be the real thing. Every New England recipe box had at least one version. I have three different recipes, including one from my mother-in-law, all called "Jordan Marsh Blueberry Muffins."
While I never experienced the rapture that was an actual store muffin, my favorite copycat is this muffin cake. That's because the Jordan Marsh blueberry muffin is really a coffee cake masquerading as a muffin. Its soft, sweet, vanilla-y crumb and sugar topping move the needle away from muffin and into cake territory. (For an indisputable muffin, see Boston Brown Bread Muffins.)
This particular recipe for moist and sweet blueberry muffin cake goes back to my roommate days with Elinor Lipman, friend and best-selling novelist. It came from her mother Julia, the source of the amazing self-streuseling Cinnamon Tea Cake.
"She did make it often—it was her standard blueberry cake," remembers Ellie, who grew up in Lowell, Massachusetts. "She got the recipe via Gus Saunders's radio show where people called in recipes. It was called 'Yankee Kitchen' and she listened every day. My sister Debbie and I used to refer to him as 'your boyfriend.' She always made it in cake form, never muffins as I recall."
Versatile blueberry muffin cake goes beyond breakfast or snacktime. Top it with whipped cream and raspberries for an excellent Fourth of July tribute to old Boston.
And if you haven't heard, the Muffin Mystery has been solved. After the demise of Jordan Marsh, Pupek started his own bakery to continue selling the muffins. When he closed up shop and retired in 2016, he finally revealed his technique in a TV interview. To get this Boston Holy Grail, click here. There are no major revelations, though. The recipe they show matches just about verbatim the one the Boston Globe published on July 4, 1974, under the name "'Marshy' Muffins." I've had that in my recipe box all along.
Jordan Marsh Blueberry Muffin Cake (Saunders/Lipman Version)
1 ½ cup sifted flour
1 teaspoon baking powder
½ teaspoon salt
½ cup margarine or butter
1 cup sugar
2 eggs
½ cup milk
1 teaspoon vanilla (I double to 2)
1 ½ cup blueberries, floured
Sift flour, baking powder and salt together.
Cream margarine or butter with sugar until fluffy. Add eggs; beat well. Add flour mix to cream mix alternately with milk, Mix extremely well. (The more you beat, the better.)
Fold in vanilla and floured berries. Pour into well-greased 8" square pan or muffin tin.
Sprinkle top with sugar. Bake at 350 degrees for 35-40 minutes. (I found 33 minutes on convection was enough.)
Posted on 20 June 2018 | No responses
Emergency Corn Biscuits lured me in with the wacky name, but they could just as well have been called Cornbread-Lovers' Biscuits.
This recipe is out of the 1922 Good Housekeeping cookbook, from an era when American housewives apparently faced corn biscuit emergencies. I tried to imagine such predicaments:
"Honey, the Johnsons just brought over baked beans."
Or: "The wrestling coach wants you to put on how many pounds, Jimmy?"
Or: "How long has this sack of cornmeal been in the pantry?"
But the emergency—and a serious one at that—was not in the American kitchen but abroad. This recipe came from World War I, when American households voluntarily conserved foods to help feed troops and save victims starving in Europe. Future president Herbert Hoover, head of the US food relief program, appealed to American patriotism and compassion with slogans like "Food Will Win the War." If nutrient-rich calories were ammunition, the program made sure the US had the best-equipped infantry in the world. Americans who had enjoyed a bountiful food supply embraced campaigns like "Meatless Mondays" and "Wheatless Wednesdays," changing the way they ate. Many of these changes, including Victory Gardens, have stuck with us.
Cutting back on milk, butter, eggs, sugar and other staples created challenges. And challenges promoted innovation. Good Housekeeping magazine paid at least $1 for this original recipe published in its "For War-Time Saving and Economy" column in February 1918.
Emergency Corn Biscuits prove that delicious biscuits don't need milk, butter, or even much shortening—just some cornmeal for flavor. There's a slight crunch as you bite in, and the tender crumb feels like a biscuit but tastes like a corn muffin.
And, like so many wartime recipes, this happens to be vegan.
These fun-sized biscuits encourage you to eat several at a sitting. Have them with butter, honey, or just plain. No emergency required.
Emergency Corn Biscuits
from Good Housekeeping Book Of Menus, Recipes and Household Discoveries (1922)  See the whole book on the Internet Archive.
1 1/4 cupfuls bread flour
3/4 cupful cornmeal
1 teaspoonful sugar
5 teaspoonfuls baking powder
1 teaspoonful salt
2 tablespoonfuls shortening
1 cupful cold water
Mix and sift the dry ingredients. Mix in the shortening with two knives or the tips of the fingers. Add the cold water and mix well. Drop by spoonfuls into greased muffin pans or on a greased baking sheet one and one-half inches apart. (Note: I used baking sheets.) Bake twenty minutes in an oven which registers 450° F.   Trenton, NJ
Posted on 14 May 2018 | No responses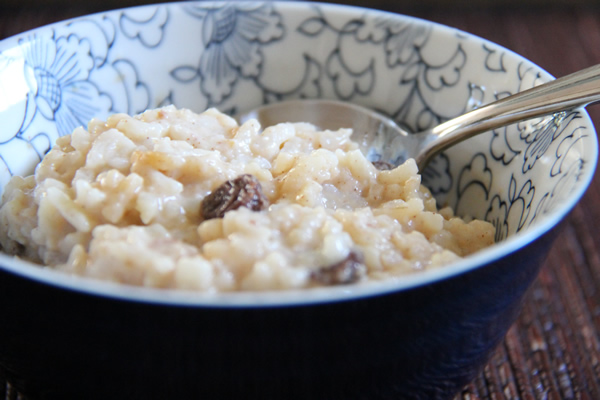 Luxurious rice pudding tastes divine and makes you feel good all over. But achieving a rich creaminess can be tricky. Baking can take hours, and the rice can even toughen. Thanks to the miraculous time-defying Pressure Cooker, this recipephany takes raw rice from zero to supreme creaminess in less than 15 minutes.
Evaporated milk (milk that's been concentrated by cooking it down) adds thickness plus a hint of caramelization. This slight nuttiness joins hands with the vanilla and cinnamon (rice pudding is a great delivery system for both) to create ahhh-inspiring yumminess.
While you might think of rice pudding as the fluffy slippers of desserts, it has some hipness. When our son lived in New York City he took us to Rice to Riches, which looks like an ice-cream parlor on Mars. It serves up its 20 flavors in sleek, neon-colored plastic bowls with aerodynamic spoons that would feel at home in a Japanese pod house.
I wrote in "Apple Butter, Pressure-Cooker Fast" that the Pressure Cooker messes with our space-time continuum to cook, tenderize and boost flavors in less time than it takes me to check email. This recipephany has no nostalgia folded in, since I had my first taste of rice pudding from a can. But I'm serving it with a dollop of affection for my superhero, the Pressure Cooker. My mother-in-law Dick got me my first, and my sister-in-law Judy got me my most recent. With every bowl of turkey soup, Cuban black beans, or rice pudding I ladle out, I wonder how such flavorful dishes can materialize in no time from this mild-mannered kitchen marvel.
9-Minute Creamy Rice Pudding in the Pressure Cooker
Serves about 6.
1 tablespoon butter*
1 cup long grain rice
2 1/2 cups milk*
Splash of cream (optional)
1/2 cup water
½ cup sugar
½ teaspoon salt
Handful of raisins
½ cup evaporated milk*
2 teaspoons vanilla
1/2 teaspoon cinnamon, or to taste
*For Vegan, Gluten-Free Dessert: Substitute Earth Balance buttery spread for butter, and almond beverage (I used Trader Joe's) instead of milk. Make your own vegan evaporated milk by bringing 1 cup of almond beverage to a boil and then simmering it down to 1/2 cup, which takes only a few minutes.
Melt butter in pressure cooker, then stir in rice.  Let the grains get coated with the butter, stirring until they turn just a little white. Add milk, cream (optional), water, sugar, salt and raisins, stir, then cover, lock lid, and bring to pressure. Cook 9 minutes. Turn off stove and let pressure go down by itself. Remove lid, stir, and add evaporated milk, vanilla and cinnamon to taste and stir. It will thicken up more. Serve with a shake of more cinnamon and/or whipped cream.
Note: This is so fool-proof, it worked when I accidentally turned off the stove when the cooker reached pressure instead of just turning it down. When I went back to turn it off at 9 minutes, I found that fortunately the pressure had only gone down about a half. So I turned on the heat for about 30 seconds to bring the pressure back up, and then turned it off again. In a few minutes, the pressure had dropped completely, and the rice pudding was perfectly cooked.
Posted on 23 April 2018 | 8 responses
What do architects know about cookies?
A lot, I'm sure, since these chocolate chip oatmeal cookies won Best-Tasting Cookie at an architectural firm where my husband once worked. I had baked them early in the morning so they were still warm when he entered them into the contest, slightly crisp on the outside yet chewy inside. I suspect this structure may have swayed the judges as much as the flavor dimension added by an extra splash of bright vanilla and glug of bittersweet molasses.
It was decades ago, but the construction-paper blue ribbon still hangs as a reminder in our Hall of Achievement. The award proudly holds its own in the swarm of diplomas, certificates and licenses that fill the wall of the corridor, representing family milestones going back generations.
This recipephany grew out of a recipe for refrigerator cookies I found in a Maypo cook booklet. I used to love Maypo hot cereal and the mapleness of these cookies. But Maypo was a sugar splurge, so it eventually disappeared from our shelves and these cookies.
I substituted quick oats for the instant Maypo, fiddling around with proportions to get the right chew. As always, I replaced brown sugar with molasses and white sugar (that's all brown sugar is, anyway), and doubled the vanilla. I also skipped the refrigerator steps and dropped the dough right onto the trays for instant gratification.
Bakers say the key to chewy cookies is underbaking. But how can you call it "underbaking" if the result is perfection? Yes, cookies should come out of the oven when they look a little underdone—golden around the edges and still a little puffy and moist in the center. But they will continue to cook on the rack, and when cooled there will be nothing underbaked about them.
These are gooiest and chewiest the day they're made, and they crisp up as days pass. If you want to keep them fresh and chewy, freeze them, and then simply defrost and serve. They'll still be award-winning delicious.
P.S. For a softer oatmeal chocolate chip cookie, you should try Jimmy Bruic's Banana Vegan Cookies.
Hall-of-Achievement Chocolate Chip Oatmeal Cookies
Makes about 36
2 cups flour
1 teaspoon salt
1 teaspoon soda
1 cup shortening
2 cups sugar
1 tablespoon molasses
2 eggs
2 teaspoons vanilla
2 cups quick oats (or old-fashioned oats—they work well, too)
½ cup chopped nuts, optional
6-12 ounces chocolate chips or chunks
Preheat oven to 375°.
Cream shortening, sugar and molasses together. Add eggs and vanilla and beat well.
Add flour, salt and soda and mix. Stir in oats. Add chips and nuts, if using.
Using a tablespoon cookie scoop, drop onto parchment-lined trays. Flatten slightly.
Bake about 10 minutes, until edges are lightly browned and the center is still a bit puffy and moist. Slide parchment paper onto racks and let cool a few minutes before serving. Store in an airtight container for a few days or freeze to preserve chewiness.
Posted on 20 March 2018 | 2 responses
Portuguese Sweet Bread shows up at Easter with dyed eggs poking out the top. Frankly, I think it looks better without them. The mahogany crust and soft, eggy interior make a luxurious slice, turning toast or sandwiches into a special occasion.
With this easy no-knead recipephany, you can make this splendid bread on a whim. Just stir ingredients into a shaggy dough and let it sit overnight. Next day, form it into a ball, let it rise in the pan, and bake. That makes the hardest part remembering to start the night before.
While my mom didn't bake bread, she set aside this recipe for me back in the 90s. She found it in a freebie Rhode Island magazine consisting of local ads and amateur journalism. Buried in the back was this gem of a recipe that sounded like it came straight from the old country via Little Rhody.
This recipe makes loaves that remind me of the ones my dad brought home from his favorite Portuguese bakery in East Providence. You could find sweet bread around nearly every corner because Rhode Island had, and still has, the largest percentage of residents of Portuguese ancestry of any state in the country.
Portuguese sailors and fisherman gravitated to the enormous coastline of the smallest state. They also favored Massachusetts, which has the highest number of Portuguese Americans of any state, and Hawaii, where Portuguese sweet bread became "Hawaiian bread."
Even though it makes me all sappy about Rhode Island, this recipe may have come from Massachusetts. Thanks to its misspelling of the Portuguese word for "dough" (it should be "massa," not "mazza"), I traced this recipe to the 1954 edition of Vineyard Fare, a fundraising cookbook compiled by the ladies of Martha's Vineyard Hospital Auxiliary.
So it could have been handed down to grandma on the island of Martha's Vineyard, then spread like a family cold through Rhode Island and the rest of New England. It even found its way into Yankee Magazine a few years ago, although editors felt compelled to add in unnecessary kneading.
The original Mazza Savada recipe reads as if grandma dictated it while rushing out the door. Our Recipephany version fills in a little more detail to help assure happy breadbaking.
Enjoy making this simple yet elegant bread. Just remember to start last night.*
*Okay, you want to make it now? Or later today? Mix up the dough and let it rise about 2 hours, or until it slightly collapses or flattens. Then put it in the fridge until you're ready to make it—from a couple hours to a couple of days. Just allow a little more rising time in the pans.
Mazza Savada, Portuguese Sweet Bread
1 1/4 cup milk, hot
1 cup sugar
½ cup shortening
1 ½ teaspoons salt
5-6 cups all-purpose flour
2 ¼ teaspoons instant yeast
4 eggs, beaten
½ teaspoon lemon extract
½ teaspoon powdered mace
Glaze: 1 egg lightly beaten with a tablespoon of water
In a large bowl, stir sugar, shortening and salt into hot milk until dissolved. Cool to lukewarm.
Add 1 cup of flour and rest of ingredients except the egg glaze. Stir until smooth. (I like using a wooden spoon or dough whisk.) Add rest of the flour, a cup at a time, and mix. Dough should be spongy, stretchy and a little sticky. Cover bowl with plastic wrap and let sit overnight. (Or, let rise 2 hours or until dough slightly collapses or flattens. Then refrigerate until you want to bake it, from 2 hours to three days.)
Next day (or when you take it out of the refrigerator), deflate the dough, turn it out onto a lightly floured counter and divide in half. Using extra flour as needed, form each half into a ball by stretching the top of the dough and tucking in the bottom with your fingers. This makes the top smooth and taut, essential for a good rise.
Place each ball into a greased 8"x 1 1/2" layer cake pan. Press down on dough so it reaches the sides of the pan. Cover with plastic wrap lightly dusted with flour so it won't stick to the dough.
Let rise until double, about 1 to 2 hours. (Refrigerated dough will take longer.) Dough should rise about an inch above the pan rim, and be light and a little springy.
Optional: Run a knife along the pan rim to slash the dough ¼ inch deep around the circumference. This helps keep the top of the bread from breaking as it springs up in the oven.
Brush with egg glaze. Bake at 350 degrees about 35-45 minutes. Cool before slicing.
Posted on 16 January 2018 | No responses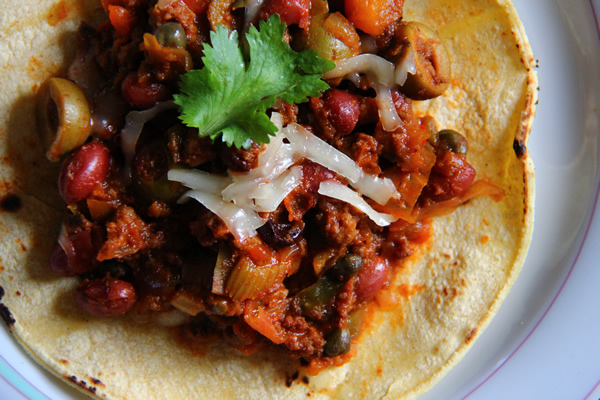 First, don't confuse "picadillo" with "peccadillo," although I often slip into that malapropism. While picadillo-filled tacos are not the least bit sinful, they can give you the same guilty pleasure as nachos for dinner. They fall into that category of slightly messy finger foods that go well with the football playoffs.
A quick-cooking alternative to chili, this Cuban-style mélange packs a sweet and tangy punch. It starts with a tomatoey sofrito of aromatics and peppers, then adds a Mediterranean accent with raisins, capers and chopped olives.
I first made picadillo from a Boston Globe recipe in 2001. I amped up the flavors and seasonings, figuring the "pica" stands for "picante." When I finally had the chance to order authentic picadillo at a popular restaurant in Puerto Rico, I was surprised to find it shockingly bland. So apparently it can be whatever you want it to be. Dial up or down the heat and spices as you desire. We use a mild sahuaro pepper from our garden, but you can choose something stronger. Or just shake in good old dependable Tabasco and call it a day.
Picadillo usually gets dished onto beans and rice, but I prefer to stir the beans into it instead. They add body and mellowness, and probably could substitute for the meat altogether in a vegetarian version.
Skip the rice and spoon picadillo into soft corn tortillas slightly charred over a stove-top burner. Top with jack cheese or sour cream, and garnish with cilantro, avocado, or whatever you like. Serve warm in the glow of your favorite sports channel.
Picadillo Tacos
2 tablespoons canola oil
1 pound ground beef or turkey
1 large onion, chopped
2 stalks celery, chopped
1 green bell pepper, seeded and chopped
½ red bell pepper, seeded and chopped
1 green chili pepper, seeded and chopped. (Choose according to desired heat. You can use a mild pepper like sahuaro, or a jalepeno, or splash in Tabasco sauce to taste.)
2 tablespoons chopped fresh oregano (or 2 teaspoons dried)
2 teaspoons ground cumin
1 ½ teaspoons ground paprika (can use some smoked)
2 cloves garlic, chopped
1 6-ounce can tomato paste
1/3 cup cider vinegar (to taste)
Two tablespoons of vermouth
Salt to taste
½ cup stuffed green olives, sliced
¼ cup raisins
1 16-ounce can red or black beans
¼ cup capers
Corn tortillas
Garnish: Monterey Jack cheese, shredded; sour cream or whole milk yogurt; cilantro leaves, chopped
In a large skilled, heat the oil and add the meat. Stir constantly to break it up.
Add the onion, celery, bell peppers, chili pepper or hot sauce, oregano, cumin, paprika, garlic, tomato paste, vinegar, vermouth and salt. Stir thoroughly.
Cook the mixture, stirring often, for 5 minutes.
Add the olives, raisins, beans and capers. Lower the heat and let the mixture cook for about 25 minutes, stirring occasionally. Add water as needed to keep from sticking. Adjust seasonings to taste, spoon onto warm corn tortillas, and garnish as desired.
Posted on 15 December 2017 | No responses
At the risk of sounding like a midnight infomercial, here is the best spanakopita you'll ever eat. It's oniony-sweet, cheesy, and the herbs melt into the spinach to deepen the flavor. I have yet to find a restaurant version that can beat this.
We usually see spanakopita as either an appetizer or a main dish. But with today's "mezze mania," you can bake up a batch, freeze it, then reheat a few triangles to go along with hummus, a few diamonds of kibbee, or whatnot to turn a meal into a party.
I like to bake from scratch, but draw the line at filo. Other than my friend Wendy, who once made it as a class assignment, nobody makes their own filo, just like nobody makes their own toothpicks. Some things are best left to machines.
Spanakopita (Greek Spinach Pie)
4 tablespoons butter for sautéing
2 large onions, chopped
6 scallions, sliced
1 large bunch flat leaf parsley, chopped
2 teaspoons dried dill weed, or about ½ bunch fresh dill, chopped
3 10-ounce packages frozen spinach, defrosted
1 1/2 teaspoons salt
1/2 teaspoon pepper
3/4 pound feta cheese, crumbled
1 pound whole-milk small-curd cottage cheese
4 eggs
1/2 pound melted butter for brushing
1 pound package of frozen filo dough sheets, thawed
Makes two 9×13 pans. Each pan serves about 4 as a main dish, and about 8 as a side dish, appetizer or mezze.
Sauté the onions in butter for 3 minutes, then add scallions and continue to sauté until onions are soft, about 2 more minutes. Squeeze the water out of the spinach, then add spinach, parsley, dill, salt and pepper to the pan. Sauté for about a minute. Turn off heat and stir in crumbled feta and cottage cheese. Beat eggs until frothy and stir in.
Butter two 9"x13" baking pans. To form the base layer, brush melted butter on about 10-12 sheets of filo per pan. If some sheets are torn or crinkled, it's okay, just patch them together. Divide filling evenly between the pans, spreading over the base layer. Form the top layer by stacking 12-14 sheets of buttered filo over the filling in each pan. Score through the top filo layers, cutting the shape you wish to use for serving (can be rectangles, diamonds or whatever).
Bake at 350º F for about 45 minutes.
Posted on 24 November 2017 | 2 responses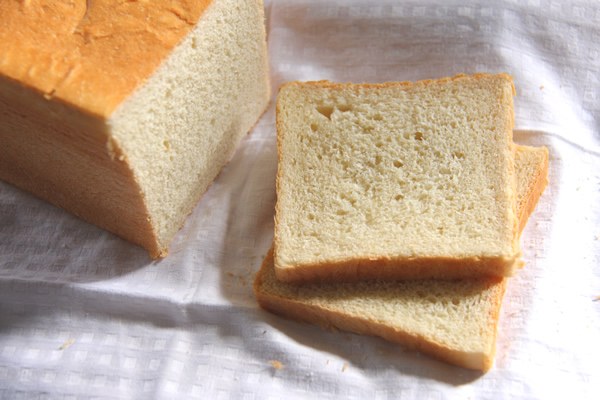 Oh, those French bakers. They take great pains (no pun intended) to make slender baguettes with thick, shatteringly crisp crusts. And yet, as if to thumb their noses at the whole artisan baking thing, they also crank out rectangular sandwich loaves with virtually no crusts at all.
Pain de mie ("bread of crumb") is the anti-baguette. A baguette takes days to make and goes stale after three hours. Pain de mie takes about three hours to make and stays fresh for days. (Julia Child said it tastes even better after a day or two.)
Enriched with milk, pain de mie delights with a fine, light crumb and holds its shape even when sliced thin for sandwiches. But as good as it tastes, and as tender as it is through-and-through, the real fun lies in its angularity. You'll cut perfectly square slices and perfectly cubed cubes. It makes adorable toast and French toast, and ideal grilled cheese.
The right angles come courtesy of the Pullman loaf pan, once a specialty item that's now easy to find online. Its lid keeps the dough from crowning as it bakes. For my first loaf, I half expected the dough to balloon up and ooze out all over the oven, à la Lucy. But the dough accepted its confinement, and the top came
out perfectly flat, as advertised.
Yes, it's "Pullman," as in Pullman railway cars. Although these crustless loaves originated in 18th Century Europe, they became popular in America when the Pullman Company baked them in their small on-board kitchens. Three of these stackable loaves could squeeze in where only two round-top breads would fit.
My 101-year-old mother recalls the fine dining on family train trips in the 1920s and 30s. She would peer into those compact Pullman kitchens—careful not to get underfoot—as chefs quickly prepared elegant meals to order, despite the tight quarters.
So get on board and try this simple recipe for classic, first-class sandwich bread.
Note: Most recipes call for the traditional 13" x 4" x 4" lidded Pullman loaf pan. This recipephany uses the smaller, more convenient 9" x 4" x 4" pan.
Pain de Mie, or Pullman Loaf

Adapted from King Arthur Flour's "A Smaller Pain de Mie" Recipe
Equipment: 9" x 4" x 4" Pullman loaf pan (from King Arthur Flour or from USA Pan Bakeware), lightly greased inside the pan and the lid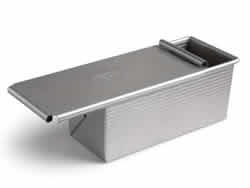 7/8 cup to 1 cup lukewarm water
1 heaping tablespoon honey
1 1/2 teaspoons salt
2 tablespoons margarine or soft butter
2 1/2 teaspoons instant yeast
½ cup bread flour
2 ¾ cups cups all-purpose flour
1/4 cup nonfat dry milk powder
1. Put all ingredients in a large bowl in the order listed and mix. Knead by hand or with a stand mixer to make a smooth, elastic dough. Add a little extra water if needed to get it stretchy.
2. Place dough in a lightly greased bowl, cover, and let rise for 1 to 2 hours, depending upon how warm the room is. It should become light and puffy, but may not quite double in size.
3. Gently deflate dough, and flatten into about a 9" square on a lightly floured surface. Roll up tightly into a cylinder, and pinch the seams to seal. Place seam-side down in the greased pullman pan, flattening again, and push edges into the corners.
4. Slide the greased lid over the pan, leaving about an inch open at the end so you can see how high the dough rises. Lightly cover the opening with plastic wrap.
5. Preheat oven to 350°F during the rise. Watch to see when the dough rises within about 1/2″ of the lip of the pan, which should take about 45 minutes to an hour. Remove plastic wrap, close the lid, and let rise another 10 minutes, allowing the dough to reach the lid.
6. Bake 25 minutes, then remove the lid and bake another 5 to 10 minutes, until golden brown. The loaf will pull away from the edges of the pan, and its internal temperature should read 195-200°F when done.
7. Turn out the bread from the pan onto a rack to cool before slicing.
Posted on 26 October 2017 | 2 responses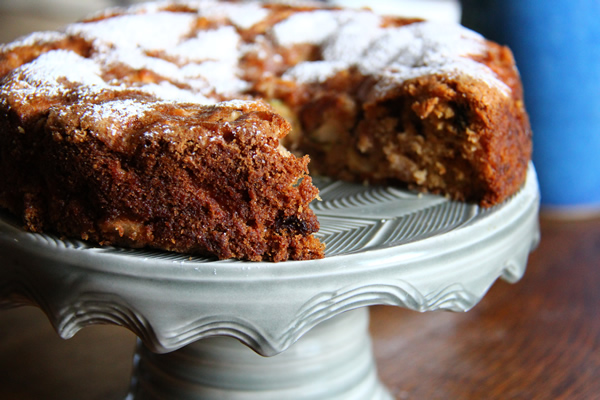 If you've got two apples and some baking basics, you can make this jewel of an apple cake without even having to take out your mixer.
Luxuriously moist and studded with soft apple chunks, this lightly spiced one-bowl wonder is as at home after a dinner party as it is at breakfast or snacktime.
This cake's versatility stems from its Jewish heritage. It purposely contains no dairy, so those who keep kosher can enjoy it any time, with meat or dairy meals.
This recipephany comes from my earliest baking bible (Old Testament version), From Manna to Mousse. Born in 1969 as a plastic-spined fundraising cookbook produced by the Sisterhood of Congregation Beth El in New London, Connecticut, it became a nationally distributed Dell paperback in 1972. It contains family favorites covering all Jewish cookery, not just baking, and it's even got a rabbi's blessing.
The book's heirloom recipes are short, easy to follow, and reliable, thanks to rigorous kitchen-testing by the compulsive and close-knit Sisterhood. The chief editor, Mrs. Donald Daren, wrote that on testing days, "Diets were discarded with abandon, for who could not justify the fact that the chocolate whipped cream mousse just had to be tested along with the twenty-nine other delectable concoctions served that same afternoon!" The editors were dogged in their quest to capture authenticity. "Some of the traditional dishes were measured out while a balabusta cooked them. We stayed her hand over the pot so that exact quantities could be recorded," she wrote.
My college pal, Elinor Lipman, shared this cookbook when we roomed together after graduation. We both loved its recipes, and it soon became my baking security blanket. So when it came time to divide up our stuff and move on, I literally wrestled it away from her. I remember that moment with a combination of guilt and gratitude that seems curiously appropriate with a Jewish cookbook.
So thank you, Ellie, for the book, and thank you, Mrs. Harry Kaplan, for this recipephany.
And thank you, Robin Henschel, the acclaimed potter who created this astonishing cake stand. It makes every cake look—and I think taste—better.
One Bowl Apple Cake
Adapted from From Manna to Mousse
Contributed by Mrs. Harry Kaplan
2 cups diced apples
3/4 cup sugar
1/3 cup oil
I egg, beaten
1 teaspoon vanilla (Not in the original recipe. But I can't resist adding vanilla.)
1 1/2 cups flour
I teaspoon baking powder
I teaspoon baking soda
1 teaspoon cinnamon
1/2 teaspoon salt
1/2 cup raisins
Grease an 8 x 8 x 1 ½-inch square pan or an 8 x 2-inch high round pan. For easy cake removal, line with greased wax paper.
Combine diced apples and sugar in a large bowl and let stand 10 minutes. Using a spoon, mix oil, egg and vanilla into apple mixture. Add dry ingredients and mix well. Stir in raisins. Bake at 350 degrees for 35 to 40 minutes. Let cool, remove from pan and peel off wax paper.
Optional: Dust with confectioner's sugar just before serving.
Posted on 5 October 2017 | No responses
Zucchini is to quiche as eggplant is to parmigiana. There is no higher calling for this elongated green summer squash than to be sautéed with onions, splashed with wine, tossed with herbs, then married with cheese and eggs into this savory pie.
Not really a quiche, this recipephany has more of an Italian than French accent. A layer of toasted breadcrumbs replaces the pastry crust. Herbs you'd shake into a red sauce awaken the sweetness in the zucchini. And a secret ingredient—ginger—blends in so mysteriously that I dare you to pick it out of the crowd.
The source of this recipephany is probably a long-gone culinary magazine. I play around with quantities, so please go ahead and adjust to your taste. While mushrooms can add some delightful umami, I usually don't bother. You can use traditional Swiss, and it's also fun to blend in cheddar, provolone or whatever you like from your cheese drawer.
This makes two modest pie-plate sized quiches, one to eat right away and one to freeze and enjoy later—like a treat from Trader Joe's. If you want to make one large quiche instead, increase baking time by about 10 minutes.
This is a far cry from Julia Child's TV quiche. So I prefer to quote another favorite TV figure, Frasier Crane, who asks his dinner guests, "Quiche Lorraine, anyone?" and gets the classic response, "Quiche her? But I hardly know her!"
Zucchini Quiche
Makes 2 quiches. Each serves 4. Freezes well.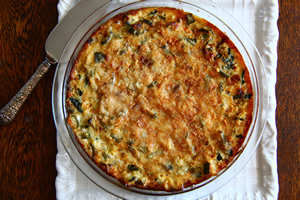 About 4 medium zucchini
2 large onions or leeks, or a combination
¼ pound mushrooms (optional)
6 scallions (not necessary if you use leeks)
2 cloves garlic
3 tablespoons butter
2 tablespoons dry sherry or vermouth
1 teaspoon dried basil
1 teaspoon dried thyme
1 teaspoon dried oregano
1 teaspoon ground ginger
Salt and pepper
4 eggs
2 ½ cups grated Swiss or a full-fat cheese blend of your choice (provolone, cheddar, etc.)
About ½ cup toasted bread crumbs
Preheat oven to 325°. Chop vegetables, press or slice garlic, and sauté in butter over low heat until just limp. Do not overcook.
Add sherry or vermouth and seasonings, remove from heat, and let cool a few minutes.
Beat eggs in a large bowl, add cheese(s), and stir in vegetables.
Butter two 8- or 9-inch pie plates and coat bottoms and sides with breadcrumbs. Pour in vegetable mixture. Sprinkle with some breadcrumbs and dot with butter. Bake 30-40 minutes until set and light brown. Cool 10 minutes before serving.
Find a recipephany

Recipephanies and comments wanted

Click on the link with the number of responses (next to the date above a post) to leave a comment.

Now on Twitter!

Recent comments – please click to read

Archives