Posted on 12 February 2020 | No responses
How about a Valentine's Day quickie?
Make a warm, double-chocolate little "mug cake" for your sweetie any time he or she implores you.
Betty Crocker, that tart, makes it possible with her "Super-Moist Chocolate Fudge Cake Mix."
Measure some mix into a mug or small bowl. Stir in water and chocolate chips. Watch it circle around in the microwave for up to 60 seconds. Cool slightly—the chocolate chips will stay gooey—then top with whipped cream.
Most of all, it means less time in the kitchen—a lovely indulgence for both of you.
Sweetheart 1-Minute Chocolate Mug Cake
Adapted from Joy Bauer's "3-Ingredient Chocolate Mug Cake," Savory Magazine (Stop and Shop), January 2020, p.39
Recipe doubles well. Increase microwave time by about 10 seconds.
Note: Feel free to adjust proportions to suit your taste, and cooking time to suit your microwave.
¼ cup chocolate fudge cake mix (I use Betty Crocker Super-Moist Chocolate Fudge Cake Mix)
2 ½ – 3 tablespoons water (wetter batter makes a fluffier cake)
1 ½ tablespoons chocolate chips
Mix in a microwave-safe mug. Cook on high 50 seconds. Serve in the mug or run a knife around the cake and remove onto a plate. Top with whipped cream for full effect.
Posted on 6 February 2020 | No responses
It's Oscars time, and we're shifting our puns into high gear. My pick for Best Picture, Ford v Ferrari, has inspired Fudge v Ferraro Rocher, a chocolate-fueled dessert competition to help us reach the finish line without colliding into awards-night boredom.
This head-to-head contest will pit hand-crafted fudge made from All-American Hershey's cocoa against the iconic chocolate-hazelnut candy from the Ferraro company, Italy's own Big Chocolate. To challenge a best-seller from the people who invented Nutella takes some chutzpah—especially since I've never attempted fudge before.
Sure, there are quick fudge recipes that call for three ingredients: sweetened condensed milk, chocolate chips and nuts. But no, I had to choose the thrill of making a real chocolate confection. To dial up the nuttiness to better compete with the Ferraro candy, I added chopped hazelnuts in with the traditional walnuts.
Hershey's Rich Cocoa Fudge recipe sounded simple enough until I swerved into this note: "This is one of our most requested recipes, but also one of our most difficult. The directions must be followed exactly. Beat too little and the fudge is too soft. Beat too long and it becomes hard and sugary."
This recipe calls for the steady nerves and precision of a race car driver. You have to watch for the temperature gauge to hit its mark for perfect caramelization. And then, as if in a tight turn, you need to beat the fudge like crazy before slamming on the brakes at just the right moment. Fortunately, this all came together, and the final fudge feels like victory. It's smooth, rich, and just nutty enough.
In the end, the contest comes down to individual taste. We'll see if classic American fudge beats out the highly engineered, crunchy Italian designer candy. No matter what, it promises to be a fun ride.
P.S. Also on the menu: Italian Marriage Story Soup, Leonardo DiCaprese Salad with Brad Pitted Olives, and Jonathan Pryce Cakes.
Fudge v Ferraro Rocher
Hershey's Nutty Rich Cocoa Fudge, slightly adapted. 
3 cups sugar
⅔ cup Hershey's Cocoa or Hershey's Special Dark Cocoa
⅛ teaspoon salt
1 ½ cups milk
¼ cup butter (½ stick)
1 teaspoon vanilla extract (I double to 2)
Ferraro Rocher chocolate hazelnut candies
Line an 8-or 9-inch square pan with foil, extending foil over edges of pan. Butter foil.
Mix sugar, cocoa and salt in a heavy 4-quart saucepan; stir in milk. Cook over medium heat, stirring constantly, until mixture comes to full rolling boil. Boil, without stirring, until mixture reaches 234°F on a candy or instant-read thermometer, or until small amount of mixture dropped into very cold water, forms a soft ball which flattens when removed from water. (Bulb of candy thermometer should not rest on bottom of saucepan.)
Remove from heat. Add butter and vanilla. DO NOT STIR. Cool at room temperature to 110°F (lukewarm). (If you need to speed up cooling, put pot into a bowl of cold water.)  Beat with wooden spoon until fudge thickens and just begins to lose some of its gloss (about 7 minutes).
Immediately stir in 1 cup of a combination of chopped walnuts and hazelnuts.
Quickly spread into the prepared pan; cool completely. Cut into squares. Store in a tightly covered container at room temperature. Makes 36-64 pieces (1 3/4 pounds).
Compare with Ferraro Rocher candies.
Posted on 31 December 2019 | 4 responses
Sometimes we just need the happy kick of richly spiced, ready-to-ladle Indian food. Why wait? Red Lentil Soup with Indian Spices takes less than an hour to whip up using pantry and fridge staples—and surprisingly few spices.
The name says "spices" as if it's a lot, but it's really only two. This version of India's spiced red lentil soup, Masoor Dal, has full-on flavor with just cumin and chili powder. Lots of onions and umami-rich tomato paste also blend with the sweet, nutty red lentils to satisfy your Indian food craving and, as my mom used to say, warm your kishkas.
Red lentils have no skins, so they cook very quickly and self-pureé. It's easy to spot them in the supermarket because their gorgeous coral—not red—color lights up the dried-bean aisle. But if you can't find them, try using regular lentils. (Just add more liquid if the soup gets too thick, a splash of red wine or vermouth, and an additional 15 minutes or so of cooking time.) The softened lentils will hold their shape for a more stew-like dish.
Pair this easy dish with the ridiculously easy Raegan's No-Knead Focaccia. It sops up all those soupy morsels you don't want to leave behind.
So in less time than it takes to do takeout, simmer up a pot of Indian soup that will delight your senses. Especially your sense of accomplishment.
Red Lentil Soup with Indian Spices
6 tablespoons olive oil
3 onions, finely chopped
4 cloves garlic, minced
2 teaspoons ground cumin
1 6-ounce can tomato paste
1/4 teaspoon ground chili powder (not Mexican), or more to taste
Salt, if using low-sodium soup base or bouillon
Ground black pepper
3 quarts water
2 tablespoons vegetable or chicken soup base/bouillon, to taste
1 pound (2 cups) red lentils, inspected for stones and rinsed
6 carrots (orange or multicolored), peeled, sliced into about 3/8" thick rounds, then cut into quarters
1 14-ounce can diced tomatoes
Juice of one lemon
Salt to taste
1. Heat oil in soup pot, then add onions and cook on medium, stirring, about 8 minutes. Add garlic and cook 1 minute.
2. Stir in cumin and cook/stir 1 minute. Add tomato paste, chili powder, salt (if needed), and black pepper, cooking/stirring for 1 minute more.
3. Add water, soup base or bouillon, lentils, carrots and tomatoes. Bring to a boil, partially cover the pot, and reduce heat to medium-low. Simmer for about 30 minutes or until lentils are soft.
4. Add lemon juice. Add salt if needed and adjust seasonings to taste.
Posted on 2 December 2019 | 2 responses
For decades I've sought this holy grail of bread recipes. Star bread, the American cousin of what I consider the finest bread in Italy, is the stuff of legends. Italian bakers introduced it to Springfield, Massachusetts, and a few other places in the state about a hundred years ago. Specialty Italian bakeries hooked customers on the twisty-shaped loaves, also called "horn bread" or "bolognese bread." Those bakeries have dwindled to a handful, and star bread always sells out—often before it reaches the shelves.
What makes it so special? The hard, golden brown, impossibly smooth crust has the crunch of a dry breadstick. In contrast, the soft crumb inside is fine, compact, and as bright as a Hollywood smile. Once you bite in, you can't stop. The flavor and textures are pure delight. And who can resist the shape that offers not two, but four crunchy ends?
My husband Dan grew up in Springfield, and his family celebrated holidays and special occasions with star bread. They would cut small rounds from the horns and make little sandwiches of thinly sliced Italian cheeses and cold meats for appetizers. But why shouldn't we have it year-round for sopping olive oil, mopping up pasta sauce, and for everything a good Italian bread is designed to do?
Star bread is getting harder to find. Around here, nobody has ever heard of it. So what choice do I have but to bake it myself?
There's one serious catch. No recipe. Not in any cookbooks. Nowhere. Even Google comes up short. In 2008, The Boston Globe ran a feature on "horn bread" and included a recipe that apparently nobody tested. An owner of one of the bakeries in the story wrote back, "The recipe given in your paper is missing an ingredient and an important processing step—but my lips are sealed!"
So yes, there's a secret. And nobody's talking. Omerta.
Over the years, I've cornered commercial bakers for advice. One told me it's just Vienna bread dough (false), but I simply couldn't make it at home because I needed "special equipment" (misleading).
The owner of a family-run bakery in Agawam recently responded with a look so steely cold I was afraid the loaves around her would flash freeze. "Sure you can have our recipe," she said as if I held her at gunpoint, "but only if you pay big money for it."
I thank her, though, because had she spilled her family secret I would not be sharing it with you now. I would be in on the code of silence. No Recipephany. But in the face of this stonewalling, Dan and I set out to find the secret recipe on our own.
Dan tracked down star bread's illustrious ancestor, Coppia Ferrarese. It comes from the Emilia-Romagna region in Northern Italy and dates back to the 13th Century. The name means "Ferrara couple" because bakers form the bread by joining two rolls of dough at their centers–"coupling" them. This regional treasure, like Parmigiano-Reggiano, has earned PGI (Protected Geographical Indication) status and must meet strict regulations set by the EU to carry the name Coppia Ferrarese.
This is the bread brought to Springfield by the Italian bakers. What started out as an elegantly slim, sculpted bread, evolved into a plump "H"-shaped loaf in Springfield. (Oddly, it has never had a star shape.)
Then Dan found the Coppia Ferrarese PGI official document. This is the master recipe that reveals all. After a bit of deciphering, I can now tell you what I see as the two key secrets to star bread.
First, the dough is hard and somewhat dry, the opposite of what I had expected to make such a soft crumb. Imagine stiff playdough with a silky finish. Once you've mixed the dough, put away the flour. There will be none on your hands, counters, floor…you get the picture. The small amount of oil and shortening (Italians use lard) makes the dough downright fun to handle and the process incredibly tidy.
Second—and here's the revelation—you need to roll this non-sticky, pliable dough many times through a "special metal cylinder" to compress it and make the surface smooth. How does a home baker manage that? We dragged out our trusty pasta machine. It did the trick—a fine substitute for the massive rolling machines at bakeries. This was the Big Breakthrough.
I cobbled together this Coppia Ferrarese-star bread hybrid using primarily the PGI guidelines. I tried to simplify the recipe for home bakers like me (although it's no Raegan's No-Knead Focaccia). For instance, Coppia Ferrarese is a sourdough bread, but since I don't have a 45 percent hydrated sourdough starter lying around (do you?), I fudged it. While this bread is shaped like Coppia Ferrarese, it produces a loftier loaf more like Springfield's star bread. Thanks to the pasta machine, it captures the signature textures of both.
I hope you try it and come away a Star Baker. If you don't have a pasta machine, well, sorry. Hand rolling may work, but I haven't tried. I'm still experimenting, so please let me know how it goes and if you've got any suggestions. Let's see if together we can preserve this distinctive special-occasion bread. It's so fun and rewarding to make, you might find that baking it creates its own joyful occasion.
Star Bread
(Modified Coppia Ferrarese)
1. Starter
Mix the night before baking:
3/4 teaspoon instant yeast (SAF-instant red label, or Fleishmann's RapidRise)
1 1/2 ounces warm water (45 ml)
3/4 cup bread flour (100 g)
Stir ingredients in a medium bowl, then knead briefly to combine. If it is so dry it won't come together into a ball, add a few drops of water. It should look and feel like pliable bread dough. Cover bowl loosely with plastic wrap and let sit overnight.
NOTE: This makes about 50 percent more than you need for this recipe. If you want to make enough starter for next time you make the bread, double this and freeze what's leftover and use within a few weeks.
2. Star Bread Recipe and Process
Special equipment: Pasta machine.
Suggested: Heavy-duty stand mixer; kitchen scale.
I derived this recipe from a formula that specified weight, not volume. For accurate dough hydration, I recommend using a scale.
Makes 2 loaves, each about 15 ounces before baking, and about 13 1/2 ounces after baking. Recipe easily halves.
½ cup starter (100 g, or about about 3.5 ounces) Use recipe above.
4 cups bread flour (500 g)  (Weighing works best.)
1 teaspoon instant yeast (SAF-instant red label, or Fleishmann's RapidRise)
6 ounces cold water* (180 ml, which is also 180 g), plus up to 3 tablespoons more
3 tablespoons shortening (38 g)
5 teaspoons (yes teaspoons—it's more exact) olive oil (20 ml)
1 1/2 teaspoons salt
1 teaspoon diastatic malt powder (available from King Arthur Flour)
*Use cold water in the stand mixer so the dough won't heat up. If kneading by hand, use tepid water.
Tear starter into a few pieces and combine with all other ingredients in a large bowl. Knead by hand for about 25 minutes until dough is smooth and elastic. Or, knead in a heavy-duty stand mixer using the dough hook for about 20 minutes. This is a hard dough, so it will be dry at first and will take a long time to cohere. Add drops of water near the end as you knead to keep it pliable, up to 3 tablespoons. You may even want to wet your hands a bit to keep the surface from breaking. The dough will be slightly elastic, but won't be stretchy. It will feel more like pasta dough than bread dough.
Cover bowl loosely with plastic wrap and proof dough in a warm place for 45 minutes. It will relax and get easier to handle.
Cut dough into quarters, and form each quarter roughly into a strip. Run through the pasta machine at the thickest setting. Fold and repeat for a total of 15-20 passes. (We shoot for 15, but average about 17 passes because sometimes the dough tears and needs extra smoothing.) The dough strips should get very smooth and each will measure around 2 1/2 inches wide by 24 inches long when done.
For each loaf, roll up two strips by hand and join them in the center. Follow this video explaining the steps.
Repeat for the second loaf.
Place each on an ungreased cookie or baking sheet. Cover loaves with plastic wrap and proof for 70-90 minutes (or a half hour longer if your room is cool). They will grow, but not quite double.
Meanwhile, preheat oven to 435 degrees convection bake, or 450 degrees regular bake.
Bake one at a time in the center rack of the oven 18-20 minutes. Rotate sheet midway. Lower heat to 425 convection after 10 minutes if it is getting too dark too fast. The loaf is done when it turns golden brown and sounds hollow when tapped on the bottom. Also, a cake tester should come out clean. Cool on a wire rack. Both dough and baked bread freeze well.
Posted on 23 October 2019 | No responses
It's hard to cook asparagus to its elegant best. If you leave spears in too long, they go from vibrant and crisp to drab and droopy. Take them out too soon, and you'll get a raw crunch instead of a tender, tasty bite.
But it's easy to cook asparagus perfectly in this soup. There's no peeling or fussy prep. No matter how long the asparagus simmers, it doesn't lose its sweet, earthy flavor. A touch of thyme and savory add garden brightness, and golden potatoes make it creamy. Crispy, salty prosciutto bits on top give contrasting crunch and color to the green smoothness.
Best of all, you don't need pristine spears if you're just going to puree them into soup. That's where Haymarket comes in.
Haymarket is Boston's historic open-air market with bargain-basement prices that attract home cooks as well as restaurant buyers. Wholesalers unload overstocked produce to vendors, who in turn pretty much give it away. You'll find things cost about a third to a sixth of what you'd pay at a supermarket.
Vendors chant, "A dollah, a dollah, a dollah!" A roll of singles makes you feel downright rich. You don't ask for a "a dozen limes," but "a dollar limes." The vendor hands you a bag so you can pick the best. For "a dollar Brussels sprouts," a guy in a Bruins shirt scoops handfuls into a bag, sets it on the hanging scale, and then makes sure you see it's nicely over a pound before he hands it over.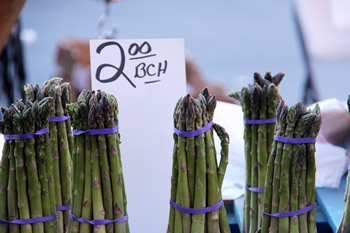 Yes, this is rescue produce. But like puppies at the animal shelter, radiant orange peppers and plump eggplants practically lick your hand as you pass by. Here it is October, hardly the season for springtime asparagus, and I got two beautiful bunches labeled $2 each for just $3.
While it's not a farmer's market, it shares the same goal: to get healthy fruits and vegetables onto people's plates. And in true New England style, Haymarket can't abide waste. As my mother-in-law used to tell her kids when she brought out a near-expiry leftover, "If you don't eat it, I'm going to have to throw it out." Of course they ate it.
If you haven't been to Boston and its legendary Haymarket in a while, it's time to do the touristy thing. Spend a fun Friday or Saturday afternoon enjoying both Quincy Market and the nearby circus that is Haymarket. Once you're home and have filled your fridge, you'll still have time to whip up this impressive soup—it takes just a half hour.
Haymarket Asparagus Soup
Adapted from Eating Well, June/July 2005

Feel free to adjust quantities to your taste.
8 cups water
Chicken or vegetable bouillon to flavor the water, to taste
3 yellow-fleshed potatoes, such as Yukon Gold, sliced then roughly chopped
3 large shallots, sliced
1 leek, sliced (optional – for volume and sweetness)
3 cloves garlic, chopped
1/2 teaspoon dried thyme
1/2 teaspoon dried savory
½ teaspoon salt, or to taste
2 bunches of asparagus, woody ends removed, chopped into about 1-inch pieces
Ground black pepper to taste
Topping: About three thin slices of prosciutto, chopped (or toasted croutons for a vegetarian option)
Put water, bouillon, potatoes, shallots, garlic, thyme, savory and salt into a soup pot. Bring to a boil over high heat. Reduce heat to medium-low, cover, and simmer until the potatoes are tender, about 8 minutes. Add asparagus, return to a simmer, and cook, covered, until the asparagus is tender, about 5 minutes more.
Puree, either with a blender, immersion blender, or food processor until smooth. Adjust seasonings and grind in black pepper to taste.
For the topping: Frizzle prosciutto in a small skillet over medium heat, stirring, until crisp, about 5 minutes. Add before serving.
Posted on 20 September 2019 | 2 responses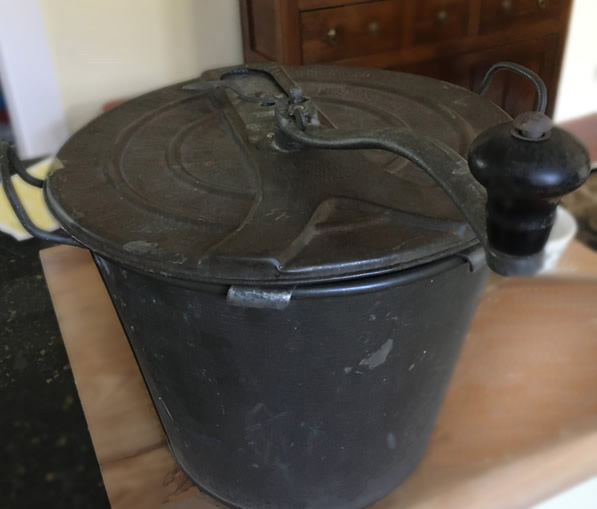 Now I know how I'll make my millions. I'll dust the cobwebs off my MBA and manufacture a shiny new version of the bread bucket, a once-popular tool for cranking out bakery-quality loaves. I betcha even King Arthur Flour will feature this brilliant energy saver in their baking porn catalog.
Of course, I'll have to cut Bruce Belden in on the deal. Bruce, the illustrious president of my high school class, has become an ardent home bread baker and he tipped me off about the bread bucket phenomenon.
Here's Bruce's story. Once you've read it, you'll want in on the bread bucket business, too.
♦♦♦♦♦♦♦♦♦♦♦♦♦♦♦♦♦♦♦♦♦♦♦♦♦♦♦♦♦♦♦♦♦♦♦♦♦♦♦♦♦♦♦♦♦♦♦♦♦♦♦♦♦♦♦♦♦♦♦♦♦♦♦♦♦♦♦♦♦♦♦♦♦♦♦♦♦♦♦
Cranking Out Loaves with the Bread Bucket
by Bruce Belden, Guest Blogger
Since reconnecting with Diane, my high school classmate of many years ago, and discovering her "Recipephany" blog, I've been trying to think of a way to contribute. Since I do not possess a wealth of original recipes, I thought another approach might be to tackle bread making from a process standpoint. I decided to see how Claire's Honey Whole Wheat recipe (Recipephany, May 2017) would come out using my mom's bread-making secret: the Bread Bucket.
Mom's Bread Bucket
When I was a young child, it was always a joyous occasion when Mom baked bread. She used the basic white bread recipe from the Betty Crocker Cookbook, and it was always wonderful. She was able to make five loaves at a time using her bread bucket (see photo above). Her Universal Bread Maker by Landers, Frary & Clark must be close to 100 years old. (See the Universal Bread Maker Brochure.)
A few years ago, I decided store-bought bread just wasn't very good. I could have bought artisan bread, but I figured I could do just as well for a fraction of the cost with Mom's bread bucket. I tried James Beard's whole wheat bread recipe from his classic Beard on Bread Cookbook. It was rather fun and worked so well that I've been making two loaves in the bread bucket every three weeks or so since then.
Hooked on the dough hook
The bread bucket has a professional-style dough hook that develops gluten to its elastic best without the hand kneading. While many people enjoy kneading, it takes time and often doesn't do the job as well as a dough hook.
The bread bucket has the advantage of mixing the bread and letting it rise without any other bowls or dishes. And the instructions are stamped right on the lid. You put in the liquid followed by the dry ingredients and then mix the dough using a hand crank. It may sound tedious, but in reality the ingredients get fully mixed in just 3 to 5 minutes. You let the dough rise in the bucket until it doubles in size. Then you take it out and shape it into loaves for a second rising in the loaf pans. Then it's ready to bake.
Where to get a bread bucket
I have seen the exact same bread bucket as my mom's many times in antique stores. Typically, a vintage bucket costs about $50. They're a bit pricier on eBay. It may be more than you want to pay, but it really is worth it. I recently saw a rerun of the Julia Child French Chef TV show from the '60s that highlights Julia using a more modern version. That model is probably extinct, too, but what could be better than Julia's seal of approval?
Claire's Honey Whole Wheat Bread experiment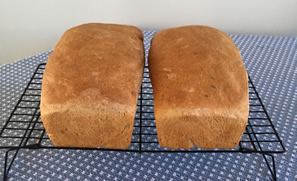 Needing more bread this morning, I decided to see whether Claire's Honey Whole Wheat Bread would translate to being made in a bread bucket. I doubled the ingredients to make two loaves. The experiment was a success—the loaves came out high and delicious.
So there you have it—an easy alternative way of making bread.
♦♦♦♦♦♦♦♦♦♦♦♦♦♦♦♦♦♦♦♦♦♦♦♦♦♦♦♦♦♦♦♦♦♦♦♦♦♦♦♦♦♦♦♦♦♦♦♦♦♦♦♦♦♦♦♦♦♦♦♦♦♦♦♦♦♦♦♦♦♦♦♦♦♦♦♦♦♦♦
Thanks so much, Bruce. You've sure convinced me. I'm checking eBay now. Then I'm on to my Bread Bucket Business Plan.
(Photos courtesy of Bruce Belden)
Posted on 4 September 2019 | No responses
Is it a crumble or a crisp? A cobbler or a grunt? Or maybe a slump? Whatever the name, it's a fruit pie without a traditional pie crust. It frees us from rolling, crimping, and the customary fretting about flakiness. And let's face it…sometimes we just prefer more fruit and less pastry.
With Meri's Berries, you toss together a crumbly dough that bakes into a crisp cookie-like topping. Sugar and flour in the dough combine with the berry juice to turn it a bit syrupy. This syrup won't get as thick as pie filling does, but then again there's no crust to make soggy.
Meri Cayem shared this recipe back when our sons, both named Andrew, were best buds in grade school. An impressive home cook, Meri zeroes in on what tastes good and how to make it efficiently. Many of my favorite recipes have her name on them.
Here Meri started out with a classic recipe from her mom, Honey, for apple crumble. Meri kept the dough, but swapped out the fruit.
"My mom was a fantastic cook, says Meri, "and so many of her recipes were very simple and delicious." Yep, that sure describes this one.
Our friend Gary Isaacson made this often, but renamed it "1-1-1 Crumble." He noticed that the recipe has an unusual property: it calls for one unit of each ingredient. There's 1 cup sugar, 1 cup flour, 1 egg, etc. Since I always double the vanilla (a knee-jerk reaction), I apologize for upsetting this elegance.
Meri's Berries works equally well whether you use fresh summer berries or a bag of fancy frozen berries slightly defrosted. So feel free to use what you have on hand. All you do is fill a pie plate with fruit. And finish it with Honey's delicious crumbly topping.
Use blueberries and raspberries, or apples and cranberries, or whatever you like, to fill a pie plate.
Blend in a bowl:
1 cup sugar
1 cup flour (or quick oats)
1 tablespoon butter, cut in
1 egg (lightly beaten)
1 teaspoon vanilla (Note: I double)
If powdery, sprinkle on a little water.
Put fruit into a greased pie pan, then sprinkle with topping. Bake at 350° for 35 – 40 minutes.
Posted on 9 August 2019 | 2 responses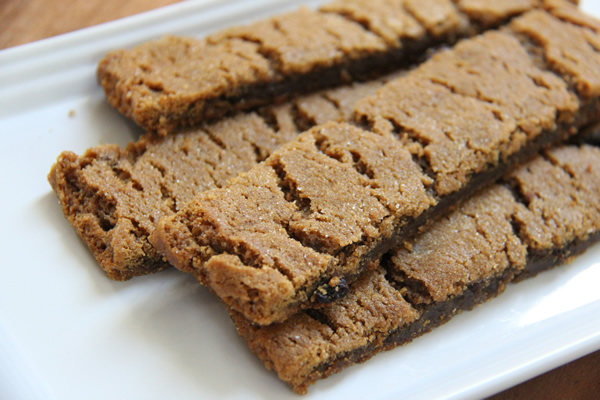 How did these classic New England molasses-spice cookies come to be called "hermits"? Some say it's because they kept well when hidden away on ocean voyages. Others think they resemble hermits' robes. Let's just chalk it up to the region's wacky names. For instance, Rhode Islanders call milkshakes "cabinets," and they don't have a good explanation for that, either.
Since my mother-in-law Dorothy (known as Dick) grew up in western Massachusetts, the heart of hermit country, these cookies may have been passed down from her mom. My husband usually beat his siblings to them, often stealing a couple right off the cooling rack. When he introduced me to these these tender bars—completely new to this Southern gal—it was as if I'd met the spice equivalent of a decadent chocolate cookie.
Even after decades of making Dick's hermits, I still marvel at their uniqueness in the bar cookie-verse. Like biscotti, they start out as logs and then get sliced into bars after baking. But unlike biscotti, there is no second baking. The outside puffs and cracks while baking, then firms up as it cools. Yet the inside stays moist and almost gooey. This gives the hermit the feel of a filled cookie—more like a fig newton than a bar cookie baked in a pan. The soft bite melts away into a flavor bomb on the tongue.
Dick's recipe yields a lot of bars, so you can eat plenty and stash some in the freezer for another time. They also make tasty gifts (if you can part with them).
Hermits appeal to frugal New Englanders. They derive their complex taste and texture from old-time pantry staples, including molasses. For a bigger hit of molasses, plus the story of the Great Molasses Flood, try out Mighty Molasses Clove Cookies, too.
Dick's Hermits
Recipe easily halves. Cookies freeze well.
Makes about 4 dozen.
1 ½ cups shortening
2 eggs
½ cup dark molasses
2 cups sugar
4 teaspoons baking soda
½ teaspoon salt
4 ½ cups flour
1 teaspoon each: ginger, cloves, nutmeg
2 teaspoons cinnamon
1 cup raisins
Sugar to sprinkle on top
Prepare two cookie sheets by lightly greasing or lining with parchment paper.
Beat together shortening, eggs, molasses and sugar. Stir in soda, salt, flour and spices until combined. Stir in the raisins. Wet hands and make four sausage-shaped logs about 1 ½ inches in diameter, placing two lengthwise on each of two prepared cookie sheets. Leave at least 3 inches between logs to allow for spreading. Press logs lightly with the bottom of a glass dipped in water. Sprinkle sugar on top.
Bake at 375° for about 9-13 minutes, or until cracked. Cool. Cut into about 2-inch strips.
Posted on 11 June 2019 | No responses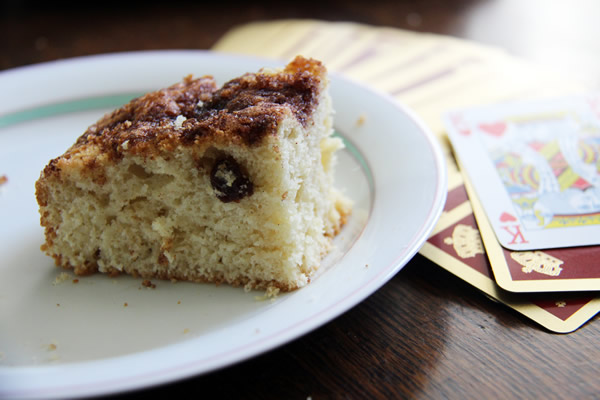 If Do-It-Yourself were an Olympic sport, my father-in-law would have won gold. To Louis (everyone knew him as "Louie"), every chance to fix the unfixable was an opportunity to achieve a personal best. As a contractor, he could do everything. He was a wiring wizard and mechanical mastermind. To solve a problem, he would cobble together ingenious gadgets out of scraps from his garage. When he was in his 80s, he even developed a computer program for doing his taxes.
So why was I surprised to hear that he baked?
I suppose it's because his wife Dorothy (everyone called her "Dick," a nickname coined by her little brother) kept the household swimming in brownies, cakes and cookies. Why would he ever need to bake?
My sister-in-law Chris says her dad made this coffee cake for her mom when "there were babies in the house, or she was under the weather, or it was Mother's Day." He was proud of baking it, but he was no stranger to the kitchen.
Friday mornings, Dick would pronounce the kitchen closed until the big Italian Sunday dinner, and Louie would take over. "His other specialties were eggnog (made with raw eggs) and pancakes, which we ate for dinner on the occasional Friday night when the food ran out. He also made a mean 'cut up hot dogs in scrambled eggs,'" says Chris.
The fluffy crumb, occasional raisins and dark sugar topping make Dad's Favorite Coffee Cake a delicious pick-me-up any time of the day. It's a classic recipe, so I can see why it appealed to him. You don't need a mixer, just a whisk, and you make it from ingredients you have on hand. Sort of like scraps from the garage.
Happy Father's Day to Louie, the King of All Trades, who is not only in Heaven, but probably renovating it.
Cake
2 cups flour
3 teaspoon baking powder
1 teaspoon salt
1/2 cup sugar
1/3 cup shortening, butter or margarine
1 egg
3/4 cup milk
2 teaspoons vanilla (my addition)
1/2 cup raisins
Topping
1 teaspoon cinnamon
1/4 cup brown sugar (or substitute white sugar and a teaspoon molasses)
1 tablespoon oil
Nuts (optional)
Mix flour, baking powder, salt and sugar in a large bowl. Cut in shortening.
Whisk in egg, milk and vanilla until smooth. Stir in raisins.
Pour into greased 9×9 baking pan. Mix topping and sprinkle on top. Bake at 375° for 25-30 minutes.
Posted on 14 May 2019 | 3 responses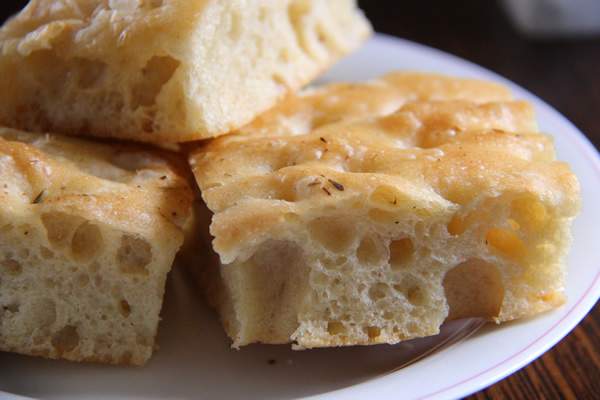 My daughter-in-law Raegan Sales, creative vegetarian home cook and baker, generously offers yet more proof that some great breads just about make themselves.
She started with something called "Ridiculously Easy Focaccia Bread" and—yes—made it even easier. And ridiculously delicious.
With Raegan's Focaccia, a bubbly wet dough bakes into a delightfully chewy golden-crusted flatbread. It owes its tender crumb and lovely flavor to hours of fermentation in the fridge and oodles of olive oil.
About all we do is stir and stare, except when we get to poke our fingers into the squishy, oily dough. The payoff: warm, aromatic, hole-studded focaccia eager to get dunked into more olive oil or devoured on the spot. It makes a scrumptious gift to yourself.
Time replaces work, so make sure you start the day before. Allow enough time to rise at room temperature and in the fridge. Fortunately, this dough likes to cooperate, and doesn't mind getting ignored for a while. So chances are it will fit into your schedule. And your snack time.
Variations: Says Raegan, "Experiment with whatever toppings you want! The first few times I made this I put my coworker's homemade fresh cheese mixed with a little sour cream in dollops (like pizza) and then sprinkled the herbs and salt. If you use wetter toppings, you will likely need to bake it for longer. When I do the cheesy ones, I leave it at 450 degrees for about 5 minutes to give it a good start, then turn it down and keep an eye on it. Those took over 45 minutes to bake; look for the top to turn golden brown."
Adapted from "Ridiculously Easy Focaccia Bread"

Makes one flatbread. Recipe easily doubles to bake in two pans. Bread freezes well.
2 cups all purpose flour
1 teaspoon kosher salt
1 heaping teaspoon instant yeast
1 cup warm water
2 tablespoons olive oil, divided, for the pan and coating dough
Herbs de Provence, to taste
Sea salt, to taste
Mix flour, salt and yeast in a medium bowl. Add water and mix until all of the flour is incorporated.
Scrape down the sides and cover with plastic wrap. Let proof about an hour. (You can skip this proofing step if you are short on time, or lengthen it if it is convenient. It gives the dough a little kick-start.)
Refrigerate for 8-24 hours.
Remove from the refrigerator.
Prepare an 8-inch square or 9-inch round metal cake pan by pouring in about a tablespoon of olive oil to coat the bottom and all sides. Do not use a glass dish, as the bread will tend to stick.
With oiled hands, gently transfer the dough into the pan. Pull the sides up and into the center to form a very loose ball. Turn it over so the seam side is down and all sides have a light oil coating. Let rest for 2 hours until the dough spreads almost to the edges of your pan.
Pour another tablespoon of olive oil over the dough and a little onto your fingertips. Press straight down into the dough all the way to the pan to create holes throughout. Stretch it a little (as needed) to get it to the edges of your pan.
Sprinkle with Herbs de Provence and sea salt. Set aside.
Preheat oven to 450˚F.  Once preheated, put the focaccia in and turn the oven down to 425˚F. Bake for about 22-27 minutes (or longer, depending upon your oven) until golden brown on top and shrunken away from the edges of the pan a little.
Once out of the oven, transfer to a wire cooling rack so the bottom stays crisp.
Enjoy!
Posted on 18 April 2019 | No responses
(Photo courtesy of Lynn Osborn)
It's almost Passover and Easter, a perfect time to share results of an egg taste test by guest contributor, Stan Rowin.
First, some background. Stan is a photographer who started his career taking photos in Julia Child's Cambridge kitchen, now a culinary mecca at the Smithsonian. The same Julia who never got rattled by a fallen soufflé or a splattered pancake showed Stan her perfectionist side during a shoot.
"Julia was doing a chapter on eggs, and she wanted to show how fresh eggs look when fried," says Stan. Then the frenzy began. "Out of three dozen eggs, she got one egg that looked good, but couldn't find a second symmetrical egg white. So she sent out for three dozen more. Somewhere in that second batch she found two usable for a photo." (By the way, the one who hunted down those photogenic eggs was Sara Moulton, star of public television's "Sara's Weeknight Meals.")
Years later, Stan moved to a rural upscale Boston suburb where "almost everyone but me grows their own eggs: chicken, ducks, whatever." He remembered Julia's egg mania.
"So I decided to do a taste test," he says. "Fresh store-bought eggs versus day old hatched local eggs (they're supposed to age a day).
"I compared a neighbor's egg (as opposed to Julia Child's) and a 'premium' store-bought egg. The neighbor's fresh egg had a darker yolk and a more compact white when fried." Score one for the farm egg.
Then came the tasting of both hard-boiled and fried eggs. "We made the taste test as blind as we could with eight unprofessional tasters, including the neighbor who supplied the fresh eggs. While we had definitely seen a difference in yolk color, no one could taste any real difference with their eyes closed." Tie.
There you have it. Farm-fresh eggs look better and have what Stan calls the "tightie whities" that Julia sought. But, as Stan reports, they may not taste any different from supermarket eggs. However, if you want Julia Child perfection, find a neighbor with chickens.
Note: Big thanks to Stan Rowin for this story. J. Kenji López-Alt of Serious Eats and The Food Lab concurs with him. Kenji went so far as coloring eggs green in "The Food Lab: Do 'Better' Eggs Really Taste Better?" He concluded that the mindset of the taster has far more bearing on the flavor of the egg than the egg itself.
Posted on 3 April 2019 | No responses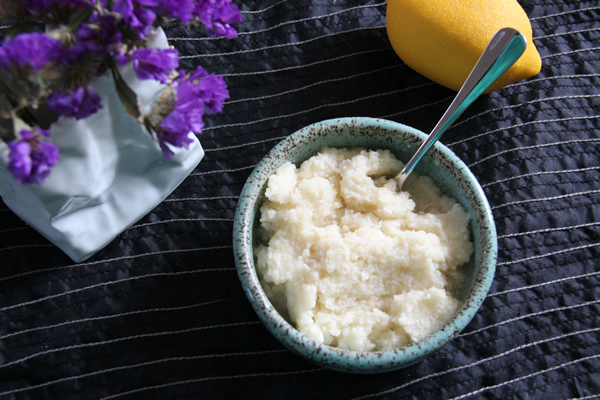 Making your own horseradish takes just four ingredients: horseradish root, vinegar, salt, and courage. The goal is to get from root to jar as quickly as possible, minimizing the time you spend holding your breath, clenching your eyes, and stumbling out of the kitchen gasping for air.
But if you like horseradish, you'll enjoy the challenge. No store-bought brand can mess with your pleasure/pain center quite like the stuff you make fresh.
My dad famously made horseradish from home-grown root, yet it was Mom who consumed it with the most gusto. She heaped it onto her gefilte fish, laughing through her tears about how well it cleared her sinuses.
As my neuroscientist daughter points out, the burn from horseradish is different from the capsaicin heat of chili peppers. A hot-pepper burn can persist for hours, while the horseradish shock vanishes in a moment. Horseradish gets its pungency from the compound allyl isothiocyanate, which is highly volatile so it vaporizes into your sinuses, leaving trace flavors to flash across your tongue. Once the fumes leave your sinuses, so does the burn.
Horseradish, a staple condiment in our household, makes a burly counterpart to ketchup and mustard. It loses potency with time, so every couple of months out comes a new batch.
The horseradish root looks a little like an elephant leg and foot. Often misshapen with a lot of dirt in the crevices, it can be tricky to peel. Happily, Stop and Shop now sells nicely cleaned, rather straight roots for easy peeling. Make sure to choose a fresh, firm piece.
You'll need a blender or food processor. I prefer my blender because it does a good grinding job and, most importantly, the lid seals in the fumes.
This recipe is simple and quick. And believe me, you'll want to make it quick.
Quick Homemade Horseradish
One horseradish root
Dash of salt
White vinegar (up to a cup or more)
Open a window.
Wash and peel the root. The root can be tough, so slice lengthwise in half along the grain and then cut into chunks.
Pulse/grind chunks in a blender or food processor, scraping sides as needed while avoiding fumes, about a minute.
Keeping lid on, wait a minute or so before adding vinegar (because the longer you wait the stronger the horseradish will get).
Pour in enough vinegar to nearly cover the horseradish and add a dash of salt. Blend again to combine.
Spoon into glass jars, keeping your face away from the fumes. Refrigerate.
Leave window open or close it, to taste.
Posted on 14 February 2019 | No responses
Do we really need another recipe for chocolate cake besides our definitive Black Magic Cake, the first Recipephany? Yes, because we also need chocolate mini-donuts drenched in chocolate ganache. Black Magic makes ultra-moist full-sized cakes, but is doesn't work so well for tiny sweets. With this recipephany, you can make these intensely chocolatey cuties in the time it takes to bake a batch of cookies.
These mini-donuts have a lot going for them. Besides looking adorable on a dessert plate, they're great for portion control. Instead of cutting a whopping slab of cake, you can pick up one of these and dispatch it in a couple of genteel bites. Then you can go back and pop two or five more and nobody will notice.
If you're thinking, "No, not another single-purpose kitchen gadget!" consider that a mini-donut pan can be quickly amortized. Especially when you get one (as I did) at T.J.Maxx for under $8. Plus, this recipe came with the pan. I sure got my money's worth.
Curiously, the recipe that came with the pan specified a "mini-muffin tin." This can mean that: 1) The mini-donut pan company stole a mini-cupcake recipe and the proofreader didn't catch the mistake, and if so,  2) You can use a mini-muffin tin if you don't want to get a mini-donut pan. But the result won't be nearly as cute.
Chocolate Mini-Donuts
1 1/2 cups flour
1/3 cup unsweetened baking cocoa
1 teaspoon baking powder
1/8 teaspoon salt
2 eggs
2/3 cup sugar
2 teaspoons vanilla
1/2 cup milk
2 tablespoons butter, melted
Preheat oven to 325°F. Combine flour, cocoa, baking powder and salt. In separate bowl mix eggs, sugar and vanilla until thick. Combine milk and butter. Alternately combine egg mixture and milk mixture with flour mixture and mix until smooth and soft. Spray pan lightly with cooking oil. Use half the batter, filling wells 2/3 full. Bake 8 minutes. Carefully remove. Repeat with rest of batter. Dip in chocolate ganache and top with jimmies if you want. Makes 24.
Chocolate Ganache
½ cup  semisweet chocolate chips
2 tablespoons butter
2 tablespoons corn syrup
1-2 teaspoons hot water
Place chocolate chips, butter and corn syrup in 2-cup microwavable measuring cup. Microwave uncovered on medium (50%) 1 to 2 minutes or until chocolate can be stirred smooth. Add hot water until desired consistency.
Posted on 14 December 2018 | No responses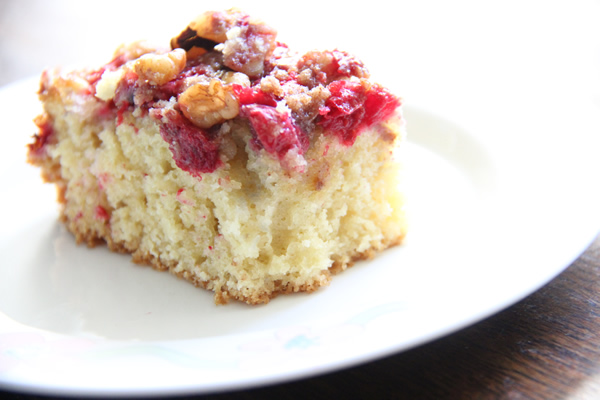 If you're like me, you bought two bags of cranberries before Thanksgiving because it said on the Ocean Spray package, "Buy two, freeze one." Now what do you do with the one in the freezer?
Cranberries keep a year or more in the freezer. So you can dip into your cranberry stash any time and make, for instance, this tasty Cranberry Streusel Coffee Cake.
This breakfast/snack/dessert has it all: cranberry and its best friend, orange; your favorite sour dairy product (sour cream or yogurt or sour milk); the baker's drug of choice, vanilla; and cinnamon and nuts. You can bake one large sheet cake or two 9" square cakes. In the Ocean Spray spirit, I bake two, freeze one.
For other things to do with cranberries, consult classic comedy duo Bob and Ray. Here, Wally Ballou (Bob Elliott) interviews Ward Smith (Ray Goulding), a cranberry bog owner and farmer.
Ballou: After you harvest them, Mr. Smith, do you have your own processing plant?
Smith: Processing plant? What do you mean by that, Mr. Ballou?
Ballou: By that, I mean, do you have your own factory for squeezing the juice out of cranberries?
Smith: Squeezing the juice out of cranberries? I never heard of –
Ballou: Yes, to make cranberry juice.
Smith: Juice? Out of cranberries?
Ballou: Yes, for your cranberry juice cocktails.
Smith: Cranberry juice cocktails?
Ballou: Or perhaps you make cranberry sauce out of them?
Smith: What would that be for? A dessert?
Ballou: No, you serve it as a side dish…with turkey or meats.
Smith: Well, I never! You know, you've triggered something here….Say, have you got a pencil? I want to write all this down….
Ballou: All these years you've been growing cranberries…What have you been doing with them?
Smith: I've been selling them in a basket, like strawberries. For cranberry shortcake. And you know…they really don't sell that way.
My dad recorded Bob and Ray shows in the 60s on his Teac reel-to-reel, which, in Eniac style, took up most of our den. There my brothers and I spent hours doubled over listening to Lawrence Fechtenberger, Interstellar Officer Candidate; the McBeeBee Twins; Webley Webster, and the many other stars of the Finley Quality Network.
About 30 years ago, I went with my husband and kids to a birthday party for the daughter of friends who lived around the corner. As I walked in, I recognized Bob Elliott sitting in the foyer, chatting quietly with his usual deadpan demeanor. Starstruck, I raced into the kitchen to corner Shannon Elliott, hostess of the party.
Me: Shannon, you never told me your father is Bob Elliott!
Shannon: You never asked.
Me: Well, I grew up with Bob Elliott!
Shannon: So did I.
I spoke with Bob just long enough to gush with admiration. And said hi to Chris Elliot as he breezed cheerily by.
For years Bob and Ray had fans laughing about this all-American wetland-loving scarlet berry. Now here's a use that Wally Ballou never thought of. And it sure beats cranberry shortcake.
Cranberry Streusel Coffee Cake
Adapted from Cold Weather Cooking by Sarah Leah Chase
Makes one 9"x 13" cake, or two thinner 9" square cakes.  Eat one, freeze one for later.
For the cake:
½ cup butter, at room temperature
1 cup sugar
2 large eggs
2 teaspoon vanilla extract
1 tablespoon grated orange zest, OR ½ teaspoon orange extract
2 cups all-purpose flour
1 teaspoon baking powder
1 teaspoon baking soda
½ teaspoon salt
1 cup sour cream (or sour milk or yogurt)
2 ½ ups whole fresh cranberries (or frozen, defrosted)
For the streusel topping:
¾ cup brown sugar (or ¾ cup white sugar with a little less than 1 tablespoon molasses)
½ cup all-purpose flour
2 teaspoons ground cinnamon
4 tablespoons butter
½ cup walnuts, coarsely chopped
Preheat oven to 350 degrees. Butter and lightly flour a 9" x 13" pan or two 9" square pans.
Prepare the coffee cake: Using an electric mixer, cream the butter and the sugar together until light and fluffy. Beat in the eggs, one at a time, then the vanilla and the orange rind (or orange extract).
Mix the flour, baking powder, soda and salt together. Add the flour mixture to the creamed mixture alternately with the sour cream to make a smooth, thick batter. Spread the batter evenly in the prepared pan(s). Sprinkle the cranberries over the top.
Prepare the topping: Toss the brown sugar (or white sugar and molasses), flour and cinnamon together in a small mixing bowl. Cut in the butter with two knives, a pastry blender, or your fingers until the mixture is crumbly. Stir in the walnuts. Sprinkle the streusel evenly over the cranberries on the coffee cake.
Bake until a cake tester inserted in the center comes out clean, about 45 minutes for the 9" x13" pan, or about 30 minutes for the 9" square pans. Serve warm or at room temperature, cut into squares.
One large cake serves 10 to 12.
Posted on 13 October 2018 | 2 responses
My mom died in August, just a month shy of turning 102. She was a success at more than just longevity. She became an art teacher rather than a journalist because her father thought it was a safer profession for women in the 1930s. And even though she'd never picked up a paintbrush until she entered Moore College of Art, her watercolors were as masterful as if she'd been born with the divine gift.
She gave up teaching to serve as a Naval officer's wife at a time when "entertaining" was serious business. Throwing dinner parties and organizing wives' club luncheons were part of the job, and she had the poise and smarts to pull it all off.
Her hobby, though, was worrying. She'd worry when my dad was stationed at a secret location during WWII. She'd worry when he flew jets in a test pilot squadron (something she'd never signed on for when she'd married a Jewish doctor). She'd worry about taking care of her three youngsters while my dad was away on sea duty for two years. She lovingly worried about her children, grandchildren and great-grandchildren until the very end.
Peel away the worry and you'd find confidence, competence and creativity. She applied her art training everywhere, especially in the kitchen. Family meals were at the heart of our home, and each plate was a still life of pleasing colors and composition.
As a modern '50s homemaker, she embraced simplicity and efficiency. If she could make a recipe easier, all the better. Her Wheat Germ Banana Bread features a clever shortcut. It is also my favorite thing she baked.
What follows is my most personal recipephany. It is a story of plagiarism, remorse, romance, forgiveness, and inspiration. I present it in loving memory of my mom.
——————————————————————
My mom's banana bread was over-the-top moist and sweet from overripe bananas, and rich with the nutty taste of toasted wheat germ. A thick slice delighted me as much as a fudgy brownie. I loved it slathered with butter, and each bite just melted away.
Here was wheat-germ wholesomeness before it was fashionable. And—get this—Mom mixed it in her Waring blender. No creaming butter and sugar. No beating eggs. Just whir and stir. Brilliant.
That's why I stole the recipe.
In the '80s I dabbled in cooking contests. I pursued ones that were oddball or badly publicized so I'd have a chance. "Enter contests you can win," is one of my rules. It makes me a real buzzkill when it comes to lotteries.
A tiny ad for a Weetabix contest caught my eye. Weetabix—those fragile biscuits of compressed whole-wheat flakes—turn mushy at even the thought of milk. I just needed to work their wheaty mushiness into a recipe.
So, without asking, I entered my mom's banana bread with Weetabix substituted for the wheat germ. It lacked the nutty taste, but it worked.
I made it to a preliminary cook-off hosted by popular Boston TV personality Dave Maynard at the Natick Mall. My husband, 2-year-old daughter, parents and brother and sister-in-law came to cheer me on.
At the cook-off, I took complete credit for my mom's recipe right in front of her. I later realized how tacky this was and apologized, but she waved it off. She was happy for me. My successes were hers, too. But to this day I still feel guilty.
The banana bread won. A judge in crisp chef's attire approached me with congratulations. Then he said, "I like to bake with wheat germ. Do you think this would work if I used wheat germ instead of the Weetabix?" I struggled to remain composed and then replied yes, I thought it would work very well.
They slated me to compete against winners from other mall competitions at the Grand Cook-off the following month. I was pregnant with my son, and a complication confined me to bed rest. I couldn't get off the couch let alone make it to the final contest.
Then my husband, with chivalry worthy of Jane Austen's Mr. Knightley, announced he'd go in my place. On the stark white apron he would wear, he printed in bold letters with a red Sharpie, "I'm doing this for her."
And he did. This was a selfless act of love. Give him a grill, a griddle, a pot or a pasta machine and he's at home. But he has always left the oven to me. So he geared up, ventured into terra incognita, and baked banana bread. He nailed it. And he charmed the judges.
In the end, we came in third. The recipe that won first prize called for a can of Campbell's bean and bacon soup. My mom shook her head every time she recalled it. I never again baked anything with Weetabix.
My love for her banana bread indirectly led her to create her prize-winning Olympic Seoul Chicken. My contest success had stirred her competitive juices. If her daughter could win with one of her recipes, why couldn't she? Thirty years later, her chicken recipe is more popular than ever, popping up on thousands of websites and blogs. Only seldom, though, is her name attached.
To her grandchildren and great-grandchildren, she was "Nanny." When my family gathered for her funeral, I served this banana bread. My son nicknamed it "BaNanny Bread." I could hear my mom's laugh.
I hope you enjoy success with this prize-winner. Just please give my mom credit when you share it. Then I won't feel so guilty.
Muriel Brody's Wheat Germ Banana Bread
Mix in a blender:
1/3 cup shortening, soft (preferably butter or margarine)
2/3 cup sugar
2 eggs
3 large or 4 medium bananas
¼ cup sour cream*
*May substitute yogurt, sour milk, or milk with 1 teaspoon white vinegar added.
Whisk together in a large bowl:
1 ½ cup flour
¼ teaspoon baking soda
½ teaspoon salt
2 teaspoons baking powder
1 cup wheat germ
Pour banana mixture into the dry ingredients and stir till well blended, but do not beat. Pour into a greased 9" x 5" loaf pan. Bake at 350° for 50-60 minutes or until it tests done and is nicely brown. Bread will be very moist.
Posted on 12 September 2018 | No responses
If you can believe headlines these days, vanilla is nearly as expensive as silver. A cyclone in Madagascar last year put vanilla bean on the "endangered spices" list. Maybe we should now include vanilla extract in our homeowners' policies.
But all is not lost. For those of us who swirl spoonfuls into our yogurt and pour it into our baking, there's no need to cut back. It's "vanillin," the active flavor ingredient in vanilla, that we really love. "Vanilla extract" has other chemicals, too, but they have negligible taste and degrade when heated. We're in it for the vanillin. And we can get it in "imitation vanilla."
But why, Mr. Science, should we settle for "imitation"?
First, imitation vanilla has oodles more vanillin that vanilla extract does. In taste tests, imitation vanilla ties or wins against the fanciest stuff. For uncooked dishes, where the booziness of vanilla extract can make a difference, just add a touch of vodka and nobody will be the wiser.
Second, it doesn't matter where vanillin comes from. Whether it's produced in a manufacturing plant or inside a vanilla bean, all vanillin is identical: C8H8O3. Food historian Sarah Lohman puts it well when she writes that "atoms don't remember their history—the synthesized vanillin has no relation to its source."
So what's all this fuss about vanillin? It's more than a flavor; it's a flavor enhancer. It makes chocolate more chocolatey and just about any sweet more luscious. I've long suspected that it's a happy drug, and recently I found proof. A study in mice shows that simply sniffing vanillin relieves depression by boosting dopamine. (As my neuroscientist daughter says, it's a great time to be a lab mouse.)
My husband grew up next door to the Baker's Extract Company bottling plant in Springfield, Massachusetts. You'd think the family would get sick of the sweet aroma. But no, like the lab mice, they got a kick from the free-floating mood enhancer. His sister Chris would even pull herself up to the factory's window ledges in order to get the strongest hit.
So save for college tuitions or retirement and choose imitation vanilla, preferably containing super-potent ethyl vanillin. Double or triple it in your recipes. I guarantee everyone will love it.
Posted on 3 July 2018 | No responses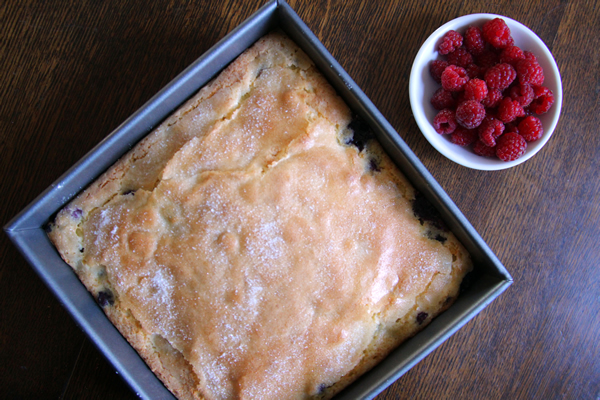 There was something about the loftiness, the berriness, and the sugary crustiness of Jordan Marsh blueberry muffins that hooked Boston in the 60s. Jordan Marsh ("Jahduns") was Boston's answer to Macy's for more than 150 years, until Macy's had the final answer and acquired it in 1996. It speaks to the power of a good snack that a sugar delivery system for tired shoppers has become a favorite memento of this late, great New England retailer.
The muffin's originator, Jordan's baker John Pupek, kept his recipe a professional secret. This triggered Muffin Mystery Mania, when home bakers and restaurants alike set out to recreate the oversized, overstuffed muffin. For decades, the media and the grapevine buzzed with recipes claiming to be the real thing. Every New England recipe box had at least one version. I have three different recipes, including one from my mother-in-law, all called "Jordan Marsh Blueberry Muffins."
While I never experienced the rapture that was an actual store muffin, my favorite copycat is this muffin cake. That's because the Jordan Marsh blueberry muffin is really a coffee cake masquerading as a muffin. Its soft, sweet, vanilla-y crumb and sugar topping move the needle away from muffin and into cake territory. (For an indisputable muffin, see Boston Brown Bread Muffins.)
This particular recipe for moist and sweet blueberry muffin cake goes back to my roommate days with Elinor Lipman, friend and best-selling novelist. It came from her mother Julia, the source of the amazing self-streuseling Cinnamon Tea Cake.
"She did make it often—it was her standard blueberry cake," remembers Ellie, who grew up in Lowell, Massachusetts. "She got the recipe via Gus Saunders's radio show where people called in recipes. It was called 'Yankee Kitchen' and she listened every day. My sister Debbie and I used to refer to him as 'your boyfriend.' She always made it in cake form, never muffins as I recall."
Versatile blueberry muffin cake goes beyond breakfast or snacktime. Top it with whipped cream and raspberries for an excellent Fourth of July tribute to old Boston.
And if you haven't heard, the Muffin Mystery has been solved. After the demise of Jordan Marsh, Pupek started his own bakery to continue selling the muffins. When he closed up shop and retired in 2016, he finally revealed his technique in a TV interview. To get this Boston Holy Grail, click here. There are no major revelations, though. The recipe they show matches just about verbatim the one the Boston Globe published on July 4, 1974, under the name "'Marshy' Muffins." I've had that in my recipe box all along.
Jordan Marsh Blueberry Muffin Cake (Saunders/Lipman Version)
1 ½ cup sifted flour
1 teaspoon baking powder
½ teaspoon salt
½ cup margarine or butter
1 cup sugar
2 eggs
½ cup milk
1 teaspoon vanilla (I double to 2)
1 ½ cup blueberries, floured
Sift flour, baking powder and salt together.
Cream margarine or butter with sugar until fluffy. Add eggs; beat well. Add flour mix to cream mix alternately with milk, Mix extremely well. (The more you beat, the better.)
Fold in vanilla and floured berries. Pour into well-greased 8" square pan or muffin tin.
Sprinkle top with sugar. Bake at 350 degrees for 35-40 minutes. (I found 33 minutes on convection was enough.)
Posted on 20 June 2018 | No responses
Emergency Corn Biscuits lured me in with the wacky name, but they could just as well have been called Cornbread-Lovers' Biscuits.
This recipe is out of the 1922 Good Housekeeping cookbook, from an era when American housewives apparently faced corn biscuit emergencies. I tried to imagine such predicaments:
"Honey, the Johnsons just brought over baked beans."
Or: "The wrestling coach wants you to put on how many pounds, Jimmy?"
Or: "How long has this sack of cornmeal been in the pantry?"
But the emergency—and a serious one at that—was not in the American kitchen but abroad. This recipe came from World War I, when American households voluntarily conserved foods to help feed troops and save victims starving in Europe. Future president Herbert Hoover, head of the US food relief program, appealed to American patriotism and compassion with slogans like "Food Will Win the War." If nutrient-rich calories were ammunition, the program made sure the US had the best-equipped infantry in the world. Americans who had enjoyed a bountiful food supply embraced campaigns like "Meatless Mondays" and "Wheatless Wednesdays," changing the way they ate. Many of these changes, including Victory Gardens, have stuck with us.
Cutting back on milk, butter, eggs, sugar and other staples created challenges. And challenges promoted innovation. Good Housekeeping magazine paid at least $1 for this original recipe published in its "For War-Time Saving and Economy" column in February 1918.
Emergency Corn Biscuits prove that delicious biscuits don't need milk, butter, or even much shortening—just some cornmeal for flavor. There's a slight crunch as you bite in, and the tender crumb feels like a biscuit but tastes like a corn muffin.
And, like so many wartime recipes, this happens to be vegan.
These fun-sized biscuits encourage you to eat several at a sitting. Have them with butter, honey, or just plain. No emergency required.
Emergency Corn Biscuits
from Good Housekeeping Book Of Menus, Recipes and Household Discoveries (1922)  See the whole book on the Internet Archive.
1 1/4 cupfuls bread flour
3/4 cupful cornmeal
1 teaspoonful sugar
5 teaspoonfuls baking powder
1 teaspoonful salt
2 tablespoonfuls shortening
1 cupful cold water
Mix and sift the dry ingredients. Mix in the shortening with two knives or the tips of the fingers. Add the cold water and mix well. Drop by spoonfuls into greased muffin pans or on a greased baking sheet one and one-half inches apart. (Note: I used baking sheets.) Bake twenty minutes in an oven which registers 450° F.   Trenton, NJ
Posted on 14 May 2018 | No responses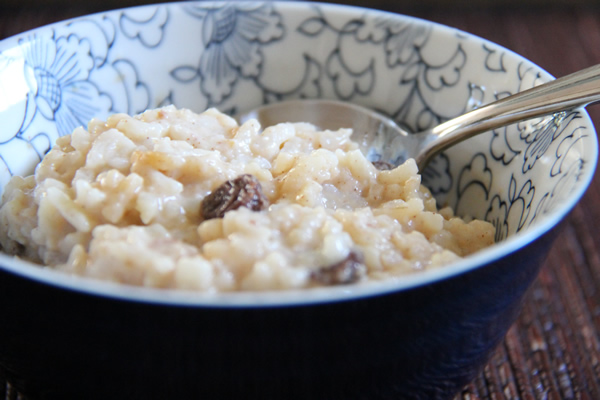 Luxurious rice pudding tastes divine and makes you feel good all over. But achieving a rich creaminess can be tricky. Baking can take hours, and the rice can even toughen. Thanks to the miraculous time-defying Pressure Cooker, this recipephany takes raw rice from zero to supreme creaminess in less than 15 minutes.
Evaporated milk (milk that's been concentrated by cooking it down) adds thickness plus a hint of caramelization. This slight nuttiness joins hands with the vanilla and cinnamon (rice pudding is a great delivery system for both) to create ahhh-inspiring yumminess.
While you might think of rice pudding as the fluffy slippers of desserts, it has some hipness. When our son lived in New York City he took us to Rice to Riches, which looks like an ice-cream parlor on Mars. It serves up its 20 flavors in sleek, neon-colored plastic bowls with aerodynamic spoons that would feel at home in a Japanese pod house.
I wrote in "Apple Butter, Pressure-Cooker Fast" that the Pressure Cooker messes with our space-time continuum to cook, tenderize and boost flavors in less time than it takes me to check email. This recipephany has no nostalgia folded in, since I had my first taste of rice pudding from a can. But I'm serving it with a dollop of affection for my superhero, the Pressure Cooker. My mother-in-law Dick got me my first, and my sister-in-law Judy got me my most recent. With every bowl of turkey soup, Cuban black beans, or rice pudding I ladle out, I wonder how such flavorful dishes can materialize in no time from this mild-mannered kitchen marvel.
9-Minute Creamy Rice Pudding in the Pressure Cooker
Serves about 6.
1 tablespoon butter
1 cup long grain rice
2 1/2 cups milk
Splash of cream (optional)
1/2 cup water
½ cup sugar
½ teaspoon salt
Handful of raisins
½ cup evaporated milk
2 teaspoons vanilla
1/2 teaspoon cinnamon, or to taste
Melt butter in pressure cooker, then stir in rice.  Let the grains get coated with the butter, stirring until they turn just a little white. Add milk, cream (optional), water, sugar, salt and raisins, stir, then cover, lock lid, and bring to pressure. Cook 9 minutes. Turn off stove and let pressure go down by itself. Remove lid, stir, and add evaporated milk, vanilla and cinnamon to taste and stir. It will thicken up more. Serve with a shake of more cinnamon and/or whipped cream.
Note: This is so fool-proof, it worked when I accidentally turned off the stove when the cooker reached pressure instead of just turning it down. When I went back to turn it off at 9 minutes, I found that fortunately the pressure had only gone down about a half. So I turned on the heat for about 30 seconds to bring the pressure back up, and then turned it off again. In a few minutes, the pressure had dropped completely, and the rice pudding was perfectly cooked.
Posted on 23 April 2018 | 4 responses
What do architects know about cookies?
A lot, I'm sure, since these chocolate chip oatmeal cookies won Best-Tasting Cookie at an architectural firm where my husband once worked. I had baked them early in the morning so they were still warm when he entered them into the contest, slightly crisp on the outside yet chewy inside. I suspect this structure may have swayed the judges as much as the flavor dimension added by an extra splash of bright vanilla and glug of bittersweet molasses.
It was decades ago, but the construction-paper blue ribbon still hangs as a reminder in our Hall of Achievement. The award proudly holds its own in the swarm of diplomas, certificates and licenses that fill the wall of the corridor, representing family milestones going back generations.
This recipephany grew out of a recipe for refrigerator cookies I found in a Maypo cook booklet. I used to love Maypo hot cereal and the mapleness of these cookies. But Maypo was a sugar splurge, so it eventually disappeared from our shelves and these cookies.
I substituted quick oats for the instant Maypo, fiddling around with proportions to get the right chew. As always, I replaced brown sugar with molasses and white sugar (that's all brown sugar is, anyway), and doubled the vanilla. I also skipped the refrigerator steps and dropped the dough right onto the trays for instant gratification.
Bakers say the key to chewy cookies is underbaking. But how can you call it "underbaking" if the result is perfection? Yes, cookies should come out of the oven when they look a little underdone—golden around the edges and still a little puffy and moist in the center. But they will continue to cook on the rack, and when cooled there will be nothing underbaked about them.
These are gooiest and chewiest the day they're made, and they crisp up as days pass. If you want to keep them fresh and chewy, freeze them, and then simply defrost and serve. They'll still be award-winning delicious.
P.S. For a softer oatmeal chocolate chip cookie, you should try Jimmy Bruic's Banana Vegan Cookies.
Hall-of-Achievement Chocolate Chip Oatmeal Cookies
Makes about 36
2 cups flour
1 teaspoon salt
1 teaspoon soda
1 cup shortening
2 cups sugar
1 tablespoon molasses
2 eggs
2 teaspoons vanilla
2 cups quick oats (or old-fashioned oats—they work well, too)
½ cup chopped nuts, optional
6-12 ounces chocolate chips or chunks
Preheat oven to 375°.
Cream shortening, sugar and molasses together. Add eggs and vanilla and beat well.
Add flour, salt and soda and mix. Stir in oats. Add chips and nuts, if using.
Using a tablespoon cookie scoop, drop onto parchment-lined trays. Flatten slightly.
Bake about 10 minutes, until edges are lightly browned and the center is still a bit puffy and moist. Slide parchment paper onto racks and let cool a few minutes before serving. Store in an airtight container for a few days or freeze to preserve chewiness.
Posted on 20 March 2018 | No responses
Portuguese Sweet Bread shows up at Easter with dyed eggs poking out the top. Frankly, I think it looks better without them. The mahogany crust and soft, eggy interior make a luxurious slice, turning toast or sandwiches into a special occasion.
With this easy no-knead recipephany, you can make this splendid bread on a whim. Just stir ingredients into a shaggy dough and let it sit overnight. Next day, form it into a ball, let it rise in the pan, and bake. That makes the hardest part remembering to start the night before.
While my mom didn't bake bread, she set aside this recipe for me back in the 90s. She found it in a freebie Rhode Island magazine consisting of local ads and amateur journalism. Buried in the back was this gem of a recipe that sounded like it came straight from the old country via Little Rhody.
This recipe makes loaves that remind me of the ones my dad brought home from his favorite Portuguese bakery in East Providence. You could find sweet bread around nearly every corner because Rhode Island had, and still has, the largest percentage of residents of Portuguese ancestry of any state in the country.
Portuguese sailors and fisherman gravitated to the enormous coastline of the smallest state. They also favored Massachusetts, which has the highest number of Portuguese Americans of any state, and Hawaii, where Portuguese sweet bread became "Hawaiian bread."
Even though it makes me all sappy about Rhode Island, this recipe may have come from Massachusetts. Thanks to its misspelling of the Portuguese word for "dough" (it should be "massa," not "mazza"), I traced this recipe to the 1954 edition of Vineyard Fare, a fundraising cookbook compiled by the ladies of Martha's Vineyard Hospital Auxiliary.
So it could have been handed down to grandma on the island of Martha's Vineyard, then spread like a family cold through Rhode Island and the rest of New England. It even found its way into Yankee Magazine a few years ago, although editors felt compelled to add in unnecessary kneading.
The original Mazza Savada recipe reads as if grandma dictated it while rushing out the door. Our Recipephany version fills in a little more detail to help assure happy breadbaking.
Enjoy making this simple yet elegant bread. Just remember to start last night.*
*Okay, you want to make it now? Or later today? Mix up the dough and let it rise about 2 hours, or until it slightly collapses or flattens. Then put it in the fridge until you're ready to make it—from a couple hours to a couple of days. Just allow a little more rising time in the pans.
Mazza Savada, Portuguese Sweet Bread
1 1/4 cup milk, hot
1 cup sugar
½ cup shortening
1 ½ teaspoons salt
5-6 cups all-purpose flour
2 ¼ teaspoons instant yeast
4 eggs, beaten
½ teaspoon lemon extract
½ teaspoon powdered mace
Glaze: 1 egg lightly beaten with a tablespoon of water
In a large bowl, stir sugar, shortening and salt into hot milk until dissolved. Cool to lukewarm.
Add 1 cup of flour and rest of ingredients except the egg glaze. Stir until smooth. (I like using a wooden spoon or dough whisk.) Add rest of the flour, a cup at a time, and mix. Dough should be spongy, stretchy and a little sticky. Cover bowl with plastic wrap and let sit overnight. (Or, let rise 2 hours or until dough slightly collapses or flattens. Then refrigerate until you want to bake it, from 2 hours to three days.)
Next day (or when you take it out of the refrigerator), deflate the dough, turn it out onto a lightly floured counter and divide in half. Using extra flour as needed, form each half into a ball by stretching the top of the dough and tucking in the bottom with your fingers. This makes the top smooth and taut, essential for a good rise.
Place each ball into a greased 8"x 1 1/2" layer cake pan. Press down on dough so it reaches the sides of the pan. Cover with plastic wrap lightly dusted with flour so it won't stick to the dough.
Let rise until double, about 1 to 2 hours. (Refrigerated dough will take longer.) Dough should rise about an inch above the pan rim, and be light and a little springy.
Optional: Run a knife along the pan rim to slash the dough ¼ inch deep around the circumference. This helps keep the top of the bread from breaking as it springs up in the oven.
Brush with egg glaze. Bake at 350 degrees about 35-45 minutes. Cool before slicing.
Posted on 16 January 2018 | No responses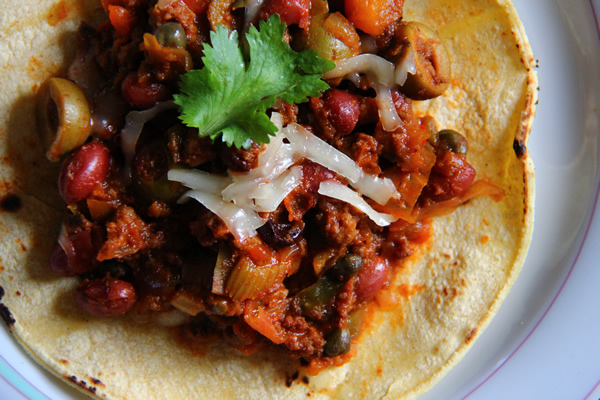 First, don't confuse "picadillo" with "peccadillo," although I often slip into that malapropism. While picadillo-filled tacos are not the least bit sinful, they can give you the same guilty pleasure as nachos for dinner. They fall into that category of slightly messy finger foods that go well with the football playoffs.
A quick-cooking alternative to chili, this Cuban-style mélange packs a sweet and tangy punch. It starts with a tomatoey sofrito of aromatics and peppers, then adds a Mediterranean accent with raisins, capers and chopped olives.
I first made picadillo from a Boston Globe recipe in 2001. I amped up the flavors and seasonings, figuring the "pica" stands for "picante." When I finally had the chance to order authentic picadillo at a popular restaurant in Puerto Rico, I was surprised to find it shockingly bland. So apparently it can be whatever you want it to be. Dial up or down the heat and spices as you desire. We use a mild sahuaro pepper from our garden, but you can choose something stronger. Or just shake in good old dependable Tabasco and call it a day.
Picadillo usually gets dished onto beans and rice, but I prefer to stir the beans into it instead. They add body and mellowness, and probably could substitute for the meat altogether in a vegetarian version.
Skip the rice and spoon picadillo into soft corn tortillas slightly charred over a stove-top burner. Top with jack cheese or sour cream, and garnish with cilantro, avocado, or whatever you like. Serve warm in the glow of your favorite sports channel.
Picadillo Tacos
2 tablespoons canola oil
1 pound ground beef or turkey
1 large onion, chopped
2 stalks celery, chopped
1 green bell pepper, seeded and chopped
½ red bell pepper, seeded and chopped
1 green chili pepper, seeded and chopped. (Choose according to desired heat. You can use a mild pepper like sahuaro, or a jalepeno, or splash in Tabasco sauce to taste.)
2 tablespoons chopped fresh oregano (or 2 teaspoons dried)
2 teaspoons ground cumin
1 ½ teaspoons ground paprika (can use some smoked)
2 cloves garlic, chopped
1 6-ounce can tomato paste
1/3 cup cider vinegar (to taste)
Two tablespoons of vermouth
Salt to taste
½ cup stuffed green olives, sliced
¼ cup raisins
1 16-ounce can red or black beans
¼ cup capers
Corn tortillas
Garnish: Monterey Jack cheese, shredded; sour cream or whole milk yogurt; cilantro leaves, chopped
In a large skilled, heat the oil and add the meat. Stir constantly to break it up.
Add the onion, celery, bell peppers, chili pepper or hot sauce, oregano, cumin, paprika, garlic, tomato paste, vinegar, vermouth and salt. Stir thoroughly.
Cook the mixture, stirring often, for 5 minutes.
Add the olives, raisins, beans and capers. Lower the heat and let the mixture cook for about 25 minutes, stirring occasionally. Add water as needed to keep from sticking. Adjust seasonings to taste, spoon onto warm corn tortillas, and garnish as desired.
Posted on 15 December 2017 | No responses
At the risk of sounding like a midnight infomercial, here is the best spanakopita you'll ever eat. It's oniony-sweet, cheesy, and the herbs melt into the spinach to deepen the flavor. I have yet to find a restaurant version that can beat this.
We usually see spanakopita as either an appetizer or a main dish. But with today's "mezze mania," you can bake up a batch, freeze it, then reheat a few triangles to go along with hummus, a few diamonds of kibbee, or whatnot to turn a meal into a party.
I like to bake from scratch, but draw the line at filo. Other than my friend Wendy, who once made it as a class assignment, nobody makes their own filo, just like nobody makes their own toothpicks. Some things are best left to machines.
Spanakopita (Greek Spinach Pie)
4 tablespoons butter for sautéing
2 large onions, chopped
6 scallions, sliced
1 large bunch flat leaf parsley, chopped
2 teaspoons dried dill weed, or about ½ bunch fresh dill, chopped
3 10-ounce packages frozen spinach, defrosted
1 1/2 teaspoons salt
1/2 teaspoon pepper
3/4 pound feta cheese, crumbled
1 pound whole-milk small-curd cottage cheese
4 eggs
1/2 pound melted butter for brushing
1 pound package of frozen filo dough sheets, thawed
Makes two 9×13 pans. Each pan serves about 4 as a main dish, and about 8 as a side dish, appetizer or mezze.
Sauté the onions in butter for 3 minutes, then add scallions and parsley and continue to sauté until onions are soft, about 2 more minutes. Squeeze the water out of the spinach, then add spinach, parsley, dill, salt and pepper to the pan. Sauté for about a minute. Turn off heat and stir in crumbled feta and cottage cheese. Beat eggs until frothy and stir in.
Butter two 9"x13" baking pans. To form the base layer, brush melted butter on about 10-12 sheets of filo per pan. If some sheets are torn or crinkled, it's okay, just patch them together. Divide filling evenly between the pans, spreading over the base layer. Form the top layer by stacking 12-14 sheets of buttered filo over the filling in each pan. Score through the top filo layers, cutting the shape you wish to use for serving (can be rectangles, diamonds or whatever).
Bake at 350º F for about 45 minutes.
Posted on 24 November 2017 | 2 responses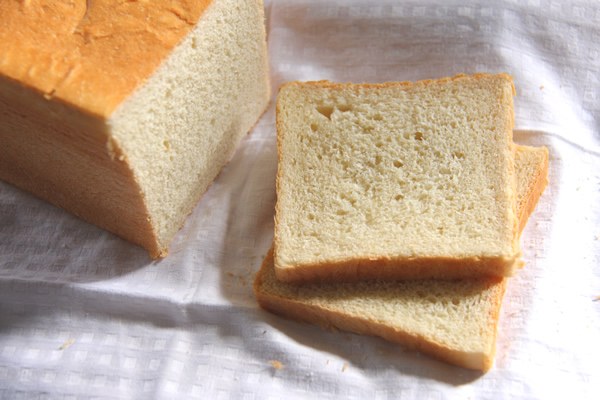 Oh, those French bakers. They take great pains (no pun intended) to make slender baguettes with thick, shatteringly crisp crusts. And yet, as if to thumb their noses at the whole artisan baking thing, they also crank out rectangular sandwich loaves with virtually no crusts at all.
Pain de mie ("bread of crumb") is the anti-baguette. A baguette takes days to make and goes stale after three hours. Pain de mie takes about three hours to make and stays fresh for days. (Julia Child said it tastes even better after a day or two.)
Enriched with milk, pain de mie delights with a fine, light crumb and holds its shape even when sliced thin for sandwiches. But as good as it tastes, and as tender as it is through-and-through, the real fun lies in its angularity. You'll cut perfectly square slices and perfectly cubed cubes. It makes adorable toast and French toast, and ideal grilled cheese.
The right angles come courtesy of the Pullman loaf pan, once a specialty item that's now easy to find online. Its lid keeps the dough from crowning as it bakes. For my first loaf, I half expected the dough to balloon up and ooze out all over the oven, à la Lucy. But the dough accepted its confinement, and the top came
out perfectly flat, as advertised.
Yes, it's "Pullman," as in Pullman railway cars. Although these crustless loaves originated in 18th Century Europe, they became popular in America when the Pullman Company baked them in their small on-board kitchens. Three of these stackable loaves could squeeze in where only two round-top breads would fit.
My 101-year-old mother recalls the fine dining on family train trips in the 1920s and 30s. She would peer into those compact Pullman kitchens—careful not to get underfoot—as chefs quickly prepared elegant meals to order, despite the tight quarters.
So get on board and try this simple recipe for classic, first-class sandwich bread.
Note: Most recipes call for the traditional 13" x 4" x 4" lidded Pullman loaf pan. This recipephany uses the smaller, more convenient 9" x 4" x 4" pan.
Pain de Mie, or Pullman Loaf

Adapted from King Arthur Flour's "A Smaller Pain de Mie" Recipe
Equipment: 9" x 4" x 4" Pullman loaf pan (from King Arthur Flour or from USA Pan Bakeware), lightly greased inside the pan and the lid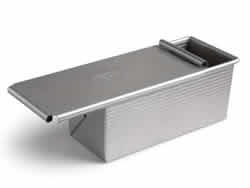 7/8 cup to 1 cup lukewarm water
1 heaping tablespoon honey
1 1/2 teaspoons salt
2 tablespoons margarine or soft butter
2 1/2 teaspoons instant yeast
½ cup bread flour
2 ¾ cups cups all-purpose flour
1/4 cup nonfat dry milk powder
1. Put all ingredients in a large bowl in the order listed and mix. Knead by hand or with a stand mixer to make a smooth, elastic dough. Add a little extra water if needed to get it stretchy.
2. Place dough in a lightly greased bowl, cover, and let rise for 1 to 2 hours, depending upon how warm the room is. It should become light and puffy, but may not quite double in size.
3. Gently deflate dough, and flatten into about a 9" square on a lightly floured surface. Roll up tightly into a cylinder, and pinch the seams to seal. Place seam-side down in the greased pullman pan, flattening again, and push edges into the corners.
4. Slide the greased lid over the pan, leaving about an inch open at the end so you can see how high the dough rises. Lightly cover the opening with plastic wrap.
5. Preheat oven to 350°F during the rise. Watch to see when the dough rises within about 1/2″ of the lip of the pan, which should take about an hour. Close the lid, and let rise another 10 minutes, allowing the dough to reach the lid.
6. Bake 25 minutes, then remove the lid and bake another 5 to 10 minutes, until golden brown. The loaf will pull away from the edges of the pan, and its internal temperature should read 195-200°F when done.
7. Turn out the bread from the pan onto a rack to cool before slicing.
Posted on 26 October 2017 | 2 responses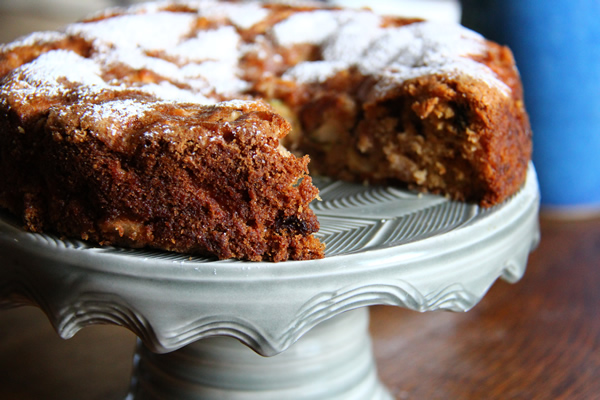 If you've got two apples and some baking basics, you can make this jewel of an apple cake without even having to take out your mixer.
Luxuriously moist and studded with soft apple chunks, this lightly spiced one-bowl wonder is as at home after a dinner party as it is at breakfast or snacktime.
This cake's versatility stems from its Jewish heritage. It purposely contains no dairy, so those who keep kosher can enjoy it any time, with meat or dairy meals.
This recipephany comes from my earliest baking bible (Old Testament version), From Manna to Mousse. Born in 1969 as a plastic-spined fundraising cookbook produced by the Sisterhood of Congregation Beth El in New London, Connecticut, it became a nationally distributed Dell paperback in 1972. It contains family favorites covering all Jewish cookery, not just baking, and it's even got a rabbi's blessing.
The book's heirloom recipes are short, easy to follow, and reliable, thanks to rigorous kitchen-testing by the compulsive and close-knit Sisterhood. The chief editor, Mrs. Donald Daren, wrote that on testing days, "Diets were discarded with abandon, for who could not justify the fact that the chocolate whipped cream mousse just had to be tested along with the twenty-nine other delectable concoctions served that same afternoon!" The editors were dogged in their quest to capture authenticity. "Some of the traditional dishes were measured out while a balabusta cooked them. We stayed her hand over the pot so that exact quantities could be recorded," she wrote.
My college pal, Elinor Lipman, shared this cookbook when we roomed together after graduation. We both loved its recipes, and it soon became my baking security blanket. So when it came time to divide up our stuff and move on, I literally wrestled it away from her. I remember that moment with a combination of guilt and gratitude that seems curiously appropriate with a Jewish cookbook.
So thank you, Ellie, for the book, and thank you, Mrs. Harry Kaplan, for this recipephany.
And thank you, Robin Henschel, the acclaimed potter who created this astonishing cake stand. It makes every cake look—and I think taste—better.
One Bowl Apple Cake
Adapted from From Manna to Mousse
Contributed by Mrs. Harry Kaplan
2 cups diced apples
3/4 cup sugar
1/3 cup oil
I egg, beaten
1 teaspoon vanilla (Not in the original recipe. But I can't resist adding vanilla.)
1 1/2 cups flour
I teaspoon baking powder
I teaspoon baking soda
1 teaspoon cinnamon
1/2 teaspoon salt
1/2 cup raisins
Grease an 8 x 8 x 1 ½-inch square pan or an 8 x 2-inch high round pan. For easy cake removal, line with greased wax paper.
Combine diced apples and sugar in a large bowl and let stand 10 minutes. Using a spoon, mix oil, egg and vanilla into apple mixture. Add dry ingredients and mix well. Stir in raisins. Bake at 350 degrees for 35 to 40 minutes. Let cool, remove from pan and peel off wax paper.
Optional: Dust with confectioner's sugar just before serving.
Posted on 5 October 2017 | No responses
Zucchini is to quiche as eggplant is to parmigiana. There is no higher calling for this elongated green summer squash than to be sautéed with onions, splashed with wine, tossed with herbs, then married with cheese and eggs into this savory pie.
Not really a quiche, this recipephany has more of an Italian than French accent. A layer of toasted breadcrumbs replaces the pastry crust. Herbs you'd shake into a red sauce awaken the sweetness in the zucchini. And a secret ingredient—ginger—blends in so mysteriously that I dare you to pick it out of the crowd.
The source of this recipephany is probably a long-gone culinary magazine. I play around with quantities, so please go ahead and adjust to your taste. While mushrooms can add some delightful umami, I usually don't bother. You can use traditional Swiss, and it's also fun to blend in cheddar, provolone or whatever you like from your cheese drawer.
This makes two modest pie-plate sized quiches, one to eat right away and one to freeze and enjoy later—like a treat from Trader Joe's. If you want to make one large quiche instead, increase baking time by about 10 minutes.
This is a far cry from Julia Child's TV quiche. So I prefer to quote another favorite TV figure, Frasier Crane, who asks his dinner guests, "Quiche Lorraine, anyone?" and gets the classic response, "Quiche her? But I hardly know her!"
Zucchini Quiche
Makes 2 quiches. Each serves 4. Freezes well.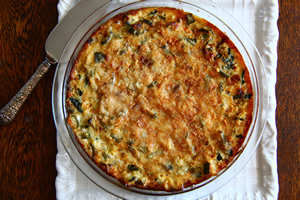 About 4 medium zucchini
2 large onions or leeks, or a combination
¼ pound mushrooms (optional)
6 scallions (not necessary if you use leeks)
2 cloves garlic
3 tablespoons butter
2 tablespoons dry sherry or vermouth
1 teaspoon dried basil
1 teaspoon dried thyme
1 teaspoon dried oregano
1 teaspoon ground ginger
Salt and pepper
4 eggs
2 ½ cups grated Swiss or a full-fat cheese blend of your choice (provolone, cheddar, etc.)
About ½ cup toasted bread crumbs
Preheat oven to 325°. Chop vegetables, press or slice garlic, and sauté in butter over low heat until just limp. Do not overcook.
Add sherry or vermouth and seasonings, remove from heat, and let cool a few minutes.
Beat eggs in a large bowl, add cheese(s), and stir in vegetables.
Butter two 8- or 9-inch pie plates and coat bottoms and sides with breadcrumbs. Pour in vegetable mixture. Sprinkle with some breadcrumbs and dot with butter. Bake 30-40 minutes until set and light brown. Cool 10 minutes before serving.
Posted on 9 September 2017 | 2 responses
My mother-in-law Dick was our very own "America's Test Kitchen" well before Christopher Kimball. She was always experimenting, and couldn't contain her enthusiasm over a new find.
She called one day bubbling over with excitement. She told me about this light, fluffy blueberry coffee cake. She would mail me the recipe, and she just knew I'd like it.
I'd heard she'd been looking for a blueberry coffee cake. Perhaps it was because her signature coffee cake (see Dick's Sour Cream Coffee Cake) was chock full of nuts, which many people avoid. Or maybe it was just blueberry season.
I'd had a favorite blueberry cake, but this replaced it in no time. All too often, blueberry cakes can get a little gummy and dense from the blueberry juice. Surprisingly, this cake has a light, airy crumb. I suspect the secret is sprinkling in the berries as a filling rather than folding them throughout the batter.
A filling. Hmmm. Sort of like the cinnamon/nut/raisin filling in her signature coffee cake. In fact, exactly like that cake. I just compared the batters, and they are virtually identical. Only the fillings differ. After all these years, how had I missed that? How brilliant! I wonder if that's why Dick knew I'd like it.
Her cinnamon coffee cake, as perfect as it is, works as a bundt only when you serve it fluted-side-down to keep the topping on top. But this one makes a lovely bundt, and dresses up well with just a dusting of confectioner's sugar.
Now, about bundt pans…do I hear you grumbling about bundt pans? I'm with you. Half the time—and I can never predict which half—my cake will get stuck and break apart into clumps. Sometimes I can repair it with some glaze and the help of my husband's 3-D puzzle solving skills. Even a fragile cake can survive removal from a normal pan, especially one lined with wax or parchment paper. Not so with all those ornamental corners and curves. I guess with beauty comes temperament.
I've gone through several bundt pans over the years, and my last nonstick heavyweight failed me after only one cake. So I just switched to the one that Cook's Illustrated rates best: Nordic Ware Anniversary Bundt Pan. I greased and floured the heck out of it and the cake slid out like a dream. I hope I've finally found a pan brilliant enough for Dick's brilliant blueberry bundt coffee cake.
Note: Thank you, Leah Greenwald, for introducing me to Baker's Joy. It really works. Otherwise, I found the best way to grease and flour the pan is to use Julia Child's method. Mix 1 1/2 tablespoons of melted butter with 1 tablespoon flour. Brush it onto the inside of the pan, making sure to get every nook and cranny. This is necessary even with a nonstick pan.
Dick's Blueberry Bundt Coffee Cake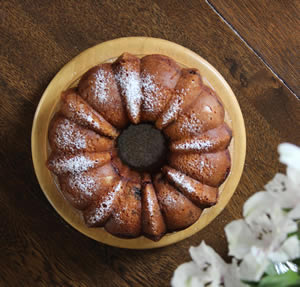 ½ cup margarine or butter
1 cup sugar
2 eggs
2 cups flour
1 teaspoon baking powder
½ teaspoon baking soda
8 ounces sour cream (or whole milk yogurt)
1 teaspoon vanilla (I double to 2 teaspoons)
1 cup blueberries
Powdered sugar for top
Filling:
1 tablespoon sugar
1 teaspoon cinnamon
Preheat oven to 350°. Grease and flour a bundt pan.
Cream butter or margarine, add 1 cup sugar and beat well. Add eggs, one at a time. Beat. Combine dry ingredients and add until blended. Still in sour cream (or yogurt) and vanilla. Pour ½ of the batter into the prepared bundt pan, sprinkle with blueberries and filling, then top with remaining batter.
Bake 45-50 minutes. Cool in pan 20 minutes or longer, pray that it doesn't stick to the pan, remove cake and sprinkle with powdered sugar.
Posted on 19 July 2017 | No responses
Here's the ultimate baked goods makeover, or shall we say, "bakeover." In almost fairy-tale style, this recipephany transforms neglected, over-the-hill bread into a deep, dark, restaurant-worthy chocolate dessert.
Expect big flavors—cocoa, dark chocolate, a glug of rum, coffee, cinnamon, scads of vanilla, a drizzle of molasses, and chopped pecans—blended into a sweet base of eggs, milk and a little cream. Oh, and I almost forgot—stale bread.
While any kind of bread will do, including a rustic loaf or rich challah, I prefer Claire's Honey Whole Wheat. I wouldn't use it with regular bread pudding, where you need a crunchier or richer bread to dominate. But in this case, where chocolate takes center stage, it melts into the custard, deepening the color and flavor. Despite its wholesome image, whole wheat loves to party with chocolate. Who knew?
This is as easy as pie—no, easier. Just mix and pour into the prepared dish. No need to precook or melt anything, or to use that hot water bath called for when baking custard. Feel free to mess around with proportions to suit your taste, and I bet you can even add in goodies like dried cranberries or cherries.
It may be called pudding, but it won't wobble or jiggle as you'd expect. It glistens on top with a sugary glaze, and wants to be cut like brownies rather than scooped. But it's better than brownies in the summer. It stays cool and fresh in the fridge. I dressed mine up with a dollop of sweetened whipped cream and (sigh) the last of our summer raspberries.
So save those odd pieces of whole wheat bread (preferably in the freezer) and give them a grand, chocolatey, Cinderella ending.
Double Chocolate Bread Pudding
8 cups of bread cut into rough 1-inch cubes (do not pack), preferably whole wheat
1 ½ cups milk
¼ cup heavy cream
¼ cup rum
½ teaspoon instant coffee crystals
1 cup sugar
1 tablespoon molasses
¼ cup cocoa
1 tablespoon vanilla
¾ teaspoon cinnamon
3 eggs
2/3 cup semi-sweet chocolate chips (I like Hershey's Special Dark)
½ cup chopped pecans
Preheat oven to 325° F.
Place bread cubes in a greased 8×12-inch baking dish.
In a large bowl, whisk together milk, cream, rum and instant coffee.
In another bowl, combine sugar, molasses and cocoa. Add to the milk mixture and whisk together.
In the bowl you just emptied, lightly beat the eggs. Add vanilla and cinnamon, then add that to the milk mixture and whisk until smooth.
Stir in the chocolate chips and chopped pecans. Pour evenly over the bread, stir around, then let it stand for about 20 minutes or until the bread has absorbed most of the liquid. Bake about 40 minutes, or until a knife inserted into the center comes out clean. Serve warm or chilled, plain or with whipped cream and berries.
Posted on 29 June 2017 | 2 responses
Soft, puffy, and slightly crinkly, these classics deliver sugar 'n' spice all year 'round, not just at Christmas.
But there's no escaping that bit of Yuletide in this snickerdoodle. It is one of the irresistible treats my sister-in-law Chris heaps upon her splendid Christmas cookie tray.
And Chris got this recipe from "Sister Santa Claus."
It goes back to Chris's sophomore Home Economics class at Cathedral High School in Springfield, Massachusetts. Many of the nuns who taught her had a male name along with a female one—such as Sister Mary Timothy. So I took her literally when she mentioned Sister Santa Claus.
"It wasn't her real name, but we called her that because she looked just like him," says Chris. "Little wisps of white hair coming out from under her veil, the stray white whisker, rosy nose and cheeks, and the little round bifocals. She was also round."
Says Chris, "We mostly made recipes ripped out of Good Housekeeping or off the back of the oatmeal box, or using cans of condensed soup. Nothing was original and we didn't learn any real techniques."
This simplicity might explain why this recipe lacks the ingredient many bakers insist puts the snicker in the doodle: cream of tartar. But frankly, you don't need it. I did a comparison in my humble "test kitchen" and found that snickerdoodles without cream of tartar had better texture and were softer, higher, and tastier than those with it.
Chris remembers that not all Sister Santa Claus's recipes were winners. "We were required to eat what we cooked. So on Home Ec days we wore old-styled uniforms that had huge pockets in the blazer. That way we could wrap up the most awful stuff, slip it into our pockets and get rid of it after the bell."
Sister Santa Claus wasn't jolly. "Once I for flipped a dish towel over my shoulder. She yelled at me, 'This is NOT some greasy spoon!'" says Chris.
But Chris learned other lessons that will stick with her forever.
"She taught us the proper way to write out a recipe card. To this day I do it the way she taught us. Time, temperature and yield in the upper right-hand corner. Ingredients by step on the left, directions on the right. She also taught me to read the whole recipe through first, then take out all the ingredients, and put away each one after I use it. Smart, and when I don't follow this…well, let's just say mistakes can happen."
So here it is, just as Chris copied it down in class, with a couple of notes. Just watch how you handle your dish towel. "Thank you, Sister."
Two Sisters' Snickerdoodles
Temperature: 400 degrees
Time: 8-10 minutes
Yield: 6 dozen (+/-)
Cream:
1 cup margarine (Chris often substitutes butter and Crisco)
2 eggs
1 1/2 cups sugar
(I sneaked in a teaspoon of vanilla because I can't help myself.)
Mix dry ingredients and add to above:
2 3/4 cups flour
1 teaspoon baking soda
1/4 teaspoon salt
Mix, shape into 1″ balls and roll in cinnamon/sugar mixture. Bake on ungreased cookie sheet. (I lined sheets with parchment paper.)
Posted on 30 May 2017 | 2 responses
First, there was wonton soup. Then came tortellini in brodo. Now, thanks to Szifra Birke, I've found kreplach.
Years ago, Szifra produced the poignant documentary "Browsing Through Birke's" (now out on DVD). It's the story of her parents, Nathan and Sally, who emigrated from Poland and founded Birke's clothing store, a Lowell, Massachusetts, institution.
This documentary had me laughing, blubbering, and feeling instant affection for these extraordinary people. Always looking to connect through food, I asked Szifra if her mother had a signature recipe. She wasted no time in sharing Sally's prized kreplach and the deeper story behind it.
Born Sura Dymantsztajn in Lodz, Poland, Sally no doubt learned to make kreplach as a child, helping her mother roll, cut and fold the dough over the onion-sweetened meat filling.  And we can imagine her family around the Friday night table, blowing on the hot chicken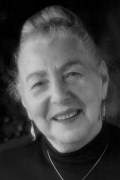 soup before biting into the slick, plump dumplings.
Sally was 18 in 1939 when the German army marched into Poland. She and family friend Nathan Birke set off in search of her older brother who earlier had fled the Nazis. Knowing the danger of returning home, they sought refuge in Russia and married. In those gritty years, Sally worked in a Siberian coal mine and the couple suffered the loss of two infant children.
After the War, they returned to Lodz only to find that not one of their family members had survived. Nazi gas chambers or starvation had killed them all.
Sally and Nathan eventually landed in Lowell, started the iconic Birke's Department Store in 1948, and raised four children. Like Boston's Filene's Basement but even quirkier, Birke's drew customers who enjoyed a good bargain and a good laugh at Nathan's outrageous rules. Sally was the yang to his yin, greeting customers with homemade treats and sound wardrobe advice. Nathan died in 1992, and Sally continued the business until 2004. She passed away eight years later.
To Sally, the only way to serve kreplach was in homemade chicken soup, with two or three ladled into each big bowl. "There were always carrots and parsnips, so the soup was a little on the sweet side," said Szifra.
Sally made kreplach by feel. When Szifra asked for a recipe, Sally got flustered. "I don't know how to make a recipe!" she balked. So mother and daughter worked side-by-side, going back and forth on quantities, Szifra jotting it all down. "It was a little awkward for her to have to be so precise," said Szifra.
But technique mattered. Sally insisted that onions had to cook slowly for a long time. Make that your mantra as you caramelize the onions over low heat.
When we breathe in the sweetness of those slow-cooked onions, hear the soft sizzle of the meat, stretch the eggy dough, and finally take in their savory goodness, we connect with Sally and all she lost and gained. And perhaps these humble kreplach, little bundles seasoned with memories, will bring a little bit of Lodz to your table.
Sally Birke's Kreplach
Here's Sally's recipe as Szifra recorded, with a few suggestions of my own. The parenthetical comments are hers. And while Sally used her fingers and not a fork to crimp, my dough didn't hold together well enough without a little help.
Makes several dozen. Freezes well.
Filling:
4 medium onions, sliced
1½ pounds hamburger
4 large eggs
Oil
Salt
Dough:
1 ½ -2 teaspoons salt
1/3-1/2 cup water
4 cups flour
3 large eggs
Brown onions very slowly in oil (or in water, if you want), add hamburger, and brown it slowly. Crack eggs into hamburger, mix, and cook about 10 minutes. Salt to taste, keeping in mind that dumplings can lose salt in soup. You may have filling left over.
For dough, put salt in a cup and add 1/3-1/2 cup of boiling water. Add the salted water to flour. Add eggs, mix, and knead until smooth. Divide into 3 parts. Roll thin and cut into 2-inch to 3-inch squares. Form triangular dumplings and crimp to close.
Boil for 2-10 minutes, depending upon dough thickness, until dumplings float to surface. (Add a little oil to water to prevent sticking.) Slightly undercook because kreplach will continue to cook in the hot soup. Drain and serve two or three in each bowl of soup.
Posted on 9 May 2017 | No responses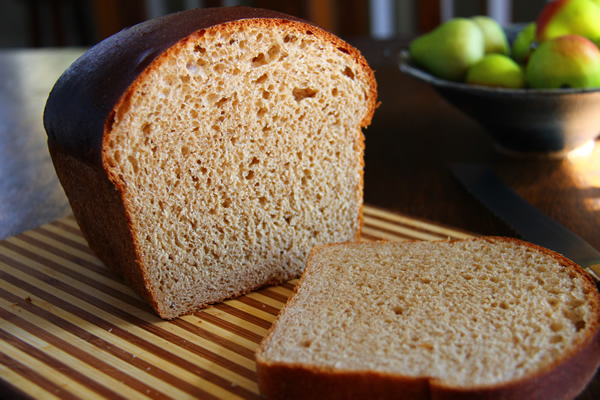 In his final "Kitchen Detective" newspaper column, Christopher Kimball signed off with some advice. He said that once you find a recipe that makes you happy, just stick with it. Don't waste your time chasing down perfection. This sounded odd coming from a guy who built an empire on his own obsession with finding "The Best Recipes." But even he could admit that, as the saying goes, better is the enemy of good.
Since whole wheat sandwich bread is a character actor in a supporting role, a good loaf can range from dense to airy, dark to light, sweet to slightly bitter. There are plenty of recipes kicking around, and if you've found one that makes you happy, you're all set.
I tried a few, but never landed on a recipe that pleased me enough to put it into my repertoire. So I just gave up. A couple of years ago my daughter Claire sent me this Honey Whole Wheat Bread recipe with her assurances that it is both tasty and easy to make.
And of course, being my fabulous daughter, she was right. This taste-tested recipe yields one magnificent bakery-sized loaf that crests well over the top of a 9×5 pan. It's astonishingly airy, delicately nutty, and bright with honey. It doesn't crumble when cut, and a slice fits your toaster slot nicely.
Claire mixes and hand-kneads this in the same bowl, cleverly reducing mess and helping to keep the dough tacky. I used to enjoy kneading, but several years ago I discovered that I could approximate my zen-like "breaditation" by watching the dough whir in a food processor. It did well—until I burned out the motor. So after years of stubborn resistance, I finally got a heavy-duty stand mixer said to "aid" in the "kitchen." (Bread-baking guru Dan Friedman advised me on the best model.) It works the slightly sticky dough without extra flour, stretching those gluten strands into something akin to bubble gum for optimum rise.
This is Claire's ingredient list, but I've taken some liberties with the methods, hoping she doesn't mind. First, I don't dissolve yeast in water, since I use the instant kind designed to go in with dry ingredients. I sometimes let the dough rise in the fridge overnight, ready to bake any time the next day. Some say this cold fermentation may also enhance the flavor. (Unlike cold fusion, it's useful.) You can choose which rising method you prefer, and please let me know what you think.
Does this recipephany make me happy? Yes indeed. So I'm sticking with it.
Claire's Honey Wheat Bread
Makes 1 lofty 9×5 inch loaf. Doubles well.
2 1/2 cups bread flour (approximately, added in stages)
1 (.25 ounce) package rapid rise yeast  (2 ½ teaspoons of SAF-Instant)
3/4 cup water
3/4 cup milk, room temperature
2 tablespoons canola or vegetable oil (measure before the honey so the honey won't stick to the spoon)
3 tablespoons honey
1 1/2 teaspoons table salt
2 cups whole wheat flour
Butter for glazing (optional)
Put 1 1/2 cups of the bread flour into the bowl of a stand mixer with a paddle attachment, or the bowl of a powerful food processor with a metal blade. Add yeast, water, milk, oil, honey, and salt, and blend for half a minute or so. Add all the whole wheat flour and mix again until blended. Add the remaining bread flour, 1/2 cup at a time, and knead (change to dough hook in the stand mixer) until it is soft, smooth, tacky and stretchy. Add some drops of water if dough is dry, a bit hard, and not getting stretchy, or add a dusting of bread flour if the dough is sticking too much. In a food processor, kneading might take 3 or 4 minutes, but watch that dough doesn't overheat. A stand mixer might take 8 minutes or more. There may be some bread flour left over. If you use all the flour, you may find that you need to add more water to keep it stretchy. Finish with one of the rising/baking instructions below.
Note: If you prefer the exercise, do what Claire does and mix ingredients in a large bowl and then knead by hand right in that bowl (simply brilliant!) for about 10 minutes.
Place dough in a lightly oiled bowl and turn it to grease the top. Cover bowl with plastic wrap and let rise in a warm place until doubled in volume, about 2 hours.
Lightly grease a 9×5 inch loaf pan. Punch the dough down and turn onto a lightly floured surface. Form dough into a loaf and place into the prepared pan. Cover with plastic wrap dusted with flour to keep it from sticking and let rise in a warm place until doubled in size, about 45 minutes.
Preheat oven to 375° F  (190°C). Bake for 35 minutes or until top is golden brown and the bottom of the loaf sounds hollow when tapped. Remove loaf from the pan and spread a pat of butter on top to glaze and soften the crust. Cool on a wire rack.
Refrigerator Rise (Cold Fermentation)
Place dough in a lightly oiled bowl and turn it to grease the top. Cover bowl with plastic wrap and let the dough rest for 20 minutes.
Lightly grease a 9×5 inch loaf pan. Turn the dough out onto a lightly floured surface. Flatten dough into a rectangle about as long as the pan and slightly less than twice the width. Roll up like a jelly roll and turn edges under to form a taut loaf and place into the prepared pan. Brush the top lightly with oil and cover with plastic wrap. Refrigerate 2 to 24 hours. (I like to make the dough and form the loaf after dinner and bake in the early morning.)
When ready to bake, preheat oven to 375° F  (190°C). Remove pan from the refrigerator and uncover dough carefully. Puncture any large gas bubbles that may have formed using a greased metal cake tester or toothpick. Allow to stand at room temperature for 10 minutes, or as long as it takes to preheat the oven.
Bake 35 minutes or until top is golden brown and the bottom of the loaf sounds hollow when tapped. Remove loaf from the pan and spread a pat of butter on top to glaze and soften the crust. Cool on a wire rack.
Posted on 13 April 2017 | No responses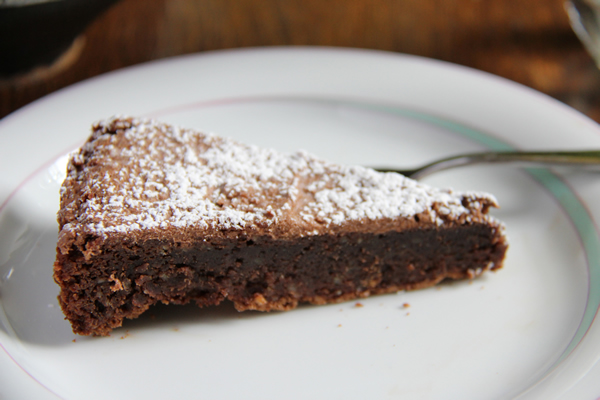 Once, an "alternative chocolate cake" was something we made for Passover, usually from a Manischewitz mix. As much as my Mom and I tried, no cake recipe calling for a matzo derivative ever produced anything remotely fluffy or moist. (I swear Manischewitz cheated.)
Sometime in the 1960s, French-inspired bakers adventured with eggs, nuts, butter, and intense flavorings to create decadent chocolate cakes with minimal flour. So a kind of Fifth Question inevitably swept the Passover baking community. "On all other nights we can eat flourless cake. On this night, why can't we eat matzoless cake?"
Zell Schulman helped lead the Exodus into the land of glorious desserts with this recipe for Chocolate Mousse Torte from Israel, published in her cookbook Something Different for Passover in 1984. The Boston Globe featured the recipe, and I still have the browned, chocolate-smeared clipping. A melt-away marvel of deep chocolate with ground almonds topped with creamy mousse, this torte says "patisserie" not "Passover." Yes, it has matzo cake meal, but I dare you to taste it. I make this crowd-pleaser for nearly every Seder, and even for an occasional special dessert during the year.
But who is Zell? What kind of a name is Zell? What the Zell was she thinking?
Last week I found out. I stumbled upon Something Different for Passover at our library's book sale. Long out of print and unavailable through the library system, here it was, in perfect condition, a first edition. It was part of The Chosen cookbook series. I felt like a chosen person. I snatched it up.
Zell (short for Zelma) is a long-time Jewish-cooking columnist and cookbook writer. She studied under serious chefs including Richard Grausman of Le Cordon Bleu de Paris. Before her food writing career, she worked in TV and was a production assistant to Rod Serling. (Cue eerie "Twilight Zone" theme.)
In the book, she says she discovered this torte in 1969 on her first visit to Israel as part of a United Jewish Appeal Women's Study Mission. Her friend Dena Jerimiahus served it, announcing that it only had one tablespoon of breadcrumbs. Zell told her, "I must have this recipe." When Passover came around, she remembered the torte and substituted matzo cake meal for the crumbs. While she didn't go to Israel seeking recipes, she brought home "a recipe that made me 'famous.'" And made her my hero.
Chocolate Mousse Torte from Israel
Adapted from Something Different for Passover by Zell Schulman
6 eggs, separated
1 ½ cups sugar (divided)
2 sticks (1/2 pound) unsalted butter or margarine, softened
8 ounces semi-sweet chocolate, melted and cooled
½ cup ground toasted almond slivers, ground
¼ cup orange liqueur (or brandy or orange juice)
4 tablespoons matzo cake meal
Preheat oven to 350° F. Grease a 9-inch springform pan and place a well-greased piece of wax paper on the bottom.
Beat egg whites until frothy. Slowly add ½ cup sugar, 2 tablespoons at a time, until whites hold a soft peak but are not dry.
Beat egg yolks in a large bowl until very thick and light yellow, about 10 minutes. Add butter, 1 cup sugar, and melted chocolate. Beat 2 minutes. Fold in beaten egg whites. Remove 1 cup of this mixture and refrigerate.
Fold in ground almonds, flavoring and cake meal into the remaining mixture. Bake 45 minutes or until cake begins to pull away from sides.
Remove from oven and cool for 15 minutes on a rack. Remove sides of pan. Let torte cool completely before inverting onto serving platter. Remove wax paper and spread reserved cup of chocolate mixture evenly over the top. Refrigerate, covered, 6-8 hours or overnight. When not serving the torte, keep it refrigerated.
Sprinkle with powdered sugar just before serving. Or, top with whipped cream after a dairy meal.
Posted on 1 April 2017 | No responses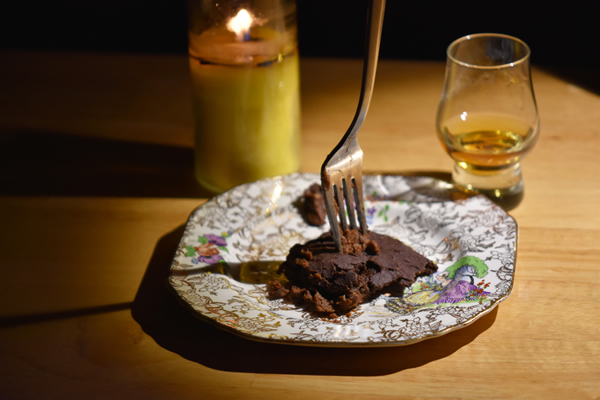 I'm thrilled and proud to post this news story I found online featuring the research of my favorite PhDs, my daughter and son-in-law. 
♦♦♦♦♦♦♦♦♦♦♦♦♦♦♦♦♦♦♦♦♦♦♦♦♦♦♦♦♦♦♦♦♦♦♦♦♦♦♦♦♦♦♦♦♦♦♦♦♦♦♦♦♦♦♦♦♦♦♦♦♦♦♦♦♦♦♦♦♦♦♦
Bay Area scientists have developed a recipe for an "alternative chocolate cake" free of gluten, fat, sugar, and animal products, fulfilling a dream of those seeking a dessert they can serve to all guests.
The breakthrough is reported in the April issue of the journal Nature Gastronomy. Chemists, gastronomists and celebrity chefs alike herald it as the most significant advance in food science since the fat substitute Olestra was approved by the FDA in 1996.
Those who have eaten the cake, however, question its palatability. In the paper, co-authors Claire Discenza and Gordy Stephenson explain that the cake is capable of achieving a state of what they technically term "inedibility."
While all can approve of the ingredients, few can stomach the finished product. This paradox has led early detractors to call it "Schrödinger's Cake" because it is both edible and inedible at the same time.
Claire Discenza says, "Fortunately, the healthful qualities of this cake are indisputable and objective. Whether or not someone can actually choke it down is subjective, governed by individual taste buds and gag reflexes."
Here is an abstract of the team's paper along with the Materials and Methods section that includes the landmark recipephany.
Alternative Chocolate Cake
by Claire B. Discenza, PhD, and Gordy R. Stephenson, PhD
Reprinted with permission from Nature Gastronomy 23, 266–269 (2017)
Published online 01 April 2017
Photograph ©2017 Discenza and Stephenson
Abstract
Here we present an original recipe for a gluten-free, sugar-free, fat-free, dairy-free, vegan chocolate cake. For those with dietary restrictions, one could substitute carob for cocoa without negatively impacting the flavor.
Materials and Methods
Makes one small cake. Serves 36+, as it is inedible. Suggested serving size: absolutely none.
Ingredients
120 g gluten-free flour. We used a mix of about 50:50 corn flour to garbanzo bean flour.
Liquid from one 454 g can of garbanzo beans
9 g cornstarch
6 packets stevia (Less would have been much better. We suggest reducing by 7 packets.)
A LOT of vanilla
75 g cocoa
113 g hot water
3.5 g instant decaf coffee crystals
Approximately 1/2 baked eggplant. Avoid seeds where possible.
12 g carrot zest
1.25 g baking powder
Salt, to taste
Directions
Pre-heat oven to 175° C. Try whipping garbanzo water until stiff peaks form. Eventually, using an electric mixer on any speed, incorporate cooked and seeded eggplant until smooth. In a separate bowl, dissolve coffee in hot water, and mix in cocoa. In one fluid motion, blend chocolate water, vegetable/legume slurry and other ingredients well, adding additional gluten-free flour as necessary to achieve desired consistency. Pour into one small cake-pan ("greased" and "floured"). Bake for 45 minutes or until done.
Posted on 13 March 2017 | No responses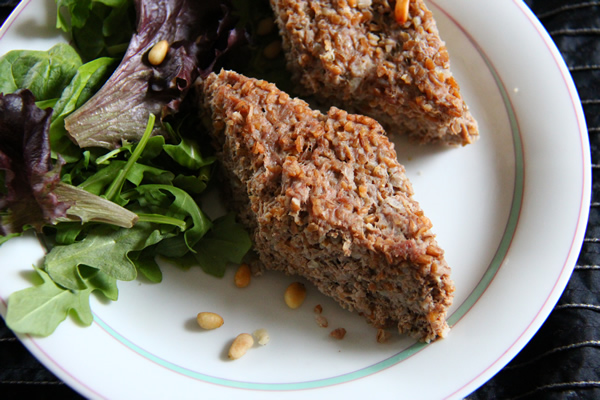 This baked version of a Middle Eastern classic is more a meat cake than the little fried footballs also called "kibbeh," which means "ball" in Arabic. With the slight chewiness of a cookie bar, this cinnamon-spiced diamond of cracked wheat, ground lamb and toasted pine nuts feels kind of like dessert.
The passion for kibbee crosses borders in the Middle East. Both Arabs and Israelis claim it and have created as many variations as failed peace accords. This version probably has roots in Lebanon or Syria because it suggests yogurt on the side, a no-no in Israel. However, we also serve it with tahini sauce or mango chutney.
You'd think this recipephany came from a trendy Middle Eastern chef, since these days the Beard Awards go to cookbooks whose covers show anything reddened with sumac. Blame it on the Jerusalem cookbook (2011), where author Yotam Ottolenghi pulled out all the stops with ancient spices, herbs, nuts, beans, grains, fruits and irresistible caramelized onions. In the book, he called Jerusalem "the world capital of kibbeh," and presented a layered-cake variation closer to this kibbee than to the traditional.
Those of us around in the heyday of Erewhon natural food stores, however, know that borrowing from other cultures has long been a way to shake up both taste buds and cholesterol counts. Even everyday cookbooks from the 70s helped us venture into new realms of cooking intrigue.
This kibbee recipephany came from such an unlikely source. I discovered it in a cookbook that seemed more prescriptive than inspirational: The American Heart Association Cookbook. Despite its dry-as-unbuttered-toast title, healthy-heart agenda and barren layout, this cookbook lured me into new culinary waters with temptingly simple and deliciously rewarding recipes. I'd like to think it was ahead of its time, since it needed to clarify that "bulgur wheat may be found in health food stores." You know, like Erewhon. But the latest edition no longer includes this recipe, sadly omitting one of the great dishes of the world.
I'm not sure if this kibbee actually makes my heart healthy, but it sure makes my taste buds happy.
Kibbee
Adapted from The American Heart Association Cookbook, Second Edition, 1976.
1 pound lean ground lamb or beef
1 cup finely crushed bulgur wheat
¼ cup toasted pine nuts or chopped walnuts
1 onion, minced
1 tablespoon olive oil or butter
1 ½ teaspoons salt
¼ teaspoon black pepper
1 teaspoon cinnamon
½ cup water
1 tablespoon margarine or butter
1 ½ cups plain low-fat yogurt
Preheat oven to 350° F.
Rinse the crushed bulgur in hot water, drain, and let stand for about 10 minutes
Meanwhile, brown the pine nuts or walnuts with a little butter or oil and set aside. (I use Trader Joe's dry toasted pine nuts and use as is.) Sauté the minced onions in olive oil or butter until softened. In a large bowl, mix the onions, bulgur wheat, ground meat, salt, pepper and cinnamon, adding ½ cup water as you blend.
Pat half this mixture in a flat layer in the bottom of an oiled pan (8 x 8 inch or 8 x 10 inch). Sprinkle the toasted nuts over the meat layer and pat out the remaining meat mixture over the nuts. Leave in the pan, but cut into diamonds or square-shaped pieces. Dot with margarine or butter and bake until slightly browned, about 25-30 minutes. Be careful, as overbaking can dry it out. Serve warm, with a side dish of plain yogurt. Alternatively, serve with tahini sauce, hummus, or mango chutney.
Makes six servings, approximately 330 calories per serving.
Posted on 27 February 2017 | No responses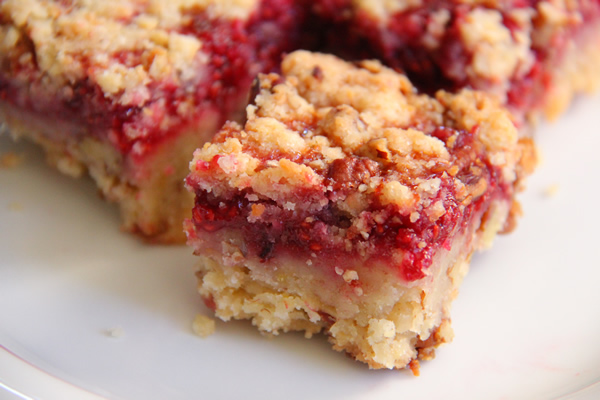 IN A WORLD where mixed-up envelopes turn winners into losers and losers look like Matt Damon…comes one dessert that Price Waterhouse stands behind… one dessert that proudly proclaims itself a winner despite its name…La La Land O Lakes Old-World Raspberry Bars.
Saskatoon Watch Parties presented this year's Oscar gala, a "satellite feed" with "satellite dishes."  Don't blame me and Dan entirely for the names, as my kids and their spouses also shaped the menu.
Manchego by the Brie
Casey At Bat Franks
Ry-Krisp Gosling
Emma Stone Wheat Thins
Natalie Port Salut
Violive Davis
Florets Foster Jenkins
Arrivioli filled with Isabelle Hubbard Squash, Boiled to Hell in High Water and served with Hackridge Slaw
Salade Lion-naise with Andrew Garfieldgreens, Octavinegar Spencer and Hidden Figs
Damien Pizzelle
Chef Bridges Mix
Drinks included the Mel Gimlet and Moonlight Bubbly. (Note that we, like the Oscars, were late to acknowledge the Best Picture.)
This recipephany comes from Land O Lakes Cookie Collection cookbook, my source for Jan Hagel cookies and so many other never-fail favorites. I dog-eared it especially during Andrew's high school years, when I pushed sugar to get him to bring friends back to our house. I recently told him how proud I was when his friend Santiago singled these out as his favorite cookie. Andrew laughed, saying they all were happy with whatever I put out on the plate.
La La Land O Lakes Old-World Raspberry Bars
Crumb Mix
2 1/4 cups flour
1 cup sugar
1 cup chopped pecans
1 cup Land O Lakes® Butter, softened
1 egg
Filling
3/4 cup raspberry preserves
Heat oven to 350°F. Line an 8-inch square baking pan with aluminum foil, extending foil over edges. Grease foil.
Combine all crumb mixture ingredients in bowl at low speed, scraping bowl often, until mixture is crumbly, about 2-3 minutes. Reserve 1 1/2 cups crumb mixture.*
Press remaining crumb mixture on bottom of pan. Spread preserves to within 1/2 inch of edge. Crumble reserved crumb mixture over preserves.
Bake 42-50 minutes or until lightly browned. Cool completely; cut into bars.
*A newer version of the recipe specifies 2 cups.
Posted on 23 January 2017 | No responses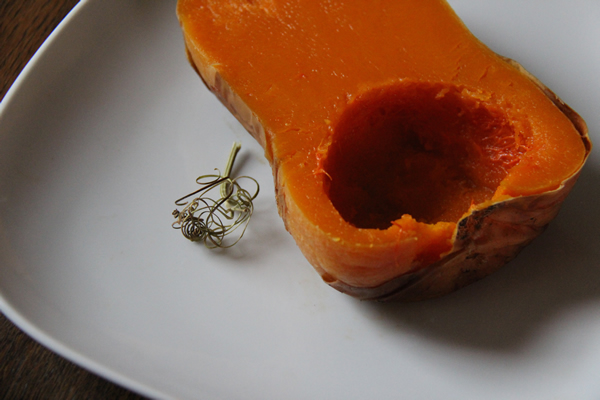 This is more than a recipephany; it's a revelation.
It comes from Raegan Sales, the Veggie Whisperer. To capture the deep flavor of butternut squash, roast it whole at 400 degrees for about an hour until it yields when you stab it with a fork. Cool a little, then cut it in half, remove the seeds and peel off the paper-thin skin (unless you are like me and consume that, too). The juice is like maple syrup, so save it to spoon over or mash into the squash. Eat as is or use in other dishes.
The squash is so sweet and velvety it tastes like it has been injected with butter and caramelized in its own skin. It comes out of the oven glowing with a rainbow of flavors that need nothing else, not even salt. This is the best one-ingredient recipe ever.
I've peeled, hacked, boiled, nuked, drenched in oil, and otherwise abused squash in the past. Who would have thought that the easiest cooking method would be the best?
This lovely butternut squash, with the cute little curlicue vine, is the last from our garden this season. Next year I'll cook all this way.
Posted on 10 January 2017 | 2 responses
Dan calls it "faux-lognese," that sea of tomato sauce with ground beef swimming in it. Real bolognese, Dan argues, is a ragù, or stew, of finely chopped aromatics and meats simmered with just a kiss of tomato paste, wine, and cream. And he knows because Ada Boni, the Mamma of Italian Cookbooks, said so.
Ada Boni captured authentic Italian cooking in the landmark  Il Talismano della Felicità, (Talisman of Happiness, or simply The Talisman) (1928) which became Italy's standard cookbook for many decades, influencing generations of cooks. Boni's Italian Regional Cooking (1969) has long been Dan's go-to reference, as trusted as if it were written by his own Italian grandmother, Maria Rosa Nicoletta Maddalena De Stefano Discenza (or simply Nicoletta).
Over time, however, bolognese has transmuted into a red sauce. Even the biggest of culinary bigshots—Craig Claiborne, Marcella Hazan (touted as the gold standard), and even Lidia Bastianich—couldn't leave well enough alone without saucing it up with tomatoes. Julia Moskin wrote in the New York Times that in a ragù, the meat melts into the sauce. I say it's the other way around: the sauce melts into the meat.
One of my cookbook heroes, Myra Waldo, was a prolific travel and food writer who, like Boni, linked each dish to its regional cuisine. In Seven Wonders of the Cooking World she noted that Bologna cooks with both butter (generally used in the North) and olive oil (preferred in the South). She described her authentic bolognese as a ragù typical of a city that loves its fats.
And speaking of fats, chicken livers are the secret to over-the-top lushness. Like anchovies, they disappear into the background, adding a depth of flavor and richness that makes you smile but you can't pin down.
The quantities here are for guidelines only. Adjust meat amounts and proportions to your taste, and go heavy on the aromatics if you are so inclined. It's traditional to cook the sauce for an hour and a half, but we've found it cooks down nicely in only 45 minutes.
Dan usually serves bolognese on his homemade tagliatelle, but here we've used a hefty macaroni called gigli (or campanelle). Our neighborhood Stop & Shop sells its own imported gigli for a quarter of what you'd pay at Whole Foods, and it holds up well to the hearty bolognese.
For a bold, authentic ragù, don't wimp out. Look these meats and fats squarely in the eye. You'll be rewarded with the flavors Bologna originally had in mind, better than a faux-lognese even from Boston's North End.
Ragù: Bolognese Meat Sauce
Adapted from Ada Boni's Italian Regional Cooking
6 tablespoons butter
2 ½ tablespoons oive oil
1 onion, finely chopped
1 carrot, finely chopped
1 stalk celery, finely chopped
2/3 cup bacon, finely chopped (or pancetta)
¾ cup ground pork
¾ cup ground beef
¼ cup sausage meat
2-3 chicken livers, trimmed, rinsed and chopped
2/3 cup dry white wine (or vermouth)
Salt and pepper
4 teaspoons tomato paste, or more to taste
about 1 ¼ cup stock (we prefer chicken) or water, whatever needed to keep the sauce moist
4 tablespoons light cream or milk
Heat half the butter and all the oil in a deep frying pan. Add onion, carrot, celery and bacon, and fry over low heat until vegetables soften and begin to change color. Add the pork, beef, sausage meat and livers, frying gently until they begin to brown, crumbling with a fork. Moisten with wine and cook until it evaporates, then season to taste with salt and pepper. Dilute the tomato paste with a little stock. Stir this into the sauce, cover and cook slowly, stirring from time to time, gradually adding the rest of the stock.
After the sauce has been cooking for 45 minutes, stir in the cream and continue cooking until it reduces. Finally add the remaining butter and stir until melted and thoroughly mixed into the sauce.
Undercook macaroni or pasta a minute, remove from cooking water and add to the sauce to finish cooking and absorb flavor. Add a little pasta cooking water if needed.
Makes enough for 1 -1 ½ pounds of pasta. Serve with grated romano and/or parmesan.
Posted on 19 December 2016 | No responses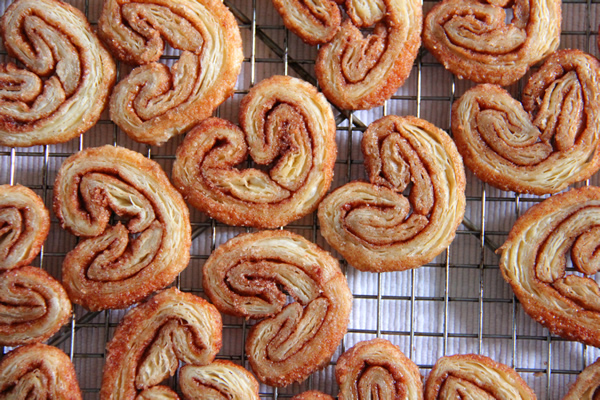 Need a quick yet impressive holiday cookie? Roll puff pastry dough in sugar and cinnamon, fold, cut, and voilà! Palmiers (aka elephant ears).
I made a batch today from puff pastry dough I rescued from the dark recesses of my freezer. Last winter I mixed a lot of Joanne Chang's easy Quick Puff Pastry from Flour for whatever might arise. Chang says you can freeze it for up to a month, but c'mon, you can even freeze fish for longer than that. Here it is almost a year later and the silky dough rolled out as smoothly as if it were fresh.
Today I lost track of my folds and they came out more like cauliflower ears than classic elephant ears. But no matter how you fold it, the buttery, flaky layers create a sweet, tender crunch.
Don't expect these to be elephant sized. More like mouse ears, they are très petite, only a couple of inches across, and perfect with a cup of tea or a dessert bowl of Quick and Creamy Microwave Chocolate Pudding.
Palmiers
1 sheet of puff pastry dough, homemade or store-bought, about one-half pound (if frozen, defrost overnight in the fridge)
½ cup sugar
1 tablespoon cinnamon (optional), or to taste
Mix sugar and cinnamon, if using. Spread half the sugar mixture onto the work surface, place the sheet of dough on top, and distribute the other half evenly over the top of the dough. Press down on the dough with the rolling pin to flatten and spread it out uniformly. Then roll it to about a 10 inch square. You can cut off pieces, move and reattach as needed to make the square.
Fold the sides of the dough toward the center so each reaches halfway. Then fold them again so that the sides meet in the middle. Finally, fold one half over the other as if to close a book. Press down lightly with the rolling pin to flatten. Don't fret if there is a lot of sugar mixture left over. That can happen.
Wrap in plastic wrap and refrigerate for about a half hour. Preheat oven to 400 degrees.
Cut dough into about 1/4–inch slices and place cut-side-up on cookie sheets lined with parchment paper, about a dozen per sheet.
Bake 6-10 minutes until the bottoms start to caramelize, then flip over and bake another 3-6 minutes until caramelized.
Cool on rack and store in an airtight container.
Posted on 20 November 2016 | 2 responses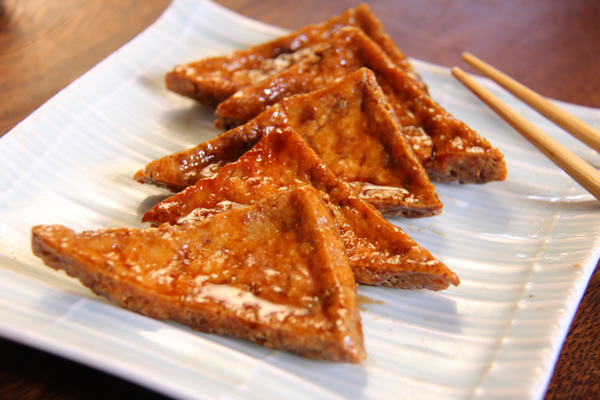 Caramel-lacquered tofu triangles hit all the sweet, savory and salty notes that put guests in a good mood. The dark, shiny syrup sinks into the chewy triangles, so you can eat them with your fingers if you like.
Since they keep well in the fridge, you can make them way ahead and bring them out any time, as you would a wedge of brie. They travel well, too. Carry them to a holiday party in a Ziploc bag and free yourself from having to retrieve your plate (or help with the clean-up) when it's time for goodbyes.
My daughter-in-law Raegan has made these for brunch, proving that they are as versatile as an eggy or cheesy dish. I also enjoy them as a great spontaneous snack when I'm staring into the fridge, looking for who-knows-what, and the caramel sheen catches my eye.
Best of all, the only fresh ingredient you need is tofu. Everything else comes from your pantry and refrigerator door. The miracle of caramelization builds deep, complex flavors from just a few ingredients. A restrained shake of five-spice powder adds ethereal warmth. Feel free to mess with quantities, but trust in the recipe's overall simplicity. Stifle any urge to add fresh garlic or ginger.
I came across this recipephany when, a few years back, I set out to find a recipe for the tofu triangles we had at Boston's Brown Sugar Café. It is from Barbara Tropp's The Modern Art of Chinese Cooking (1982), a book that won James Beard honors and made her a star.
Tropp is also known for her innovative fusion of Chinese tastes with Western ingredients at her China Moon Café in San Francisco. Sadly, she only wrote one more book, The China Moon Cookbook, before she died of cancer in 2001 at age 53.
Tropp immersed herself in authentic Chinese cooking, and her recipes go on in great detail about proper Chinese techniques and tools. I found reading her long narrative a problem when I was watching a wokful of bubbling hot oil. So I slashed her directions way down. I may have simplified the recipe, but the simplicity of this dish comes straight from China.
Caramelized Tofu Triangles
Adapted from The Modern Art of Chinese Cooking by Barbara Tropp
1 pound firm tofu
Peanut or corn oil for deep-frying (enough to cover the tofu, at least 2 cups), reserving 1 tablespoon for the syrup
2 teaspoons black (thick) soy sauce (This is soy sauce thickened with molasses. So if you don't have it, just use more regular soy sauce and a little more molasses.)
1 ½ tablespoons regular soy sauce
4 tablespoons sugar
2 teaspoons molasses
Pinch five-spice powder (optional)
3 tablespoons water for the caramel syrup
Slice tofu into 16 triangles. Lay them on paper towels and press out water.
To fry tofu, heat oil in a wok until a bit of tofu bobs to the surface within 2 seconds. Slide triangles gently one-by-one into the oil—there will be lots of bubbling, so beware of spattering. If triangles stick together, nudge them apart. Fry until golden, about 4 minutes, turning as necessary. Remove and drain on paper towels. Strain oil and refrigerate for re-use. Reserve 1 tablespoon oil for the syrup.
In a small bowl, stir together black soy sauce, regular soy sauce, sugar, molasses and (if using) five-spice powder. Adjust to taste.
Heat 1 tablespoon of oil in the wok. Add sugar mixture, stirring rapidly until it thickens in a full boil. (Watch to see it doesn't burn!) Add triangles, turn off heat, and toss for about 2 minutes to glaze evenly. Stir 3 tablespoons of water into the bowl to dissolve the remaining sugar mixture, add it to the wok, and bring back to a boil. Toss 1-2 minutes, until syrup thickens. Turn off heat and let triangles cool in the wok about 10 minutes, tossing every few minutes to coat them evenly.
Serve immediately or store for up to a week in the refrigerator, tossing occasionally to distribute the syrup. Serve cold or at room temperature.
Posted on 24 October 2016 | 2 responses
It takes chutzpah for me to post a challah recipe. My niece Ariel (see Hugs and Cookies) is the one known for all manner of gorgeous eggy braids, coils and pull-apart rolls. She even uses special challah flour.
While I've made competent challahs using a traditional recipe, this recipephany is remarkable because it produces the same rich taste and pillowy-soft texture without kneading. You stir it up using only a wooden spoon or (my preference) a dough whisk. What starts as a gloppy, blobby Jabba-the-Hutt mass turns smooth and elastic while it rises. It stops just short of braiding itself.
I discovered this recipe recently after lying awake in the wee hours thinking of how my paternal grandmother, Lena, dealt with her insomnia: she baked.
She loved to make strudel. When she couldn't sleep, she would escape to the kitchen to roll and stretch dough as a way to ward off worries and night demons. For the filling, she would grab whatever fruits, nuts or chocolates she had on hand. Her relaxing baking session ended with both a flaky pastry and a cleared head ready for sleep.
I thought I'd try out Lena's Baking Therapy for Insomniacs. Starting a dough without actually baking it seemed like a good option, and just the idea of challah was comforting. So I found a simple recipe in The New Artisan Bread in Five Minutes a Day, a game-changing bread book I learned about from artisan baker Dan Friedman. I stirred it up ("Wake up, yeast! Stretch, gluten!") and went back to bed. A high dough greeted me in the morning like a dog with a leash in his mouth. Soon I had a golden loaf ready to be sliced and slathered with Apple Butter, Pressure Cooker Fast.
Why do I use a loaf pan? My mom would often buy two challahs: a ceremonial free-form braid for Friday night, and a standard loaf for sandwiches and toast the rest of the week. I rarely see sandwich loaf-style challah in stores any more, and I miss it. And for the home baker, it's practical, easy to make, and the shiny golden braid on top clearly announces its challah-ness.
So if you can't sleep and want a cloud-like bread ready for you in the morning, try this out. It bakes up like a dream.
No-Knead Challah Loaf

(adapted from The New Artisan Bread in Five Minutes a Day by Jeff Hertzberg and Zoe Francois)
Makes one large loaf. If you prefer a braided loaf, one recipe makes two 3-braid challahs or one very large 6-braid challah.. This recipe doubles well, so you can bake a loaf and keep the rest of the dough tightly covered in the fridge to bake within a few days.
7/8 cup water, lukewarm*
1 ½  teaspoons instant yeast (SAF Gold works best with sweet doughs like this.)
1 ½  teaspoons kosher salt
2 eggs, lightly beaten
¼ cup honey
¼ cup oil
3 ½ cups all-purpose or bread flour (*Bread flour may require about ¼ cup more water to keep it stretchy.)
Glaze:
1 egg beaten with one tablespoon of water
Stir together water, yeast, salt, lightly beaten eggs, honey, and oil in a 6-quart bowl using a wooden spoon or a dough whisk (my preference).
Mix in flour. The dough should be moist and tacky, and look like a gloppy mass. Mixing will only take a minute or two. If you're using bread flour, you may need to add a little more water to keep it stretchy.
Cover bowl completely with plastic wrap. Let sit at room temperature until the dough rises and slightly collapses or flattens, about 2 hours. Use the dough now, or refrigerate it for up to five days.
When ready to bake, grease a 9×5x3 loaf pan. Dust the dough with flour and shape it quickly into a ball by stretching the surface of the dough around to the bottom on all sides, rotating the ball as you go.
Cut dough into thirds. Lightly dust each third with flour and roll and stretch it into about a foot-long rope. Connect the ropes at one end and braid. When finished, tuck the ends under and place into the prepared pan.
Let rise for 90 minutes or until doubled in size. Refrigerated dough will probably need more rising time. In the meantime, preheat oven to 350°.
Brush the top with the egg wash. Bake about 30 minutes, until top is golden brown and sides pull away a little from the pan. (After first 10 minutes or so of baking, you can brush on more egg wash, especially unglazed areas where the dough has puffed up.) Let sit in the pan for a couple of minutes to let the dough shrink, then run a knife around the sides and remove. Cool completely on a rack before slicing.
Posted on 8 October 2016 | No responses
My mom, of Olympic Seoul Chicken fame, just turned 100. For most of my childhood, she shooed me out of the kitchen when she cooked, distracted when I was underfoot. Little Snackers is the first—and I think only—thing she ever let me bake by myself.
Just the thought of Little Snackers sends me tumbling down the laundry chute of nostalgia. Here I go again, back in the kitchen with my mom in her yellow gingham apron, a jar of Skippy, and my thumb squishing the centers of little dough balls.
This is my poodle skirt of recipes. Around the time I began baking these, my mom made me a charcoal gray poodle skirt with a red dog-collar accent. I proudly wore it until there was no more seam to let out and we had to give it away. But unlike the skirt, I never outgrew this recipe.
Little Snackers are short and crumbly. Pop one into your mouth and the roasted sweet/salty nuttiness melts through the tart jam. Despite the name, they aren't just for kids, and would be right at home on a Christmas cookie tray.
Thank you, Carol Drake
A classic thumbprint cookie designed to delight young baby boomers, it shouts Happy Homemaker. My mom clipped this recipe in the early 50s from an ad for Safeway stores. It came from the recipe box of Carol Drake, the Betty Crocker of Safeway. According to a 1946 news release, Safeway created the name and personality of Carol Drake "to stamp her as an authority on all the things which a housewife wants to know in her job as a homemaker." Thank you, Carol, and thank you, Mom, for my first recipephany.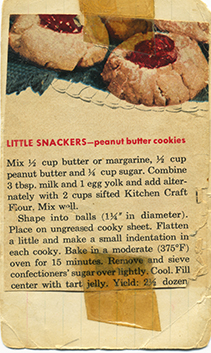 Little Snackers—Peanut Butter Cookies
Mix ¼ cup butter or margarine, ½ cup peanut butter and ¼ cup sugar. Combine 3 tablespoons milk and 1 egg yolk and add alternately with 2 cups sifted Kitchen Craft Flour*. Mix well.
Shape into balls (1¼" in diameter). Place on ungreased cooky sheet. Flatten a little and make a small indentation in each cooky. Bake in a moderate (375°F) oven for 15 minutes. Remove and sieve confectioners' sugar over lightly. Cool. Fill center with tart jelly. Yield: 2½ dozen.
*Safeway's store brand, long gone.
Posted on 31 August 2016 | No responses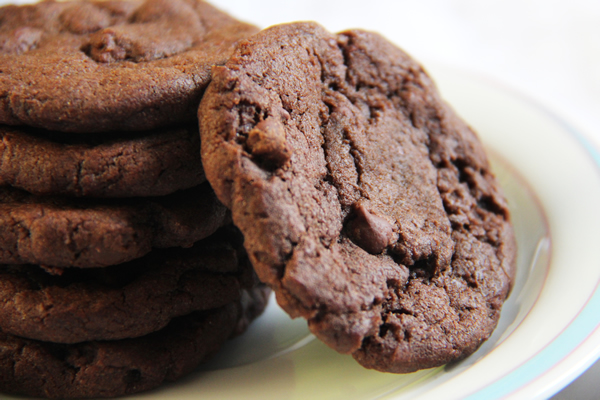 Cookbook author Dorie Greenspan got this recipephany for intense double-chocolate cookies from Parisian pastry chef Pierre Hermé. When she published it in Paris Sweets, she called them "Korova Cookies." Then her neighbor suggested "World Peace Cookies." Smart move. This takes Brody's Second Law of Marketing one step further: If you can name it better, you can sell it better.
These are so luxuriously chocolatey, they could make people momentarily forget their hostilities. I'd be happy if they could just get us through the election season with a crumb of domestic harmony. Toward that end, I'm rebranding them "Giant Meteor '16 Cookies," after the cheeky alternative that's growing in popularity in the polls.
Eat them gooey out of the oven, delicate at room temperature, or (on a hot day) with a little extra tooth right from the freezer. They can give us a brief respite from the election without actually blasting us to kingdom come.
World Peace, or Giant Meteor '16, Cookies
(adapted from Dorie Greenspan's recipe)
1 1/4 cups all-purpose flour
1/3 cup unsweetened cocoa powder
1/2 teaspoon baking soda
1 stick plus 3 tablespoons (11 tablespoons)  butter, at room temperature
7/8 cup sugar
1 tablespoon molasses
1/4 teaspoon salt
2 teaspoons vanilla
3/4 cup mini chocolate chips
Makes about 36 cookies.
1. Combine flour, cocoa and baking soda in a bowl or on wax paper.
2. Beat butter until soft and creamy. Add sugar, molasses, salt and vanilla. Beat 2 minutes more.
3. Add dry ingredients, stirring to lightly combine. Then mix on low speed about 30 seconds, just until all flour is incorporated. Stir in chocolate chips, being careful not to overwork the dough.
4. Divide dough in half. Shape each half into a log 1 1/2 inches in diameter and wrap each log in plastic wrap. (Tip: Slide each wrapped log into a paper towel tube to keep it from flattening out.) Refrigerate at least 3 hours. (Refrigerate dough up to 3 days, or freeze it up to 2 months. You can slice and bake frozen logs without defrosting. Just add an extra minute to baking time.)
5. To bake, preheat oven to 325 degrees F. Line two baking sheets with parchment paper.
6. Slice logs about 1/2 inch thick. If they crack, just shape them back together. Arrange the slices on the baking sheets about 1 inch apart.
7. Bake about 12 minutes. They should not have firmed up, and should still look underdone. Slide the parchment paper and cookies onto a cooling rack. Serve cookies either slightly warm or at room temperature. Or, freeze the baked cookies and eat them either defrosted or still frozen.
Posted on 23 July 2016 | 2 responses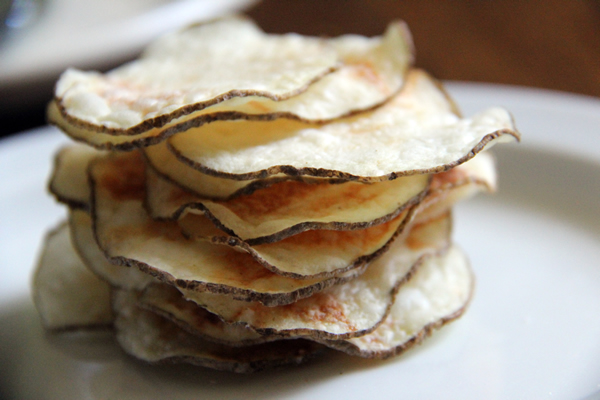 My microwave is an indispensible sous chef. It melts and tempers chocolate, parcooks root veggies on their way to the roasting pan, sweats onions in a pinch, and dries and toasts old bread for nearly instant bread crumbs.
Wait a minute—toasting? While we think of the microwave for reheating, melting, and steaming, it can also dehydrate and bake like the Sahara. You have to watch it, though. It doesn't take long to turn light brown perfection into black, smoking carbon.
The potato chip is such a perfect microwave snack there should be a button for it next to "popcorn." Better than the greasy chips from a bag, they are crispy yet ethereal hits of pure potato. You can bake them light in color or a little dark for deeper flavor. Sweet potatoes work equally well.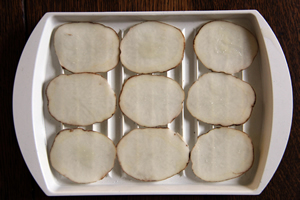 This recipephany calls for a couple of gadgets: a microwave bacon cooking rack (I got mine at Stop and Shop for about $7), and a mandoline (thanks to my sister-in-law, Chris). The mandoline slices the potatoes paper-thin—or, well, as thin as 100# cover stock. The thinner they are, the faster they bake. And the sooner you can be crunching on this tasty, low-fat treat.
Microwave Potato Chips
2 russet potatoes, unpeeled
1 teaspoon salted butter, melted
Sour salt (citric acid) to taste, stirred into melted butter (optional)
Kosher salt for sprinkling
Wash potatoes and dry thoroughly. Slice paper-thin and lay out on paper towels. Cover with paper towels and press out moisture.
Place slices on microwave rack. Do not overlap. Brush on a dab of butter or butter/sour salt mixture onto each slice. Sprinkle lightly with kosher salt.
Microwave for 2-4 minutes, depending on your machine. Check frequently at first to determine the proper baking time. If you can bend them, they need more time.
Posted on 28 June 2016 | No responses
We recently backpacked mountain trails from Salerno to Sorrento along the Amalfi Coast, famous for both its sheer beauty and its sheer drops. Dan mapped hikes that led us to a mountaintop church unreachable by roads, up and down hundreds of flights of stairs built for pack animals, between terraced groves of lemon trees bright with fist-sized fruit, and through a meadow where electric wildflowers thankfully distracted me from the nearby precipice. We ended each sweaty day at a fine hotel where we could wash up, get presentable, and go find gelato.
I learned a lesson when we took our kids to the Grand Canyon. No matter how breathtaking your location, the better the snacks the better the vacation. And what could enhance a Mediterranean panorama better than nocciola gelato?
Italy has an enduring relationship with the hazelnut [see Hazelnut (Nocciola) Biscotti Dipped in Chocolate]. Besides inventing Nutella, Italians perfected hazelnut ice cream with intense, intoxicating flavor. While Dan opts for silky, dark cioccolato, I always choose the complex sweetness and toasted nuttiness of nocciola.
So I set out to recreate the soft consistency and aromatic nuttiness of the third most popular gelato in Italy (after cioccolato and crema), without gelateria equipment or artisan pomp. I found that this home version whips it up fairly easily. As with my Double Chocolate Sorbet, ice-cube trays and the food processor magically replace an ice cream machine. The mixture freezes quickly in the trays, reducing ice crystals. The food processor transforms the cubes into a glorious swirl you can eat immediately as a thick frappe or freeze into moderately soft ice cream.
I use Frangelico hazelnut liqueur to help keep the gelato soft and scoopable, since alcohol's got a ridiculousy low freezing point. You can probably substitute vodka without much difference. If you still find the gelato hard, nuke it for a few seconds to get the perfect softness.
Note that I refuse to strain out the flecks of nuts, though, as other recipes specify. The texture is plenty smooth, so why toss out fiber or flavor?
As I've said before, chocolate is hazelnut's soulmate. So don't hesitate to pour on the fudge sauce.
Nocciola Gelato (Hazelnut Ice Cream Without an Ice Cream Machine)
2 cups whole milk (or equivalent of nonfat or low-fat with cream)
4 egg yolks
6 tablespoons sugar
½ cup hazelnuts, toasted (Trader Joe's)
2 teaspoons vanilla
3 tablespoons Frangelico hazelnut liqueur, or vodka
Finely grind toasted hazelnuts with 2 tablespoons of the sugar in food processor, until it almost turns into a nut butter. Set aside.
Heat milk on the stove or in the microwave until it is very warm but not boiling.
In a large bowl, beat the egg yolks, adding the remaining 4 tablespoons of sugar gradually. Continue to beat about 3 minutes until the mixture is light and pale yellow.
Gradually add the warm milk, stirring until blended.
Pour the mixture into a saucepan and add the hazelnuts. Warm over a medium heat, stirring constantly to avoid any burning. Be careful not to let the mixture boil. It should thicken slightly, enough to lightly coat the back of a spoon. Remove from heat.
Stir in vanilla and Frangelico liqueur.
Pour carefully into ice cube trays placed on a rimmed baking sheet. Freeze for two or three hours, until solid.
Use a fork to stab the edge of each frozen cube and slide it into the food processor. (This avoids turning over the ice cube tray, which can create a mess.) Whir until smooth. Spoon into a quart container and freeze until firm. You can stir it up from time to time if you want to aerate a little more.
Posted on 3 May 2016 | 2 responses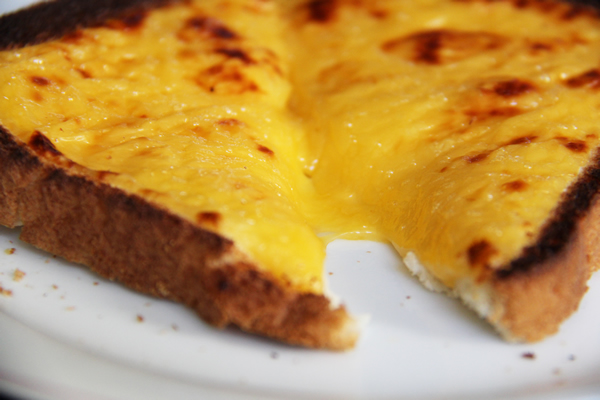 I dedicate this post to the memory of Nancy Osborn and everyone who would rather spend their time doing things other than cooking. People, for example, who "baste" a hem, try not to "slice" a golf ball, or, as in Nancy's case, think of "beat" and "measure" as nouns, not verbs.
————————————————————————————————
Cheese Dreams from Willy Osborn's childhood reflect a time when modern marvels of food technology tantalized Americans with new tastes, mouthfeels, and convenience. One slice of nutrient-fortified Wonder Bread topped with one perfectly sized slice of shiny Kraft American turned into a toasted cloud fused with molten gold.
Homemakers could delight their kids with this wholesome open-faced sandwich in the time it took to bubble cheese under a broiler. Before the days of take-out and corner restaurants, dishes like this liberated women from kitchen drudgery so they could pursue their true passions.
One such liberated homemaker was Willy Osborn's mother. Music was her passion. Born Anne Pell (but everyone knew her as Nancy), she went to Juilliard to become an opera singer and earned her degree in voice. In 1942, she married Frederick Osborn, a businessman who wrote operettas on the side. They orchestrated five children and built their family life on a foundation of music and singing. She passed away in 2012 at the age of 94, to the very end devoted to her family and to opera.
"To Nancy, food was simply fuel," says Willy. Cheese Dreams helped her get food on the table fast, so the family could get right to the singing. "If we could have gotten our food intravenously, that would have been even better," Willy adds.
Nancy put the cheese-topped bread on a sheet pan directly under the gas broiler. "A little skin formed on top and the direct flame produced dark spots," says Willy. "Because she put the bread directly onto the pan, underneath it got soft and a little soggy. It was delicious."
When Willy first went to France he discovered that a Croque-Monsieur was essentially the same thing. French cheeses and fancy breads don't have a monopoly on the complex flavor changes that come with browning and toasting. After melting, flowing, and browning, even American cheese develops new flavors and aromas due to caramelization and that trendy Maillard reaction.
A recipephany is a recipe that strikes a chord in our lives. To the Osborn family, a simple Cheese Dream was the prelude to beautiful music.
Makes 1 Cheese Dream
1 slice of soft white bread, preferably Wonder Bread
1 slice of American cheese, preferably peeled off a block of Kraft yellow slices (not individually wrapped "Singles," as pointed out by Pell Osborn)
Put cheese on bread. Place onto a sheet pan and put under the broiler. Watch closely as cheese bubbles, and remove when brown dots form. Serve immediately.
Posted on 16 March 2016 | No responses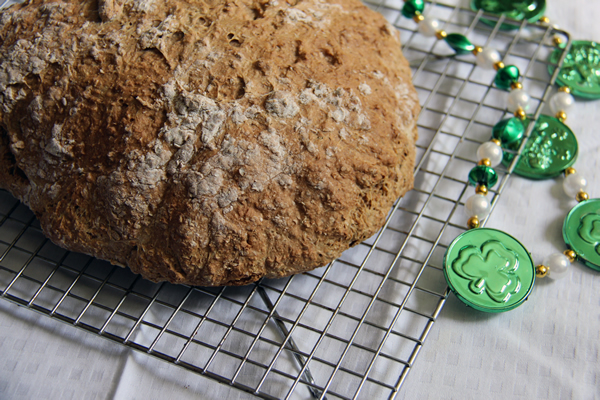 If you're looking for Irish Soda Bread—the slightly sweet scone-like raisin bread that is as much a part of St. Patrick's Day as green beer—sorry, this isn't it.
This recipephany is for authentic Irish Brown Bread, the hearty whole-grain soda bread served on cutting boards alongside a crock of butter or ragged slices of cheddar.
Well, at least at Matt Murphy's Pub.
Everyone in Ireland makes Irish Brown Bread. It's a kind of national institution. I wish I could say I brought this recipe back from our trip there a couple of years ago. I had made it my mission to track down the best recipe. One woman rattled off the recipe from her mother-in-law from Kilkenny, a "good cook of plain food" who had 13 children but lost five. The bartender in Dublin told me he just follows a recipe from the back of a bag of Odlums coarse wholemeal flour.
Everybody I talked with agreed that Irish wholemeal flour is mandatory, so I smugggled home some Odlums Wholemeal Extra Coarse in my carry-on. Maybe bad metric conversions threw off the delicate balance of acids and bases and whatnot. All the recipes I tried left me with tough, dry, joyless loaves.
As the cliché goes, I traveled the world to find true love in my own backyard. I returned to Matt Murphy's recipe clipped from The Boston Globe many years ago. Matt Murphy was the chef, original owner, and namesake of our illustrious neighborhood pub. I once saw Christopher Kimball of Cook's Illustrated and America's Test Kitchen lunch there alone—just him and his bow tie—a tribute to the wholesomeness and quality of the food.
This makes a loaf somewhat like dense rye bread, with a slight chewiness and buttermilk tang. It is simpler than the recipes I got in Ireland. And any whole-wheat flour works like a lucky charm.
Matt Murphy's Irish Brown Soda Bread
(From the The Boston Globe, March 12, 2008, Keri Fisher and Matty Murphy)
Work quickly when putting this together, trying not to handle the dough too long or too firmly. Be as gentle as possible; never use a mixer.
1½ cups all-purpose flour
1½ cups whole-wheat flour
1 cup wheat bran
1½ teaspoons salt
1½ teaspoons baking soda
2 1/3 cups buttermilk (I use Saco cultured buttermilk powder and water)
Extra all-purpose flour (for sprinkling)
1. Set the oven at 375 degrees. Lightly flour a baking sheet.
2. In a bowl, combine the all-purpose and whole-wheat flours with the bran, salt, and baking soda. Stir well with a wooden spoon.
3. Add the buttermilk and stir gently until just combined; the mixture will be sticky.
4. Turn the dough out onto a lightly floured counter and very gently shape it into a disk. Lift the dough and carefully bend the sides of the dough back, causing the top of the disk to break open and look craggy. Set it on the baking sheet.
5. Using a serrated knife, carefully cut an "X" in the top of the loaf, cutting down about 1/2 inch. Sprinkle the top of the dough with flour.
6. Transfer to the oven and bake the bread 40 to 45 minutes or until it is brown and the bread sounds hollow when rapped on the bottom with your knuckles.
7. Cool the bread on a wire rack for 10 minutes before serving.
Posted on 29 February 2016 | 2 responses
The Big Short won best adapted screenplay for its crisp dialog and cleverly simple demystification of the financial meltdown of 2008. The Big Shortbread is also crisp and light, with simplicity at its core. And butter, of course. Dressed up with extra-dark chocolate chips or toasted pecans, it's ready for any red carpet.
This recipephany also has loose ties to the surprise best picture winner, Spotlight, about how the Boston Globe uncovered clergy sexual abuse. I adapted this from Cookies: 20 Recipes to Satisfy Your Sweet Tooth, a Boston Globe publication by Sheryl Julian. Ms. Julian is the source of many of my recipephanies, and I was sorry to see that she recently retired as the newspaper's food editor.
At this year's Oscars Gala, The Ravenous food truck pulled up and a slobbering grizzly stuck out his head to take our orders. We sipped on red Martiantinis while savoring Baked Brie Larson and crunching Bridge Mix of Spies. After Tom's Hardy Mad Max and Cheese, spicy Mark Ruffalo Wings, and Sylvester's Calzone (with Leonardo DiCapicola and Rooney Maranara dipping sauce), fortunately there was still Room for The Big Shortbread.
The Big Shortbread
1 cup unsalted butter, at room temperature
1 cup confectioners' sugar
2 cups flour
1/4 teaspoon salt
1 cup bittersweet chocolate chips (such as Guittard Extra Dark 63% chocolate chips, or Hershey's Special Dark) or toasted chopped pecans*
Granulated sugar (for sprinkling)
1. Set the oven at 350 degrees. Line 2 baking sheets with parchment paper. Use a pie pan or plate and a pencil to draw three 6-inch rounds on the papers. Turn the papers over.
2. Beat the butter for 1 minute or until smooth. Add the confectioners' sugar and beat until creamy.
3. Add the flour and salt. Continue beating, scraping down the sides of the bowl, until the mixture is smooth. With a rubber spatula, stir in the chocolate chips or the toasted pecans.
4. Set 1/3 of the dough in the center of each round. With the heel of your hand, press the dough evenly to fill the circles.
5. Sprinkle the dough generously with granulated sugar. With a large straight-edged knife, cut one of the rounds evenly into quarters. Cut each quarter in half to make 8 triangles. Repeat with the other rounds.
6. Bake the rounds for 25 minutes or until they are pale golden, turning the sheets from back to front halfway through baking.
7. Slide the parchment papers onto wire racks and let the rounds sit for a few minutes to cool. Carefully transfer the papers to a board. Cut the rounds along the same lines you made before baking. Set the triangles on a wire rack to cool completely. Store in an airtight container for up to 2 weeks.
*Toast pecans on a baking sheet in a preheated 350° oven for about 5 minutes. Watch to make sure they do not scorch. You can also toast them in a heated frying pan for about 5 minutes, stirring to make sure they do not burn.
Posted on 13 February 2016 | No responses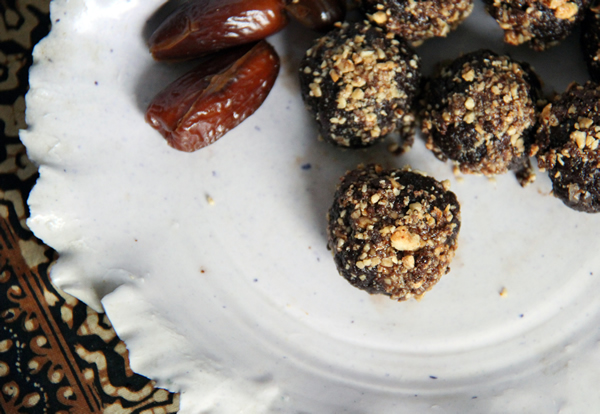 Deep dark chocolate truffles with flecks of walnut and hazelnut feel so much like a naughty indulgence that you'll catch yourself stealing them when nobody's looking. But why? They are entirely fruit and nuts, without any added sugar or cream. These wholesome concoctions play such a trick on our confection detectors that this recipephany may be more appropriate for April Fool's Day than Valentine's Day.
The idea for these truffles came from my sister-in-law Sheila. A few years ago she brought us some soft and creamy Medjool dates and a recipe for turning them into no-bake vegan brownies. We mixed up a batch, rolled them into balls and called them "Cocoa Medjools." I've embellished the recipe, but I would never dare tamper with its magic formula. Throw minimal ingredients into the food processor or blender, and minutes later you have hand-crafted heirloom-quality artisanal chocolate truffles infused with the complex sweetness of dates. And go ahead, sneak as many as you want.
Cocoa Date-Nut Truffles
1 cup walnuts
½ cup roasted hazelnuts
Dash salt
1¼ cup soft pitted dates, either Medjool or Beglet Noor*
1/3- ½ cup cocoa, to taste
1 tablespoon vanilla
1 teaspoon Triple Sec (optional)
Additional ground hazelnuts and/or grated chocolate
Process walnuts, hazelnuts and salt until ground. Add dates and process until mixture sticks together. Add cocoa powder and vanilla (and Triple Sec if using) and mix until blended. Add a tiny bit of water if too dry. Roll into balls. Roll in ground nuts and/or grated chocolate. Refrigerate.
*If using drier dates, soak them in water to soften and squeeze out excess.
Posted on 28 January 2016 | No responses
As we approach the Oscars, I propose a new category of Lifetime Achievement Award: "Best Actor & Cookbook Author." The recipient would be an award-winning star of motion pictures as well as a best-selling cookbook author with James Beard honors. And, naturally, she or he would be a host of popular cooking shows.
And the winner is: Madhur Jaffrey.
I had no inkling of Jaffrey's double life when my friend Wendy gave me her authoritative Indian Cooking cookbook 30 years ago. I had never even heard of her. But Wendy was a fan. She had just come back from living in Amsterdam, where she had watched Jaffrey's BBC cooking show, and had picked up this companion book to the series. It has become my bible for foolproof Indian recipes.
This Spinach Cooked with Onions recipephany is a gem from that book. Bright, lively spices team up with tender spinach against a backdrop of oniony sweetness. Where would the world's cuisines be without the beloved onion?
Last year I saw a trifle of a comedy called Today's Special about a young man struggling to find his roots through Indian cooking. Madhur Jaffrey played his mother, showing a warmth and range far beyond what I would expect from a celebrity chef in a cameo role. I figured the casting director just got lucky.
But I was simply ill informed. This "Godmother of Indian Cooking," author of more than a dozen cookbooks, seven-time James Beard award winner, and host of a groundbreaking BBC series, is first and foremost an actress.
Born in Delhi, India, she studied at the Royal Academy of Dramatic Art alongside Diana Rigg and Glenda Jackson. She's been in 20 movies, including notable Merchant-Ivory films. In fact, she introduced Ismail Merchant to James Ivory, launching the legendary partnership that spawned a whole genre of gorgeous Oscar-winning costumed dramas (e.g., Howards End) featuring passion, tragedy, and the most desirable British actors available.
While at the RADA, she couldn't stomach either the British or local Indian food. She begged her mother for her favorite childhood recipes, which she received in Hindi on onionskin paper via airmail. While she had never cooked before, she got great satisfaction mastering all kinds of traditional dishes. Her big break came when the New York Times food editor read a story she'd written for Holiday magazine about Indian home cooking.
While I'm curious about her acting, I'll be binge-watching her old BBC cooking shows before I get to her old movies. One episode taught me how to make perfect paratha, so I'll be trying more of her never-fail recipes.
Spinach Cooked with Onions (Mughlai Saag)
Adapted from Madhur Jaffrey's Indian Cooking
2 pounds spinach, washed, trimmed and roughly chopped
1 large onion (or more to taste), peeled and finely chopped
4 tablespoons oil or ghee
1/2 – 1 fresh, hot green chili, finely chopped
1 teaspoon peeled, very finely grated or minced fresh ginger
1 teaspoon salt
1/2 teaspoon sugar
1/2 cup water
¼ teaspoon garam masala
Heat the oil or ghee in a very large pot (fresh spinach has enormous volume) over a medium-high flame. When hot, put in the onions. Stir and fry for 3 minutes. Add the green chili, ginger, salt, sugar and spinach. Stir and cook down the spinach for 5 minutes. Add ½ cup water and bring to a simmer. Cover, turn heat to low, and cook for about 10 minutes. Uncover and boil away some of the extra liquid, or just spoon out some liquid if there is too much. Sprinkle garam masala over the top and mix before serving.
Posted on 21 December 2015 | No responses
Forget the eggnog. Here is an easy, crowd-pleasing recipephany for a Holiday Party in a glass.
Kevin McElroy brought this homemade Bailey's Irish Cream to Annie and Ken's party. He set the jar on the bar. Guests surrounded it like bloodhounds on a mission, then cautiously sampled. Yummy noises followed and a drinking frenzy ensued.
Kevin kindly shared his recipe, with wishes to "enjoy all the holidays that face us, and then all the bleak, cold, miserable, snowy days that will follow." This will certainly help.
Better-Than-Bailey's Irish Cream
Yields 34 ounces
1 cup heavy/whipping cream
1 14-ounce can of sweetened condensed milk
1 2/3 cups of Irish Whiskey (Kevin prefers Jameson, but even Trader Joe's is fine)
1 teaspoon instant coffee
2 tablespoons hot fudge sauce, room temperature (Kevin prefers a rich dark chocolate sauce. I use homemade chocolate sauce. See recipe below.)
1 teaspoon pure vanilla (I double this, of course)
Combine all ingredients in a blender and set on high for 30 seconds.  Bottle in a tightly sealed container and refrigerate.  Shake before using.
Kevin Notes: Will keep a month or longer, but I've never had it last anywhere near that long!
Cocoa Syrup (Chocolate Syrup)
"Your very own homemade chocolate syrup. This is one of our most requested recipes."
From Hershey's Chocolate Treasury, 1984, Golden Press
1 ½ cups sugar
¾ cup unsweetened cocoa
Dash salt
1 cup hot water
2 teaspoons vanilla (I use 3 teaspoons)
Combine sugar, cocoa and salt in medium saucepan; gradually stir in water, blending until mixture is smooth. Cook over medium heat, stirring constantly, until mixture boils; boil and stir 3 minutes. Remove from heat; add vanilla. Pour into container; cool. Cover; chill. Makes about 2 cups syrup.
Note: For Chocolate Milk, add 1 to 2 tablespoons Cocoa Syrup to a tall glass of cold milk; stir until blended.
Find a recipephany

Recipephanies and comments wanted

Click on the link with the number of responses (next to the date above a post) to leave a comment.

Now on Twitter!

Recent comments – please click to read

Archives