It's hard to cook asparagus to its elegant best. If you leave spears in too long, they go from vibrant and crisp to drab and droopy. Take them out too soon, and you'll get a raw crunch instead of a tender, tasty bite.
But it's easy to cook asparagus perfectly in this soup. There's no peeling or fussy prep. No matter how long the asparagus simmers, it doesn't lose its sweet, earthy flavor. A touch of thyme and savory add garden brightness, and golden potatoes make it creamy. Crispy, salty prosciutto bits on top give contrasting crunch and color to the green smoothness.
Best of all, you don't need pristine spears if you're just going to puree them into soup. That's where Haymarket comes in.
Haymarket is Boston's historic open-air market with bargain-basement prices that attract home cooks as well as restaurant buyers. Wholesalers unload overstocked produce to vendors, who in turn pretty much give it away. You'll find things cost about a third to a sixth of what you'd pay at a supermarket.
Vendors chant, "A dollah, a dollah, a dollah!" A roll of singles makes you feel downright rich. You don't ask for a "a dozen limes," but "a dollar limes." The vendor hands you a bag so you can pick the best. For "a dollar Brussels sprouts," a guy in a Bruins shirt scoops handfuls into a bag, sets it on the hanging scale, and then makes sure you see it's nicely over a pound before he hands it over.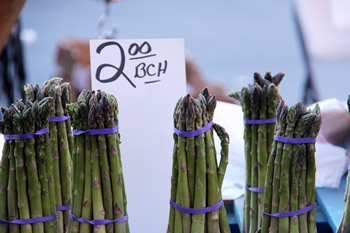 Yes, this is rescue produce. But like puppies at the animal shelter, radiant orange peppers and plump eggplants practically lick your hand as you pass by. Here it is October, hardly the season for springtime asparagus, and I got two beautiful bunches labeled $2 each for just $3.
While it's not a farmer's market, it shares the same goal: to get healthy fruits and vegetables onto people's plates. And in true New England style, Haymarket can't abide waste. As my mother-in-law used to tell her kids when she brought out a near-expiry leftover, "If you don't eat it, I'm going to have to throw it out." Of course they ate it.
If you haven't been to Boston and its legendary Haymarket in a while, it's time to do the touristy thing. Spend a fun Friday or Saturday afternoon enjoying both Quincy Market and the nearby circus that is Haymarket. Once you're home and have filled your fridge, you'll still have time to whip up this impressive soup—it takes just a half hour.
Haymarket Asparagus Soup
Adapted from Eating Well, June/July 2005

Feel free to adjust quantities to your taste.
8 cups water
Chicken or vegetable bouillon to flavor the water, to taste
3 yellow-fleshed potatoes, such as Yukon Gold, sliced then roughly chopped
3 large shallots, sliced
1 leek, sliced (optional – for volume and sweetness)
3 cloves garlic, chopped
1/2 teaspoon dried thyme
1/2 teaspoon dried savory
½ teaspoon salt, or to taste
2 bunches of asparagus, woody ends removed, chopped into about 1-inch pieces
Ground black pepper to taste
Topping: About three thin slices of prosciutto, chopped (or toasted croutons for a vegetarian option)
Put water, bouillon, potatoes, shallots, garlic, thyme, savory and salt into a soup pot. Bring to a boil over high heat. Reduce heat to medium-low, cover, and simmer until the potatoes are tender, about 8 minutes. Add asparagus, return to a simmer, and cook, covered, until the asparagus is tender, about 5 minutes more.
Puree, either with a blender, immersion blender, or food processor until smooth. Adjust seasonings and grind in black pepper to taste.
For the topping: Frizzle prosciutto in a small skillet over medium heat, stirring, until crisp, about 5 minutes. Add before serving.