Jimmy Bruic's Banana Vegan Cookies
Posted on 21 October 2014
I wish to publicly thank Ellis Island for my Irish surname. Having walked the breathtaking landscape of my faux homeland, I will increasingly claim this island as my own. Actually, my kids are a quarter Irish, thanks to my husband's great-grandparents who came from the Dingle Peninsula. So according to a Scientific American article (I'm not making this up), "Scientists Discover Children's Cells Living in Mothers' Brains," I may be part Irish after all!
And why shouldn't I claim Irish food as my heritage? Smoked salmon, for which my brain has a unique receptor, appears in convenience stores, for goodness sake. I breakfasted on sweet, freshly smoked kippers, a royal relative of the canned version my mom used to sizzle with eggs. Irish stew, Irish brown bread, Irish butter, Irish oatmeal, Irish tea, Irish whiskey—that "Irish" brand calls to me as if from some ancient, inherited memory.
This recipephany comes from the affable proprietor of the Coill an Róis (Forest of the Roses), a model bed and breakfast in Ballyganeen, Feohanagh, Dingle, County Kerry. After a two-day walk along the Dingle Coast, we reached this cosy guest house nestled amidst sheep-dotted farmland with gentle mountains on the horizon. Jimmy Bruic, who built the B&B about 20 years ago on his family's briar-covered farmland, greeted us like a long-lost cousin and regaled us with a proper afternoon tea and baked Irish treats. Formerly the pastry chef at Harbour Lights in Manhattan, Jimmy spent many an off-season working at trendy New York restaurants. So I hit the jackpot when, after my enquiring about his chocolate mini-muffins, he responded instantly with an A4 sheet of recipes which included this very clever cookie.
Smart cookie
Why so clever? It's quick and simple. Splendidly oaty with oil instead of shortening, it boasts just-right sweetness, slight chewiness, and lots of Irish charm. Make it with or without nuts. It's wholesome, of course, but with a wink, since chocolate chips add that confectionary indulgence yet to be found in nature.
I'm surprised my new cousin Jimmy defines this as a banana cookie, since that is a background flavour. Maybe it's because the banana makes it all possible by replacing the egg. I prefer to call this my favourite oatmeal chocolate chip cookie, with no need to qualify it with "vegan."
Slán, and stay tuned for more Irish recipephanies.
Jimmy Bruic's Banana Vegan Cookies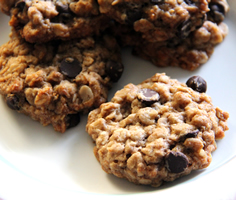 (Shown above with Barry's Irish Tea)
Preheat oven to 325° F.
One banana, mashed
½ cup oil
2/3 cup sugar (I added a touch of molasses)
1 teaspoon vanilla (I doubled to 2, as always)
3/4 cup flour
½ teaspoon baking soda
¼ teaspoon salt
½ teaspoon cinnamon
2 cups Oat Flakes (I used old-fashioned rolled oats)
½ cup walnuts, chopped
½ cup chocolate chips (I used Hershey's Special Dark, not too sweet)
Combine all ingredients. Spoon onto baking tray. Bake for 12-15 minutes. Makes 2 dozen.
Find a recipephany

Recipephanies and comments wanted

Click on the link with the number of responses (next to the date above a post) to leave a comment.

Now on Twitter!

Recent comments – please click to read

Archives