Picadillo Tacos
Posted on 16 January 2018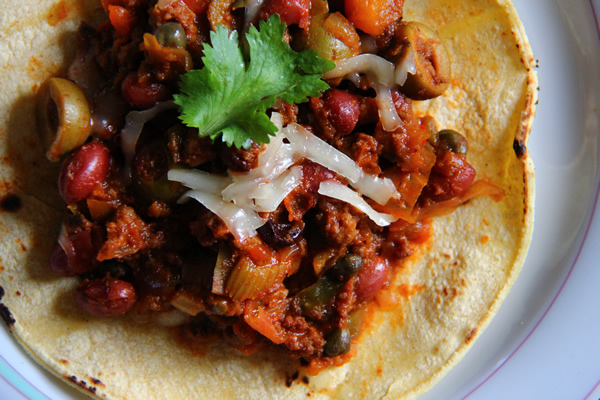 First, don't confuse "picadillo" with "peccadillo," although I often slip into that malapropism. While picadillo-filled tacos are not the least bit sinful, they can give you the same guilty pleasure as nachos for dinner. They fall into that category of slightly messy finger foods that go well with the football playoffs.
A quick-cooking alternative to chili, this Cuban-style mélange packs a sweet and tangy punch. It starts with a tomatoey sofrito of aromatics and peppers, then adds a Mediterranean accent with raisins, capers and chopped olives.
I first made picadillo from a Boston Globe recipe in 2001. I amped up the flavors and seasonings, figuring the "pica" stands for "picante." When I finally had the chance to order authentic picadillo at a popular restaurant in Puerto Rico, I was surprised to find it shockingly bland. So apparently it can be whatever you want it to be. Dial up or down the heat and spices as you desire. We use a mild sahuaro pepper from our garden, but you can choose something stronger. Or just shake in good old dependable Tabasco and call it a day.
Picadillo usually gets dished onto beans and rice, but I prefer to stir the beans into it instead. They add body and mellowness, and probably could substitute for the meat altogether in a vegetarian version.
Skip the rice and spoon picadillo into soft corn tortillas slightly charred over a stove-top burner. Top with jack cheese or sour cream, and garnish with cilantro, avocado, or whatever you like. Serve warm in the glow of your favorite sports channel.
Picadillo Tacos
2 tablespoons canola oil
1 pound ground beef or turkey
1 large onion, chopped
2 stalks celery, chopped
1 green bell pepper, seeded and chopped
½ red bell pepper, seeded and chopped
1 green chili pepper, seeded and chopped. (Choose according to desired heat. You can use a mild pepper like sahuaro, or a jalepeno, or splash in Tabasco sauce to taste.)
2 tablespoons chopped fresh oregano (or 2 teaspoons dried)
2 teaspoons ground cumin
1 ½ teaspoons ground paprika (can use some smoked)
2 cloves garlic, chopped
1 6-ounce can tomato paste
1/3 cup cider vinegar (to taste)
Two tablespoons of vermouth
Salt to taste
½ cup stuffed green olives, sliced
¼ cup raisins
1 16-ounce can red or black beans
¼ cup capers
Corn tortillas
Garnish: Monterey Jack cheese, shredded; sour cream or whole milk yogurt; cilantro leaves, chopped
In a large skilled, heat the oil and add the meat. Stir constantly to break it up.
Add the onion, celery, bell peppers, chili pepper or hot sauce, oregano, cumin, paprika, garlic, tomato paste, vinegar, vermouth and salt. Stir thoroughly.
Cook the mixture, stirring often, for 5 minutes.
Add the olives, raisins, beans and capers. Lower the heat and let the mixture cook for about 25 minutes, stirring occasionally. Add water as needed to keep from sticking. Adjust seasonings to taste, spoon onto warm corn tortillas, and garnish as desired.
Find a recipephany

Recipephanies and comments wanted

Click on the link with the number of responses (next to the date above a post) to leave a comment.

Now on Twitter!

Recent comments – please click to read

Archives