9-Minute Creamy Rice Pudding in the Pressure Cooker
Posted on 14 May 2018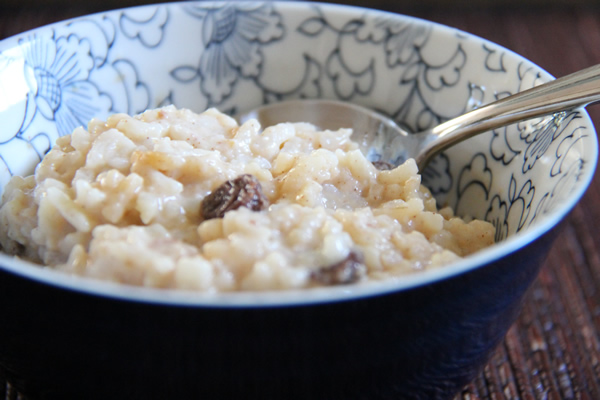 Luxurious rice pudding tastes divine and makes you feel good all over. But achieving a rich creaminess can be tricky. Baking can take hours, and the rice can even toughen. Thanks to the miraculous time-defying Pressure Cooker, this recipephany takes raw rice from zero to supreme creaminess in less than 15 minutes.
Evaporated milk (milk that's been concentrated by cooking it down) adds thickness plus a hint of caramelization. This slight nuttiness joins hands with the vanilla and cinnamon (rice pudding is a great delivery system for both) to create ahhh-inspiring yumminess.
While you might think of rice pudding as the fluffy slippers of desserts, it has some hipness. When our son lived in New York City he took us to Rice to Riches, which looks like an ice-cream parlor on Mars. It serves up its 20 flavors in sleek, neon-colored plastic bowls with aerodynamic spoons that would feel at home in a Japanese pod house.
I wrote in "Apple Butter, Pressure-Cooker Fast" that the Pressure Cooker messes with our space-time continuum to cook, tenderize and boost flavors in less time than it takes me to check email. This recipephany has no nostalgia folded in, since I had my first taste of rice pudding from a can. But I'm serving it with a dollop of affection for my superhero, the Pressure Cooker. My mother-in-law Dick got me my first, and my sister-in-law Judy got me my most recent. With every bowl of turkey soup, Cuban black beans, or rice pudding I ladle out, I wonder how such flavorful dishes can materialize in no time from this mild-mannered kitchen marvel.
9-Minute Creamy Rice Pudding in the Pressure Cooker
Serves about 6.
1 tablespoon butter
1 cup long grain rice
2 1/2 cups milk
Splash of cream (optional)
1/2 cup water
½ cup sugar
½ teaspoon salt
Handful of raisins
½ cup evaporated milk
2 teaspoons vanilla
1/2 teaspoon cinnamon, or to taste
Melt butter in pressure cooker, then stir in rice.  Let the grains get coated with the butter, stirring until they turn just a little white. Add milk, cream (optional), water, sugar, salt and raisins, stir, then cover, lock lid, and bring to pressure. Cook 9 minutes. Turn off stove and let pressure go down by itself. Remove lid, stir, and add evaporated milk, vanilla and cinnamon to taste and stir. It will thicken up more. Serve with a shake of more cinnamon and/or whipped cream.
Note: This is so fool-proof, it worked when I accidentally turned off the stove when the cooker reached pressure instead of just turning it down. When I went back to turn it off at 9 minutes, I found that fortunately the pressure had only gone down about a half. So I turned on the heat for about 30 seconds to bring the pressure back up, and then turned it off again. In a few minutes, the pressure had dropped completely, and the rice pudding was perfectly cooked.
Find a recipephany

Recipephanies and comments wanted

Click on the link with the number of responses (next to the date above a post) to leave a comment.

Now on Twitter!

Recent comments – please click to read

Archives