Things to Do With Cranberries: Cranberry Streusel Coffeecake
Posted on 14 December 2018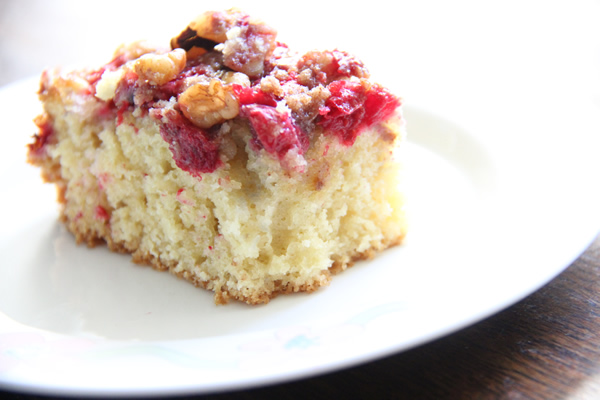 If you're like me, you bought two bags of cranberries before Thanksgiving because it said on the Ocean Spray package, "Buy two, freeze one." Now what do you do with the one in the freezer?
Cranberries keep a year or more in the freezer. So you can dip into your cranberry stash any time and make, for instance, this tasty Cranberry Streusel Coffee Cake.
This breakfast/snack/dessert has it all: cranberry and its best friend, orange; your favorite sour dairy product (sour cream or yogurt or sour milk); the baker's drug of choice, vanilla; and cinnamon and nuts. You can bake one large sheet cake or two 9" square cakes. In the Ocean Spray spirit, I bake two, freeze one.
For other things to do with cranberries, consult classic comedy duo Bob and Ray. Here, Wally Ballou (Bob Elliott) interviews Ward Smith (Ray Goulding), a cranberry bog owner and farmer.
Ballou: After you harvest them, Mr. Smith, do you have your own processing plant?
Smith: Processing plant? What do you mean by that, Mr. Ballou?
Ballou: By that, I mean, do you have your own factory for squeezing the juice out of cranberries?
Smith: Squeezing the juice out of cranberries? I never heard of –
Ballou: Yes, to make cranberry juice.
Smith: Juice? Out of cranberries?
Ballou: Yes, for your cranberry juice cocktails.
Smith: Cranberry juice cocktails?
Ballou: Or perhaps you make cranberry sauce out of them?
Smith: What would that be for? A dessert?
Ballou: No, you serve it as a side dish…with turkey or meats.
Smith: Well, I never! You know, you've triggered something here….Say, have you got a pencil? I want to write all this down….
Ballou: All these years you've been growing cranberries…What have you been doing with them?
Smith: I've been selling them in a basket, like strawberries. For cranberry shortcake. And you know…they really don't sell that way.
My dad recorded Bob and Ray shows in the 60s on his Teac reel-to-reel, which, in Eniac style, took up most of our den. There my brothers and I spent hours doubled over listening to Lawrence Fechtenberger, Interstellar Officer Candidate; the McBeeBee Twins; Webley Webster, and the many other stars of the Finley Quality Network.
About 30 years ago, I went with my husband and kids to a birthday party for the daughter of friends who lived around the corner. As I walked in, I recognized Bob Elliott sitting in the foyer, chatting quietly with his usual deadpan demeanor. Starstruck, I raced into the kitchen to corner Shannon Elliott, hostess of the party.
Me: Shannon, you never told me your father is Bob Elliott!
Shannon: You never asked.
Me: Well, I grew up with Bob Elliott!
Shannon: So did I.
I spoke with Bob just long enough to gush with admiration. And said hi to Chris Elliot as he breezed cheerily by.
For years Bob and Ray had fans laughing about this all-American wetland-loving scarlet berry. Now here's a use that Wally Ballou never thought of. And it sure beats cranberry shortcake.
Cranberry Streusel Coffee Cake
Adapted from Cold Weather Cooking by Sarah Leah Chase
Makes one 9"x 13" cake, or two thinner 9" square cakes.  Eat one, freeze one for later.
For the cake:
½ cup butter, at room temperature
1 cup sugar
2 large eggs
2 teaspoon vanilla extract
1 tablespoon grated orange zest, OR ½ teaspoon orange extract
2 cups all-purpose flour
1 teaspoon baking powder
1 teaspoon baking soda
½ teaspoon salt
1 cup sour cream (or sour milk or yogurt)
2 ½ ups whole fresh cranberries (or frozen, defrosted)
For the streusel topping:
¾ cup brown sugar (or ¾ cup white sugar with a little less than 1 tablespoon molasses)
½ cup all-purpose flour
2 teaspoons ground cinnamon
4 tablespoons butter
½ cup walnuts, coarsely chopped
Preheat oven to 350 degrees. Butter and lightly flour a 9" x 13" pan or two 9" square pans.
Prepare the coffee cake: Using an electric mixer, cream the butter and the sugar together until light and fluffy. Beat in the eggs, one at a time, then the vanilla and the orange rind (or orange extract).
Mix the flour, baking powder, soda and salt together. Add the flour mixture to the creamed mixture alternately with the sour cream to make a smooth, thick batter. Spread the batter evenly in the prepared pan(s). Sprinkle the cranberries over the top.
Prepare the topping: Toss the brown sugar (or white sugar and molasses), flour and cinnamon together in a small mixing bowl. Cut in the butter with two knives, a pastry blender, or your fingers until the mixture is crumbly. Stir in the walnuts. Sprinkle the streusel evenly over the cranberries on the coffee cake.
Bake until a cake tester inserted in the center comes out clean, about 45 minutes for the 9" x13" pan, or about 30 minutes for the 9" square pans. Serve warm or at room temperature, cut into squares.
One large cake serves 10 to 12.
Find a recipephany

Recipephanies and comments wanted

Click on the link with the number of responses (next to the date above a post) to leave a comment.

Now on Twitter!

Recent comments – please click to read

Archives