Trader Faux Rosemary Raisin Crisps, Plus Math Recipephanies
Posted on 15 September 2012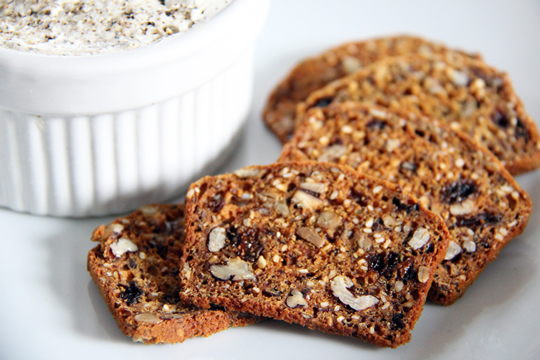 Imagine the Snack Fairy tapping her wand on a piece of plain melba toast. Pecans, seeds, raisins, fragrant rosemary, and a kiss of honey appear, transforming it into an object of desire: Trader Joe's Rosemary Raisin Crisps.
Leave it to a Canadian to reverse engineer a recipephany for a similar cracker called Lesley Stowe's Raincoast Crisps. Her blog, "Dinner with Julie," shows how it is twice baked, like biscotti, but easier. You stir up tiny eggless quick breads, bake and freeze them, and then thinly slice the frozen bread and bake fresh crackers on demand.
The crisps shrink to about 70 percent of their original size, perfect for spreading cheese (see Mock Boursin recipe below) or free-style snacking.
To see if I could substitute four mini-loaf pans for two larger ones, I poured two mini-pans of water into one larger pan and it fit fine.
Some math recipephanies
I'm not a mathematician,
but I use math in my kitchen.
This reminds me of my sister-in-law Chris's recipephany involving her mom's brownies.
"For years I was cutting two half-cup sticks of oleo (now I use butter) at the 1/3 cup marks to get 2/3 cup, because that is what my mom always did," she said. "I was left with two little nubs, which I always just stuck into the butter dish. One day it occurred to me, 'Wait a second. One cup is 3/3. I should just cut 1/3 cup off of 1 stick and that would leave me with 2/3 cup!' One much handier piece of the stick of butter was left over. Not a biggie, but I laughed so hard! It changed my life."
I admit, dealing with thirds can be tricky. I recently made 2/3 of a recipe, and everything divided easily until I got to the ½ cup of milk. Then it struck me that 2/3 x ½ is the same as ½ x 2/3, which is 1/3. Very tidy.
My husband's aunt, a spectacular baker and cook in the finest Italian tradition, recently told me how she used math to finagle a favorite recipe out of her mother.
She said, "My mother made wonderful pannetone, but she couldn't tell me the recipe because she didn't know the proportions. 'You just have to get the feel of it,' she said. I replied, 'That's fine for you, but that won't work for me.' So I measured out each of the ingredients, making sure to put out more than my mother would use. When she was done, I measured what was left over. That told me exactly what she used and I finally had the recipe."
A note about the crisps: With my first batch, the raisins fell to the bottom. To avoid this, thanks to Leah's excellent advice below, I chopped and tossed them with flour before adding them to the batter. It scattered them beautifully.
Rosemary Raisin Pecan Crisps
2 cups flour
2 tesapoons baking soda
1/2 teaspoon salt
2 cups buttermilk (or 2 tablespoons white vinegar and enough milk to make 2 cups)
1/4 cup brown sugar (or 1/4 cup white sugar plus a dash molasses)
1/4 cup honey
1 cup raisins, chopped (dust with flour)
1/2 cup chopped pecans
1/4 cup roasted sunflower seeds
1/4 cup sesame seeds
1/4 cup flax seed, ground
1 tablespoon chopped fresh rosemary
Preheat oven to 350°.
In a large bowl, stir together the flour, baking soda and salt. Add buttermilk, sugar, molasses and honey and stir a few strokes. Add the raisins, pecans, sunflower seeds, sesame seeds, flax seed and rosemary and stir just until blended.
Pour the batter into two 8"x 4" greased loaf pans or four mini-loaf pans (5-3/4" by 3-1/4" by 2-1/4"). Bake about 35 minutes for larger loaves, about 25 minutes for the smaller loaves, until golden and springy to the touch. Remove from the pans and cool on a wire rack.
The colder the bread, the easier it is to slice really thin. (I store the loaves in the freezer until needed.) Slice the frozen or cold loaf as thinly as you can and place slices in a single layer on an ungreased cookie sheet. Bake at 300° for about 15 minutes, then flip slices over and bake another 10 minutes, until dry, crisp and golden brown. Makes about 8 or 9 dozen crackers.
Mock Boursin
Beat together:
8 ounces cream cheese, softened
3 tablespoons butter, softened
¼ teaspoon of each (dried): basil, marjoram, dill weed, thyme
½ teaspoon dried oregano
¼ teaspoon coarsely ground pepper
garlic to taste
Spoon into custard cups, and grind black pepper on top to garnish. Cover and chill. This freezes well.
Find a recipephany

Recipephanies and comments wanted

Click on the link with the number of responses (next to the date above a post) to leave a comment.

Now on Twitter!

Recent comments – please click to read

Archives