Lemon Buttermilk Poppy Seed Cakes, and the Poppy Seed Predicament
Posted on 20 May 2013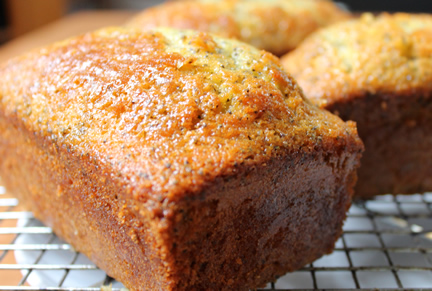 Poppy seeds and lemon adore each other, and prove it in these lovely mini loaves. You can feel the sparks fly in your mouth, with the teeny pop of the seeds and the puckery citrus. Tangy buttermilk, the one-two punch of lemon in the cake and the syrup, and the delicately nutty seeds create a sunny cake to boost your mood any time of day. Wrap a petite loaf in clear plastic, tie it up with some raffia, and it makes a luxuriously delicious gift.
This recipephany, though, also has to do with how I solved the Poppy Seed Predicament. I'm not talking about how a slice of this will make you flunk a drug test for, say, two days after you eat it. No, the predicament is how to keep poppy seeds on hand all the time, since they go rancid so quickly. Who would think that these little steely balls would be so temperamental? They are mostly oil, which apparently makes them unstable. This spells disaster for people like me who buy them in bulk and then need to toss them out in bulk.
The solution? The trusty Kenmore freezer. Freezing keeps seeds fresh-tasting indefinitely, ready for any baking or cooking whim. No need to defrost before using.
So pop the seeds in the freezer and get baking.
Lemon Buttermilk Poppy Seed Cakes
½ cup margarine or butter, at room temperature
1 cup sugar
3 eggs
2 teaspoons lemon extract
Grated rind of 1 lemon
¼ cup poppy seeds
2 cups flour
1 cup buttermilk (or buttermilk powder and water)
1 ½ teaspoons baking powder
½ teaspoon baking soda
Pinch of salt
Preheat oven to 350 degrees. Grease three 6 x 3 x 2 inch loaf pans, dust them with flour, and tap out excess.
Using a mixer, cream butter and sugar 2 minutes or until light and fluffy. Add eggs one by one, beating well after each addition. Beat in lemon extract, lemon rind, and poppy seeds.
Add 1 cup of flour to the batter and beat well. Add buttermilk (or buttermilk powder and water), baking powder, baking soda, and salt. Beat in the remaining 1 cup of flour until the batter is just mixed.
Divide the mixture among the three pans and bake about 35 minutes, or until a tester inserted into the center comes out clean.
Make the syrup.
Syrup
½ cup sugar
½ cup lemon juice
Splash of Triple Sec, or other orange-flavored liqueur
In a small saucepan, combine the sugar and lemon juice and warm them, stirring, just until the sugar dissolves. Remove from heat and add Triple Sec.
When the cakes are done, leave them in the pans and place the pans on a rack. With a cake tester or toothpick, poke holes all over the tops of the cakes. Brush tops with half the syrup and let them cool for 15 minutes.
Turn the cakes out upside down onto a wire rack and set it over a plate. Brush the bottoms with the remaining syrup and let them cool another 10 minutes. Turn the cakes right side up to cool completely.
Wrap individually. These keep at room temperature a few days, and freeze well.
Adapted from the Boston Globe, Sheryl Julian and Julie Riven
Find a recipephany

Recipephanies and comments wanted

Click on the link with the number of responses (next to the date above a post) to leave a comment.

Now on Twitter!

Recent comments – please click to read

Archives