Last Gasp of Summer: Blueberry Whole-Wheat Scones
Posted on 07 September 2015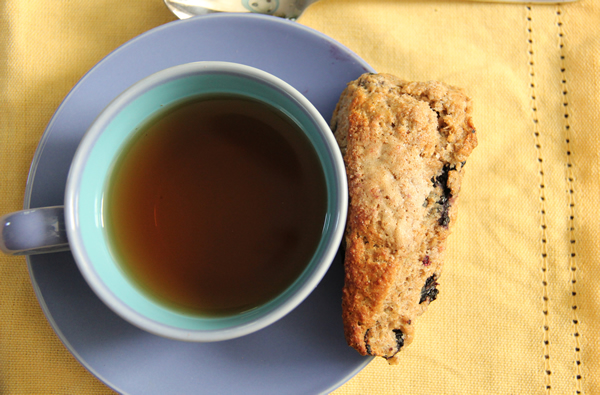 As part of September denial, I've been manically buying up fresh blueberries. The season is fast slipping away, and before you know it, blueberries will cost a dime apiece again.
I've been making these sunny whole-grain blueberry scones for the past two weeks. They're buttery, pastry-like and tender, with tangy berries that melt on the tongue and make me wonder what I ever saw in chewy raisins.
While this is an amalgam of recipes, it is mostly a repurposing of Liz's Whole-Wheat Oatmeal Buttermilk Blueberry Pancake recipephany. I've borrowed the key ingredients, the spices, and the technique of soaking oats in buttermilk to create a sweet mush without any hint of roughage (or as my friend Pam used to say, "rubbish").
This recipephany features a method for cutting fat into flour that I just learned from Allrecipes. Usually I rub chilled butter or shortening into the dry ingredients with my fingers (I've never bothered with a pastry blender). Or, I'll pulse it in the food processor. Instead, for the scones I use a common gadget that has probably inspired many clever kitchen tips: a box grater. I grate a frozen stick of butter right over the bowl. It's more work, but does a nice job of creating tiny uniform butter curls for a perfect texture. And since I store my butter in the freezer, I don't have to think ahead to thaw it.
Soon Cortand apples will take over my fridge. Until then, summer's still in full swing.
Blueberry Whole-Wheat Scones

1¼ cup buttermilk (some will be used for soaking oats, a tiny bit for the glaze)
½ cup quick oats
2 cups whole wheat flour
1½  teaspoons baking powder
¾ teaspoon salt
½ teaspoon baking soda
½ teaspoon ground cinnamon
¼ teaspoon ground nutmeg
¼ cup sugar
½ cup frozen butter
1 teaspoon vanilla
1 cup blueberries
Sugar to sprinkle on top
Preheat oven to 425 degrees. Line a baking sheet with parchment paper.
Soak ½ cup quick oats in ½ cup buttermilk for about as long as it takes to do the rest of the steps.
Whisk flour, baking powder, salt, soda, cinnamon, nutmeg and sugar in a large bowl.
Grate a frozen stick of butter right into the bowl using a cheese grater. Add blueberries and toss. Add buttermilk/oat mixture, vanilla, and almost the rest of the buttermilk (save just a little for glaze). Stir until dough is just moistened.
Knead briefly until the dough comes together. Pat into about a 1½-inch thick rectangle. Cut into 4 equal rectangles, then cut each rectangle diagonally into three triangles. Transfer scones onto baking sheet. Brush tops with a little buttermilk, then sprinkle with sugar.
Bake until well browned and blueberry juices bubble, about 18-25 minutes. Cool before serving.
Find a recipephany

Recipephanies and comments wanted

Click on the link with the number of responses (next to the date above a post) to leave a comment.

Now on Twitter!

Recent comments – please click to read

Archives