Double Chocolate Sorbet (Without an Ice Cream Machine)
Posted on 18 July 2015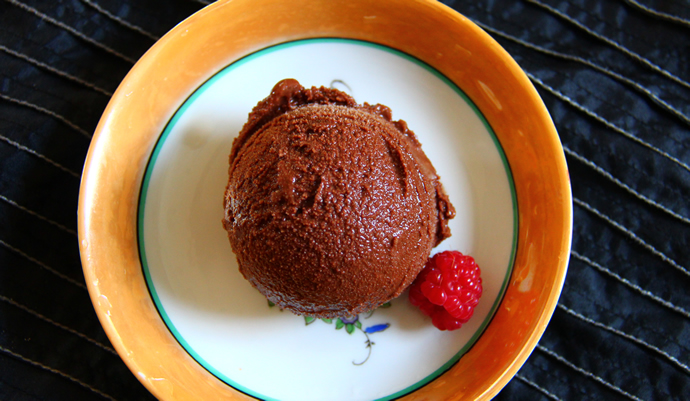 I've been itching to make rapturously fudgy sorbet ever since our friends Adam and Pam served it on their porch four years ago.
But who's kidding whom? I don't have a modern ice cream machine, and I'm not about to get one. That's because my husband lives by Newton's Third Law of Stuff: For every impulse to buy something, there must be an equal and opposite impetus to get rid of something. Every new kitchen gadget kicks out an old one.
I recite this mantra for self-control, especially when fantasizing over the King Arthur Flour Kitchen Porn Catalog. Ah, that perky little Cuisinart ice cream machine would be my passport to homemade sorbet. But do I really need this single-purpose appliance?
Searching for an alternative, I ran across a comment on some blog. In essence it said, "Dude, just use ice cube trays and a food processor."
The ice cube tray, an endangered gadget since the advent of the automatic icemaker, is a necessary kitchen tool. I cube chicken broth, pesto, fruit juice, egg whites, wine, and more, and then zip cubes into freezer bags. As for my food processor, I use it so much I burnt out a motor. I already use it to whip up fake ice cream using frozen banana, cocoa and vanilla.
I'm not sure why the revelation of pairing these two tools to make sorbet blindsided me. After all, the ice cream machine predates both the food processor and the freezer. Sure, churning during freezing avoids ice crystals. But why not just process the hell out of ice crystals instead? Are we talking disruptive technology here?
Yes, and this recipephany proves it. You can make smooth, intense chocolate sorbet with little effort and few ingredients. The cubes freeze fast, and (according to Serious Eats) fast freezing inhibits ice crystal formation.
There's only one caveat. Since the melted chocolate mixture is watery, when you pour it into the ice cube trays it can splash like a preschooler in a kiddie pool. To avoid brown pinpoint polka dots on your clothes (I know, I should use an apron), transfer the mixture to a bowl with a spout and then pour it into the trays. Also, a rimmed cookie sheet under the ice cube trays helps keep drips under control.
This recipe fills more than two plastic ice cube trays. I use a small plastic container to handle the rest. So the next kitchen tool I get might be another ice cube tray, probably from Goodwill. I just have to figure out what I'll take over there in return. Maybe an apron.
Double Chocolate Sorbet (Without an Ice Cream Machine)
1 cup sugar
2/3 cup cocoa
Pinch of salt
½ teaspoon instant coffee (or to taste, optional)
1/2 cup semisweet chocolate chips (I mix Hershey's Special Dark with regular)
2 1/4 cups water
3 teaspoons vanilla
Mix sugar, cocoa, salt, instant coffee, chocolate chips and water in a saucepan.
Slowly bring the mixture to a boil over medium heat, stirring to thoroughly dissolve chips. Do not overcook. Remove from heat.
Add vanilla and stir. Pour carefully into three ice cube trays (or two trays and a small plastic container). Freeze for three hours, or until solid.
Use a fork to stab the edge of each frozen cube and slide it into the food processor. (This avoids turning over the ice cube tray, which can create a mess.) Whir until smooth. Spoon into a quart container and freeze until firm. You can stir it up from time to time if you want to aerate a little more.
Find a recipephany

Recipephanies and comments wanted

Click on the link with the number of responses (next to the date above a post) to leave a comment.

Now on Twitter!

Recent comments – please click to read

Archives