Ma-Po's Bean Curd from Pei Mei
Posted on 15 June 2015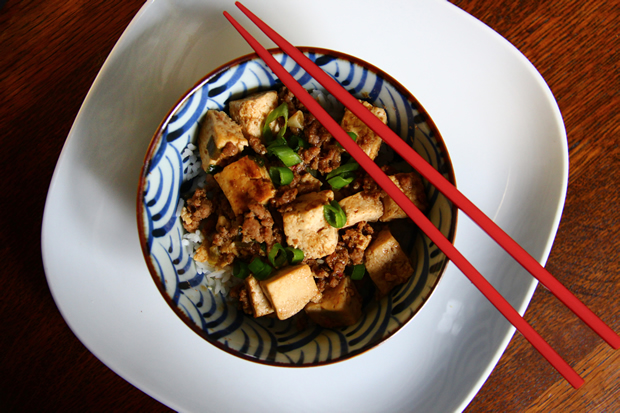 In the 90s sitcom Frasier, the sardonic Niles winces when he meets his first hatchback. "Well, there's a novel idea," he says. "Name the car after its most hideous feature."
I winced, too, when I found out "Ma-Po" means "pockmarked grandmother." It refers to the Sichuan woman who first tossed tofu with ground meat in a spicy bean sauce more than a century ago. Was she feisty? Did she like to wear red? We'll never know because some dunderhead immortalized this gifted chef and her luscious creation by her most unpleasant feature. (We might think the name sounds cute because it includes "Ma," but actually "Ma" is the part that means "pockmarked.")
Brody's Second Law of Marketing states that if you can't name it, you can't sell it. Ma-Po Bean Curd, even with the flawed name, proves it by finding its way into Top 10 lists of favorite Chinese dishes all around the world.
And with this recipephany, you can make an authentic version at home in no time and with only a few ingredients.
Pei Mei's Chinese Cook Book
Fu Pei Mei, the Julia Child of China, was the country's first famous cookbook author. She started a TV cooking show in Taiwan in 1962, and remained China's top celebrity chef until her death in 2004. This recipe comes from her groundbreaking Pei Mei's Chinese Cook Book, published in 1969 in Taiwan and later expanded into a coveted three-volume series.
Pei Mei's book screams authenticity because each recipe appears on opposing pages in Chinese and in English. Besides assuring you that she hasn't dumbed it down for Americans, this format limits each concise recipe to one airy page. It's clear, easy-to-follow, and all business.
In some ways Pei Mei's book is like Niles's hatchback. It is humble and utilitarian. It looks like it was typeset with a Olivetti and rubber stamps, and there are endearing typos throughout. Color plates are right out of a Chinatown menu. Black-and-white snapshots of the author in various settings look like grainy old newspaper clippings.
Like many Chinese-made toys and gadgets from my childhood, this book was not built to last. I bought what I suspect may be a first edition in a short-lived Asian market in Brookline Village about 20 years ago. It would probably be worth a lot if the spine hadn't prematurely disintegrated and the pages weren't turning browner than stir-fried tofu.
Authentic, with asterisks
My Chinese friend Angela ruled Pei Mei's recipe authentic. She was quick to remind me, though, that the Chinese don't generally follow cookbooks. They start with a list of ingredients, then learn to make a dish by watching over the shoulder of a friend or relative.
But let me be the friend to show you how to make this. Pei Mei has kept the ingredients and the procedure simple. Adjust all the seasonings and sauces to your taste. Add more tofu. You can't go wrong.
I confess I have never used the brown peppercorn powder. It supposedly creates a numbing sensation that I don't miss. Let me know if you try it.
Of course, this isn't exactly Pei Mei's recipe. I've altered quantities and substituted the more convenient bouillon for soup stock. I've added turkey as an alternative to the traditional pork or beef because it is light and soaks up the flavors well. I have also suggested Thai hot sauce and hoisin sauce to taste. Neither Ma-Po nor Pei Mei would have done any of that. So just call me "Ma-Bad."
Ma-Po's Bean Curd
Adapted from Pei Mei's Chinese Cook Book
1-2 pounds bean curd

1 tablespoon oil

1 pound ground turkey (or pork or beef)

1 teaspoon garlic, minced

2 tablespoons hot bean paste*

3 tablespoons soy sauce

2 cups chicken bouillon

Salt

1 teaspoon brown peppercorn powder

Dash of hoisin sauce**

1 tablespoon cornstarch in 2 tablespoons cold water to make a slurry (adjust amount of paste as desired)

4 scallions, chopped

1 teaspoon sesame oil
Cut bean curd into ½ inch cubes. Put in wok, cover with water, bring to a boil and boil for about 30 seconds.

Remove from heat. Dr

ain and set aside bean curd.
Heat oil in the wok, add ground meat and fry well. Add garlic, hot bean paste (or sauce and chili paste to taste), soy sauce, bouillon, and bean curd. Boil 3 minutes.
Adjust seasonings. Add salt if needed, Add hoisin sauce to sweeten, if desired. Thicken with cornstarch slurry, then sprinkle with chopped scallions and sesame oil before serving.
* I often substitute regular bean paste or bean sauce and add Sambal Oelek chili paste for heat.
** My suggestion. Hoisin sauce is Cantonese, and Pei Mei would never have suggested it for a Sichuan dish.
Find a recipephany

Recipephanies and comments wanted

Click on the link with the number of responses (next to the date above a post) to leave a comment.

Now on Twitter!

Recent comments – please click to read

Archives