A: This tasty "vinaigrette" has no vinegar and less oil. Q: What is lemon vinaigrette?
Posted on 22 April 2010
This post's title reads a little like something from the TV show Jeopardy in honor of our guest blogger, Leah Greenwald. As if her accomplishments as an architect and mother of triplets aren't enough, Leah is also a five-time Jeopardy champion.
Leah has great kitchen advice – both for designing kitchens and cooking in them. (Her magnificent cakes and cookies look like they're on loan from the MFA.) So when she sent me this recipephany I couldn't wait to try it.
As someone who buys vinegar by the gallon, I had trouble grasping the concept of substituting precious fresh lemon juice for vinegar. But as a lemon lover, I agree it's worth it. And I'm thrilled to do away with much of the oil typical of vinaigrettes. Tart without the harshness of vinegar, and still with plenty of olive oil taste, this dressing almost makes the greens toss themselves with delight.
Here's what Leah wrote:

"This recipe is a transmuted version of one from Nora Ephron. Ephron's attitude toward cooking is somewhat similar to mine: unfussy, practical, a reliance on simple ingredients.  She used lemon juice rather than vinegar, which inspired me to make this salad dressing I call 'vinaigrette,' even though it has no vinegar.  But most important, she added a little sugar. The little bit doesn't add many calories compared with the oil, but it allows me to use so much less oil than the standard recipe. Most recipes call for twice as much oil as vinegar or lemon juice, while I just use equal amounts.  That was my recipephany — a little sugar meant the oil could be reduced by half.
"Don't add too much sugar, though. Just add it taste, taking the edge of too-much-sourness out without making it detectably sweet, or, as my kids used to prefer it, it can be something approaching oily lemonade.
"Also, what brought this to mind was that this evening I was looking at a recipe for vinaigrette from a recent Cook's Illustrated which calls for a 1/2 teaspoon of bottled mayo to be added to the mix to facilitate emulsion.  That puts all the additives from the mayo into your fresh salad dressing, which I think is a pity.  Anyway, if you use a bottle or jar, shaking it well emulsifies it plenty.  Just shake and add the dressing only when you're about to serve the salad.
Lemon "Vinaigrette"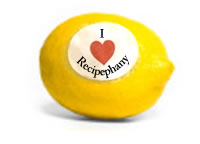 fresh lemon juice
olive oil (1:1 ratio with lemon juice)
salt (about 1/4 teaspoon per lemon)
pepper (about 1/8 teaspoon per lemon)
sugar  (about 3/4 teaspoon per lemon or to taste)
"I take a wide-mouthed jar, wide enough to balance a small strainer on the rim that fits within the jar, and I squeeze one or more fresh lemons over the strainer so that the juice goes into the jar and the strainer catches the pulp and seed. After squeezing, I press with a teaspoon to make sure all the liquid has gone into the jar and only seeds remain in the strainer.  Then I remove the strainer and add what is visually an equal amount of olive oil.  For example, if there is 1/2″ of lemon juice in the jar, I add enough olive oil to double the height so that the total jar contents come to 1″ high. Then I add salt, pepper, and sugar "to taste"– a useless instruction. But unfortunately, lemons vary in size and juice yield, so I have suggested the guidelines in the recipe.
"Screw on the jar lid, shake up the contents well, and try it with a lettuce leaf or a cherry tomato or whatever you may have at hand, and then add any further seasoning you see fit. (I admit, it's too late to subtract.)
"I usually make about four lemons' worth of this at a time, and when it's nicely shaken up I funnel it into a repurposed Newman's salad dressing bottle, which is a better shape for pouring judiciously than a wide-mouthed jar.  It keeps perfectly well in the refrigerator for weeks, so I only make the dressing once every three or four times I make salad.
"This dressing goes well on these two salads I make often:
Lemony Spring Greens With Orange
spring greens
sliced navel or blood oranges
a bit of chopped red onion
Lemony Baby Romaine With Pears
baby romaine
sliced pears
slivered almonds
avocado (optional)
"A lemon-squeezing tip: if you microplane off the zest of a lemon for whatever reason (cookie dough?  poundcake? Gremolata*? iced tea?), a lemon is much easier to squeeze for extraction of maximum juice.  If you have nothing else to do with it, you can see if you like adding some zest to the salad dressing."
*Gremolata (or gremolada) is a chopped herb condiment typically made of garlic, parsley, and lemon zest. It is a traditional accompaniment to the Italian braised veal shank dish, "Ossobuco alla milanese." Although it is a common accompaniment to veal, the citrus element in gremolata makes it an appropriate addition to seafood dishes. (Wikipedia)
Find a recipephany

Recipephanies and comments wanted

Click on the link with the number of responses (next to the date above a post) to leave a comment.

Now on Twitter!

Recent comments – please click to read

Archives