Pi Day 2015: 10 Digits of Pi
Posted on 10 March 2015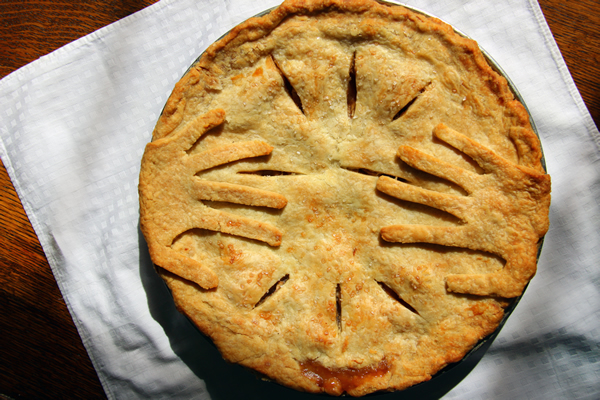 We'll celebrate Pi Day on 3.14.15 at 9:26:53. My mathematics-major husband suggested this 10-digit representation to celebrate this rare occasion.
The apple pie is made of Cortlands from the half-bushel we picked in September. When we got back from the orchard, I peeled and sliced apples, tossed them in a bowl with spices and filling ingredients, double bagged them in one-pie portions, then labeled and stored them in the freezer. I defrosted a bag overnight in the refrigerator, then made this farm-fresh pie in no time with my own 10 little digits.
Apple Pie Filling (fresh or frozen)
6 or 7 Cortland or other baking apples, peeled, cored and sliced
2/3 cups sugar
1 tablespoon cornstarch
¼ teaspoon nutmeg
1/8 teaspoon mace
½ teaspoon cinnamon
2 teaspoons lemon juice
½ teaspoon salt
Pastry for two-crust pie, either Orange Juice Pastry or Edith's Flaky Pie Crust
1. Mix all filling ingredients in a bowl. Use immediately, or store in a food bag in the freezer for up to a year. For frozen filling, defrost in the refrigerator before use.
2. Roll out pastry dough and line a 9-inch pie pan. Rub bottom crust with butter or margarine. Pour in filling. Dab with butter before putting on the top crust.
3. Trim and crimp. Brush milk or cream on the top crust, avoiding crimped edges as they get dark anyway. Sprinkle lightly with sugar. Cut slits or poke top with fork to release the steam.
4. Place pie on a cookie sheet on a rack in the top third of the oven. Bake for 10 minutes at 425°. Lower heat to 375° and bake about 40 minutes, or until pie is golden brown and bubbly inside. Serve hot or at room temperature.
Find a recipephany

Recipephanies and comments wanted

Click on the link with the number of responses (next to the date above a post) to leave a comment.

Now on Twitter!

Recent comments – please click to read

Archives