Matt Murphy's Irish Brown Bread
Posted on 16 March 2016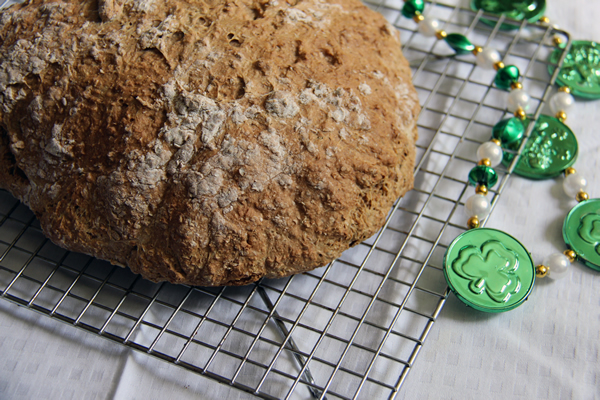 If you're looking for Irish Soda Bread—the slightly sweet scone-like raisin bread that is as much a part of St. Patrick's Day as green beer—sorry, this isn't it.
This recipephany is for authentic Irish Brown Bread, the hearty whole-grain soda bread served on cutting boards alongside a crock of butter or ragged slices of cheddar.
Well, at least at Matt Murphy's Pub.
Everyone in Ireland makes Irish Brown Bread. It's a kind of national institution. I wish I could say I brought this recipe back from our trip there a couple of years ago. I had made it my mission to track down the best recipe. One woman rattled off the recipe from her mother-in-law from Kilkenny, a "good cook of plain food" who had 13 children but lost five. The bartender in Dublin told me he just follows a recipe from the back of a bag of Odlums coarse wholemeal flour.
Everybody I talked with agreed that Irish wholemeal flour is mandatory, so I smugggled home some Odlums Wholemeal Extra Coarse in my carry-on. Maybe bad metric conversions threw off the delicate balance of acids and bases and whatnot. All the recipes I tried left me with tough, dry, joyless loaves.
As the cliché goes, I traveled the world to find true love in my own backyard. I returned to Matt Murphy's recipe clipped from The Boston Globe many years ago. Matt Murphy was the chef, original owner, and namesake of our illustrious neighborhood pub. I once saw Christopher Kimball of Cook's Illustrated and America's Test Kitchen lunch there alone—just him and his bow tie—a tribute to the wholesomeness and quality of the food.
This makes a loaf somewhat like dense rye bread, with a slight chewiness and buttermilk tang. It is simpler than the recipes I got in Ireland. And any whole-wheat flour works like a lucky charm.
Matt Murphy's Irish Brown Soda Bread
(From the The Boston Globe, March 12, 2008, Keri Fisher and Matty Murphy)
Work quickly when putting this together, trying not to handle the dough too long or too firmly. Be as gentle as possible; never use a mixer.
1½ cups all-purpose flour
1½ cups whole-wheat flour
1 cup wheat bran
1½ teaspoons salt
1½ teaspoons baking soda
2 1/3 cups buttermilk (I use Saco cultured buttermilk powder and water)
Extra all-purpose flour (for sprinkling)
1. Set the oven at 375 degrees. Lightly flour a baking sheet.
2. In a bowl, combine the all-purpose and whole-wheat flours with the bran, salt, and baking soda. Stir well with a wooden spoon.
3. Add the buttermilk and stir gently until just combined; the mixture will be sticky.
4. Turn the dough out onto a lightly floured counter and very gently shape it into a disk. Lift the dough and carefully bend the sides of the dough back, causing the top of the disk to break open and look craggy. Set it on the baking sheet.
5. Using a serrated knife, carefully cut an "X" in the top of the loaf, cutting down about 1/2 inch. Sprinkle the top of the dough with flour.
6. Transfer to the oven and bake the bread 40 to 45 minutes or until it is brown and the bread sounds hollow when rapped on the bottom with your knuckles.
7. Cool the bread on a wire rack for 10 minutes before serving.
Find a recipephany

Recipephanies and comments wanted

Click on the link with the number of responses (next to the date above a post) to leave a comment.

Now on Twitter!

Recent comments – please click to read

Archives