Microwave Potato Chips
Posted on 23 July 2016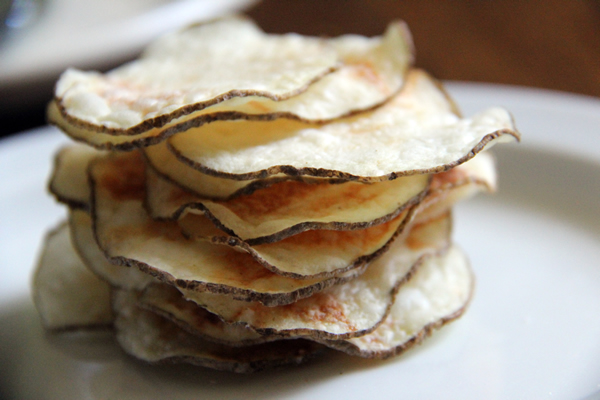 My microwave is an indispensible sous chef. It melts and tempers chocolate, parcooks root veggies on their way to the roasting pan, sweats onions in a pinch, and dries and toasts old bread for nearly instant bread crumbs.
Wait a minute—toasting? While we think of the microwave for reheating, melting, and steaming, it can also dehydrate and bake like the Sahara. You have to watch it, though. It doesn't take long to turn light brown perfection into black, smoking carbon.
The potato chip is such a perfect microwave snack there should be a button for it next to "popcorn." Better than the greasy chips from a bag, they are crispy yet ethereal hits of pure potato. You can bake them light in color or a little dark for deeper flavor. Sweet potatoes work equally well.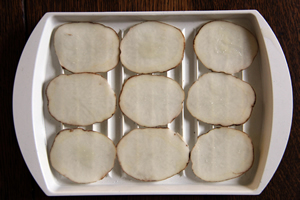 This recipephany calls for a couple of gadgets: a microwave bacon cooking rack (I got mine at Stop and Shop for about $7), and a mandoline (thanks to my sister-in-law, Chris). The mandoline slices the potatoes paper-thin—or, well, as thin as 100# cover stock. The thinner they are, the faster they bake. And the sooner you can be crunching on this tasty, low-fat treat.
Microwave Potato Chips
2 russet potatoes, unpeeled
1 teaspoon salted butter, melted
Sour salt (citric acid) to taste, stirred into melted butter (optional)
Kosher salt for sprinkling
Wash potatoes and dry thoroughly. Slice paper-thin and lay out on paper towels. Cover with paper towels and press out moisture.
Place slices on microwave rack. Do not overlap. Brush on a dab of butter or butter/sour salt mixture onto each slice. Sprinkle lightly with kosher salt.
Microwave for 2-4 minutes, depending on your machine. Check frequently at first to determine the proper baking time. If you can bend them, they need more time.
Find a recipephany

Recipephanies and comments wanted

Click on the link with the number of responses (next to the date above a post) to leave a comment.

Now on Twitter!

Recent comments – please click to read

Archives