World Peace, or Giant Meteor '16, Cookies
Posted on 31 August 2016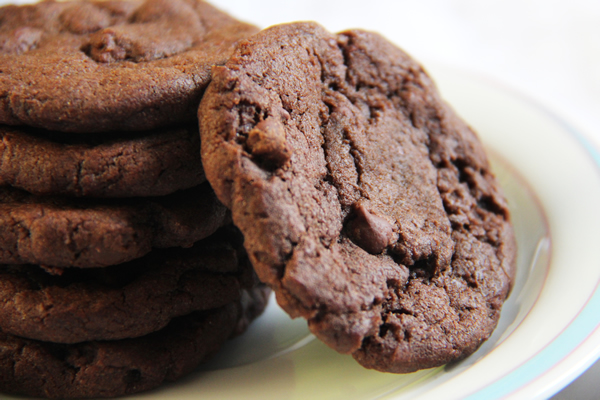 Cookbook author Dorie Greenspan got this recipephany for intense double-chocolate cookies from Parisian pastry chef Pierre Hermé. When she published it in Paris Sweets, she called them "Korova Cookies." Then her neighbor suggested "World Peace Cookies." Smart move. This takes Brody's Second Law of Marketing one step further: If you can name it better, you can sell it better.
These are so luxuriously chocolatey, they could make people momentarily forget their hostilities. I'd be happy if they could just get us through the election season with a crumb of domestic harmony. Toward that end, I'm rebranding them "Giant Meteor '16 Cookies," after the cheeky alternative that's growing in popularity in the polls.
Eat them gooey out of the oven, delicate at room temperature, or (on a hot day) with a little extra tooth right from the freezer. They can give us a brief respite from the election without actually blasting us to kingdom come.
World Peace, or Giant Meteor '16, Cookies
(adapted from Dorie Greenspan's recipe)
1 1/4 cups all-purpose flour
1/3 cup unsweetened cocoa powder
1/2 teaspoon baking soda
1 stick plus 3 tablespoons (11 tablespoons)  butter, at room temperature
7/8 cup sugar
1 tablespoon molasses
1/4 teaspoon salt
2 teaspoons vanilla
3/4 cup mini chocolate chips
Makes about 36 cookies.
1. Combine flour, cocoa and baking soda in a bowl or on wax paper.
2. Beat butter until soft and creamy. Add sugar, molasses, salt and vanilla. Beat 2 minutes more.
3. Add dry ingredients, stirring to lightly combine. Then mix on low speed about 30 seconds, just until all flour is incorporated. Stir in chocolate chips, being careful not to overwork the dough.
4. Divide dough in half. Shape each half into a log 1 1/2 inches in diameter and wrap each log in plastic wrap. (Tip: Slide each wrapped log into a paper towel tube to keep it from flattening out.) Refrigerate at least 3 hours. (Refrigerate dough up to 3 days, or freeze it up to 2 months. You can slice and bake frozen logs without defrosting. Just add an extra minute to baking time.)
5. To bake, preheat oven to 325 degrees F. Line two baking sheets with parchment paper.
6. Slice logs about 1/2 inch thick. If they crack, just shape them back together. Arrange the slices on the baking sheets about 1 inch apart.
7. Bake about 12 minutes. They should not have firmed up, and should still look underdone. Slide the parchment paper and cookies onto a cooling rack. Serve cookies either slightly warm or at room temperature. Or, freeze the baked cookies and eat them either defrosted or still frozen.
Find a recipephany

Recipephanies and comments wanted

Click on the link with the number of responses (next to the date above a post) to leave a comment.

Now on Twitter!

Recent comments – please click to read

Archives