Recipephany #1: Little Snackers Peanut Butter Cookies
Posted on 08 October 2016
My mom, of Olympic Seoul Chicken fame, just turned 100. For most of my childhood, she shooed me out of the kitchen when she cooked, distracted when I was underfoot. Little Snackers is the first—and I think only—thing she ever let me bake by myself.
Just the thought of Little Snackers sends me tumbling down the laundry chute of nostalgia. Here I go again, back in the kitchen with my mom in her yellow gingham apron, a jar of Skippy, and my thumb squishing the centers of little dough balls.
This is my poodle skirt of recipes. Around the time I began baking these, my mom made me a charcoal gray poodle skirt with a red dog-collar accent. I proudly wore it until there was no more seam to let out and we had to give it away. But unlike the skirt, I never outgrew this recipe.
Little Snackers are short and crumbly. Pop one into your mouth and the roasted sweet/salty nuttiness melts through the tart jam. Despite the name, they aren't just for kids, and would be right at home on a Christmas cookie tray.
Thank you, Carol Drake
A classic thumbprint cookie designed to delight young baby boomers, it shouts Happy Homemaker. My mom clipped this recipe in the early 50s from an ad for Safeway stores. It came from the recipe box of Carol Drake, the Betty Crocker of Safeway. According to a 1946 news release, Safeway created the name and personality of Carol Drake "to stamp her as an authority on all the things which a housewife wants to know in her job as a homemaker." Thank you, Carol, and thank you, Mom, for my first recipephany.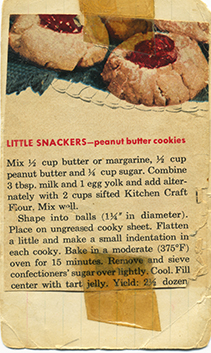 Little Snackers—Peanut Butter Cookies
Mix ¼ cup butter or margarine, ½ cup peanut butter and ¼ cup sugar. Combine 3 tablespoons milk and 1 egg yolk and add alternately with 2 cups sifted Kitchen Craft Flour*. Mix well.
Shape into balls (1¼" in diameter). Place on ungreased cooky sheet. Flatten a little and make a small indentation in each cooky. Bake in a moderate (375°F) oven for 15 minutes. Remove and sieve confectioners' sugar over lightly. Cool. Fill center with tart jelly. Yield: 2½ dozen.
*Safeway's store brand, long gone.
Find a recipephany

Recipephanies and comments wanted

Click on the link with the number of responses (next to the date above a post) to leave a comment.

Now on Twitter!

Recent comments – please click to read

Archives