White Chocolate Fruit Tart (no real chocolate was harmed in the making of this summer treat)
Posted on 04 July 2010
First, the white chocolate disclaimer
I could never understand white chocolate. Red licorice, yes; white chocolate, no. At best, its claim to any chocolateyness is its cocoa butter, and anybody who thinks it tastes like real chocolate belongs in a neuroscience experiment.
As it turns out, Nestlé white baking chips (Premier White Morsels) are total frauds and don't contain any cocoa butter at all. Not that you'd taste the difference, anyway.
But no matter. These smooth imposters shine in this glorious summertime dessert, blending into an ideal substrate for the fruit. And no one's the wiser.
Tasty tart
I would never have tried this if it weren't for our guest blogger, Chris Fogarty, and I'm so glad I did. As a stay-at-home mom for 16 years, Chris approaches cooking and baking with a sense of adventure, and this is one of the gems she has discovered. Thank you, Chris.
Here's what Chris wrote:
"I first made this several years ago for Easter. (I discovered the recipe while flipping through my Taste of Home magazine that I had subscribed to at the time.) It seems like such a nice spring/summer dessert. It was perfect for Easter, really. Everyone absolutely LOVED it, especially my nephew.  Sometimes I never think that young boys pay much attention to things like this, but he was probably about 18 years old at the time, and actually commented on it. I've never forgotten that moment.
"I have made it ever since, because it is so impressive looking and equally as delicious. The last time I made it, it was for a 'girls night' at Janice's (my sister's) many months ago. No one could believe that I made it; and one of the guests actually took a photo of it on her phone to send to her husband! With a caption: Look what Chris made!
"It's one of those desserts that is SO eye appealing, and so delicious. As the Barefoot Contessa always says: 'No one remembers dinner, they ALWAYS remember dessert.'"
White Chocolate Fruit Tart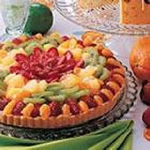 Pastry shell
3/4 cup butter, softened
1/2 cup confectioners' sugar
1 1/2 cups all-purpose flour
Filling
1 (10 ounce) package vanilla or white chips, melted and cooled. (Warning: Chris says melt in a double-boiler, as the chips can easily get ruined. I cautiously used a microwave, zapping a minute at a time, stopping before they were fully melted, and stirring in the hot bowl until they melted the rest of the way.)
1/4 cup heavy whipping cream
1 (8 ounce) package cream cheese, softened
1 (20 ounce) can pineapple chunks, undrained
1 pint fresh strawberries, sliced
1 (11 ounce) can mandarin oranges, drained
2 kiwifruit, peeled and sliced
Glaze
3 tablespoons sugar
2 teaspoons cornstarch
1/2 teaspoon lemon juice
1. For the pastry shell, in a small mixing bowl, cream butter and confectioners' sugar until light and fluffy. Gradually add flour; mix well. Press into an ungreased 11-in. tart pan with removable bottom or 12-in. pizza pan with sides. Bake at 300 degrees F for 25-30 minutes or until lightly browned. Cool on a wire rack.
2. For the filling, in a small mixing bowl, beat melted chips and cream. Add cream cheese and beat until smooth. Spread over pastry. Refrigerate for 30 minutes. Drain pineapple, reserving 1/2 cup juice; set juice aside. Arrange the pineapple, strawberries, oranges and kiwi over filling.
3. For the glaze, in a small saucepan, combine sugar and cornstarch. Stir in lemon juice and reserved pineapple juice until smooth. Bring to a boil over medium heat; cook and stir for 2 minutes or until thickened. Cool; brush over fruit. Refrigerate for 1 hour before serving. Refrigerate leftovers.
My notes:
It's okay to substitute margarine for the butter in the pastry.
For my 9" tart pan, I used all of the pastry ingredients and halved the filling. I also halved the glaze, but added a little lemonade to get it to the right consistency. While I liked the proportions, Chris gently and justly chided me for skimping on the filling. "I would highly recommend getting a bigger tart pan, because the filling is SO yummy," she wrote.
Unfortunately, I couldn't fit all those different fruits onto the tart using my smaller pan, and I added blueberries. I really wish I'd remembered to use the kiwi that is still languishing in my fridge.
Find a recipephany

Recipephanies and comments wanted

Click on the link with the number of responses (next to the date above a post) to leave a comment.

Now on Twitter!

Recent comments – please click to read

Archives