Orange Cake-Pan Cake — more than just a flash in the pan
Posted on 14 October 2010
The "cake-pan cake" could be the Missing Link between pudding and cake. Moist almost to a fault, it has giant, intense flavor. You mix it right in the pan – in a flash. What could be easier?
With no butter, eggs, milk, or sour cream, it gained popularity during the food-rationing Depression Era. It's perfect now for vegans, folks with egg or milk allergies, or for pareve occasions.
The chocolate cake-pan (or three-hole) cake has been kicking around for years. I discovered this citrus variation in the King Arthur Flour 200th Anniversary Cookbook. What a recipephany: freedom from the cholesterol-laden orange bundt poundcake I used to make. Here is a guest-worthy dessert you can slap together, all the while feeling smug about its healthfulness.
Just one teensy issue. It sticks like crazy to the pan. You can slice it in the pan. But I like to take it out. So I either cut wax paper to fit the bottom, or use a pan with a removable bottom. If you use wax paper, grease it so it sticks to the pan bottom. This will keep the batter from getting between the pan and wax paper as you stir.
I still miss the Triple Sec drizzle from my old orange bundt cake. So I added a Triple Sec glaze. The cake is plenty moist — you don't need a glaze. But I love any excuse for Triple Sec.
There is also a maple-nut version. Let me know if you want that, and I can put it up, too.
P.S. My first job out of college was with a PR agency that assigned me the King Arthur Flour account. Thus started my yeast-baking addiction. Funny, King Arthur didn't push its cake recipes, so it was decades later before I discovered this gem.
P.P.S. The King Arthur Flour blog has the recipe for the chocolate version.
Orange Cake-Pan Cake
Adapted from King Arthur Flour 200th Anniversary Cookbook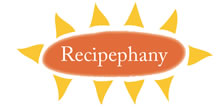 1 ½ cups flour
1 cup sugar (or 2/3 cup honey mixed with wet ingredients)
½ tsp salt
1 tsp baking soda
1 TBS grated orange rind (one orange does it)
2 tsp vanilla
1 TBS vinegar
1/3 cup vegetable oil
1 cup orange juice
Preheat oven to 350 degrees.
Grease an 8 or 9-inch square pan, a 9″ round cake pan, or an 8″ x 2″ round cake pan. If you want to cut the cake in the pan, leave as is. If you want to remove it whole from the pan, line the bottom with greased wax or parchment paper, or use a pan with a removable bottom.
Measure all the dry ingredients into the pan, including the orange rind. Blend them together with a fork and scoop out 3 holes or indentations.
Pour the vanilla into the first hole, the vinegar into the second, and the vegetable oil into the third.
Take the cup of orange juice and pour it directly over everything in the pan. Stir all the ingredients together with your fork until they are well blended. Be sure to pick up all the flour in the edges of the pan.
Bake for 35-40 minutes. (My convection oven takes less time – until the tester comes out clean. As my mother-in-law always said, when you can smell it, it's done.)
Cool completely and glaze.
Triple-Sec Glaze
Mix about ½ cup confectioner's sugar with enough Triple Sec so you can drizzle it over the top of the cake. You can also use orange extract, water, or some orange juice in whatever blend you like. (I use all Triple Sec.)
Find a recipephany

Recipephanies and comments wanted

Click on the link with the number of responses (next to the date above a post) to leave a comment.

Now on Twitter!

Recent comments – please click to read

Archives