Fig Brooklines, Cookie Clusters, and the Possibility of Dark Batter
Posted on 01 May 2012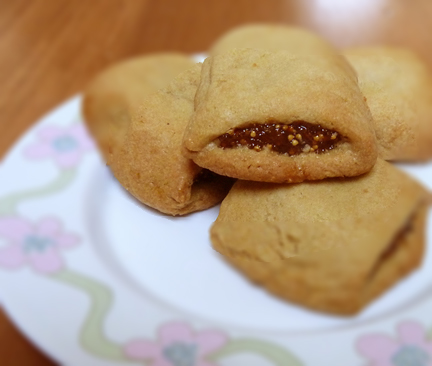 Newtonian physics
I steer away from the cookie aisle, since I prefer to bake, and who knows what's in those processed things? Yet one packaged cookie always draws me in: the Fig Newton. Crunchy little seeds in moist jam, the tender crumb that doesn't crumble—all stacked neatly in a sleeve that suggests how many you could (but shouldn't) eat in one sitting.
What's more, they could have been called Fig Brooklines. The Kennedy Biscuit Works of Cambridge (a founding bakery of Nabisco) introduced them in 1892 using a new funnel-within-a-funnel technology that formed a continuous tube of dough filled with fig jam. Since the bakery named their products after nearby towns, they called this one Newton. But why not Brookline? Maybe the filling reminded them too much of the Muddy River.
Wikipedia says handmade fig rolls similar to Newtons originated in ancient Egypt, but that sounds like a figment of somebody's imagination.
Fig Brooklines
This recipephany makes a cookie that's tastier than a Newton with surprisingly little work. Because you can make the filling and dough the night before, it's easy to assemble and bake them the next day.
During baking, the sliced edges tend to puff up. Other fake Newtons shown online seem to keep their cleanly sliced edges, but I wouldn't mess with these just to make them look more mass-produced.
Cookie clusters
I confess, this recipe is a slight modification of ones I found online. Okay, so it's not highly original. But what is?
According to Michael P. Brenner, professor of applied mathematics at Harvard and expert on the quantitative analysis of baked goods, an original recipe needs to enter uncharted territory.
I learned this last week at his sold-out lecture, "The Science and History of Cookies and Brownies." I went not just because it sounded like a good name for a chick flick, but because I'd been intrigued by his three-dimensional recipe tetrahedron I'd read about in the Boston Globe.
He and some assistants analyzed thousands of recipes, then plotted them according to their ratios of four ingredients: flour, sugar, eggs and liquid. In this baking universe, similar recipes cluster together to form what look like galaxies—there's a brownie galaxy, a sugar cookie galaxy, as well as galaxies for chocolate cakes, angel food cakes, crepes, and so on. This new kind of food pyramid is cute, but it ignores a defining ingredient in desserts—fats. Have you ever tried to make a brownie without fats?
More of a regular dude than a professor, Brenner readily admits he is not a baker. So he also didn't consider things like leavening agents, techniques, and baking temperatures. But he rightly saw cookies and brownies as a fun arena where he could apply kick-ass data analysis and visualization techniques.
Brenner challenged us to explore the white areas of the tetrahedron where there are no plotted recipes. He speculated that there might be totally new concoctions yet to be discovered.
My husband and I came up with another explanation, and posed this question to him: What if there are already baked goods in that white space, but we just can't see them? Could these be called "dark batter"?
I have no idea where these fake Newtons might fit in the cookie universe. Nonetheless, they're stellar.
Fig Brooklines
Fig Filling
1 package dried figs (about 12-14 ounces)
¼ cup sugar
¾ – 1 cup water
2 tablespoons lemon juice
Dough
1/2 cup butter or margarine
1 cup sugar*
1 tablespoon molasses
2 eggs
2 teaspoons vanilla extract
2 1/2 cups flour
½ teaspoon salt
½ teaspoon baking soda
1. Finely chop figs in a food processor (a good job for the Mini-Prep) and put into saucepan. Add sugar, water and lemon juice. Cook over medium heat, stirring, for 10 minutes or until like thick preserves. Add a little more water if it gets too thick. Cool and chill.
2. Beat together butter, sugar, eggs and vanilla until well blended. Combine flour, salt and baking soda and stir into the creamed mixture to form a stiff dough. Wrap dough in plastic wrap, and chill 3 hours or overnight (so it gets easy to roll out without adding much flour).
3. Place dough onto a lightly floured surface. Roll into a rectangle 12 x 14 inches. Cut into 4 long strips, 3 1/2 by 12 inches. Spoon filling down the center of strips. Turn the sides in to cover the filling and seal the edges. Cut each roll into 9 or 10 pieces.
4. Bake seam-side down on cookie sheets at 375° for 10-12 minutes or until firm and lightly browned. Cool on racks. Store airtight. Makes 36 to 40 cookies.
*Can substitute 1 cup brown sugar for the sugar and molasses.
Find a recipephany

Recipephanies and comments wanted

Click on the link with the number of responses (next to the date above a post) to leave a comment.

Now on Twitter!

Recent comments – please click to read

Archives