Olympic Seoul Chicken, or How My Mom Met Frank Perdue
Posted on 07 April 2010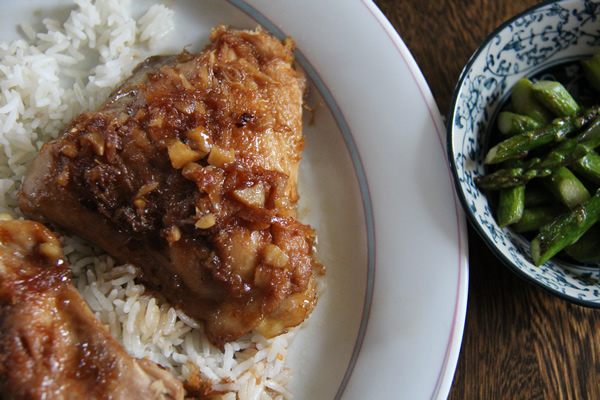 My brother's prize-winning peanut butter and provolone sandwich (see the PS in the last post) stuck in my mind like it stuck to the roof of my mouth. So decades later I started dabbling in cooking contests. Once I entered one of my mom's heirloom recipes with only a minor substitution and it came in third. My mom could have been ticked off. But instead, it stirred up her competitive juices. If her daughter could do well with her recipes, why couldn't she?
Her target: the 1988 Delmarva Chicken Cooking Contest. Her concept: an adaptation of a favorite Asian dish with the name "Saigon" in it.
"I added lots of garlic because garlic was getting popular for its health benefits," she says.
She sparked it with a hot pepper kick, then smoothed it with honey. The sauce got thicker, more pungent. Bone-in chicken thighs, an overlooked choice at the time, made it tender, juicy, and nearly immune to overcooking. She removed the skin so the meat would soak up the marinade, flavoring every bite, and saving us all those fatty calories.
But there was even more to her recipephany. "It was the year of the Seoul Olympics," she says. "So I changed 'Saigon' to 'Seoul' and called it 'Olympic Seoul Chicken,' a play on 'soul chicken.'" My mom, the marketer.
She made finalist. At the cook-off in Delaware, one judge thought her entry so authentic, he asked if she'd been to Korea. "Koreans love garlic," he said. A husband of another finalist predicted she'd win for the name alone.
Delectable and memorable—who could beat it? She won first prize. Frank Perdue, the King à la chicken himself, warmly congratulated her. (According to my dad, his congratulations were maybe a little too warm.)
Featured in cookbooks and on thousands of websites, this faux Korean dish could be the most popular "Seoul" recipe on the Internet. Famous chef and author David Lebovitz praised it on his blog and speculated on its origins. He now links to this post to let everyone know the true story.
It's quick, easy, healthy, and economical. Just make sure you have lots of garlic in the house.
Muriel Brody's First-Prize Winning Olympic Seoul Chicken
I like to double the sauce so it soaks into the rice. The garlic, though, I leave about the same. Feel free to substitute fresh ginger, as suggested by Leah Greenwald below.
8 chicken thighs, skinned
1/4 cup white vinegar
3 tablespoons soy sauce
2 tablespoons honey
1/4 teaspoon ginger
2 tablespoons peanut oil
10 cloves garlic, coarsely chopped
1 teaspoon crushed red pepper (red pepper flakes)
In a small bowl, mix together vinegar, soy sauce, honey, and ginger; set aside. In a large frying pan, heat oil to medium-high. Add chicken and cook, turning, about 10 minutes or until brown on all sides. Add garlic and red pepper; cook, stirring, 2 to 3 minutes. Add vinegar mixture; cover and cook about 15 minutes or until chicken is fork tender. Uncover, cook about 1 to 2 minutes more or until sauce is slightly thick. Serve with rice. Serves 4.
Find a recipephany

Recipephanies and comments wanted

Click on the link with the number of responses (next to the date above a post) to leave a comment.

Now on Twitter!

Recent comments – please click to read

Archives