The basics for this dish came from my baking buddy Joanne Hofmann Sexeny, whom I met during a tour of Christopher Kimball's Milk Street when it was a shiny new enterprise. Joanne has the distinction of being an America's Test Kitchen (ATK) recipe tester, and she authorized me to critique a shrimp and green bean stir-fry recipe under development for Cook's Country Magazine. I gave it a positive review, while noting a few recipe errors. The mistakes were hard to spot and I wondered if ATK had planted them to test their readers.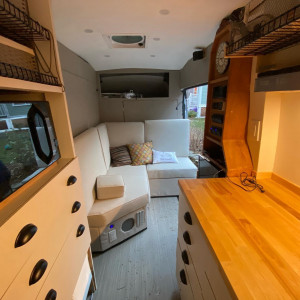 Now four years have passed, and while I haven't seen the final version, I assume they fixed the errors. Meanwhile, we've charged ahead and adapted it into a saucy Asian noodle dish as delectable and fun to eat as Pad Thai.
This recipe is so easy and fast we made it while boondocking in our RV. By "boondocking," we mean camping free of any electrical, water or gas connections. By "RV," we mean the 19½-foot Ford Transit van that my husband Dan recently converted into a recreational vehicle so we could travel to California to see our kids and grandkid.
In case you think converting an RV might be fun, imagine building a ship in the bottle—while inside. Include insulation, plumbing, electrical, lighting, heating, TV, sound systems, appliances and electronics—in short, everything needed for a house. And install everything in exactly in the right order, like solving a Rubik's cube. More an extreme sport than construction project, it took Dan three months to design it, four months to build it, and most of our trip to recover from the backbreaking work, demonic frustrations and unrelenting stress.
But in the end we have a cozy little home with a well-equipped galley kitchen. For this recipe, the largest of our nesting pots works like a giant wok cooking veggies fast on our portable induction cooktop. A clever collapsible tea kettle boils water to pour over the rice noodles to soften them before tossing with the sauce. Our fridge/freezer, designed for yachts, holds all the sauces and ingredients I need, just like at home.
So if we can make this in a tin can smaller than an Amazon delivery truck, you can make it in your spacious kitchen. And if you don't care for shrimp, substitute tofu cubes for a vegan, gluten-free crowd-pleaser.
Boondock Shrimp and Green Beans with Rice Noodles
Serves 4
1 pound wide Thai rice noodles (as for Pad Thai) and water for soaking
1 cup water
½ cup dry sherry
3 tablespoons soy sauce
1 teaspoon sugar
2 tablespoons hoisin sauce
1 teaspoon (or more to taste) Sambal Oelek or other Indonesian chili paste
1 tablespoon cornstarch
1 tablespoon oil
1 pound green beans, diagonally sliced into ¾-inch lengths
1 pound extra-large shrimp or prawns (21-25 per pound), peeled and deveined
3 cloves garlic, thinly sliced
4 scallions, thinly sliced, with some sliced greens reserved for garnish
2 teaspoons minced ginger
Chopped fresh cilantro (optional)
Place rice noodles in a large bowl and cover with boiling water. Stir and let sit to soften and expand for about 30 minutes.
Whisk together ¾ cup water, sherry, soy sauce, sugar, hoisin sauce, Sambal Oelek and cornstarch in a small bowl and set aside.
In a large non-stick wok or pot, add green beans, ¼ cup water and a teaspoon of oil. Bring to a boil and stir-fry for about 3 minutes, until beans are barely tender.
Turn down heat to medium-high and move beans to the side of the wok or pot. Add shrimp, sliced garlic, and the rest of the oil (2 teaspoons) to the empty side. Cook until the shrimp turn slightly pink, about 2 minutes. Stir the beans and shrimp together, stirring until the shrimp loses its translucence, about 2 minutes.
Add scallions and ginger and stir-fry about 1 minute.
Add softened rice noodles to the pot. Pour the sauce mixture over the noodles, tossing and cooking about a minute to slightly thicken the sauce. Turn off heat and garnish with thinly sliced scallion greens and/or fresh cilantro before serving. Offer Sambal Oelek and soy sauce at the table.