If you like popovers, you'll love these babies. These eggy, pie-shaped puffs need only a squirt of lemon juice, a shake of confectioner's sugar, and some fresh fruit or jam to make a dramatic breakfast entrance.
But "Dutch" Babies?
Some say the name came from a corruption of "Deutsch," since they resemble German pancakes. The Dutch also make Pannenkoeken with a similar batter, although they look more like crepes.
Frankly, these are likely neither German nor Dutch. We contend that Dutch Babies are really Yorkshire Pudding in disguise. They're sizzled in butter instead of meat drippings,
and served for breakfast instead of with meat and gravy for dinner. If you wonder how a puffy pancake could be related to something called Yorkshire Pudding, keep in mind that this savory British side-dish used to be more aptly named "Yorkshire Puffs."
Leave it to good old American ingenuity to turn it into a breakfast sweet. In the early 1900s, Manca's Café in Seattle, Washington, claimed it took the German Pfannkuchen and created the "Dutch Baby."
But we believe the Dutch Baby's roots are in the UK. I had a plate-sized Yorkshire Pudding filled with steak and kidney stew along our hike through the North York Moors National Park. Even in that dimly lit pub, underneath all that brown gravy, it looked just like a Dutch Baby.
Jennifer Pieszak introduced us to Dutch Babies when our kids were little, and we all went nuts over the eggy pancake with a puffy crust. Jennifer had her first Dutch Baby encounter during college when her MIT classmate Kate Stohlman (née Malcolm) took her to visit a family friend, Florette, in Western Massachusetts. Jennifer wrote down Florette's recipe (see below) in the same spiral notebook containing her spectacular "signature dessert" featured in The Best Cheesecake in Chicago.
As for variations, Jennifer suggests tossing some blueberries or cherries into the batter. She also makes a version with sauteed apples and cinnamon as the base before adding the batter. "Totally delicious," she said, adding in the spirit of full disclosure, "but it will not puff."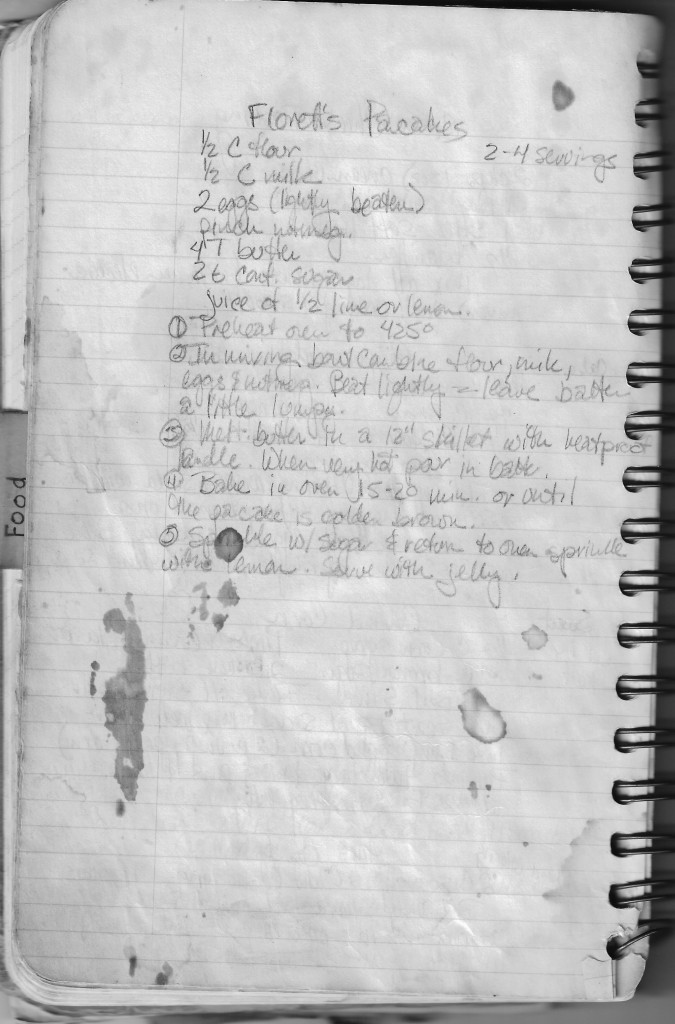 My daughter Claire noticed there is no salt in the batter. We have traditionally used salted butter for the pan, which seems to do the trick. But should we add more?
"The batter does not include salt, which can add fluffiness by helping relax the protein strands in eggs," said Jennifer. "Since I use unsalted butter, and since I like things a little saltier, I usually sprinkle a little flaky Kosher salt into the melted butter before adding the batter."
Jennifer, whose life sport is sculling, will whisk up a batch of Dutch Babies for herself on days that she trains.  "A two-egg version in a nine-inch Pyrex pie plate baked in the toaster oven makes a great second breakfast after rowing!" she said.
Many cooks find popovers tricky, but Dutch Babies are easy and pretty much foolproof. They use basic pantry staples, whip up quickly, and come out delicious whether or not they puff up high. With such a success, we're surprised there aren't more countries trying to claim them.
Jennifer's Dutch Babies
For pan:
¼ cup butter or less, to taste
Kosher salt to taste
For batter:
½ cup flour
½ cup  milk
2 eggs
For topping:
Confectioner's sugar
Lemon juice
Optional: fresh fruit and/or jam
Preheat oven to 425° F. Place butter in a cast iron fry pan or Pyrex pie plate and put in oven to melt. Watch to make sure the butter doesn't burn, and remove the pan when the butter has just melted. Sprinkle in a little Kosher salt to taste.
Mix batter quickly while the butter melts. Whirr eggs in blender at high speed for 1 minute. Then add milk and flour and blend 1 more minute.
Pour into the hot pan or pie plate and bake until all puffy and crisped at the edges, about 15-20 minutes.
Sprinkle with lemon juice and dust with confectioner's sugar. Top with fresh fruit and/or jam if you want. Slice into wedges and serve.
Use this guide for larger batches using larger or multiple pans. It follows the ratio of 1 egg : ¼ cup flour : ¼ cup milk per serving,
Butter            Eggs                Milk and Flour
¼ cup               2                      ½ cup each
¼ cup               3                      ¾ cup each
1/3 cup             4                      1 cup each
½ cup               5                      1¼ cups each
½ cup               6                      1½ cups each
Adjust baking times accordingly.