Zell Schulman's Chocolate Mousse Torte from Israel
Posted on 13 April 2017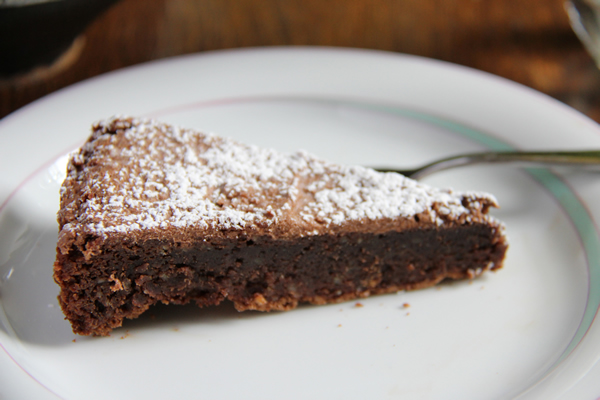 Once, an "alternative chocolate cake" was something we made for Passover, usually from a Manischewitz mix. As much as my Mom and I tried, no cake recipe calling for a matzo derivative ever produced anything remotely fluffy or moist. (I swear Manischewitz cheated.)
Sometime in the 1960s, French-inspired bakers adventured with eggs, nuts, butter, and intense flavorings to create decadent chocolate cakes with minimal flour. So a kind of Fifth Question inevitably swept the Passover baking community. "On all other nights we can eat flourless cake. On this night, why can't we eat matzoless cake?"
Zell Schulman helped lead the Exodus into the land of glorious desserts with this recipe for Chocolate Mousse Torte from Israel, published in her cookbook Something Different for Passover in 1984. The Boston Globe featured the recipe, and I still have the browned, chocolate-smeared clipping. A melt-away marvel of deep chocolate with ground almonds topped with creamy mousse, this torte says "patisserie" not "Passover." Yes, it has matzo cake meal, but I dare you to taste it. I make this crowd-pleaser for nearly every Seder, and even for an occasional special dessert during the year.
But who is Zell? What kind of a name is Zell? What the Zell was she thinking?
Last week I found out. I stumbled upon Something Different for Passover at our library's book sale. Long out of print and unavailable through the library system, here it was, in perfect condition, a first edition. It was part of The Chosen cookbook series. I felt like a chosen person. I snatched it up.
Zell (short for Zelma) is a long-time Jewish-cooking columnist and cookbook writer. She studied under serious chefs including Richard Grausman of Le Cordon Bleu de Paris. Before her food writing career, she worked in TV and was a production assistant to Rod Serling. (Cue eerie "Twilight Zone" theme.)
In the book, she says she discovered this torte in 1969 on her first visit to Israel as part of a United Jewish Appeal Women's Study Mission. Her friend Dena Jerimiahus served it, announcing that it only had one tablespoon of breadcrumbs. Zell told her, "I must have this recipe." When Passover came around, she remembered the torte and substituted matzo cake meal for the crumbs. While she didn't go to Israel seeking recipes, she brought home "a recipe that made me 'famous.'" And made her my hero.
Chocolate Mousse Torte from Israel
Adapted from Something Different for Passover by Zell Schulman
6 eggs, separated
1 ½ cups sugar (divided)
2 sticks (1/2 pound) unsalted butter or margarine, softened
8 ounces semi-sweet chocolate, melted and cooled
½ cup ground toasted almond slivers, ground
¼ cup orange liqueur (or brandy or orange juice)
4 tablespoons matzo cake meal
Preheat oven to 350° F. Grease a 9-inch springform pan and place a well-greased piece of wax paper on the bottom.
Beat egg whites until frothy. Slowly add ½ cup sugar, 2 tablespoons at a time, until whites hold a soft peak but are not dry.
Beat egg yolks in a large bowl until very thick and light yellow, about 10 minutes. Add butter, 1 cup sugar, and melted chocolate. Beat 2 minutes. Fold in beaten egg whites. Remove 1 cup of this mixture and refrigerate.
Fold in ground almonds, flavoring and cake meal into the remaining mixture. Bake 45 minutes or until cake begins to pull away from sides.
Remove from oven and cool for 15 minutes on a rack. Remove sides of pan. Let torte cool completely before inverting onto serving platter. Remove wax paper and spread reserved cup of chocolate mixture evenly over the top. Refrigerate, covered, 6-8 hours or overnight. When not serving the torte, keep it refrigerated.
Sprinkle with powdered sugar just before serving. Or, top with whipped cream after a dairy meal.
Find a recipephany

Recipephanies and comments wanted

Click on the link with the number of responses (next to the date above a post) to leave a comment.

Now on Twitter!

Recent comments – please click to read

Archives