Bay Area Scientists Develop Breakthrough "Alternative Chocolate Cake"
Posted on 01 April 2017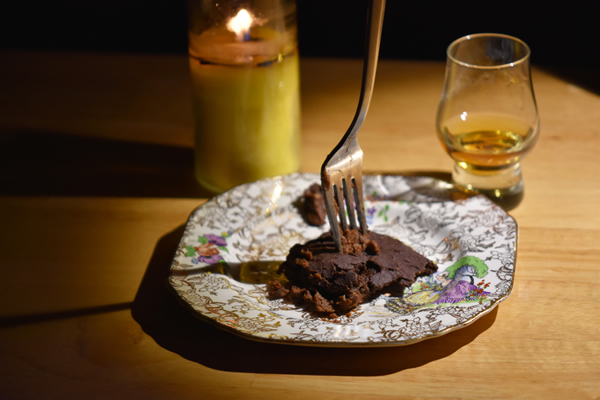 I'm thrilled and proud to post this news story I found online featuring the research of my favorite PhDs, my daughter and son-in-law. 
♦♦♦♦♦♦♦♦♦♦♦♦♦♦♦♦♦♦♦♦♦♦♦♦♦♦♦♦♦♦♦♦♦♦♦♦♦♦♦♦♦♦♦♦♦♦♦♦♦♦♦♦♦♦♦♦♦♦♦♦♦♦♦♦♦♦♦♦♦♦♦
Bay Area scientists have developed a recipe for an "alternative chocolate cake" free of gluten, fat, sugar, and animal products, fulfilling a dream of those seeking a dessert they can serve to all guests.
The breakthrough is reported in the April issue of the journal Nature Gastronomy. Chemists, gastronomists and celebrity chefs alike herald it as the most significant advance in food science since the fat substitute Olestra was approved by the FDA in 1996.
Those who have eaten the cake, however, question its palatability. In the paper, co-authors Claire Discenza and Gordy Stephenson explain that the cake is capable of achieving a state of what they technically term "inedibility."
While all can approve of the ingredients, few can stomach the finished product. This paradox has led early detractors to call it "Schrödinger's Cake" because it is both edible and inedible at the same time.
Claire Discenza says, "Fortunately, the healthful qualities of this cake are indisputable and objective. Whether or not someone can actually choke it down is subjective, governed by individual taste buds and gag reflexes."
Here is an abstract of the team's paper along with the Materials and Methods section that includes the landmark recipephany.
Alternative Chocolate Cake
by Claire B. Discenza, PhD, and Gordy R. Stephenson, PhD
Reprinted with permission from Nature Gastronomy 23, 266–269 (2017)
Published online 01 April 2017
Photograph ©2017 Discenza and Stephenson
Abstract
Here we present an original recipe for a gluten-free, sugar-free, fat-free, dairy-free, vegan chocolate cake. For those with dietary restrictions, one could substitute carob for cocoa without negatively impacting the flavor.
Materials and Methods
Makes one small cake. Serves 36+, as it is inedible. Suggested serving size: absolutely none.
Ingredients
120 g gluten-free flour. We used a mix of about 50:50 corn flour to garbanzo bean flour.
Liquid from one 454 g can of garbanzo beans
9 g cornstarch
6 packets stevia (Less would have been much better. We suggest reducing by 7 packets.)
A LOT of vanilla
75 g cocoa
113 g hot water
3.5 g instant decaf coffee crystals
Approximately 1/2 baked eggplant. Avoid seeds where possible.
12 g carrot zest
1.25 g baking powder
Salt, to taste
Directions
Pre-heat oven to 175° C. Try whipping garbanzo water until stiff peaks form. Eventually, using an electric mixer on any speed, incorporate cooked and seeded eggplant until smooth. In a separate bowl, dissolve coffee in hot water, and mix in cocoa. In one fluid motion, blend chocolate water, vegetable/legume slurry and other ingredients well, adding additional gluten-free flour as necessary to achieve desired consistency. Pour into one small cake-pan ("greased" and "floured"). Bake for 45 minutes or until done.
Find a recipephany

Recipephanies and comments wanted

Click on the link with the number of responses (next to the date above a post) to leave a comment.

Now on Twitter!

Recent comments – please click to read

Archives