Gimme Kibbee!
Posted on 13 March 2017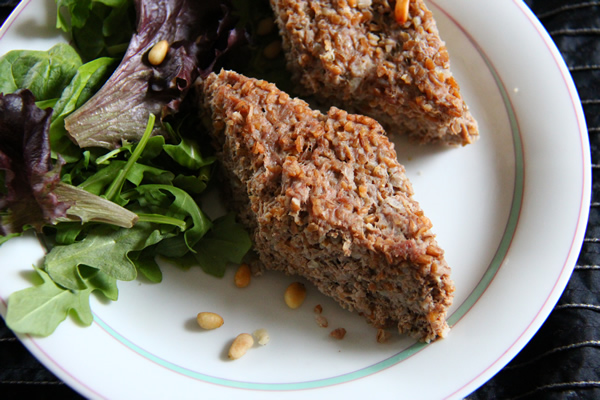 This baked version of a Middle Eastern classic is more a meat cake than the little fried footballs also called "kibbeh," which means "ball" in Arabic. With the slight chewiness of a cookie bar, this cinnamon-spiced diamond of cracked wheat, ground lamb and toasted pine nuts feels kind of like dessert.
The passion for kibbee crosses borders in the Middle East. Both Arabs and Israelis claim it and have created as many variations as failed peace accords. This version probably has roots in Lebanon or Syria because it suggests yogurt on the side, a no-no in Israel. However, we also serve it with tahini sauce or mango chutney.
You'd think this recipephany came from a trendy Middle Eastern chef, since these days the Beard Awards go to cookbooks whose covers show anything reddened with sumac. Blame it on the Jerusalem cookbook (2011), where author Yotam Ottolenghi pulled out all the stops with ancient spices, herbs, nuts, beans, grains, fruits and irresistible caramelized onions. In the book, he called Jerusalem "the world capital of kibbeh," and presented a layered-cake variation closer to this kibbee than to the traditional.
Those of us around in the heyday of Erewhon natural food stores, however, know that borrowing from other cultures has long been a way to shake up both taste buds and cholesterol counts. Even everyday cookbooks from the 70s helped us venture into new realms of cooking intrigue.
This kibbee recipephany came from such an unlikely source. I discovered it in a cookbook that seemed more prescriptive than inspirational: The American Heart Association Cookbook. Despite its dry-as-unbuttered-toast title, healthy-heart agenda and barren layout, this cookbook lured me into new culinary waters with temptingly simple and deliciously rewarding recipes. I'd like to think it was ahead of its time, since it needed to clarify that "bulgur wheat may be found in health food stores." You know, like Erewhon. But the latest edition no longer includes this recipe, sadly omitting one of the great dishes of the world.
I'm not sure if this kibbee actually makes my heart healthy, but it sure makes my taste buds happy.
Kibbee
Adapted from The American Heart Association Cookbook, Second Edition, 1976.
1 pound lean ground lamb or beef
1 cup finely crushed bulgur wheat
¼ cup toasted pine nuts or chopped walnuts
1 onion, minced
1 tablespoon olive oil or butter
1 ½ teaspoons salt
¼ teaspoon black pepper
1 teaspoon cinnamon
½ cup water
1 tablespoon margarine or butter
1 ½ cups plain low-fat yogurt
Preheat oven to 350° F.
Rinse the crushed bulgur in hot water, drain, and let stand for about 10 minutes
Meanwhile, brown the pine nuts or walnuts with a little butter or oil and set aside. (I use Trader Joe's dry toasted pine nuts and use as is.) Sauté the minced onions in olive oil or butter until softened. In a large bowl, mix the onions, bulgur wheat, ground meat, salt, pepper and cinnamon, adding ½ cup water as you blend.
Pat half this mixture in a flat layer in the bottom of an oiled pan (8 x 8 inch or 8 x 10 inch). Sprinkle the toasted nuts over the meat layer and pat out the remaining meat mixture over the nuts. Leave in the pan, but cut into diamonds or square-shaped pieces. Dot with margarine or butter and bake until slightly browned, about 25-30 minutes. Be careful, as overbaking can dry it out. Serve warm, with a side dish of plain yogurt. Alternatively, serve with tahini sauce, hummus, or mango chutney.
Makes six servings, approximately 330 calories per serving.
Find a recipephany

Recipephanies and comments wanted

Click on the link with the number of responses (next to the date above a post) to leave a comment.

Now on Twitter!

Recent comments – please click to read

Archives