Oscars 2017: La La Land O Lakes Old-World Raspberry Bars
Posted on 27 February 2017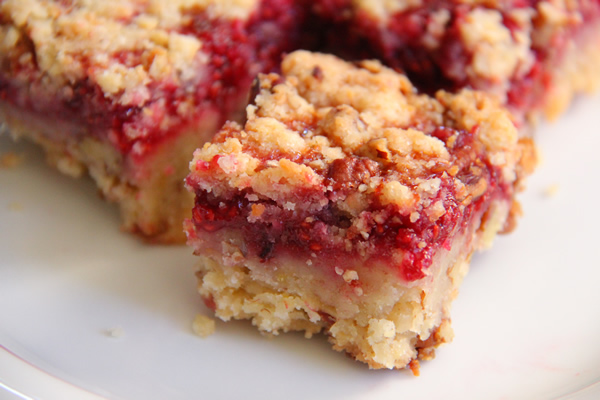 IN A WORLD where mixed-up envelopes turn winners into losers and losers look like Matt Damon…comes one dessert that Price Waterhouse stands behind… one dessert that proudly proclaims itself a winner despite its name…La La Land O Lakes Old-World Raspberry Bars.
Saskatoon Watch Parties presented this year's Oscar gala, a "satellite feed" with "satellite dishes."  Don't blame me and Dan entirely for the names, as my kids and their spouses also shaped the menu.
Manchego by the Brie
Casey At Bat Franks
Ry-Krisp Gosling
Emma Stone Wheat Thins
Natalie Port Salut
Violive Davis
Florets Foster Jenkins
Arrivioli filled with Isabelle Hubbard Squash, Boiled to Hell in High Water and served with Hackridge Slaw
Salade Lion-naise with Andrew Garfieldgreens, Octavinegar Spencer and Hidden Figs
Damien Pizzelle
Chef Bridges Mix
Drinks included the Mel Gimlet and Moonlight Bubbly. (Note that we, like the Oscars, were late to acknowledge the Best Picture.)
This recipephany comes from Land O Lakes Cookie Collection cookbook, my source for Jan Hagel cookies and so many other never-fail favorites. I dog-eared it especially during Andrew's high school years, when I pushed sugar to get him to bring friends back to our house. I recently told him how proud I was when his friend Santiago singled these out as his favorite cookie. Andrew laughed, saying they all were happy with whatever I put out on the plate.
La La Land O Lakes Old-World Raspberry Bars
Crumb Mix
2 1/4 cups flour
1 cup sugar
1 cup chopped pecans
1 cup Land O Lakes® Butter, softened
1 egg
Filling
3/4 cup raspberry preserves
Heat oven to 350°F. Line an 8-inch square baking pan with aluminum foil, extending foil over edges. Grease foil.
Combine all crumb mixture ingredients in bowl at low speed, scraping bowl often, until mixture is crumbly, about 2-3 minutes. Reserve 1 1/2 cups crumb mixture.*
Press remaining crumb mixture on bottom of pan. Spread preserves to within 1/2 inch of edge. Crumble reserved crumb mixture over preserves.
Bake 42-50 minutes or until lightly browned. Cool completely; cut into bars.
*A newer version of the recipe specifies 2 cups.
Find a recipephany

Recipephanies and comments wanted

Click on the link with the number of responses (next to the date above a post) to leave a comment.

Now on Twitter!

Recent comments – please click to read

Archives