To get a really great gluten-free vegan cookie, start with a really great cookie. One that plays well with gluten-free flour and won't miss the eggs. In this case, it's Dick's Hermits. Crisp on the outside, soft and chewy on the inside, these classic New England molasses-spice cookies make the mouth tingle with delight.
My mother-in-law Dorothy, nicknamed "Dick," (see Dick's Coffee Cake for that story) spoiled her kids with these cookies. With a little culinary sleight of hand, we now can spoil just about everybody. It doesn't take much—just gluten-free "1-1" flour (from Trader Joe's or King Arthur Baking Company, for example) and a little ground flaxseed.
The flour swaps cup-for-cup for all-purpose flour, so it's a no-brainer. As for flaxseeds, you can buy them already ground or grind them easily in a blender, food processor or coffee grinder. (We use a Cuisinart Mini-Prep). The ground meal mixed with water turns into a lovely goop, tricking the hermits into thinking it's an egg. So preoccupied with all their spices and tangy molasses, these hermits just don't notice the substitutions. And that's lucky for us, because they end up looking and tasting like the real thing.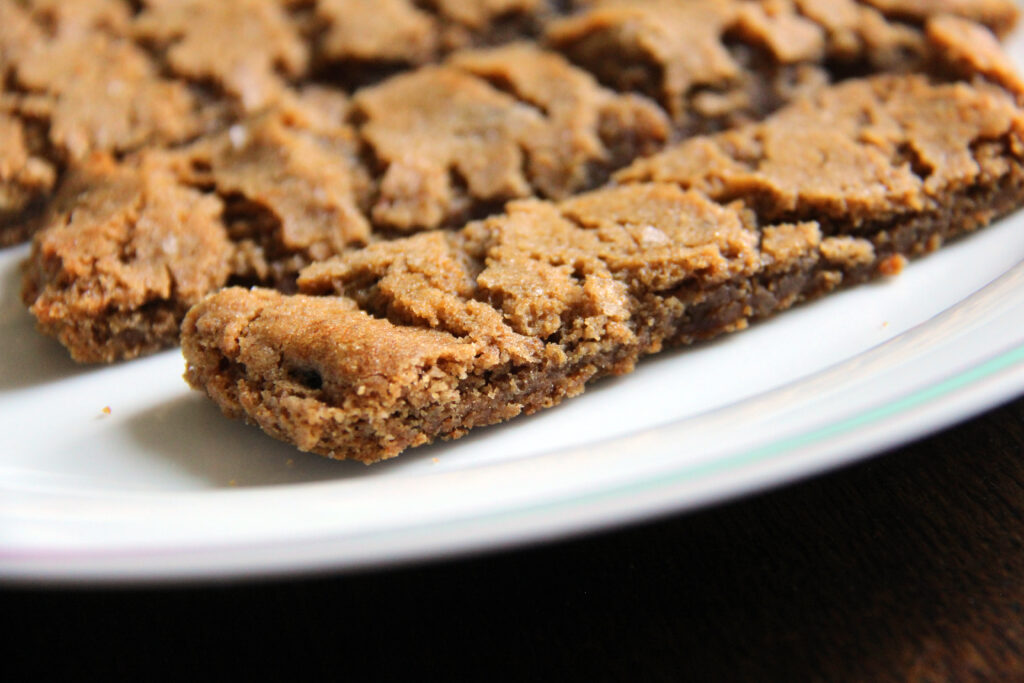 For the original recipe and the story behind it, see Dick's Hermits.
And for our go-to vegan chocolate chip cookies, try Jimmy Bruic's Banana Vegan Chocolate Chip Cookies. Swap in gluten-free flour with those, too, and nobody will be the wiser.
Gluten-Free, Vegan Hermits
¾ cup shortening
1 tablespoon ground flaxseed* and 3 tablespoons water
¼ cup dark molasses
1 cups sugar
2 teaspoons baking soda
¼ teaspoon salt
2¼ cups gluten-free "1-1 baking flour" (Trader Joe's or King Arthur Baking Company)
½ teaspoon each: ginger, cloves, nutmeg
1 teaspoons cinnamon
½ cup raisins
Sugar to sprinkle on top
Mix ground flaxseed and water into a slurry and let it sit about 15 minutes until it gets goopy.
Prepare a cookie sheet by lightly greasing or lining it with parchment paper.
Beat together shortening, flaxseed mixture, molasses and sugar. Stir in soda, salt, flour and spices until combined. Stir in the raisins.
Wet hands and make two sausage-shaped logs about 1½ inches in diameter, placing them lengthwise on the prepared cookie sheet. Leave at least 3 inches between logs to allow for spreading. Press logs lightly with the bottom of a glass dipped in water. Sprinkle sugar on top.
Bake at 375° for about 9-13 minutes, or until cracked. Cool. Cut into about 1¾ -inch strips.
*We buy whole flaxseed and grind what we need in a Cuisinart Mini-Prep. It takes about a minute to turn fluffy. The rest goes into the freezer to preserve freshness.