How to Fowl-Up a Chicken
Posted on 03 January 2011
Long ago, when I was an advertising copywriter at an agency we affectionately called "the Pit," I cranked out headlines and calls-to-action for everything from cheesy inflatable pool toys to police-car flashing lights. I didn't have time to get too friendly with the products, though, since I had to log in every minute of head-banging "creativity."
So it was with excitement that I got to take home a new kitchen gadget, the Poul-Tree vertical roaster. The rack would fit into the chicken's cavity (okay, up its rear) to stand it upright in the oven. The idea was that the fat would drip away and the bird would brown crisply all over, without any soggy spots. I couldn't wait to try it.
When I got home, though, my brain was stuck in pun overdrive. Forgetting "Poul-Tree," I announced to my husband that we got to try the amazing new "Fowl-Up." Although why anyone would pick a name that portended culinary disaster was beyond me.
The Fowl-Up was a recipephany, living up to its promise of thin, crispy skin and juicy meat. There are many vertical roasters out there (see amazon.com to see some choices), although the Poul-Tree appears long gone. Since I'm not getting a cut, choose whatever one looks good for you.
This recipe is very close to my sister-in-law's recipe for roast chicken: "Take one chicken and one oven. Combine."

Fowled-Up Chicken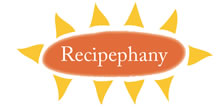 1 fryer or roaster
1 vertical roaster and pan
Oil
1 teaspoon poultry seasoning
Kosher salt to taste
Preheat oven to 375°. Rinse chicken, dry with a paper towel, and rub with oil. Rub the poultry seasoning and kosher salt onto the skin. Season the cavity with kosher salt. Place on vertical roaster and stand it upright in a roasting pan (or any pan that can catch the drippings). Roast about 45 minutes for a large fryer, longer (an hour or a little more) for a roaster. (You know how long, depending upon your oven.)
Find a recipephany

Recipephanies and comments wanted

Click on the link with the number of responses (next to the date above a post) to leave a comment.

Now on Twitter!

Recent comments – please click to read

Archives