Great-Grandmother's Prokas (Sweet and Sour Meatballs and Cabbage)
Posted on 21 March 2012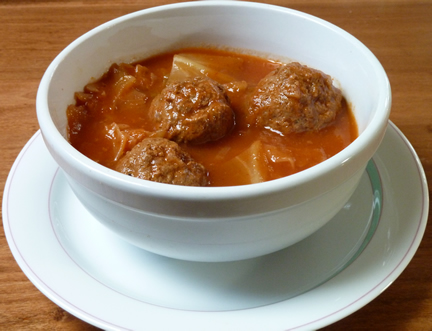 Several months ago, I was desperate to track down the story behind Great-Grandmother's Gingerbread (Over 100 Years Old). Turns out the woman I thought was the great-granddaughter really wasn't, and that the recipe probably came from an old Brer Rabbit Molasses ad.
It recently struck me that I had a story of a recipephany handed down from a great-grandmother. The recipe is for Prokas, it is more than 130 years old, and the great-granddaughter is me. Take that, Brer Rabbit.
Prokas is Yiddish for "stuffed cabbage." Stuffed cabbage hails from all over Eastern Europe, under names like Holishkes, Golumpkis, and Lahanodolmathes. My great-grandmother, Rachel, brought her recipe over from the Ukraine in 1883 along with six of her eight children, including my toddler grandfather. She came to join her husband and two eldest boys who had found a place on 7th Street in Philadelphia.
My mom recently shared memories of her "Bubbe." She never learned to speak English and relied on her Yiddish to get by. She was a warm woman and a wonderful cook. Meticulous in the kitchen, she would hand-slice her fine noodles with the precision of a pasta machine.
So I can imagine her there, shvitzing in her long black dress with high lace-trimmed collar, delicately tucking meat and rice into perfect packets of cabbage. She taught her daughter-in-law, my grandmother, to do the same.
But then my mom, the modern woman, turned it all inside out. She deconstructed Prokas into meatballs and cabbage simmered in a thick, deliciously tangy tomato sauce. This was my favorite dinner growing up, right up there with chicken soup as a comfort food. It's a satisfying meal made perfect with crusty bread for sopping. Those not so keen on cabbage can load up on meatballs (leaving more cabbage for us). It's the kind of dish that tastes even better as leftovers, and is sure to warm your kishkas.
Secret ingredient: sour salt
Let's get this straight: By "sweet and sour," we don't mean anything involving pineapple chunks. While the sweetness comes from tomato paste, onions, and sugar, the delightful tartness comes from pure citric acid, AKA "sour salt." A little goes a long way, replacing the juice of many lemons. When my mom wrote out the recipe for me, she, as her grandmother had done, sketched three small nuggets to suggest how much to use.  Nowadays, sour salt looks just like table salt and doesn't generally clump up. You can find it at a Kosher market or online, and a small jar will last you many years.
Sour salt has become my secret ingredient in hummus and other dishes where I want the pucker but don't need or want the lemon flavor. It also lets me save my lemons for Ma's Lemon Sponge Pie or Lemon "Vinaigrette," where they are much more appreciated.
Meatball variations
My mom eliminated the rice typically in stuffed cabbage from the meatballs. I once tried adding it back, only to have it fall out as the meatballs cooked and shrank. I have slightly adapted her recipe to lighten the meatballs with bread crumbs and a little water. I also add a dash of Worcestershire sauce for that extra hint of umami.
I tend to make Prokas soupier than my mom's so I can enjoy more bowls of it per sitting. But since measurements are approximate, feel free to adjust them to your own tastes. I'm sure my great-grandmother wouldn't mind.
Great-Grandmother's Prokas (Sweet and Sour Meatballs and Cabbage)
Cut up and place in a big  pot:
1 large cabbage
2 large onions
Add:
1 12-ounce can tomato paste (large can)
1 or 2 garlic cloves, squeezed
1 teaspoon sour salt (or more to taste)
1/2 cup sugar (or more to taste)
Salt and pepper to taste
and cover with water. Stir and bring to a boil.
Make small meatballs with:
2 pounds lean ground beef
1 onion, finely diced
1 garlic clove, squeezed
2 eggs
Salt and pepper to taste
I also add to the meatballs:
About 1/3 – 1/2 cup dry bread crumbs
About 1/4 cup water
Dash Worcestershire sauce for a hint of umami
(You can add whatever you want according to your taste. Also, keep in mind you need to make the meatballs a bit salty because they will lose the salt as they boil.)
Gently add meatballs, one at a time, into the boiling pot, then turn to simmer and let cook about 3 hours. Taste test for more sugar, sour salt, or seasoning. Let it cook down to thicken, but watch carefully and stir occasionally to avoid burning.
Note: You can halve this recipe, which makes a lot, substituting a medium cabbage for the large.
Find a recipephany

Recipephanies and comments wanted

Click on the link with the number of responses (next to the date above a post) to leave a comment.

Now on Twitter!

Recent comments – please click to read

Archives