Sally Birke's Kreplach
Posted on 30 May 2017
First, there was wonton soup. Then came tortellini in brodo. Now, thanks to Szifra Birke, I've found kreplach.
Years ago, Szifra produced the poignant documentary "Browsing Through Birke's" (now out on DVD). It's the story of her parents, Nathan and Sally, who emigrated from Poland and founded Birke's clothing store, a Lowell, Massachusetts, institution.
This documentary had me laughing, blubbering, and feeling instant affection for these extraordinary people. Always looking to connect through food, I asked Szifra if her mother had a signature recipe. She wasted no time in sharing Sally's prized kreplach and the deeper story behind it.
Born Sura Dymantsztajn in Lodz, Poland, Sally no doubt learned to make kreplach as a child, helping her mother roll, cut and fold the dough over the onion-sweetened meat filling.  And we can imagine her family around the Friday night table, blowing on the hot chicken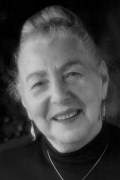 soup before biting into the slick, plump dumplings.
Sally was 18 in 1939 when the German army marched into Poland. She and family friend Nathan Birke set off in search of her older brother who earlier had fled the Nazis. Knowing the danger of returning home, they sought refuge in Russia and married. In those gritty years, Sally worked in a Siberian coal mine and the couple suffered the loss of two infant children.
After the War, they returned to Lodz only to find that not one of their family members had survived. Nazi gas chambers or starvation had killed them all.
Sally and Nathan eventually landed in Lowell, started the iconic Birke's Department Store in 1948, and raised four children. Like Boston's Filene's Basement but even quirkier, Birke's drew customers who enjoyed a good bargain and a good laugh at Nathan's outrageous rules. Sally was the yang to his yin, greeting customers with homemade treats and sound wardrobe advice. Nathan died in 1992, and Sally continued the business until 2004. She passed away eight years later.
To Sally, the only way to serve kreplach was in homemade chicken soup, with two or three ladled into each big bowl. "There were always carrots and parsnips, so the soup was a little on the sweet side," said Szifra.
Sally made kreplach by feel. When Szifra asked for a recipe, Sally got flustered. "I don't know how to make a recipe!" she balked. So mother and daughter worked side-by-side, going back and forth on quantities, Szifra jotting it all down. "It was a little awkward for her to have to be so precise," said Szifra.
But technique mattered. Sally insisted that onions had to cook slowly for a long time. Make that your mantra as you caramelize the onions over low heat.
When we breathe in the sweetness of those slow-cooked onions, hear the soft sizzle of the meat, stretch the eggy dough, and finally take in their savory goodness, we connect with Sally and all she lost and gained. And perhaps these humble kreplach, little bundles seasoned with memories, will bring a little bit of Lodz to your table.
Sally Birke's Kreplach
Here's Sally's recipe as Szifra recorded, with a few suggestions of my own. The parenthetical comments are hers. And while Sally used her fingers and not a fork to crimp, my dough didn't hold together well enough without a little help.
Makes several dozen. Freezes well.
Filling:
4 medium onions, sliced
1½ pounds hamburger
4 large eggs
Oil
Salt
Dough:
1 ½ -2 teaspoons salt
1/3-1/2 cup water
4 cups flour
3 large eggs
Brown onions very slowly in oil (or in water, if you want), add hamburger, and brown it slowly. Crack eggs into hamburger, mix, and cook about 10 minutes. Salt to taste, keeping in mind that dumplings can lose salt in soup. You may have filling left over.
For dough, put salt in a cup and add 1/3-1/2 cup of boiling water. Add the salted water to flour. Add eggs, mix, and knead until smooth. Divide into 3 parts. Roll thin and cut into 2-inch to 3-inch squares. Form triangular dumplings and crimp to close.
Boil for 2-10 minutes, depending upon dough thickness, until dumplings float to surface. (Add a little oil to water to prevent sticking.) Slightly undercook because kreplach will continue to cook in the hot soup. Drain and serve two or three in each bowl of soup.
Find a recipephany

Recipephanies and comments wanted

Click on the link with the number of responses (next to the date above a post) to leave a comment.

Now on Twitter!

Recent comments – please click to read

Archives