Zucchini Quiche
Posted on 05 October 2017
Zucchini is to quiche as eggplant is to parmigiana. There is no higher calling for this elongated green summer squash than to be sautéed with onions, splashed with wine, tossed with herbs, then married with cheese and eggs into this savory pie.
Not really a quiche, this recipephany has more of an Italian than French accent. A layer of toasted breadcrumbs replaces the pastry crust. Herbs you'd shake into a red sauce awaken the sweetness in the zucchini. And a secret ingredient—ginger—blends in so mysteriously that I dare you to pick it out of the crowd.
The source of this recipephany is probably a long-gone culinary magazine. I play around with quantities, so please go ahead and adjust to your taste. While mushrooms can add some delightful umami, I usually don't bother. You can use traditional Swiss, and it's also fun to blend in cheddar, provolone or whatever you like from your cheese drawer.
This makes two modest pie-plate sized quiches, one to eat right away and one to freeze and enjoy later—like a treat from Trader Joe's. If you want to make one large quiche instead, increase baking time by about 10 minutes.
This is a far cry from Julia Child's TV quiche. So I prefer to quote another favorite TV figure, Frasier Crane, who asks his dinner guests, "Quiche Lorraine, anyone?" and gets the classic response, "Quiche her? But I hardly know her!"
Zucchini Quiche
Makes 2 quiches. Each serves 4. Freezes well.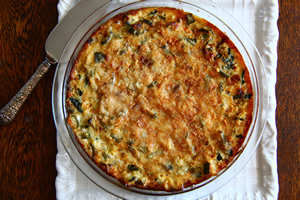 About 4 medium zucchini
2 large onions or leeks, or a combination
¼ pound mushrooms (optional)
6 scallions (not necessary if you use leeks)
2 cloves garlic
3 tablespoons butter
2 tablespoons dry sherry or vermouth
1 teaspoon dried basil
1 teaspoon dried thyme
1 teaspoon dried oregano
1 teaspoon ground ginger
Salt and pepper
4 eggs
2 ½ cups grated Swiss or a full-fat cheese blend of your choice (provolone, cheddar, etc.)
About ½ cup toasted bread crumbs
Preheat oven to 325°. Chop vegetables, press or slice garlic, and sauté in butter over low heat until just limp. Do not overcook.
Add sherry or vermouth and seasonings, remove from heat, and let cool a few minutes.
Beat eggs in a large bowl, add cheese(s), and stir in vegetables.
Butter two 8- or 9-inch pie plates and coat bottoms and sides with breadcrumbs. Pour in vegetable mixture. Sprinkle with some breadcrumbs and dot with butter. Bake 30-40 minutes until set and light brown. Cool 10 minutes before serving.
Find a recipephany

Recipephanies and comments wanted

Click on the link with the number of responses (next to the date above a post) to leave a comment.

Now on Twitter!

Recent comments – please click to read

Archives