Caramel Custard Flan
Posted on 14 March 2020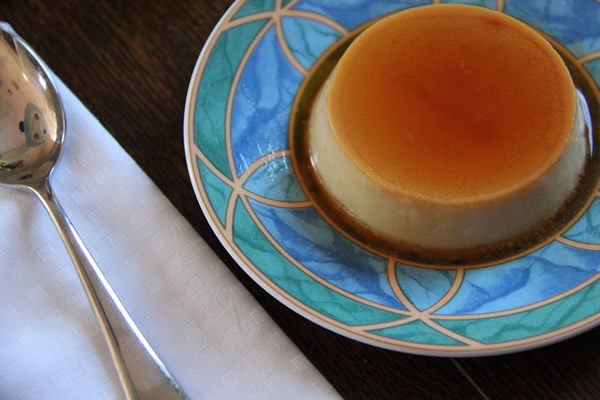 Ceci n'est pas une pie.
It's Pi Day. Ordinarily I'd bake a pie, but with the new "social distancing," the two of us would have to eat the whole thing. So instead, I made some comforting caramel custard—AKA "flan"—from a forgotten can of Magnolia Brand Sweetened Condensed Milk in the pantry.
The can had gone several months past its "best by" date, but rest assured the quality was fine and I had no sense of Russian food roulette. It really burns me how those dates trigger so much needless waste.
Using this lost and forlorn can sparked joy—Marie Kondo-style—by both freeing up shelf space and inspiring this dessert. This recipe came right off the label.
I've made caramel custard that calls for milk, but this version is richer, has more depth of flavor and is more photogenic.
Magnolia brand is the same as Eagle brand but targeted to Hispanics, which explains why the recipe was also printed in Spanish.
So use that old can of condensed milk you bought for some dessert you never made. This recipe is easy and calls for water, so you don't have to use any fresh milk. Just don't let the flans get forgotten in the fridge.
P.S. The French word for "flan" is "tarte," the same word for "pie." So close enough: Ceci n'est pas une tarte.
Caramel Custard (Flan)
Slightly adapted from Magnolia® Sweetened Condensed Milk
7/8 cup sugar
4 large eggs
1 3/4 cup water
1 (14 oz.) can Magnolia® Sweetened Condensed Milk
2 teaspoons vanilla extract
1/8 teaspoon salt
1. Heat oven to 350°F. In a heavy skillet over medium heat, cook and stir sugar until melted and caramel-colored, about 10 minutes. Pour into 8 (6 ounce) custard cups, tilting to coat bottoms completely. It will harden almost immediately. Don't worry, the caramel will melt into sauce.
2. Beat eggs in a medium bowl, preferably one with a spout. Stir in water, sweetened condensed milk, vanilla and salt. Pour into prepared custard cups. Set cups in a large glass baking dish, or two dishes if you don't have a large one. Pour boiling water into the dish(es) until it reaches half way up the side of the cups.
3. Bake 45 to 50 minutes or until knife inserted in center comes out clean. Remove cups from water. Cool completely. Chill several hours. Run edge of sharp knife around each custard cup to loosen. Invert onto individual serving plates or saucers.
Find a recipephany

Recipephanies and comments wanted

Click on the link with the number of responses (next to the date above a post) to leave a comment.

Now on Twitter!

Recent comments – please click to read

Archives